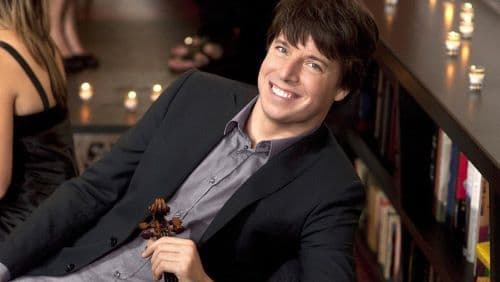 Joshua Bell is one of the world's finest violists. He's a young, charismatic guy, and he commands hundreds of dollars for a seat when he tours the world's great concert halls. He plays to sell-out crowds from Boston to Berlin to Beijing. One magazine declared that his ability to play music "does nothing less than tell human beings why they bother to live."
Put simply, Joshua Bell is pretty good with the fiddle.
Apparently, his violin isn't too shabby either; it's a Stradivarius valued at $3.5 million.
So what happens when Josh Bell shows up with his Stradivarius and plays some of Bach's greatest masterpieces for free in a completely public place?
Throngs of people queue up for hours for a chance to listen to him, you guess.
Not quite.
Five years back, Joshua Bell agreed to an experiment — where he played in one of Washington, DC's, busiest Metro train stops (one that happened to have superb acoustics for the violin).
Rather than scores of people clamoring for a glimpse of a virtuoso, what actually happened was Bell plays for 45 minutes, and more than a thousand of people stroll by — barely noticing he's there. After playing some of the most intricate scores ever written, not a single person claps. Few really acknowledge him at all.
To be fair, Bell was playing in a subway station at rush hour. People were hurried. And Bell, while famous to lovers of classical music, isn't a household name or face. And apart from his obvious (or perhaps not-so-obvious) abilities, most of us wouldn't necessarily know that the man playing these songs is a world-renowned musician.
But that's kind of the point. Acts of greatness and achievements can be happening all around us–and if we're not looking for those remarkable acts–we're oblivious to them.
Joshua Bell sat down with a reporter and viewed a video tape of the experiment—and got to witness again how many people seemed not to notice or care about his phenomenal talents. Here was his assessment as he watch that tape.
"It was a strange feeling, that people were actually, ah… ignoring me…I'm surprised at the number of people who don't pay attention at all, as if I'm invisible. Because, you know what? I'm makin' a lot of noise!"
There's a lesson in here for life–and for the workplace. If you're not looking for greatness–or even just goodness–it's pretty likely you won't see it most of the time.
For a fascinating read about the entire experiment, go here: https://www.washingtonpost.com/wp-dyn/content/article/2007/04/04/AR2007040401721.html