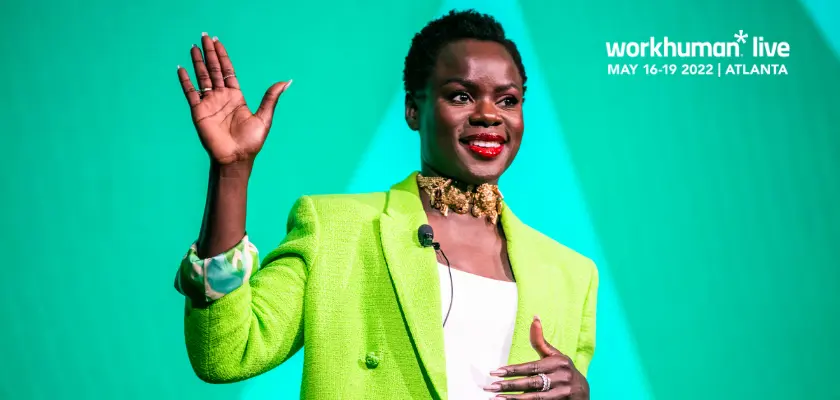 If the past few years have taught us anything, it's that uncertainty is inevitable. And while this may seem like a scary realization, it doesn't have to be that way. In fact, to people like Tunde Oyeneyin, uncertainty is beautiful. Why? "Because uncertainty leads to infinite possibility."
New York Times best seller, Peloton® instructor, Nike® athlete, face of Revlon® cosmetics – Tunde holds countless titles that speak to her many skills and accomplishments. After listening to her keynote, however, I would like to add one other to her list of attributes: an inspiring, genuine human being.
After a last-minute cancelation – Tunde had less than two days to prepare for Workhuman® Live, yet her keynote was one of the most relatable and inspiring talks I've ever listened to. Perhaps it's because I am an avid Pelotoner. And while I wasn't on a bike at the time, Tunde brought the same feelings of encouragement, power, and determination to the main stage as she does to her cycling classes.
Finding your voice
The community Tunde has built didn't happen overnight. Rather, her whole life has been following a path that led her here, to Workhuman® Live. That isn't to say she knew everything life would throw at her, but she did know how to navigate her way through challenges using five key pillars she refers to as SPEAK:
Surrender
Power
Empathy
Authenticity
Knowledge
Here, I'll highlight how each of these pillars brought Tunde to where she is today – and how we can all learn something from them, too.
Surrender
"If you want to change things up, you have to begin to make changes." As a fourteen-year-old, Tunde likely did not realize that this advice from her mother would shape the rest of her life – but it certainly did. It's not easy to get up in front of thousands of people and tell your life story – but Tunde has learned that surrendering to your fears is the only way to begin to make changes.
In her own words: "Surrender to the unknown – you'll figure out the route as you go. You can ask for directions, but in the end your gut must be your compass."
Power
To Tunde, power and purpose come hand in hand; you can't have one without the other. In life, we aspire to use our power to make change – for her, that means using her platform and voice to make the world a more equitable place.
Again – this isn't easy. After the murder of George Floyd, Tunde recounted feeling both "hopeless and hopeful all in the same breath." She knew that was the time to connect her purpose with her power. Her internal compass is like a drumbeat, she explained, "and when I move in purpose, the drum rings louder." Listen for that drumbeat, and when you hear it, be brave and march to it.
Empathy
We have all faced hardship during our lives, yet everyone – including Tunde – have found themselves reverting to preconceived notions about both individuals and groups of people. She reminded us that every single person has a story, a journey that has brought them to where they are now. And while our journeys are different, we all have one thing connecting us – our humanity.
Authenticity
"Authenticity is the intersection of truth and trust." Only by accepting and loving yourself can you receive acceptance and love from others. Of course, self-compassion is easier said than done. She asked the audience: "Do you stand in the way of your own joy because you're worried about showing your true self?" If the answer is yes, if you aren't showing up as your full self, Tunde recommends one of two things: Learn to love it – or change it.
Knowledge
Tunde looks at knowledge as "echoes of the past informing us about the future." And while Tunde has experienced massive loss in her life, following the past has kept her moving. So remember, every day is a new day – a new opportunity to make change, make progress, grow, love, and use your voice for the better.
"Knowing what you know keeps you knowing only what you know."
Ready to unleash humanity at work?
The future of work is here, and it's time to give the power of voice to your employees. Trust us, it's worth it.