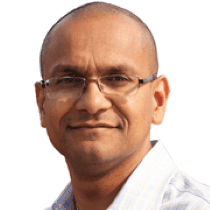 What does a human workplace look like—to a monk? What are some ways we can reduce stress in the workplace?
In this next installment of our "Three Questions" series of micro-interviews, we asked Pandit Dasa, author, inspirational speaker, and urban monk, a few questions on creating a more human workplace. In his book, Urban Monk: Exploring Karma, Consciousness and the Divine, Pandit writes about how he learned to deal with and overcome the loss of his family's multi-million dollar fortunes that left him and his family with next to nothing.
Pandit has a wealth of insight to share on the human experience and how to nourish the mind. He'll also be speaking and offering workshops at WorkHuman in June.
What does a more human workplace look like to you?
A more human workplace is an environment where people are happy to see others succeeding. It's a place where people put aside their egos for the greater good of the organization and where people assist one another and help each other grow. It's an environment where the leaders, on all levels, are committed to recognize, appreciate, and reward the efforts of their team.
This goal should be to have this culture of appreciation trickle down amongst peers and teams. This would foster positive relationships between colleagues, teams, and departments.
See Pandit speak in-person by joining us at WorkHuman. Learn more at www.workhuman.com.
---
Q&A with urban monk and #WorkHuman speaker @nycpandit
Click To Tweet
---