WorkHuman alumna Michelle Obama made a surprise appearance at the Grammy Awards Sunday night at the Staples Center in Los Angeles, building on her theme that we all have a story to share.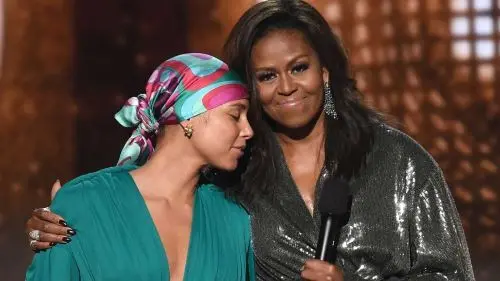 Indeed, at WorkHuman 2017 in Phoenix, the former First Lady discussed the power of storytelling in an interview with Globoforce CHRO Steve Pemberton. When asked for her advice on how to live our true, authentic selves, she said, "Be proud of your own story, no matter what it is. There is no right way to be human."
At the Grammys, Mrs. Obama said, "From the Motown records I wore out on the South Side to the 'Run the World' song (Beyoncé) that fueled me through this last decade, music has always helped me tell my story and I know that's true for everybody here.
"Whether we like country, or rap, or rock, music helps us share ourselves – our dignity and sorrows, our hopes and joys – it allows us to hear one another, to invite each other in. Music shows us that all of it matters – every story within every voice, every note within every song."
Mrs. Obama's point – and she emphasized it in her WorkHuman keynote – is that our stories are the fabric of our being. Heartfelt conversations build and strengthen connections, a foundation of inclusivity.
At WorkHuman, Mrs. Obama discussed how we can make the workplace more inclusive, especially for women. She urged HR leaders to have conversations with their employees – both men and women – about what's working when it comes to family leave and flexible work schedules. She urged HR leaders to open the dialogue and to use their position in the organization to make a positive change.
Watching Mrs. Obama at the Grammys reminds us that WorkHuman is indeed a movement, a conversation that extends well beyond the conference. Our speakers – whether it's Mrs. Obama in 2017, Salma Hayek in 2018, or George Clooney – who will tell his story in Nashville next month, share a fierce belief in the value of the human spirit.
We all have a story to tell.