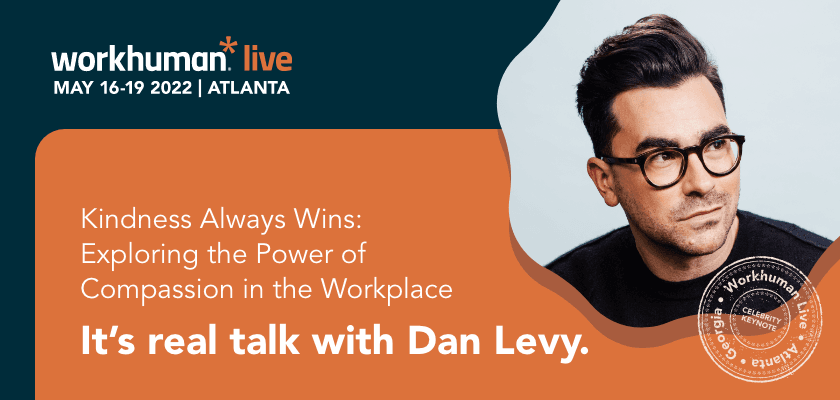 For a show as belly-laugh hilarious as "Schitt's Creek," it's easy to miss the quiet – and often subtle – moments of kindness and connection. The "human" moments, so to speak. "Schitt's Creek" is chock-full of comedic genius ("This wine is awful! Get me another glass!"); but it's the warmth and candor with which it takes on the human connection that gets the audience emotionally invested.
At the heart of "Schitt's Creek" is Emmy Award-winning writer, actor, director, producer, and New York Times bestselling author Dan Levy. Dan's beloved David Rose isn't just the fussy, outspoken fashionisto plucked from his big city lifestyle into the town of Schitt's Creek – he's a shining example of the ways in which a positive message of representation and inclusivity can be communicated in a natural, beautiful way.
With "Schitt's Creek," Dan created a world that joyfully shares how inclusion can transform a community, celebrating diversity – and calling for more of it. Dan's success on the small screen provided a stage for him to speak to the world about LGBTQIA+ inclusion, an opportunity he embraced and continues to explore through one simple yet powerful message: Kindness always wins.
That's who Dan Levy is – and it's who we are, too.
Building on the belief that the future of work brings a much stronger focus on diversity, equity, and inclusion (DE&I) – and, with it, a more human workplace – we're thrilled to bring Dan to the main stage at this year's Workhuman® Live in Atlanta. Keynoting on Thursday, May 19 at 12 p.m. EST in a conversation-style format, Dan will inspire and entertain with themes of creativity and living fully with intention – and, of course, humor. He'll also share authentic moments of recognition and celebration while on the "Schitt's Creek" set, reminding us all:
https://giphy.com/gifs/schittscreek-funny-xUA7bcP3spz0M24IEw
We're here for it.
Dan joins fellow powerhouse keynotes – Simone Biles, Malcolm Gladwell, Priya Parker, and Dan Heath – and the HR community's best and brightest at Workhuman Live 2022 to share transformative ideas on building more human-centric workplaces, as well as inspiring stories and points of view on what it takes to get there. This year's show will bring today's most pressing issues – the Great Resignation, hybrid work, DE&I, and so many others – to center stage, re-igniting a global movement for change for the better.
At its core, though, Workhuman Live is an opportunity to reset and recenter after so much time apart – fostering a sense of community and connection that will carry us into the future. It's about usable, sharable, actionable content (eight content tracks and 50+ sessions' worth) – and a village of experts, thought leaders, researchers, professors, executives, activists, authors, up-and-comers, and change-makers who'll use their knowledge and passion to propel us where we need to go.
According to Dan Levy, "Schitt's Creek," above all else, is a show that explores the freedom and growth that comes with being accepted. Come Workhuman Live, May 16-19, it's our turn to explore how we can carry that message through the workplace.
You belong at Workhuman Live.
If you want to build a more human-centric workplace, this is where you need to be.