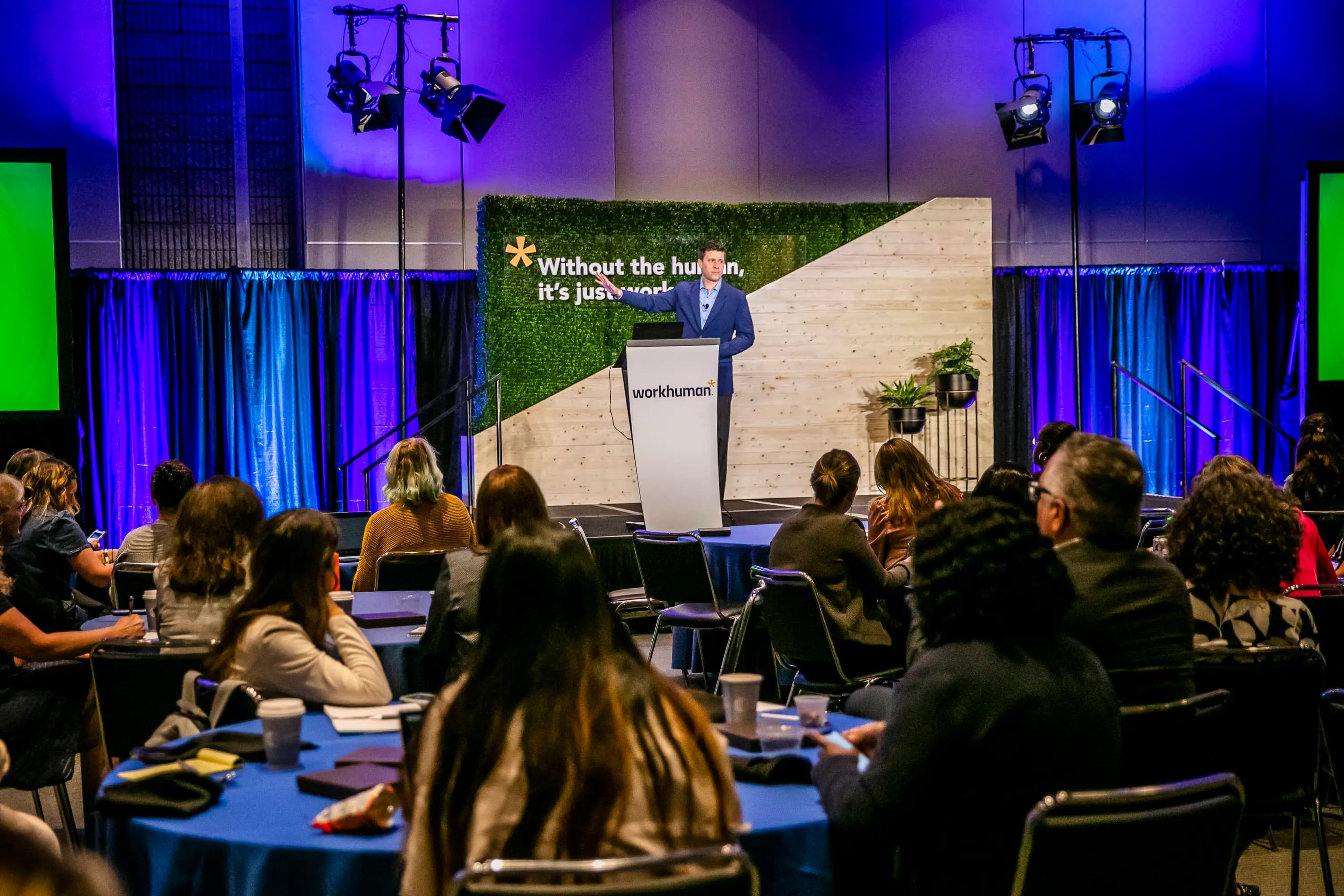 This week, senior HR leaders gathered at Workhuman® Live in Atlanta to share and learn as a community of professionals dedicated to making work more human. Across four thought-provoking workshops, we discussed the need for more agile talent strategies, the experience of women at work, and the urgency around having more courageous conversations when it comes to DE&I. We shared stories and asked the hard questions – and this is just the beginning.
Below you'll find some key takeaways from our time together. We hope this serves as a thought-starter you can bring back to your organization to continue your work bringing more humanity to the workplace.
Steve Cadigan on Saying goodbye to the Tony Soprano School of HR
"I can't hire the people I need as fast as I need to and they're not staying as long as they used to." That's a refrain Steve Cadigan hears from HR leaders on repeat. And it's no wonder, considering some of the stats about today's workforce. While 50-65 year-olds are staying at companies for 10 years on average, 25-35 year-old are only staying 2.8 years. And the problem is worse in Silicon Valley, where the average tenure is just over one year.
Will the Great Resignation and talent shortage trend continue? Steve thinks so. Rather than trying to stem the tide, he suggested companies need to face this new reality head on and change up their talent strategies. That means saying goodbye to what he calls the Tony Soprano school of HR – "You want to quit? You're dead to me."
Instead, focus on speed and adaptability. "If the rate of change of your employees exceeds the rate of change of your talent strategies, the end is near," he said. Here are some ideas he discussed:
Build alumni networks: With such high quit rates, that means your alumni network will only grow. Nurture those relationships. In the future, "will we measure engagement by how many [employees] come back?" posited Steve.
Expect a bit of crazy: So often at work we try to build for control and reliable results. But especially now, that's not the world we live in. What if instead we embraced change? Remove barriers for internal mobility. Show employees the learning and growth they could experience without having to leave the company.
Hire for what can be learned: "In the future we will hire for what you can learn, not what you know," said Steve. Recruiters used to focus on IQ and then shifted to EQ (emotional intelligence). The new trend will be AQ, the adaptability quotient. That also means your learning and development team will become even more critical to the business moving forward.
Would some of these tactics work in your organization? How can you flip the script and challenge the status quo when it comes to recruitment and talent management?
Eve Rodsky on Fair Play
Leadership at work starts at home, according to Eve Rodsky. She shared her story of achieving success in the corporate world – that is until she went on maternity leave, lost all her direct reports, and found out she would have to pump in a closet at work. That's when she made it her mission to solve an age-old problem: women shouldering a majority of the unpaid domestic work and childcare for their homes and families. It's a problem that's been given many labels:
The second shift
Emotional labor
Mental load
Invisible work
It's an important reminder that many women in our organizations are not only working full time, but also shouldering responsibilities at home that take up time and mental energy. Women are also often the ones buying birthday cards at work, planning get-togethers, and taking notes in meetings.
How can we interrupt these default modes of living and working? We all get 24 hours in a day, and it's time we stopped having different expectations for how women use their time.
Dan Heath on Moving Upstream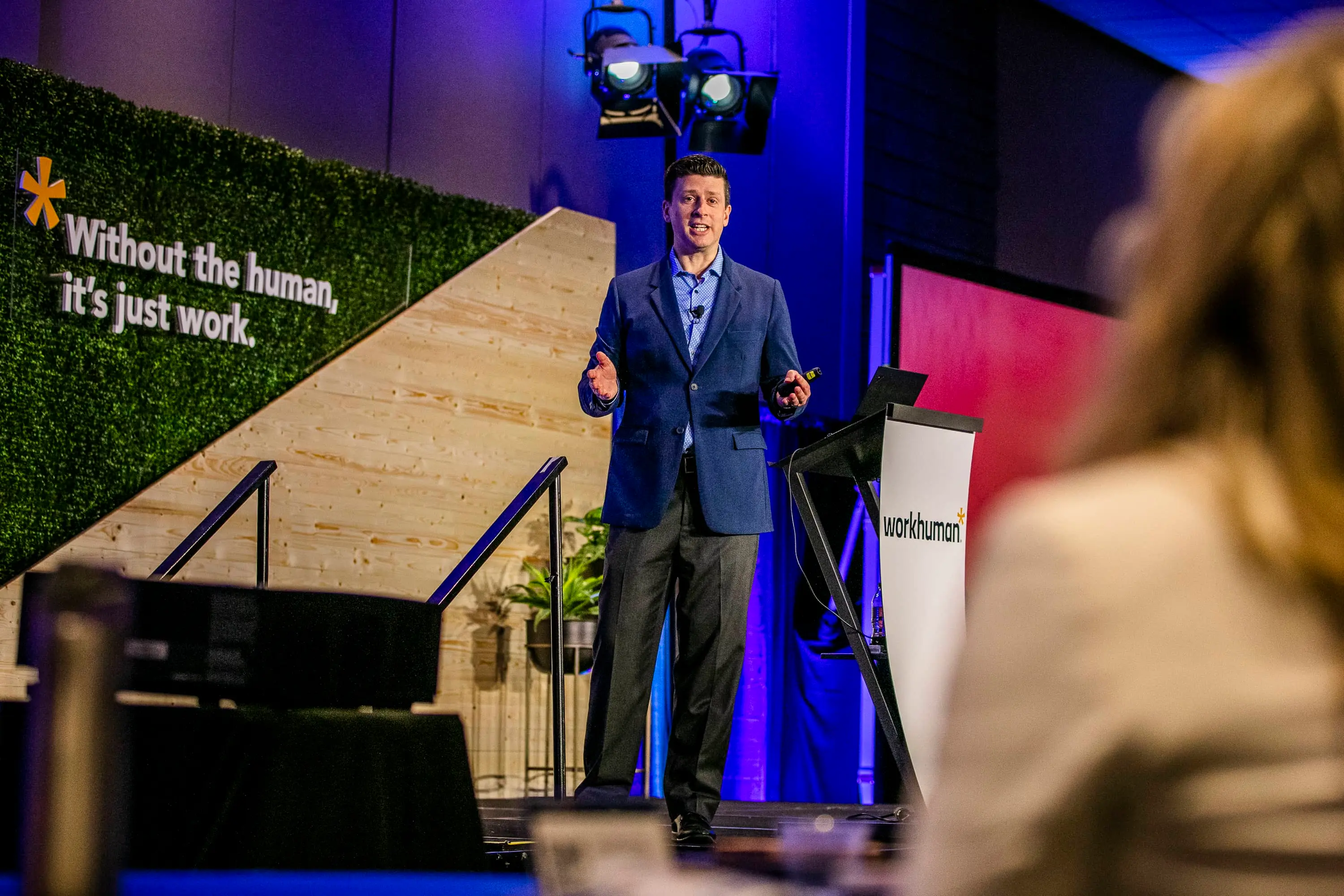 At any given moment, each of us is operating with an upstream or a downstream mindset – we're either putting out fires and solving the issues in front of us (downstream) or thinking strategically about preventing the problem in the first place (upstream). Unfortunately, many of our organizations are designed in such a way that employees are constantly downstream.
"Every system is perfectly designed to get the results it gets." – Paul Balalden
The reasons we're always downstream?
Tunneling ("I don't have time for that.")
Lack of ownership ("That's not my job.")
Problem blindness ("It's not fixable.")
Dan shared an example from Expedia to explain how we can move upstream. Several years ago, Expedia's customer experience group found that for every 100 customers who booked a reservation, 58 of them called customer service to request an itinerary. Customers were already emailed the itinerary but inadvertently deleting it, thinking it was spam. It was a $100M problem, but no one group or person in the company was responsible for making sure customers don't need to call. No one stood to benefit from this solution – which eventually was fixed with easy fixes to email copy.
The lesson? Don't prioritize the part over the whole.
How can we find ways to move upstream when it comes to our work in HR? In the session, we discussed employee retention in particular – focusing less on attrition and more on culture-building, manager engagement, succession planning, and rewards. Dan warned us not to just celebrate success, but to study it. Let's not fixate on problem employees at the expense of our star players. Instead, let's see what the rest of the team can learn from our star players.
Vernā Myers on the Need for Courage in DE&I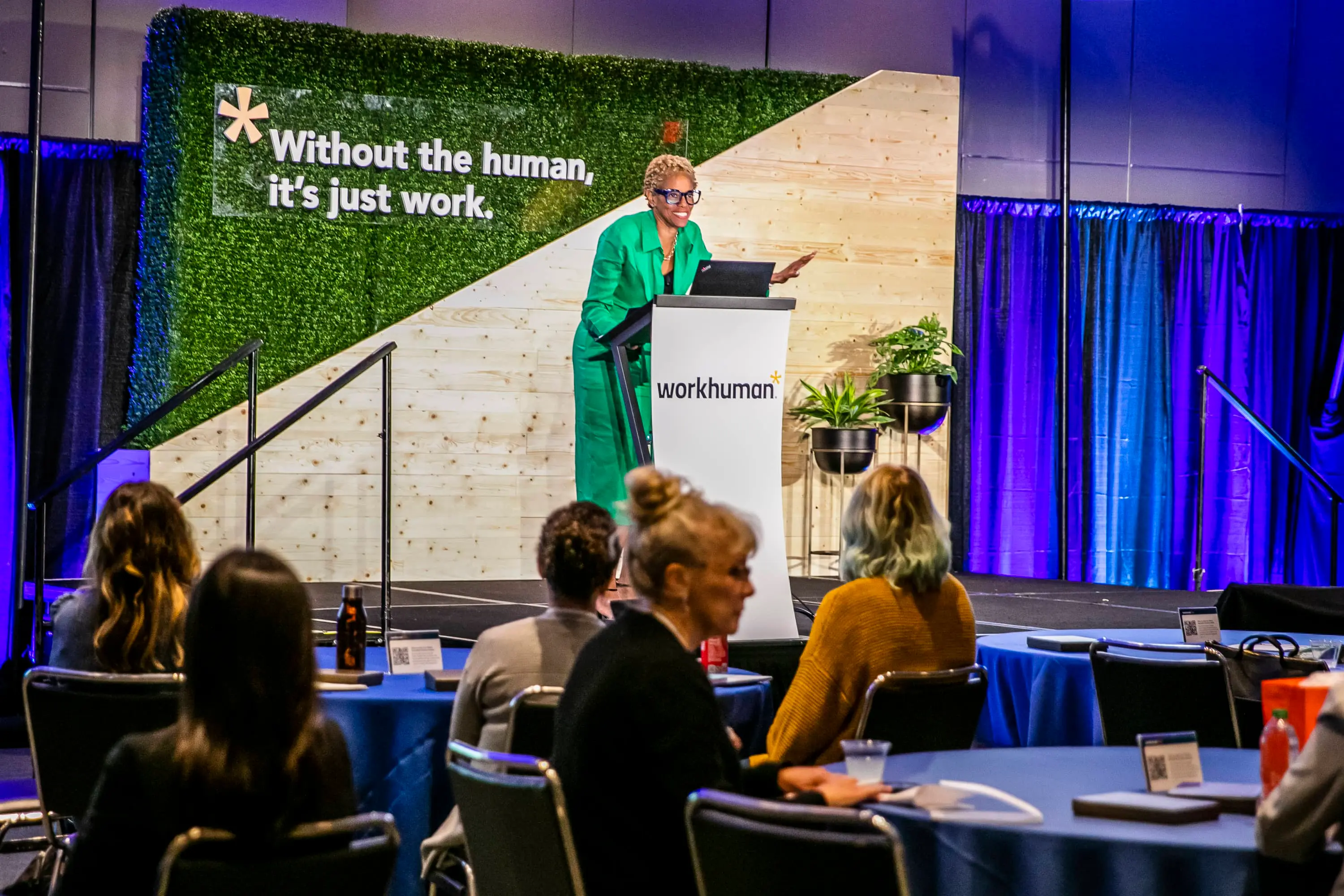 Vernā famously said: "Diversity is being invited to the party. Inclusion is being asked to dance." Now she argues there are other important questions to ask as part of this analogy:
Who's choosing music?
What dance are we doing?
What dress is appropriate?
What culture is this party based on?
If you want to bring DE&I to life in your organization, it's going to require both attention and intention. "Inclusion requires us to notice how differences may be making a difference," she said. And in order to do that, each of us needs to lean into courage and embrace a growth mindset – always learning, always thinking, always discovering.
Vernā stressed that courage has nothing to do with perfection in this work, because we're all human. She shared a story about being on a plane with a female pilot. When she experienced turbulence, she thought: "I hope this pilot knows what she's doing." It only occurred to her later that she would never question the competence of a male pilot.
When you make a mistake, you can leverage the ACM model developed by Julia Stern.
Apologize/account
Correct
Move on
Inclusive leaders embrace a growth mindset and they proactively seek feedback from those around them. They're constantly reading and listening and expanding their professional and social networks.
The one key idea Vernā left us with is to slow down our decisions – hiring, promotions, compensation. Look for biases in these systems. Ask who is benefiting from a decision. Who is being disadvantaged? And most importantly, say something. Do something about it.