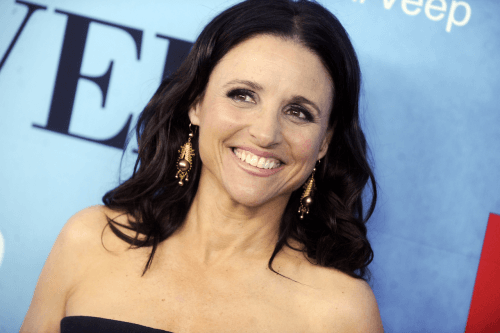 Julia Louis-Dreyfus will be a keynote speaker at Workhuman Live 2017.
One of our favorite parts of planning the agenda for Workhuman each year is choosing celebrity speakers. In the past, we've invited Rob Lowe and Michael J. Fox – both beloved actors who got their start in the 1980s, and both with, perhaps surprisingly, poignant messages to share about bringing humanity back to the workplace.
This year, we looked for someone whose career has spanned decades (four, to be exact); someone who has brought us joy and laughter; and someone who has remained authentic through it all. That's why we are thrilled to announce Julia Louis-Dreyfus, Emmy-award winning actress and environmental activist, as a keynote speaker at WorkHuman 2017.
If you were watching TV at all in the 1990s, you know and love Louis-Dreyfus for her role as Elaine Benes on nine seasons of "Seinfeld." She also played Christine Campbell on the CBS comedy "The New Adventures of Old Christine." And currently, Louis-Dreyfus plays Vice President Selina Meyer on HBO's "Veep."
Audiences and critics love her. Between all shows combined, Louis-Dreyfus has received nine Emmy awards with 22 nominations, a Golden Globe award with eight nominations, seven Screen Actors Guild awards with 19 nominations, two Television Critics Association awards with three nominations, five American Comedy Awards with 10 nominations, and has received the Charlie Chaplin Britannia Award for Excellence in Comedy.
At 21, Louis-Dreyfus was the second-youngest female cast member on "Saturday Night Live" (Abby Elliott was three months younger) when she made her television debut in 1982.
When asked about what she gained from her experience on "Saturday Night Live," she told The New York Times, "I was on it for three years, and when I left, I made this conscious decision that I would not take any jobs that didn't seem as if they would be really fun … I'm not doing this unless I can have a deep sense of happiness while doing it. I've applied that, moving forward, and it's worked."
Her focus on choosing jobs that bring her happiness has certainly paid off – and put her in company with iconic women like Lucille Ball and Mary Tyler Moore. Back in 2010, she told Variety, "I've always admired women who are not afraid of making themselves look bad or foolish to get a laugh."
Louis-Dreyfus not only makes us laugh, but she's also an outspoken environmental advocate, serving as a member on the leadership council for the Natural Resource Defense Council (NRDC), the board of directors of Heal the Bay, and the honorary board of Heal the Ocean.
Louis-Dreyfus is passionate about building a culture based on humanity, connection, belonging, and inclusion – and will share her story with us at WorkHuman. Will you join us?
---
Exciting news! @officialJLD is coming to #workhuman in May
Click To Tweet