3-minute read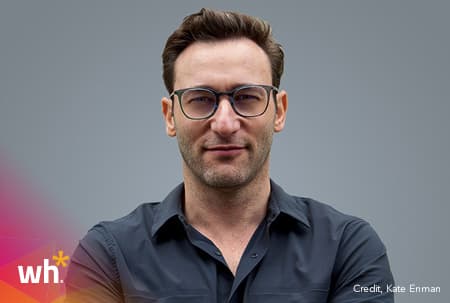 As part of Workhuman® Livestream, best-selling author and TED talk superstar Simon Sinek joined Workhuman® CEO Eric Mosley to discuss the unprecedented changes in organizational culture and leadership in these uncertain times.
Last year, Simon released "The Infinite Game," which addresses the need for existential flexibility within organizations, so when significant events occur, they can make profound shifts. Never did he "expect to go through such a significant event so soon, and to go through it with other leaders and organizations at the same time," he told Eric. Those who have an infinite mindset are the ones adjusting their business models and surviving in this crisis.
Your "why" matters
Simon is best known for his work helping organizations and individuals understand their "why," and he was clear that the COVID-19 crisis should not change an individual or organizational "why." The crisis "gives us an opportunity to bring your 'why' to life," he said. "Your why is like the foundation of a house. Even if the house burns down, the foundation is still there." The key is to take a step back and reflect on how you can align to your "why" in different ways.
For Simon and his organization, this meant they had to change their business model. First, they doubled down on their 'why': "to inspire people to do the things that inspire them, so that together, each of us can change our world for the better." They reinvented their business model, which was focused primarily on live events, and pivoted to live online learning.
Prioritize based on your "why"
Simon walked us through how his organization reinvented their product to inspire his customers even in these challenging times. Not only did they brainstorm new ideas based on the organizational "why," but they also adjusted how they prioritized the work. His team tags new ideas as green, yellow, or red. Green projects can be implemented immediately, yellow can be implemented in a few weeks, and red are post-COVID projects. The old way of working would have involved meeting after meeting to prioritize, reprioritize, and eventually, the work would have happened. By pivoting their processes and staying true to their "why," "so much more work has been done amid the crisis."
Crisis as the great revealer
This crisis has been a great revealer within organizations. Leaders who got by without doing a lot of work are now exposed. And those who had unrecognized leadership skills are stepping forward to lead and influence. Our shared humanity is being revealed as we take conference calls with our children in the background. "Crisis is such a great revealer of how someone can operate under the most difficult of times," said Simon.
Organizations with strong and weak cultures have also been revealed during the crisis. Weak cultures have employees hunkering down and protecting themselves. In great cultures, "people will show up and take risks together," said Simon.
Human connection matters
Will remote work become the new normal? Will we ever go back to the office? Simon believes the remote experiment we are all managing "underscores the importance and value of human connection." We must not abandon face-to-face connection.
Facing the trauma
Simon closed the discussion by talking about the trauma we are all experiencing. Many of us have been in mission mode for months. It may be months from now, "but we are going to have to deal with the emotional trauma," said Simon. "When you find yourself short-tempered, exhausted, or despondent, remember it's normal and reach out to those around you for support."
As we start to think about the new normal and continue to navigate in these uncertain times, stay true to your personal and organizational "why." This will give you clear direction and help you thrive.