5-minute read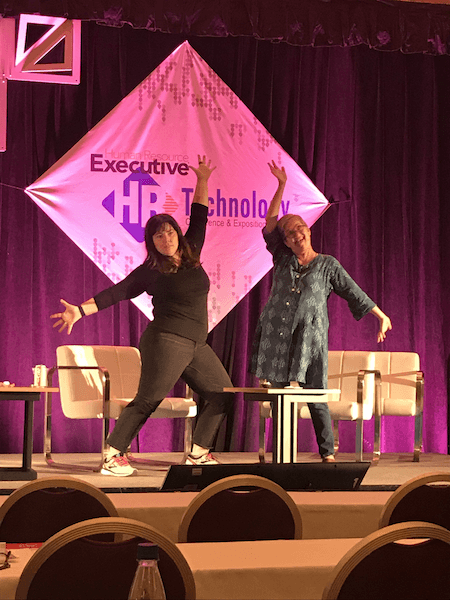 It's been just two years since the #MeToo movement exploded into the public's consciousness thanks to social media. And if you're like me, you might assume the story has driven significant advances in the areas of harassment, discrimination, and pay equity.
"No," says Heather Bussing, writer, analyst, and attorney of counsel at Rybicki & Associates in Napa, Calif. In an interview held during the recent HR Tech conference, she flatly stated: "We haven't even started because the people who can do something about it don't believe it applies to them. They don't think there's anything wrong."
To listen to the full interview and roundtable, click here.
Her co-presenter, Kate Bischoff, HR professional, employment law attorney, and an adjunct professor of HR compliance, echoed the same sentiments. While conceding there are some organizations taking steps to do better, it's her view that "as a whole, the workplace still needs so much work that I'm afraid of saying we're getting there. That's not the encouragement I want them to have. I want them to see that this is a problem we still have to work on."
In Heather's view, creating a workplace that's free from discrimination and harassment takes constant vigilance. "It's a daily practice. It's not a straight line. We have to shift the way we look at each other, treat each other, and work within our organizations."
Progress in parental leave?
Interviewer Mike Wood, Workhuman's industry relations manager, who is expecting his second child in November, asked Kate and Heather about parental leave and the anxiety that comes with it: "Are they still going to want me when I come back? Are they going to replace me?"
Kate noted, "We have told people, 'Your job is protected.' But that doesn't change the attitudes of your co-workers and your supervisors. So we have to have a way to make sure people feel comfortable actually taking the leave."
Heather added, "We're seeing progress for both men and women – and I am delighted. I am delighted to see those policies. I'm delighted to see leadership stand behind them."
Sexual harassment and discrimination: Where are we today?
In an earlier town hall forum, Heather and Kate took a deeper look at the current state regarding harassment and discrimination. Kate told the audience that her first job after law school was "holding the hand" of sexual harassment victims in the courtroom: "When they couldn't use their voice, I could use mine to amplify their problem and … try to make things just a little bit better for them."
In a powerfully moving moment, Heather brought home the reality of sexual harassment and discrimination as she shared her firsthand experiences. "I've been raped at work. I've been sexually harassed. I've been passed over for the cool assignments. I've had to stay at home and review documents while my colleague – who has less experience – goes out to do the trial.
That feeling of belonging
The session then explored the issue of belonging. Almost everyone in the room raised their hand when Heather asked, "Who has felt like they don't belong?"
She noted: "It's not just the immutable characteristics of our gender or our race or our disability. There are some things that we choose – like our religion."
As someone who was adopted as an infant, I was particularly moved by Heather's story of being an adopted child and how at times it made her feel like she was different. "I didn't know my family, and I didn't know my story," she said. "My very existence was in question. And that's what discrimination feels like."
"Us" versus "them"
A recurring theme in their roundtable discussion – and one that is particularly poignant in today's politically charged environment – is the notion of "us versus them."
"There is this constant push and pull of good, bad, us, them," observed Heather. "And part of it is human. Part of it is our brain and how we process information. And part of it is our culture."
She noted that the metaphors we use in our culture – including in the workplace – are based on aggression, competition, and defeating others. "It's an enemy-based view of the world, and if you have an enemy-based view of the world, you must always have a new source of enemies."
Roadblocks to equality
Why haven't we made more progress in the areas of equality? Heather theorized that men are afraid of receiving the same unfair treatments they have doled out for so long. But by viewing the issue through this lens, she believes they're missing a key point: "That's not the 'novel' that diversity and inclusion, or gender equity, or any of the ideas behind equity is based on. It's based on a system that works well for everyone. Everyone."
Harassment, defined
Kate then explored the definition of harassment. She acknowledged that, thanks to lawyers, the idea of a "hostile work environment" is "one of the most difficult concepts in employment law."
Worse yet, it's a concept that's difficult to articulate: "We don't have a bright-line rule of 'This is harassment, this isn't harassment.' It's kind of a 'We'll figure it out as we go along.'" As an example: People can feel uncomfortable when they simply observe public displays of affection. Should this be considered a form of harassment?
She added, "When you're actually facing harassment, you struggle with it. Do you wait until it reaches the really high legal standard of harassment – which typically involves at least touching? Or do you try to deal with it before then?"
What advice does she have for those who are the targets of harassment? "If you feel this way, other people do too." Bonding with others can provide the strength and motivation for you and other targets to go to HR or another manager.
She adds that victims don't have to go through their "chain of command." They can approach anyone in management because when a manager knows about an incident, the organization knows about it too.
"The important part for individuals who are the targets of harassment is to know that they are never alone."