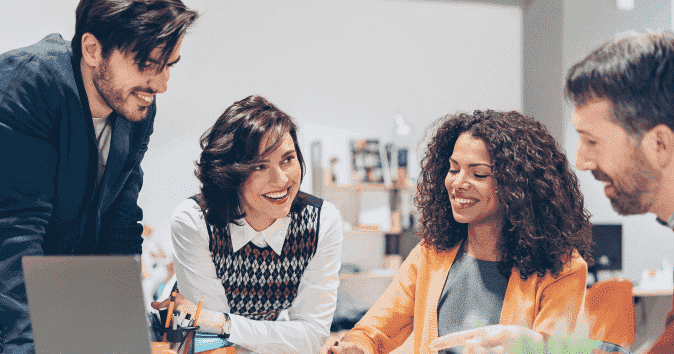 People are the heart of your business.
Prioritizing humanity in the workplace brings out creativity, innovation, and productivity. That's right; these are outcomes your organization can influence. Effective human resource practices improve employee performance. Moreover, they contribute to the company's success.
Most outdated methods of managing performance focus on results, not the person. This leads to less confident and less engaged employees and a higher turnover rate.
Improving employee performance, in large part, relies on improving the employee experience and making sure your people have what they need to succeed.
So how can you keep your employees happy? What are the best practices for improving your employees' performance? Let's find out.
Why high employee performance is so important
High-performing teams are made up of employees meet deadlines, reach sales quotas, and give better customer service. They also make fewer mistakes, and there are fewer quality issues with products. They can double the success rate of a business.
An employee's performance draws a lot from their own ability to rise to the task in front of them, but their efforts are aided by a workplace culture focused on supporting them.
A workplace culture focused on connection allows high-performing employees to collaborate and communicate more effectively. One that disregards connection might have some high-performers, but their ceiling will be capped working in a silo.
The role of performance management
Performance management is a way for employers to test if their workers are meeting performance goals.
It allows the company to identify performance problems in the workplace and remove the roadblocks necessary to facilitate productivity.Yet, the usual ways of evaluating the performance levels of workers may not be effective. According to a report from iQ, 53% of employees feel performance management processes are inaccurate in gauging productivity.
It could be worth reevaluating how you evaluate employee performance. Here are some steps you can take to improve employee satisfaction with the methods of managing performance.
Seventeen Strategies to improve employee performance
Evaluating employee performance begins with evaluating employee engagement.
According to Forbes, companies with an engaged workforce see 15% more productivity and 26% less turnover compared to a disengaged workforce. This is why performance improvement plans should focus on getting more employee engagement.
1. Set clear expectations / define high performance
Before anything else, you should determine what counts as high work performance. If your employees aren't aware of your company goals, they can't meet your expectations.
Setting clear expectations involves the following:
Establishing SMART goals
Goals are essential for improving employee performance. However, your performance goals should follow a SMART framework.
SMART stands for specific, measurable, achievable, relevant, and time-bound. A SMART approach helps ensure your performance improvement plan is realistic. SMART goals provide leaders with clear metrics for measuring employee performance. 
You should define targets for each employee and let them tackle issues over a certain period. Avoid overstepping time constraints by getting your employees to work overtime.
Communicating expectations effectively
After establishing your goals, you should communicate these expectations to your employees. However, it's not as simple as telling them what they should do. 
Practical tips for effective communication are keeping the message simple yet inspiring. Be ready to provide guidance and allow the conversation to work two ways by soliciting employee feedback.
Communication is essential for improving performance.
Aligning individual and organizational objectives
Aligning individual and organizational objectives should be a collaborative process. The best goals are ones your employees want to do, not just what they're required to do.
Good leadership means directing your employees toward your company or team's goals. To achieve this, provide a guide that'll help your employees improve their workflow and align with your objectives.
It also means talking to employees who aren't in line with your workplace goals.
2. Provide employee training and development
Let's blow your mind real quick: an SHRM study found that society hasn't invented 85% of the jobs people will have by 2030. Training and development for these roles will dominate discussions over the next few years.
Even now, employee development is necessary for the long-term success of any business. It reduces job insecurities, and you can expect more employee confidence in handling crises and other difficult challenges.That said, here are some ways to improve employee performance through training and development.
Assessing skills and knowledge gaps
According to a CareerBuilder survey, 45% of employees feel that their performance may be lower because of a gap in skill sets. And that feeling is apt, as 87% of organizations have skill gaps among employees.
Employers should reevaluate the skill sets of each team member. This'll help determine the best ways to fill knowledge gaps and boost employee performance.
Offering targeted training programs
Employees benefit from focused training and specialized experience. Both should be part of their development plans.
Training may be costly, but conducting it has major advantages for your business. Employees gain a deeper understanding of their role or field or even gain a certification to broaden what they can do for your business. 
Employee efficiency improves with employee training, and more and more highly-qualified internal candidates are now able to take on more responsibility and yield a bigger impact for the organization, boosting their own performance and that of their teammates too.
Training empowers your workers through formal education, assessments, experiences, and mentoring. Targeted training programs create new skills that'll support your company's growth.
Moreover, creating an employee-powered development loop allows employees to take ownership of their learning. The next step for employers is to then identify growth opportunities that match the increasingly qualified employees. 
Promoting development in your workplace also saves you from having to hire new workers. After all, why should you spend resources on hiring when you can train your loyal employees instead?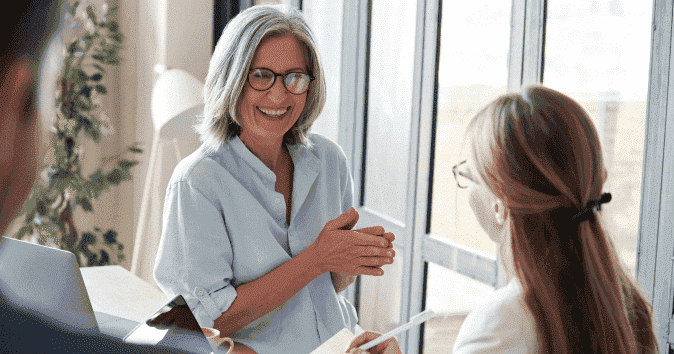 3. Continually evaluate performance and provide feedback
How often do you conduct performance reviews?
In the traditional way of managing performance, employees only receive evaluations once per year. The annual review method is insincere, prone to bias, time-consuming, and rigid.
Researchers say that only 14% of employees feel that yearly evaluations inspire them to improve. Instead of this, you should practice the regular measuring of employee performance in order to respond to challenges and setbacks.
Hold regular check-ins
Employee-manager relationships affect productivity and engagement. Because of this, managers should do regular check-ins to see if workers are facing performance issues. This is called continuous performance management.
During the check-ins, you should always start by recognizing the work done by your employee. Also, you should listen and connect with each team member while focusing on career growth.
Workers who experience check-ins once a week are twice as likely to trust and respect their manager. They're also twice as likely to believe that they can experience growth within the company. This is the type of environment best suited to address employee performance issues in an open and empathetic way.
Learn how the Workhuman Platform can transform employee engagement in your organization. 👉Request a demo today!
Implementing 360-degree feedback
Human decisions are always affected by biases. A study found that 75% of employees know that they receive inaccurate ratings from higher-ups. 
To mitigate the risk of one voice domineering the reputation of an employee, you should practice a 360-degree feedback policy when reviewing performance goals. Here, each team member gets assessments from their co-workers, clients, and managers.
This method is more accurate for gauging your employee's strengths and weaknesses. The 360-degree feedback model is also better than traditional methods because each review is anonymous.
People can assess each other truthfully and provide constructive feedback in a respectful and honest way.
4. Focus on employee motivation and engagement
Again, keeping employees engaged and motivated is a powerful way to improve employee performance. One study by Wijianto Wijianto, notes that employee engagement itself can be influenced by the employee's motivation. 
From a healthy work-life balance and company culture to policies aimed at improving team morale and employee happiness, there are steps you can take to make sure employees feel appreciated and, thus, more motivated.
Recognizing and rewarding achievements
Growing a business is challenging. And as an organization, you should take every meaningful opportunity to celebrate success that you can. 
A Workhuman survey suggests that people stay for meaningful work. This indicates they're more likely to stay in organizations that recognize employees for a job well done.
Recognition is a vital tool for day-to-day accomplishments and contributions, and Service Milestones® helps highlight marquee moments in an employee's tenure.
Encouraging intrinsic motivation
Intrinsic motivation is about doing an activity because it can make employees feel satisfied.
It's a way to encourage employees to pursue growth. Intrinsically motivated people enjoy their work activities.
How do you do it?
A study found that giving workers a choice on what they'll work on is a factor in increasing intrinsic motivation. Performance-based benefits also help improve employee performance.
Promoting a positive work environment
The cost of replacing employees is up to 150% of a worker's salary. A positive work environment has an outsized impact on whether or not employees want to stay at your organization.
Positive work environments can lead to increased collaboration, communication, and innovation. Employees make fewer mistakes because they're working together.
One study found that better work environments for nurses led to fewer cases of burnout and decreased cases of patient complications.
5. Provide effective leadership and management
Effective leadership at work sets employees up for success. Here's how to improve employee performance through good management.
Adopting a coaching mindset
According to Robert Hicks, PhD, from The Coaches Corner, a coaching mindset allows workers to grow as professionals by listening to an issue and problem-solving with employees.
Coaches help develop employee skills, and when they communicate effectively and encourage their employees to do the same, they do their part in creating a more open and transparent company culture.
Coaching increases skill development, builds employee-manager relationships, and increases positivity in the workplace, too. Because coaching puts you in tune with what employees are working on, you're able to more accurately assess performance.
Demonstrating emotional intelligence
The need for people to be heard is driving a shift in the workplace. Having high emotional intelligence is a must for leaders to meet employees where they are and practice effective communication.
EI is the ability to understand and use emotions to show concern for others. One study found that emotional intelligence results in better conflict management.
Demonstrating emotional intelligence is also a great way to gain respect from team members and improve performance and customer satisfaction.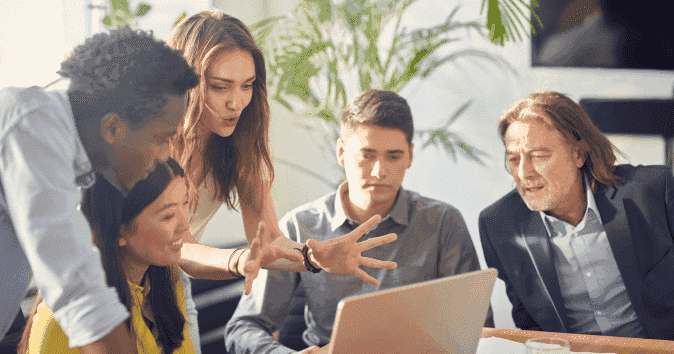 6. Use tools and technology to your advantage
The usual ways of improving employee performance can be cumbersome and unreliable. Modern tools can simplify the process by keeping a record of meetings, progress, and individual goals.
Here are a few essential tools for all businesses.
Performance management software
As discussed, a key strategy in the future of work will be real-time coaching. In fact, some predict that 40% of the market will shift to real-time coaching by 2024.
Conversations® is a way to manage performance improvement within your workforce. It ensures employees get their work done through easy goal-setting and real-time feedback.
This is a great tool for giving your employees assessments at any time, thus promoting collaborative learning.
Time and project management tools
Keeping employees on track is a job in itself. You can ease the burden on yourself and encourage employees to own their workflow with tools geared at helping them stay organized.
Tools aimed at project and time management boost performance by eliminating the time it takes to find documents and key information. Employees are thus able to focus on what matters.
Collaboration and communication platforms
Speaking of communication, Social Recognition® is a great way to get employees to improve their performance.
It encourages peer-to-peer recognition as a reward for a job well done, boosting employee morale in the process. It also creates personalized social experiences so employees can see insights from their co-workers throughout the organization. 
The ROI of social recognition is a healthy stream of positive interactions. These interactions help employees feel valued for their meaningful contributions.
7. Foster employee well-being and work-life balance
Finally, fostering their well-being makes your employees feel psychologically safe and valued. This can be a powerful way to improve employee performance.
Implementing wellness programs
You can unlock employee potential and improve employee performance by implementing wellness programs.
The best wellness programs create positive psychology at work and boost employee morale.
The benefits of positivity in the workplace are nearly endless. But just for starters, it can lead to more collaboration between teams and an increased openness to learning.
Encouraging flexible work arrangements
We are in the midst of a human workplace evolution.
Studies show that allowing employees to work from home increases productivity by 47%. There are findings that people who do remote work achieve 1.4 more days' worth of labor per month.
Not only that, flexible work arrangements also have positive effects on people's health. Researchers found that flexible work directly impacted mental health, sleep quality, and even blood pressure among workers.
Managing workload and preventing burnout
According to The Encyclopedia of Clinical Psychology, burnout happens when employees feel unmotivated, overworked, and depleted. It occurs in workplaces with constant stressors.
Recovering from burnout may take more than time off from work. In some cases, it may even lead to more serious consequences.
This is why you should manage your employee's workload to help improve their mental state. To do it, implement a boundary between work and personal life.
See how recognition can positively impact your workforce by downloading Workhuman's report.
FAQs
How can you improve employee performance?
One of the best ways to achieve performance improvement is to increase employee morale. You can do this by humanizing the work environment.
Encouraging employees to take ownership of their development and measuring real-time performance metrics are also effective methods.
Why is it important to improve employee performance?
If you help employees improve their work performance, you can double the success rate of your business. Strong employees make fewer mistakes in their job duties because they don't put a half-hearted effort into their work.
Moreover, improved employee performance results in higher sales and better customer experiences.
Conclusion
There are numerous ways to improve employee performance.
But some strategies are best practices. No matter what, you should set clear expectations for employees. How does what they impact the company and tie back to its goals?
You talk with your team and encourage open communication as a way to problem-solve. And finally, you should foster employee development and push for employees to strike a proper work-life balance.
Many tools are available to help you increase employee engagement and performance, and can be a huge help in achieving your goals.