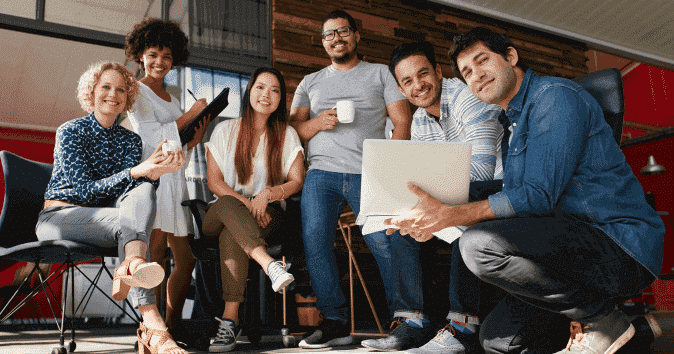 How can you motivate your employees to work hard? How can you help them solve problems and overcome challenges?
The answer is simple. Set team goals.
But is setting goals enough? Not really! Unless every company goal and every team goal aligns, you will see little success, if any.
In other words, establish meaning and purpose behind the team's work. Then give the team the tools they need to succeed.
You can't just have every team member achieve personal goals and leave it at that. Team goals encourage everyone to work together. And collaboration equals success.
This guide will help you learn about energizing employees, cheering on teams, and boosting performance all around.
Setting successful team goals
For team goals to be successful, you need to follow a holistic approach that ties in the company's vision with individual aspirations at the team level.
Steps to set an effective team goal
Team goals, if set effectively, can elevate performance and have a direct impact on the company's bottom line. Here are the steps you can follow -
Understand the short-term and long-term goals of the company.
Collaborate with the team to develop a strategy to meet these goals.
Set SMART goals.
Tie individual goals with incentives and the overall goals of the company.
Set timelines to achieve the goals.
Track the progress.
Review the goals regularly.
Understanding SMART goals
SMART goals stand for Specific, Measurable, Achievable, Relevant, and Time-Bound Goals. By defining these parameters, you ensure that the team can attain the goals in a given timeline. SMART goals avoid generality and guesswork.
This is not a SMART goal -
'Encourage more employees to do Prince 2 certification over the coming weeks.'
This is a SMART goal -
'Increase the number of mobile application subscribers by 15% in the next three months leading to a $50,000 direct raise in the company's monthly revenue.'
Using OKRs to set team goals
If your company does not know what it is working to achieve, individual or team goals will make no sense. Even if the employees set individual goals, they will get stuck somewhere or underachieve.
OKRs or Objectives and Key Results help develop a clear roadmap for the company. You can align team and individual goals according to the OKRs and easily track the progress.
Cutting down the churn rate from 10% to 5% is an example of an OKR within the customer relations process.
Benefits of strong team goals
The best team goals increase:
Accountability for performance improvement: Employees are accountable for their performance at individual and group levels. The managers can observe individual and team performance better and, if necessary, nudge the team in a beneficial direction for the company and the employees.
Development of team members' skills: With specific team goals, managers work together with their team members and develop new skills. For example, a specific and measurable goal for an employee could be to get a six sigma certification over the next quarter.
Recognizing individual contributions: Team goals help managers identify and recognize individual contributions. The company can identify contributions that it previously overlooked.
Employee satisfaction: According to an article from the Journal of Applied Psychology, setting clear goals leads to higher employee satisfaction. Employees can understand how their skills and work fit within the group. For example, an indicator of employee satisfaction could be higher CSAT ratings and lower problem resolution time over a call.
Transparency at work: Team goals ensure that everyone on the team is working toward the same objectives when collaborating on projects. Transparency brings in greater trust and builds a support system.
Higher Engagement at Work: As the Harvard Business Review states, "The foundation of every great team is a direction that energizes, orients, and engages its members."
Fostering a collaborative work culture: When an employee understands how their tasks align with others' work, it encourages teamwork. Rather than working in isolation, employees can support other members, thus producing higher-quality results.
Empowerment: The more employees are engaged in setting goals, the more committed to those goals they are likely to be. Companies should encourage employees to set their own goals that align with their objectives. Let the employees write down their goals. The role of managers should be to align individual goals with the goals of the company, which creates an empowering work environment.
Examples of team goal setting process
Enhancing Customer Satisfaction Ratings - Increase the CSAT ratings from 4 to 4.5 over the first quarter of the current financial year.
Increasing Customer Retention Rates - Increase the customer retention rate from 35% to 50% over the current financial year.
Acquiring More Customers - Acquire at least 5 new B2B clients from the English-speaking European markets in the current year.
Reducing Customer Service Contact Volume - Monitoring and resolution of the technical issues in the mobile app to reduce the number of calls to the contact center from 75 to 35 per day over the next quarter.
Amplifying Social Media Engagement - Invest 5% of the marketing budget on social media to increase online engagement month-on-month.
Implementing a Consistent Content Strategy - Design a consistent content strategy for social media, newsletters, and blogs. Have a monthly content calendar for the content team to follow.
Conducting Regular Team-Building Activities - Have at least one team-building activity per quarter with a budget of $250 per person for day activities.
Decreasing Client Response Time - Route the customer calls to the right team for a 20% faster response time.
Decreasing Resolution Time - Use a CRM system to track the existing data of the customers and reduce the resolution time from an average of 9 minutes to 5 minutes.
Earning Relevant Certifications - Provide paid leaves for employees to take the six sigma certification exam over the next quarter. At least three members from each team are to be six sigma certified.
Reducing Accounts Receivable - Automate the AR system to send reminders with multiple payment options. Give incentives such as discounts for payments within 15 days of service delivery.
Networking to Expand Business Connections - Attend at least three trade shows and 2 industry conferences in the next quarter to expand the network and company's branding.
Boosting Sales Revenue - Reduce maverick spending and revenue leakage by 20% and optimize the suppliers to boost the sales revenue by 5% over the next 6 months.
Reducing Project Turnaround Time - Use employee training for upskilling over the next 3 months to reduce the project turnaround time by 15%.
Ensuring Stakeholder Satisfaction - Identify and list the internal and external stakeholders and define at least 5 parameters to measure the satisfaction index. Take feedback over a 30-minute call from the stakeholders to define the parameters.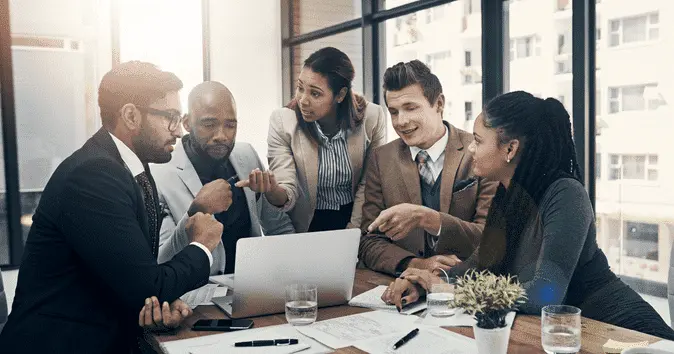 Turning team goals into action
Addressing challenges when team goals are not met
If the team or individual goals are not met, chances are that there is some unresolved conflict of interest that needs resolution. Here is a list of common challenges that a company may face in managing team goals -
Internal competition - Healthy competition is beneficial. But competitiveness with only personal gains in mind can be harmful to the individual and the team. It can lead people to withhold information for personal gain.
It is best to set examples of personal growth through collaboration. The team must understand that real progress happens when people work together and uses each other's skills effectively.
Philosophical, habitual, and ideological differences - Philosophical and ideological differences, such as how a company should achieve a goal, and habitual differences, such as coming to the office at a certain time, can cause conflict among employees and with their manager.
By having an employee code of conduct, one can take care of habitual differences. For philosophical and ideological differences, healthy discussions or training with a trainer can help people appreciate and not oppose each other's differences.
Working in isolation - In a large team, individuals may end up working in isolation on a project that ultimately does not integrate well with the larger goal. For example, two Java developers working on two pieces of code without consulting each other can cause problems during integration.
It is best to have a supervisor who can monitor and manage integration and facilitate discussions/team meetings.
Overlapping skills within the team - Too many people with the same skills can cause inefficiency and conflict in the team.
The manager can carefully choose the team members and allocate the roles based on their talent and skills to avoid conflicts.
Withholding information - By sharing information, team members ensure the overall success of the project. Withholding any information can cause delays and bring inefficiency.
Encourage sharing of information by setting examples from top to bottom. Managers can share information demonstrating that personal or professional motivations exceed the team's goal. This culture trickles down to the last mile within the team.
Trust issues - Trust among the team members is essential for higher productivity and for the individuals to seek assistance. Without trust, it is difficult to achieve goals.
Personal bonding, along with professional outcomes, creates trust between the employees. Team building activities that encourage them to take another person's assistance can be helpful.
Lack of clarity - If the employees don't know the company's expectations, chances are that they will not meet the goals. This directly affects productivity and the bottom line.
A quick solution is to discuss the goals with the team member before the project starts and keep monitoring as the work progresses. Writing down key expectations often makes a lot of difference.
Leading the goal-setting process with your team
Collaborative Approaches to Goal-Setting - Goal setting should always be after feedback from the team members. This helps in aligning the team goals with individual goals and thus avoiding any conflicts.
Adaptable and Dynamic Goal-Setting Process - The goals should always be open to changes and dynamic as the situation demands.
Empowering Team Members to Own the Goals - By aligning the company's goals with individual goals, you ensure that the team members own them and take proactive actions.
How team goals impact performance
Team goals should be part of a continuous performance management process. The team and leadership should revisit and adjust the goals as needed. The process should focus on giving feedback to the team and coaching them on how to succeed.
Ask these questions in team goal-review sessions to facilitate coaching and feedback:
Are we on track to hit our next milestone?
What wins have we had?
What challenges or blockers are appearing?
Is course correction needed?
Is this goal still aligned with the broader strategy?
How to set team goals step-by-step
1. Follow the SMART approach
Outline the particulars of your goal by starting with the SMART approach:
Specific: Define the particular outcome you want to see.
Measurable: Choose a quantitative metric for success.
Attainable: Make sure the goal is realistic based on team capacity.
Relevant: Align the goal with the company's vision, mission, and values.
Time-based: Establish a strict deadline for the goal.
2. Make it meaningful
Make your goal meaningful. This will instill in them the desire and resolve to reach it.
For example, instead of just encouraging the team to attract more customers, emphasize the importance of providing value. Highlight how your employees can help, engage, and inspire people with their work.
Give them a reason to be passionate about the project.
3. Clarify your role
As the leader of the team, if you're not committed to the goal, they won't be either.
Make your work transparent. Display your investment in the goal-setting process. A willingness to devote your time and energy to the cause is the mark of a true leader, and your employees will respect you for it.
4. Listen to the team
Get feedback from employees about goal ideas. Use interviews, surveys, or polls to do this. Keep things anonymous to allow employees to be truthful.
Listening to your team is just good sense. Data shows that organizations are 88% more likely to perform well financially when their employees feel heard.
5. Finalize the goal
Solve any final concerns people have with the goal. Then, make it official to everyone involved.
A psychology study by professor Dr. Gail Matthews shows that participants who sent weekly updates to friends about their goals were more likely to achieve them. The act of writing something down forces you to take it seriously.
6. Recognize progress
Don't reserve recognition for the end. Tracking progress and recognizing smaller milestones throughout the process improves motivation. Hand out small rewards for behaviors like effort, persistence, and problem-solving to drive commitment.
Feedback about performance can enhance motivational levels in employees. Motivated employees will deliver better products than employees who don't care.
To learn more, check out The ROI of Social Recognition.
FAQ
What are some team goals examples?
Achieve a customer satisfaction rating of 90% or higher by the end of the year.
Complete 10 training modules on the new company software by the end of Quarter 3.
Increase social media engagement by 75% by the end of March.
How do you maintain your team's focus on specific goals?
Communicate: Talk to them regularly. Give them reminders. Ask questions. Offer help.
Track progress: Recognize milestones throughout the project. Announce the halfway mark, for example.
Give recognition: Acknowledge their contributions.
Should a goal have a time frame?
A goal without a deadline is like a race without a finish line. It's just not practical.
By giving a deadline to your team, you can make them feel proud of themselves for meeting it. And that translates directly into higher employee morale.
Conclusion
Collaborative goal setting that takes care of the company and the individuals make the team feel nurtured.
Talent remains in the company that takes care of each individual and helps them achieve their goals. I hope this tutorial inspires you.
At the end of the day, setting team goals is one of the most powerful ways to motivate people. Goals foster a culture of hard work, collaboration, and determination.
How did you like this article? Let me know in the comments. If you appreciated this guide, consider sharing it.
And consider getting a tool to help. Workhuman Conversations allow employees to check in with managers, share progress updates, and achieve goals, all within a super user-friendly interface.