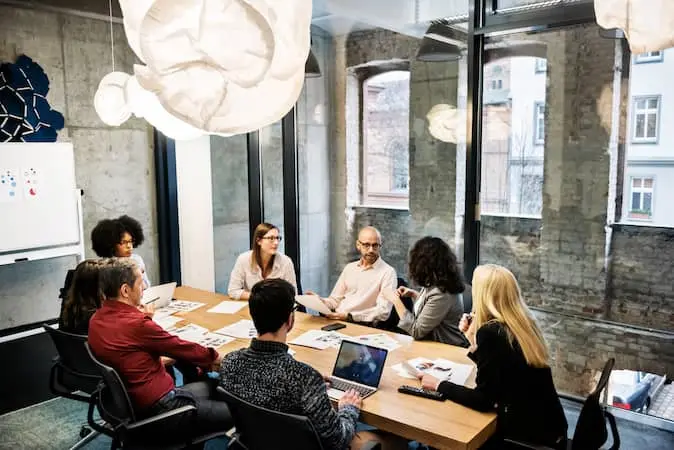 Regular check-ins are essential for employee morale and productivity. While it can be difficult for the whole organization to get together, teams should have at least one weekly session. Accordingly, the best team leaders must know how to run productive weekly team meetings.
Not only is holding weekly meetings ideal for evaluating performance, but it's also a great way to keep employees engaged. So, getting your meeting agenda ready for an effective team meeting is crucial.
Benefits of weekly team meetings
Weekly meetings can feel redundant and pointless. However, if conducted right, they can significantly improve work quality and team spirit.
Here are some of the reasons why your team should have weekly meetings:
Increases the productivity of the team
Research shows that frequent, purposeful meetings lead to higher productivity in the workplace. This is only natural, as meetings allow the team to reflect on past work and brainstorm solutions.
Moreover, weekly meetings combine the team members' expertise. So, the meeting room can be a place for learning, and colleagues can be each other's coaches.
Weekly meetings can also be a place to recognize top employees and small achievements over the week. This keeps everyone in the loop. In turn, clear communication boosts morale and employee engagement.
Creates a culture of continuous feedback
Continuous feedback will help team members stay aligned and set goals. Instead of performance reviews being a negative, anxiety-inducing experience, constant feedback makes these check-ins significantly positive.
Weekly meetings are one of the best ways to achieve continuous feedback. Instead of focusing on the past in one annual meeting, you can focus on the present and future, correcting any errors as they happen.
That's not all, but continuous feedback focuses on the positive aspects. It makes the meeting about learning, coaching, and setting team goals, not criticizing.
Reduces workplace stress
While some employees find meetings stressful, a constructive session can have a great impact on employees' well-being and mental health.
Open communication in the workplace is crucial, and weekly meetings allow for transparency between all team members. Additionally, frequent employee recognition is an ideal way to combat burnout.
Team meetings are also a place for social interaction. If there's enough time on the agenda, the meeting room would be perfect for co-workers to interact in a less formal and stressful manner.
Allows continuous performance management
There's a vast difference between micromanagement and continuous performance management (CPM). While micromanagement includes telling your employees what to do to achieve the best results, CPM is all about employee-centered learning.
Weekly meetings allow managers to check in with the team and offer assistance. This will help build a positive relationship between managers and employees, thus enhancing their performance.
In fact, employees who receive frequent check-ins are 18x more likely to ask for feedback from their manager.
How to run effective weekly team meetings
Now that you know how important weekly team meetings are, you must understand that unproductive meetings can do more harm than good. Instead, you should learn how to make each session effective and engaging.
Here are all the steps that'll help you run a fruitful weekly meeting:
1. Define the purpose of the meeting
Nobody likes pointless meetings, especially if they're frequent. They take away from everyone's time. As a team leader, you must set the purpose of the session early on.
Not only will this keep you from getting distracted throughout the meeting, but it also helps team members clearly understand why the meeting is happening and how it's a good use of everyone's time.
When everyone knows the reason for the meeting, there'll be significantly less stress. This might even prompt more employees to attend the meeting if they feel they have a contribution to add. On the other hand, employees who want to focus on other tasks can opt-out.
Furthermore, when the employees understand the meeting's value, they'll be prepared with questions and information, leading to a more fruitful session.
2. Only include the necessary people
Running an effective team meeting doesn't only depend on the information, but also on the employees in attendance. To keep sessions interactive with minimal distractions, only include employees who'll either support or benefit from the session.
Decide who needs to be at the meeting and if they should be there every week
Some team members shouldn't be at every meeting, while others are essential. For example, if it's a particularly busy work week, some employees might need extra time to finish their tasks.
In this case, you're looking to narrow the meeting down to the essential team leaders, who can then pass on the information to everyone else.
The best part is that including fewer people will keep the meeting organized and prevent unnecessary distractions. That's because the meeting will only cover fewer but more essential topics.
Though to keep everyone included, you should have frequent meetings with the entire team too.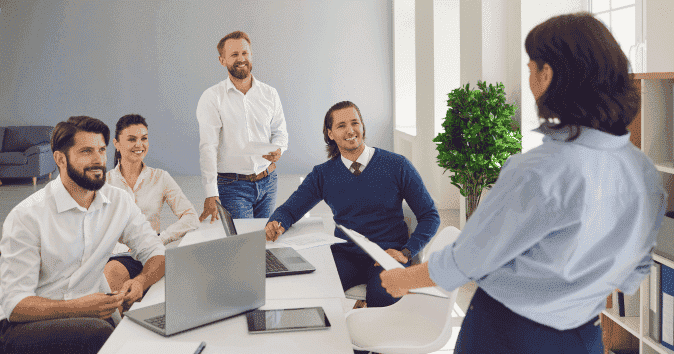 Try to keep it under eight people
The rule of thumb when deciding on participants in a meeting is the 8 – 18 – 1800 rule. Important sessions should include no more than eight attendees. For brainstorming, invite no more than 18 people. Then, relay the information to as many as 1800 people.
Since weekly meetings include essential topics regarding the workflow, try to keep the forum under eight people who know their roles and the meeting's purpose.
Discover how Social Recognition® and the rest of the Workhuman Platform can transform your organization's culture into one with gratitude at the center. Request a demo today!
3. Inform team members in advance of the timing, agenda, duration, and what they need to bring
Nobody likes surprises. For this reason, each team member should have all the information needed for the meeting. You should send a comprehensive email in advance, listing all the information.
All employees must know the time of the meeting, its duration, its purpose, and all the topics you'll cover in the session.
Moreover, informing employees of the weekly meeting agenda can save time and resources. Each team member will know what data to have ready and will prepare in case they have any inquiries.
4. Circulate useful information before the meeting such as the agenda and any supplementary documentation
Team leaders aren't the only ones who should have the team meeting agenda and information. Instead, each team member must have access to this information ahead of the get-together.
This'll keep things from getting stressful and keep segues to a minimum. It'll also create more engagement and communication and help everyone feel included.
Encourage participation at weekly meetings
Getting all the attendees involved ensures everyone is aware of the meeting content. Yet, this isn't the main reason why participation is vital.
Research from Workhuman® iQ suggests that participation in group activities means the employee feels more psychologically safe and engaged in the workplace.
While some team members might view meetings as unnecessary distractions, you must encourage team participation.
To enhance participation, you can do the following:
Distribute the meeting agenda
Ask open-ended questions
Make sure you have enough time for everyone to speak
Give everyone specific roles in the meeting
Include the remote team
Keep things casual by implementing activities and games
6. Start with an icebreaker
A lot of meetings can be stressful and tiring for some. That's why you shouldn't get down to business right when the meeting starts! Instead, ease into the meeting with an icebreaker.
For starters, this will relax all attendees. Also, it can leverage the weekly get-together. So, team members will build relationships and loyalty.
Ideally, begin with a team-building activity, like a simple puzzle. Or, for virtual meetings, kick things off with a virtual icebreaker during the meeting to keep remote employees engaged too!
7. Create an agenda
It's hard to run a productive meeting without an agenda, even if it's a 10-minute chat. The meeting agenda outlines each topic in the meeting, how long it might take, and describes the responsibilities of each attendee.
Naturally, you should be meticulous when creating the agenda.
Consult with leading team members and see what they'd like to put on the agenda
If you want the participants to remain engaged, collaborate with them when planning the meeting. Ask your team for input on what topics they'd like covered and if they have any questions.
Voting on an effective meeting agenda can enhance employee engagement and even improve meeting quality by up to 30%.
Plan a time limit for agenda items
To ensure you have enough time to cover all topics, set a time limit for each item on the agenda. However, don't divide the meeting time equally. If there's a particularly tough topic that requires a long discussion, guarantee the meeting will be long enough to cover it.
Things to include in your agenda
Once you know all the agenda topics and questions you'll need to cover in the meeting, you should also utilize the meeting to broadcast other information, including:
General announcements
If there's an update or announcement in your organization, you should lead the meeting with it. Prioritize the most important updates first to make sure everyone is alert and listening.
Structuring the agenda
The structure of the agenda sets the flow of the entire meeting. Start with easy topics first since they won't need much time. Afterward, the session should mostly cover serious action items. Finally, end with information-only items that don't require discussion.
Accountability
Instead of holding stressful accountability meetings, address challenges and performance issues as soon as possible in weekly meetings.
Goals and objectives
While everyone should be aware of the purpose of the meeting before attending, go through the goals and objectives of the session once again, checking off each goal as you meet it.
Problems and solutions
Before the meeting concludes, set some time aside for the participants to convey any issues. Then, brainstorm solutions with other attendees to encourage peer coaching.
Wins and successes
Lastly, end the meeting positively by recognizing the week's successes and top performers.
8. Audit your weekly meetings
Every once in a while, you need to make sure you're getting the most out of the weekly meetings by auditing them. This way, you'll establish whether your sessions are truly productive.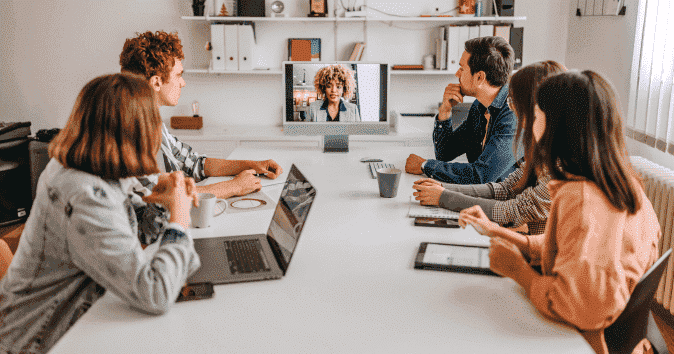 Gather feedback from your team
You can gauge the productivity of meetings by analyzing the agenda and the minutes. Still, the attendees can give you an objective overview of the weekly assembly.
You should discuss with your team what they take from the meetings and how they think the sessions can be better.
Some employees might not be inclined to express their honest opinions face-to-face. Gathering feedback from the whole team can also take a lot of time. That's where survey tools come into play.
For example, pulse surveys that seamlessly uncover employees' concerns. This includes surveys on employee experience and engagement, inclusion, and resiliency.
You can ask the following questions to get feedback:
Do you feel worn out?
Are meetings too long or too short?
Is there anything that we cover in our meetings that's better addressed outside the particular meeting?
Do we offer enough clarity during our meeting?
Does the time of the meeting work for you?
Do you feel like we could break the team down into smaller groups?
How do you feel about our use of Slack, Zoom, or other online tools to conduct the meeting?
9. Assign one person as the notetaker to send out a recap afterward
Not only does assigning an employee to take meeting notes increase attendees' engagement, but the written notes will serve as a reference point in the future. It'll help team members understand how decisions were made and maintain accountability.
Additionally, if a team member is absent, they can still be filled in on the meeting minutes. So, they can catch up with the rest of the team.
10. Have one person lead the meeting
A meeting leader is essential in facilitating the meeting and keeping everyone on track.
As a team leader, it might be easier to lead the meeting. After all, you know the team needs best. Yet, it can be a learning opportunity for other team members to set the agenda and lead the meeting.
That said, having a team member lead the meeting can keep everyone engaged. It'll also open up space for new points of view. Moreover, other team members might feel more comfortable speaking since their colleague is leading, not their manager.
11. In-office meetings
Finally, the location of the meeting can make or break it. You should consider the following:
Select an appropriate venue that is convenient and suitable for the size of the meeting
You want the meeting space to have as few distractions as possible. Furthermore, it should be suitable for the number of participants.
In this case, your office won't do it. Instead, ensure you have an appropriate meeting room setup.
Include refreshments
Even if your meeting is only minutes long, offering refreshments for participants will keep them alert and hydrated throughout the session.
Want to save up to $16.1M in turnover costs annually? It starts by bringing the human element back to the workplace with strategic recognition. Download the Workhuman-Gallup report to learn more.
Frequently asked questions
What are the objectives of weekly team meetings?
Weekly team meetings help with team building and engagement. They can serve as a time to share updates, celebrate achievements, brainstorm ideas, and train employees.
How do you make your weekly team meetings more interactive?
Agendas and audits can significantly improve team engagement in a meeting. You should also have an interactive tone when speaking about the meeting, keeping everyone engaged before attending.
Conclusion
Knowing how to run productive weekly team meetings might positively impact team morale, energy, engagement, and connection. Accordingly, weekly meetings shouldn't be a tiresome, stressful time to place accountability.
Instead, each meeting should have a concise purpose that all members agree on. Furthermore, only necessary employees should participate in the session.
To make the most out of the weekly meeting, a well-constructed agenda can do wonders. Lastly, don't forget to take minutes and notes throughout the session. This way, you can relay the information to other team members.