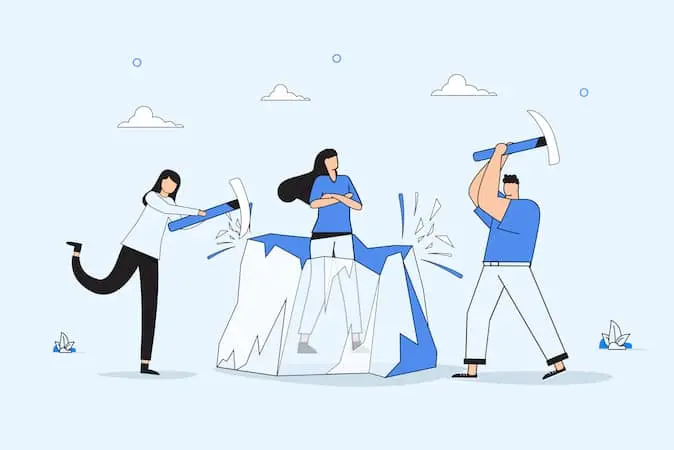 Some of the positive effects of remote work are that it reduces the psychological and physical stress that employees can endure when going into an office. It also makes them more productive and saves them commuting time. However, despite its far-reaching benefits, remote work presents some challenges.
Remote workers, without consistent effort, can get detached from one another. There can be less of a sense of community since they don't get to see their fellows face-to-face.
That's why as an employer, it can be helpful to find virtual icebreakers to get your employees warmed up to each other and create stronger channels of communication.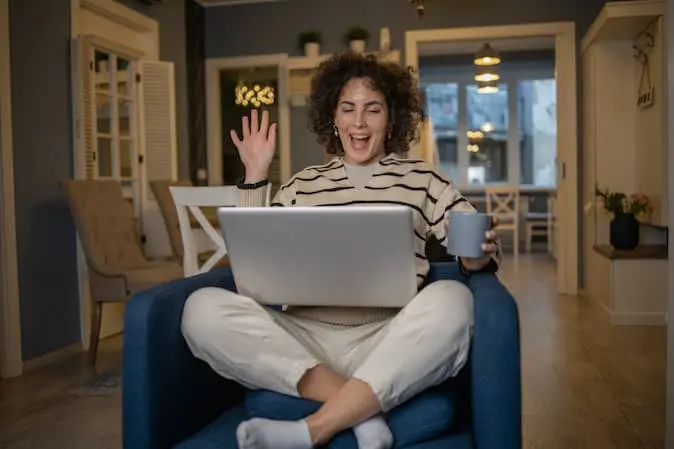 What is a virtual icebreaker?
Virtual icebreakers are shared activities that help a team get to know each other better or simply have fun. They can be games, riddles, online activities, or a series of questions.
The main aim of virtual icebreakers is to thaw the walls that build up between remote employees over time. A simple activity can develop a sense of community among your team—something that can be more difficult for remote companies.
What are the benefits of using icebreakers for virtual teams?
There are plenty of benefits to using virtual icebreakers for your remote teams. From establishing relationships to improving the overall team dynamics, it may take you some time to prepare for these activities, but you'll reap the results when you see your team working well together.
Remember that creating a culture of connection is vital in a virtual environment to foster a sense of community and engagement between employees. Even if they're doing their work, your employees may be feeling detached and unrecognized, which is bound to affect their productivity.
Creating a strong workplace culture won't only improve productivity,  it'll also make employees feel more appreciated and recognized. You can get a lot of help doing so by using Workhuman Cloud®.
Establish cordial relationships
Many studies were carried out to explore the effects of remote work on employees, and some of them conclude that remote work drastically affects relationships within a team. Employees mostly stick to their immediate teams and are uninterested in communicating with other people at work.
As a result, there's no good opportunity to get to know each other.
Virtual team-building activities will help your remote team members learn more and engage meaningfully with each other. This should eventually lead to more communication within the team, thus strengthening relationships at the workplace.
Encourage communication
Some studies show that remote companies have a harder time establishing healthy communication among their employees. The key findings of such studies conclude that remote workers spend less time collaborating with their teammates, and they eventually become more siloed and prefer to work alone.
With a simple icebreaker activity, you can get over these kinds of challenges. When your employees bond over an activity that's unrelated to work, they're more likely to communicate without barriers.
Boost the morale of team members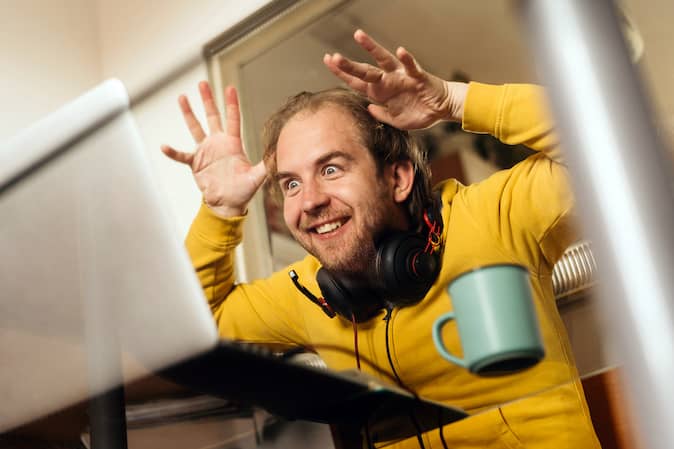 Nothing kills a workplace culture faster than low team morale. The issue may start small, but it might later develop to cause low productivity, absenteeism, and loss of competitiveness. Luckily, raising team morale, even for remote teams, shouldn't be a hard task if you have what you need.
Instead of hours-long remote meetings that may render your employees bored, start your meetings with virtual icebreakers. It'll be a nice break from routine tasks, and it'll help bring your employees closer together, even if they don't work on the same team.
Improve team dynamics
Negative team dynamics will eventually start to show in every aspect of your work. You'll struggle to find trust between employees, you'll deal with a lot of unresolved conflicts, and employees will start avoiding accountability. 
A team that's out of harmony can be worse for business than any competitor, and it may occur because your employees simply don't know each other well enough to act as a cohesive team.
A lack of knowledge breeds an absence of trust, which reflects in the employees' behavior and lack of commitment. 
To create a stronger bond, opt for virtual icebreaker ideas that engage the entire team. A team that has fun together eventually grows to like each other, which, combined with a healthy workplace culture, can improve team dynamics dramatically.
Learn how the Workhuman Platform can transform employee engagement in your organization. 👉Request a demo today!
70 Best virtual icebreakers for remote workers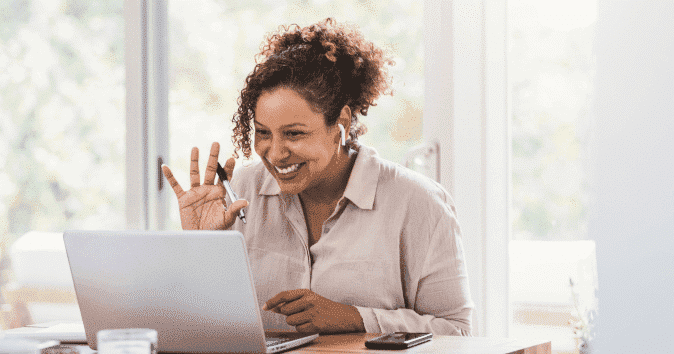 Short virtual icebreakers
If you're short on time and can't play a full game or create a conversation that may take longer than expected, you can always choose one of these short virtual ice breakers.
1. Guess the city
You can't lose with a guessing game! They're fun, intuitive, and excellent conversation starters. 
Start your meeting by having an employee describe their hometown without mentioning its name. Then, all the others have to guess the city from the available hints.
The hints can include notable facts about the city, a product it's famous for, or a celebrity born in it. For example, an employee can say that they're from the same city Elvis Presley was born in. Or from a state that's popular for the Liberty Bell. (Hint: Pennsylvania).
If you want to keep it quick, you can keep a timer on for the guessing part. It's a nice, short game to get to know your team better.
2. Would you rather?
You learn a lot about your employees from thought-provoking games like "Would you rather." There's no other way to learn whether a fellow employee would rather wear a Barbie costume to work or do the dishes for a week.
This game is pretty easy to start. All you have to do is prepare a series of ice breaker questions, listen to the employees' answers, and let the conversation flow naturally.
Here are a few ideas to get you started:
Would you rather go to the past or to the future?
Would you rather be rich and old or young with an anti-aging potion?
Would you live out the rest of your days in winter or summer?
3. Pinpoint your location
If you liked 'Guess the City' but want a more formal version, you can always keep it low-key and ask the employees where they're joining from. That way, they can learn more about each other without doing guesswork.
You can even have a virtual map ready, and ask each employee to pinpoint their approximate location. That should start some easy conversations about the different cultures and countries in your workplace.
4. Guilty pleasure challenge
Everyone is walking around hiding a guilty pleasure TV show or movie that they're absolutely in love with. The softie with the big heart of your office may be secretly infatuated with The Godfather, and the tough guy who spends half his week at the gym may be a huge fan of Gilmore Girls.
To start the meeting on a funny note, ask everyone to give away their guilty pleasure TV shows or movies. There will be some protests and embarrassed laughs, but at the end of the meeting, the workers will feel like a big goofy family.
5. Tell an item's story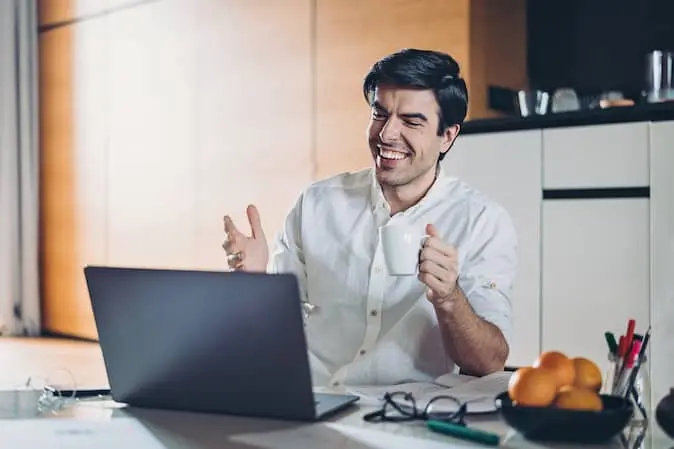 Another quick virtual icebreaker that your team will love: Ask everyone to briefly grab an item from their room and tell its story. Where they got it, why they love it, what it represents, etc.
This should open your team up to conversations. You get to learn something about each worker. And best of all, you'll probably hear some great stories about thermal cups and pen holders!
6. Poll game
"Would you rather" is a pretty fun virtual icebreaker game, but it needs some preparation if you want to come up with creative questions. An easier alternative is a poll game. Start your virtual meeting by providing some light-hearted polls and hearing your team's answers.
Here are some ideas to get you started:
Burger or pizza?
Hot or iced coffee?
Burger King or Mcdonald's?
Friends or Seinfeld?
If you don't want to scratch your head looking for poll questions, you can always use an online poll maker.
7. Tell your story with a celebrity
Here's a short virtual icebreaker that won't involve everybody, so it won't need much time. Ask your team to tell their stories with celebrities. Maybe someone met Taylor Swift on their way to get coffee or bumped into Charles Leclerc while vacationing in Monaco.
Obviously, not everyone will have met celebrities, so you'll save plenty of time. At the same time, everyone will enjoy the stories, and you'll find some thrilled fans expressing their love for said celebrity.
8. Who's most likely?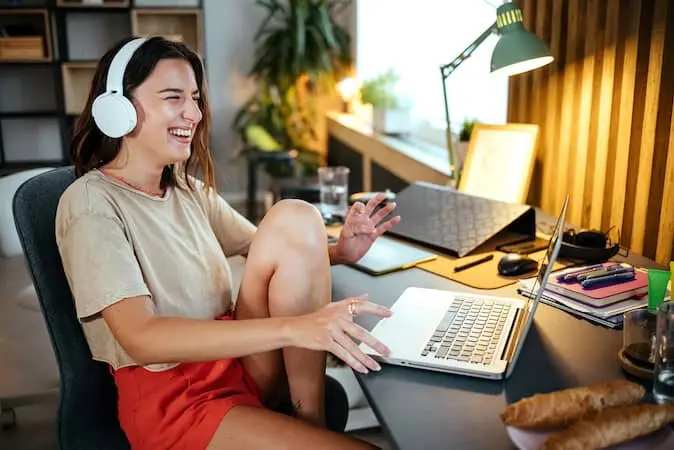 If your employees are already familiar with each other, you can use a knowledge-based virtual icebreaker like this one. Prepare a series of 'who's most likely' questions and have employees turn in their answers via chat or vocally.
Then, compare answers and have a good laugh about it. Here are some questions you can include:
Who's most likely to own a pet?
Who's most likely to be an F1 fan?
Who's most likely to hang out at a library?
Who's most likely to be good at chess?
You can then have the employees ask the questions themselves. The game will likely get them to be curious about each other!
9. Tell a group story
If you're looking for virtual team icebreaker games that'll include everyone go with a group story. Have team members tell a group story by saying random sentences in a sequence. It should go on like this:
Team member 1: I drove around the neighborhood
Team member 2: to try and find where Batman hides
Team member 3: because we had a scheduled wrestling match
As the story progresses, it'll get funnier, and the answers will get weirder. It's a nice chance for levity before you enter virtual meeting mode. The best part is that it'll only take 10 minutes or so, depending on your team's size.
10. The highlight of the month/week
If you want to boost team morale, you can get your team members to share the highlights of the month/week. You can offer a text poll that they can use for a faster process, then share the highlights with everyone and get them to encourage one another.
This can be work-related or not. For team-building activities like this, you are just trying to introduce positivity. Try to set an example by talking about an achievement you did yourself, like lifting a heavier weight at the gym or cleaning your basement after delaying the task for weeks.
The activity is short and fast, and it'll allow your team to share their top moments, which gets them closer.
Fun virtual icebreakers
If you don't mind cutting a good chunk out of your meeting for an activity, you'll love these virtual team ice breakers. They'll engage virtual employees and get a good laugh out of everyone.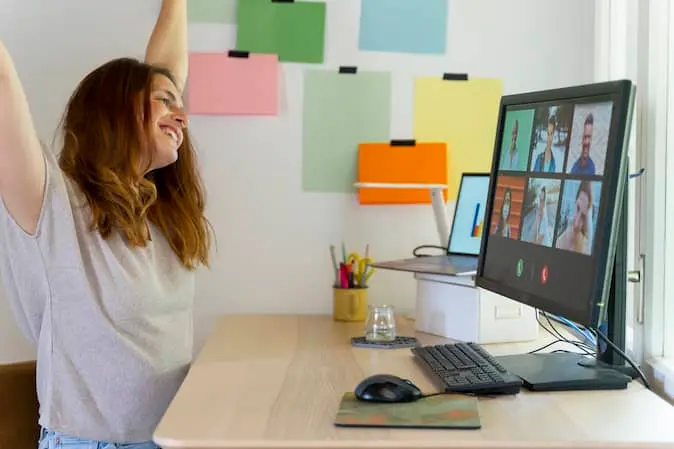 11. General trivia quiz
Nothing breaks the ice quite like a good-spirited competition. Before the virtual meeting, prepare a list of trivia questions, preferably about general topics, not confined to a single category. Then, set your timer and start asking. 
Try to choose medium-level questions that aren't too hard or too easy for everyone. Remember, you only want your virtual meetings to be fun, not induce insecurities about knowledge levels.
Here are some general questions you can include:
What year was The Godfather released?
What's the smallest state in the US?
What book is Game of Thrones based on?
Which two countries share the longest international border?
What Broadway show has been running the longest?
Which sea creature is immortal?
12. Group trivia quiz
If your team members are familiar with each other to an extent, you can create a fun group trivia quiz. Gather some information about the team members, then come up with questions about them.
You can use an online tool to create the quiz if you want clear documentation for the answers.
Here are some questions you may include, with the letters representing employees' names:
What is X's favorite drink?
What does H have for breakfast every day?
What scares M the most?
What car brand does Y drive?
What city is S from?
What did X study at uni?
Does J have a pet?
Does K speak two languages?
13. Zoom background challenge
If you carry out your virtual meetings via Zoom or any online tool that allows backgrounds, you can try some easy, fun Zoom games like this one. Ask all the team members in the meeting to choose virtual backgrounds, then have a fun discussion about everyone's choices.
You can give them ideas by suggesting to use memes, movie scenes, their dream places, etc.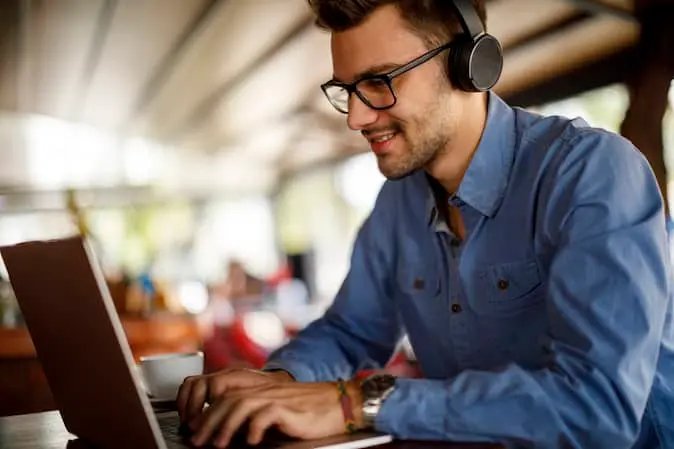 14. Visual brainstorming
If you don't have time for a game or activity, you can still engage remote teams in a fun activity like a virtual brainstorming session instead. This is a pretty good idea for creative teams working in fields like marketing, graphic design, advertising, etc.
All you have to do is prepare the meeting's agenda and use a visual collaborative platform. There are plenty of online platforms that offer whiteboards for everyone to draw their ideas. It'll be just like a real brainstorming session, minus the commuting time and bad coffee.
15. Meet up in a virtual bar
A lot of odd trends surfaced in the wake of pandemic Everyone was bored, and weirdly enough, boredom seems to be the budding seed for all fun activities.
Because no one could leave their houses during the pandemic, a lot of virtual bars started popping up. Instead of chatting with your friends online, you could set up a virtual bar, where everyone can have a drink and chat with their friends across the screen.
You can do the same for your virtual teams if you want them to bond without the restrictions of official meetings. It'll be like an outing that they can enjoy at the end of the working week.
Virtual icebreaker games
Virtual icebreaker games are an excellent way to boost team morale and give employees a break from their tasks. Besides, some friendly competition never hurts anyone. Here's a list of games you can prepare for the next virtual team meeting:
16. Two truths & one lie
Two truths & one lie is a timeless classic that gets everyone's brains whirring. All you have to do is ask employees to provide two truths and one lie about themselves. You can have them take turns submitting their answers, then have everyone guessing the lie. After that, you can ask everyone to reveal their lies.
The game won't only be a fun activity to fill your meeting time, but it'll also let the employees learn more about each other.
Here are some easy-going examples that you can give to demonstrate the game:
I work out every day, I have a pet dog, and I'm allergic to strawberries.
I own a Honda, I have no siblings, and I do yoga on Wednesdays.
My favorite movie is A Few Good Men, I'm a cat person, and I have a twin brother.
17. Home scavenger hunt
The idea of a virtual scavenger hunt may be a bit absurd, but it's easily applicable, as long as your team is up for it.
Since there isn't a single location for the game, you can ask every employee to do a little task and come back to the screen. For example, ask everyone to fetch a red item and get back in a limited amount of time, like one or two minutes.
At the end of the game, the person who got the most correct items in the shortest time wins.
You can even make it into a fully-fledged game with teams and so. All you have to do is assign your employees to smaller groups, then give them a list of items that they need to collect from their houses within a time limit.
The team with the most correct items wins. The virtual scavenger hunt version is easier because not everyone has to get all items.
18. Virtual escape room
Nothing says virtual team building more than a nerve-wracking riddle and an instinct to escape. Escape rooms are every bit as fun as they are scary, and they seem to be great for team bonding even for a virtual team. 
Your employees may not bond over a task at work, but they'll definitely bond over a riddle that'll get them out of a locked room. 
The best thing about online escape rooms is that you don't have to do much yourself. You only need to choose a platform that hosts these rooms, create a room, and invite everyone in. The game will do the rest.
19. Virtual bingo
You can always have fun with your remote team with some virtual bingo. All you have to do is choose an online bingo platform, then create teams or split the team into pairs. 
The participants should ask the opposing team questions from the Bingo cards, and when a member of the team matches, they can mark the square.
A team wins when they get five squares in a row. If you want the competition to be a bit harder, you can announce the winner when a team manages to blackout their whole card.
If you want to create the questions yourself, you can use a Bingo card generator, but it's always easier to download ready ones.
20. Virtual charades
The best thing about this game is that the players don't need to be close. They can bond over the game like they've known each other forever, which probably sounds good for your team.
For starters, you'll need to separate your remote team into two teams. Team A nominates a member of Team B to act out the movie that they choose, and Team B has to guess the answer correctly based on their teammate's acting.
The teams can communicate with the acting member through online chat, and you can add some rules to make the game harder. For example, you can have a sound-only round to spice things up.
21. Marooned
Marooned is essentially a problem-solving exercise, but you can use it as a team bonding activity if you want your employees to get to know one another.
The way the game works, you split the employees into two teams. Then, give them prompts, either a survival scenario or a stranded-on-an-island kind of situation. 
Give each team a couple of minutes to answer, then let them share their solutions and have a discussion over it.
You can make the game a bit harder and specify the number of items that each team can bring.
Here are some prompts you can suggest for the game:
If you're marooned on an island in a foreign country, what five items would you need to survive?
If you were stuck in a cave somewhere, how many people would you want with you?
If you're on a boat through a rough storm, which three items would ensure your survival?
22. Me too
Me Too is the opposite of Never Have I Ever. If you're familiar with the latter, it should be easy to orchestrate this game.
The way it works, everyone on the team raises their ten fingers, making sure to display them clearly on the screen. Then, in turn, every member of the team mentions something they did before, like some sort of unique experience or extreme activity.
Other members who did the same thing should shout "Me too!" and put one finger down. The game goes on, and the winner is the first player to put all their fingers down.
The game is perfect for your virtual team to bond over shared experiences. Here are some examples you can start with to get the game going:
I did bungee jumping
I swam in freezing water
I rode a telepherique in a foreign country
Virtual icebreaker questions
If your team members don't know each other that well, you might as well break the ice with some questions before jumping onto virtual games and riddles. Here's an extensive, lightning-round list of good icebreaker questions for team meetings:
Entertainment questions
23. What's your favorite movie?
24. Who's your favorite athlete?
25. What's your comfort TV show?
26. What's the worst TV show you ever watched?
27. What movie changed your perspective on life?
28. What superpower would you like to have and why?
29. What song genre is your favorite?
30. Are you a rom-com or an action movie person?
31. What's a movie you never get bored watching?
32. What's your favorite band?
Family-oriented questions
33. How many siblings do you have?
34. Who's your favorite family member?
35. What's a favorite game you played growing up?
36. Do you and your friends have any fun traditions?
37. What's your favorite childhood memory?
38. Do you know any interesting facts about your ancestors?
39. Are you related to any celebrity?
40. What was your pet peeve as a child?
41. Does your family have any weird traditions?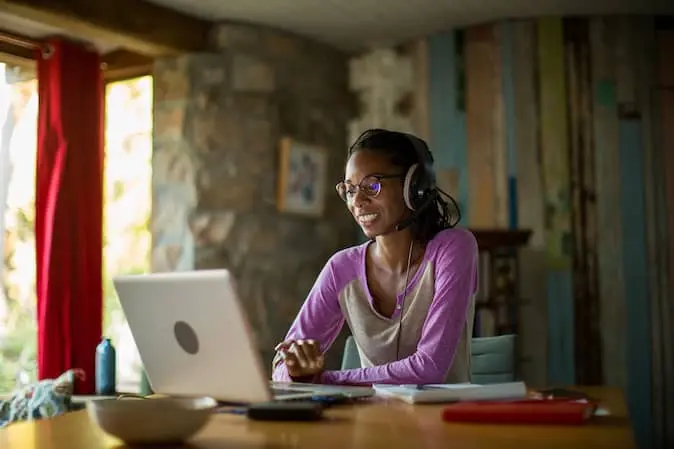 Personal questions
42. What was your first job?
43. What's your favorite food?
44. What do you usually do after work?
45. What was your favorite aspect of school?
46. If you can get any talent whatsoever, what talent would you like to acquire?
47. Are you a cat or a dog person?
48. What car do you drive?
49. Are you a summer or winter person?
50. What is an extreme activity you want to try someday?
51. What country would you like to visit the most and why?
Out-of-the-box questions
52. What's your least favorite word in the English language? And why?
53. Do you have an interesting talent?
54. What fictional character do you relate to the most?
55. What is the most unpopular opinion you have?
56. If you could be any animal, what would you choose? And why? 
57. If you could be in any city in any country, which city would you choose? And why?
58. Are you an iOS or Android person?
59. Do you wear your watch on the right or left hand?
60. What's the most outlandish item on your bucket list?
Riddle icebreakers for virtual meetings
Everyone loves a good, mind-boggling riddle.You can both break the ice and learn about some of your employee's critical thinking skills. Here are some riddles that'll show you the competitive side of your employees.
61. Q: What's always on the ground but never dirty?
A: A shadow.
62. Q: What can be soft, hard, cold, and hot?
A: Water.
63. Q: Between a ton of marshmallow and a ton of iron, which is heavier?
A: Both have the same weight.
64. Q: Where is the only place where today comes before tomorrow?
A: Any dictionary.
65. Q: If five dogs take a total of five minutes to catch five squirrels, how long does it take each dog to catch one squirrel?
A: Five minutes.
66. Q: What is something that no one wants to have, but at the same time, no one wants to lose?
A: A lawsuit.
67. Q: Two mothers and two daughters are riding together in a car, but the car only has three passengers. What's the explanation?
A: The passengers are a grandmother, a mother, and a daughter.
68. Q: If an electric train is traveling west at 100mph, and the wind is around 65mph, what direction will the smoke travel towards?
A: Electric trains don't produce smoke.
69. Q: A man goes for a walk during a rainy storm with no umbrella or anything to protect his head from the rain. At the same time, he arrives at his destination without a single wet hair on his head. How?
A: The man is bald
70. Q: The more you take, the more you leave behind. What am I?
A: Footsteps.
Want to save up to $16.1M in turnover costs annually? It starts by bringing the human element back to the workplace with strategic recognition. Download the Workhuman-Gallup report to learn more.
Frequently asked questions
What is an example of a virtual icebreaker?
An example of a virtual icebreaker is a guessing game or a get-to-know-you game like "Would You Rather?" These team building activities start meetings on a light note and build up morale.
What are the best 3 icebreaker questions?
Here are three good icebreaker questions you can start with at your next meeting:
If you could marry a fictional character, which would it be? And why?
If you could watch only one movie for the rest of your life, what would it be?
What is one thing people would never guess about you?
Should an icebreaker be before or after a meeting?
Most employees will be in a rush to log off after a meeting. They'll likely want to grab some lunch, take a break, or move onto their next task. So, the best time for an icebreaker would be before team meetings get down to business. It'll get employees more excited to start the meeting, and it'll set a relaxed atmosphere throughout.
Are icebreakers good for meetings?
Yes, icebreakers are good for meetings because they increase employees' engagement and raise their morale. It's often hard to focus during remote meetings due to too many distractions, but an icebreaker will get your employees invested in what they're doing, which will reflect on the meeting's output.
What are the disadvantages of icebreakers?
Icebreakers can be time-consuming, which is considered a disadvantage for people on a tight schedule. On top of that, icebreakers may not engage everybody, which is another downside because not everyone will enjoy it. It's up to the team leader to make sure everyone is involved without too much pressure that may throw off an introvert or a shy person.
Conclusion
Virtual icebreakers and virtual games can be a fun way to connect remote teams. They boost morale, improve team dynamics, and create a healthy communication network among the team.
Virtual icebreakers set a positive tone and set meetings in the right direction. So if ever you're feeling like the team is a little sluggish or if you have new members joining that you want to ingratiate quickly, a virtual ice breaker could be just what your online meetings need.