If you're a leader at a company in which the primary mode of operation is working from home, you may be wondering how you can build team chemistry during holidays.
This is where virtual holiday party ideas for work come in handy!
Virtual holiday get-togethers on festive occasions such as Christmas, Thanksgiving, or Independence Day are an excellent way to engage employees that work from home. They help compensate for the lack of physical presence in a traditional office setting.
The get-together must be well-planned in terms of the games and activities involved. This is the difference between a cheesy party and a memorable one.
Read on to learn more about 29 amazing ideas for games and team-building activities that will make your virtual holiday event a crowd-pleaser.
Why is it important to celebrate with a remote team?
Celebrating the holidays with your remote team should be a priority for many reasons.
For starters, it's a great way to boost engagement and team morale. It helps breed a sense of collectiveness in your workplace culture that can pay dividends moving forward. Sure, a virtual get-together won't be quite the same as a traditional office party, but it's still the next best thing.
Another advantage of such events is that they're conducive to intercultural communication. This is especially beneficial if you have employees working together remotely from different parts of the world.
List of virtual holiday party activities, games, and ideas
Planning the perfect virtual holiday get-together can be quite tricky. This is because such events can easily turn into cheesy, stagnant affairs that employees view as an obligation rather than something they look forward to.
So, you must include a variety of engaging games and activities in your holiday party ideas to make the event one that your employees will remember fondly for a long time.
Make sure to choose games and activities that have universal appeal among members of your team.
Without further ado, here are some excellent ideas for you to consider using at your virtual holiday festivities:
1. Family feud
Let's kick off our list of virtual holiday party games with a fan-favorite, Family Feud.
You can re-enact this popular, fun-packed game show in your party Zoom session with ease.
The host will channel their inner Steve Harvey and direct the fun, asking two teams questions that will engage them in a battle of wits.
This will bring out the competitive nature of your employees and will lead to a whole lot of laughs.
Rest assured that your employees will be talking about this game for months to come.
2. Virtual secret Santa
You're likely familiar with the classic form of secret Santa, so how about putting an interesting twist on it?
This variation of the game, also known as "white elephant", involves each participant buying a gift within a pre-specified budget and placing it under the virtual Christmas tree.
Instead of each employee having a set co-worker to buy a gift for, participants will take turns opening a mystery gift. Once the first person has done so, each ensuing person will have the choice of opening a new gift or stealing a gift that's been already opened.
After this action-packed portion of your fun virtual holiday party is all said and done, each employee will have the gift they ended up with delivered right to their doorstep.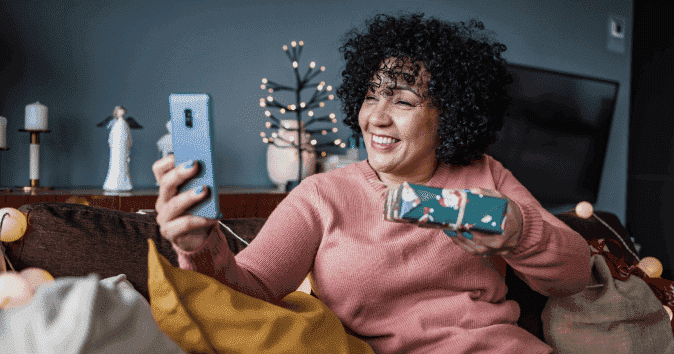 3. Holiday-themed trivia
Are you looking to put your employees' general knowledge to the test?
Slide in a trivia portion during your virtual holiday festivities. To keep up the holiday spirit, make the questions holiday-themed.
Employees who answer correctly will earn points, and whoever ends up with the most points will receive a prize.
The prize for the holiday trivia champion can be a coupon or a gift card.
You can conduct this event as an individual or team competition. In both cases, it will be a crowd-pleaser for sure.
4. Mafia
Another game that's a great holiday party idea is Mafia. This game, which you may have come across before under the name Werewolf, will fill your virtual event with fun and laughter
This game involves secretly specifying four players as mafia members and the rest as regular citizens. The objective is for the citizens to weed out the mafia members before it's too late.
If they succeed in identifying all four mafia members, then the team of citizens wins. The mafia members win if they remain undetected until the number of citizens has dwindled to four.
This is a great opportunity for your more shy team members to bring out that cunning side that they've been hiding. Mafia is a particularly great choice for Halloween parties.
5. Virtual Bingo
Who doesn't love bingo?!
This classic game is a great addition to any party, and you can easily include it in your virtual holiday festivities.
Simply buy some holiday bingo cards online, distribute them among your employees, and let the games begin!
To put a holiday twist on the game, the winner should ring jingle bells instead of shouting bingo.
6. Virtual escape room
If you thought you had to physically present at a venue to participate in an escape room game, think again!
You can hold this fun-packed activity during your virtual holiday event by using the many websites and platforms that offer online escape rooms with a variety of themes.
Pick a holiday-themed one and put your team's critical thinking skills to the test as they try to solve all the clues before time runs out.
Here's how it works:
Once everyone is gathered in the main Zoom session, the host should lay out the rules of the game. Then, the host screen-shares the escape room link and the game begins.
7. Never have I ever (with a holiday twist)
Are you looking to spice things up during your virtual holiday get-together?
If you are, then a few rounds of "never have I ever" are sure to do the trick. This game will bring out the naughty side of your remote team in a holiday-themed session of laughter and fun.
Here's how it works:
Each player will hold up 10 fingers. Then, each participant will take turns saying "never have I ever…"
Some examples of holiday-themed naughty acts that may be mentioned are:
Knocked over a Christmas tree
Re-gifted a present
Snuck up to the tree at night on Christmas eve and opened a present
Everyone that's been guilty of the mentioned act at least once before must put down one finger. The holiday game keeps going until there's only one person with at least one finger up.
8. Virtual scavenger hunt
If you're in search of a game that will relieve the stagnation of having your team glued to their screens throughout the entire party, then holding a virtual scavenger hunt is an excellent option. It's also a great way to allow participants to let their kids join in the fun.
All you will need to do is share a list of items on your screen that each team of participants needs to find around their respective homes.
Set an allotted time limit using a screen timer, and let the games begin! 10 to 15 minutes should do just fine.
Also, make it clear to the participants that the goal isn't just to find and check items off their lists. They also need to bring each item they find back to their desk.
The team that has collected the most items is the holiday scavenger hunt winner, and they get a gift card prize.
9. Two truths and a lie (manager edition)
You and your team members have all probably taken part in this game before. For those who haven't, two truths and a lie is a game that involves each player stating three facts about themselves. Two of those facts should be true and one should be a lie.
Then, the other players have to correctly identify the lie.
To boost this game's level of fun, make members of management be the ones to put forth three statements each. Have them prepare their statements before the event so that they aren't put on the spot.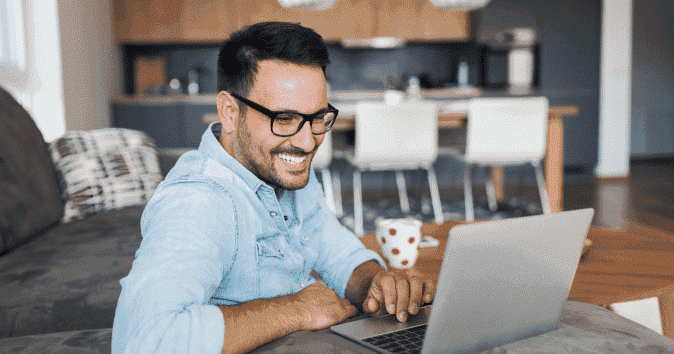 When each manager shares their statements with the other players, the host should ask the players to vote on which one is the lie using the provided online poll.
This game will allow your employees to get to know their leaders and members of management better, making it a great team-building exercise.
10. Gift wrapping contest
This is a great way to fuel your employees' competitive spirit while allowing them to cross a task off their holiday to-do list at the same time.
Conducting a gift-wrapping contest pits party guests against each other in a battle of gift-wrapping skills. There's one caveat, though; the holiday gifts being wrapped have to be of equal difficulty.
Here's how it will go:
Set up a bracket, pairing every two players against each other in a knockout round. Each round should be timed to see which player succeeds in wrapping their gift the fastest.
However, players that wrap too fast may end up getting knocked out because their gift isn't deemed presentable by the consensus.
When it's all said and done, the last gift wrapper standing is the undisputed champion!
11. Gingerbread house crafts class
You'll be hard-pressed to find something that represents the Christmas spirit more than gingerbread houses. Therefore, you should definitely make them part of your virtual holiday celebration.
You can do so by sending each team member a gingerbread house decorating kit in advance. Once the big day comes, each employee can open up the kit during the party Zoom session.
You can all then proceed in building and decorating gingerbread houses as a collective. This activity is a great way for co-workers to bond and also allow their families to join in the festive fun.
12. Virtual beer and cheese tasting
Just because each of your employees is celebrating the holidays at home doesn't mean that you can't all get together for some beer and cheese tasting.
You can send each employee a package containing a curated set of beers and cheeses, along with other goodies such as holiday cookies, crackers, and complimentary bottle openers.
Once it's time for the party, each employee will unbox the beer and cheese and you'll all get to enjoy a beautiful culinary experience together.
If you want to go the extra mile, you can hire an expert to host the event and make it the subject of water cooler chatter for months ahead.
13. Virtual cocktail mixing class
It's not a party if there aren't some tasty cocktails being passed around.
While you won't be in the same room clinking your glasses together, you can still enjoy some drinks as a team during your virtual party.
You can do so by signing up for a service that will send cocktail-making kits right to your employees' doorsteps. Such services also provide an expert in cocktail mixing to give a guided mixology session during your party.
Your virtual team and yourself will have a lot of fun learning to make holiday-themed drinks together. The non-alcohol-consuming members of your team needn't be left out too. There will be plenty of alcohol-free mocktails on the menu too.
Let the virtual happy hour begin!
14. Virtual movie night
Another activity that's an excellent company holiday party idea is a movie marathon. Since this is a holiday party, the movies you pick should all be themed accordingly.
Whether it's Home Alone, The Grinch, or Jingle All the Way, the air of warmth and nostalgia will be at an all-time high during your party.
Each fan favorite holiday movie you watch will also be a conversation starter between your team members, helping them bond as they reflect on their comments and memories associated with the movie.
15. Send a holiday-themed gift box
This one requires some planning ahead to pull off.
You can send your party guests a holiday-themed gift box that's appropriate for the upcoming occasion. Instruct them not to open the box until the time for the party comes so that everyone can have a grand reveal of the box's contents together.
If it's a Christmas party, some things to include in the gift box can be a hoodie blanket, cookies, or a souvenir mug. On the other hand, gift boxes for a Thanksgiving party can include tasty goodies such as sausage cheese puffs.
16. Virtual magic show
The holiday season has an uncanny magical vibe to it. So, how about you double down on that vibe with some actual magic during your holiday event?!
If you're on a tight budget, you and your team can watch some tutorials on YouTube ahead of the party and surprise each other with the magic tricks you learned.
On the other hand, you can deliver magic kits to your guests and hire a magician to do a show and teach everyone how to do some tricks using the kit.
17. Origami arts and crafts
In the spirit of learning new things, how about having an origami arts and crafts session during your virtual party?
This is a simple, yet super fun-packed activity that only requires some paper. Pull up a YouTube tutorial and go through the steps together to create a collection of adorable origami Christmas trees.
Once you've got the hang of it, you can also start crafting other Christmas staples such as sleds and reindeer.
18. Virtual karaoke
When hosting a party, virtual or not, you simply can't go wrong with karaoke.
Few things bring people together more than music, especially when they're the ones singing songs together.
Get ready for plenty of laughs and memorable moments. You may even find some hidden vocal talents among your employees!
19. Virtual dance party
By the time Christmas rolls by, everyone on the team is probably reeling from a long year of hard work. You can give them an outlet to release their stress by hosting a dance-off during the holiday party.
To make sure that the playlist is to everyone's liking, let each guest suggest a song to include in it.
Turn on the jams and watch your party guests' living rooms turn into lively dance floors.
20. Virtual show and tell
One of the main purposes of your virtual holiday get-together is to allow your employees to get to know you, and each other better.
A great way to do so is to have a show-and-tell session where each team member shows everyone a prized possession of theirs and tells them about it. This will give your employees a chance to see a side of each other that they haven't seen before.
Give your employees a few minutes to choose something from around their house to show the team, whether it's a family heirloom, a gift with sentimental value, or even a favorite chair.
Allow each person to share, and then open the floor for discussion.
21. Create a song together
Another music-themed activity to consider is to work together as a team to create an original song.
Pick an instrumental for a song that everyone is familiar with and start writing new lyrics for it together. These lyrics can be completely random or they can be centered around the company and its journey and culture.
You can organize this by splitting your guests into groups and tasking each group with writing the lyrics for a certain portion of the song. After 15 minutes, regroup and ask each team to choose a person to perform their part.
Have each group type their lyrics into the Zoom chat so that everyone can see the song's full lyrics.
Finally, it's showtime!
Get ready for some great laughs and moments to remember!
22. Virtual cooking class
One of the main indicators of a great party is how good the food is. Sure, your party is a virtual one, but that shouldn't stop you from giving your guests a prime culinary experience.
You can do so by sending everyone a recipe and a coupon to purchase the required ingredients.
You can go about the next step in different ways depending on your budget. If you have money to spend, you can hire a chef to hold a virtual cooking class and guide your guests through the recipe step by step.
On the other hand, you can simply pull up a YouTube video and share it with everyone as they go through the recipe steps. Either way, this party idea will bring the celebration to life and take the fun to the next level.
23. Gratitude open mic session
Throughout the year, all of your employees work very hard. Unfortunately, some of them tend to shine more than others.
You can take your virtual event as an opportunity to show how thankful you are for everyone's efforts, especially the more overlooked members of your team.
Once you get the ball rolling, allow other members of your team to share some words of appreciation towards their colleagues. This is an excellent activity to raise morale and build a stronger connection between the people within your organization.
24. Virtual talent show
While employees with amazing voices may get to showcase their skills during the karaoke portion of the party, those with other hidden talents won't get the chance to display them.
This is why having a talent show during your party is an amazing idea.
Have team members that are willing to participate sign up and put their talents on full display for the rest of the team.
You may be surprised at the things you find out that some of your employees are capable of doing!
25. Holiday-themed fashion show
If you're looking for a way to make this year's virtual holiday function one that will be talked about for a long time, hosting a fashion show is a great way to do so.
This isn't just any fashion show, it's a holiday-themed one.
Ask each of your guests to prepare an ensemble that's packed with Christmas spirit. Encourage them to make their outfits as out-of-the-box as possible. This means that elf ears, ugly Christmas sweaters, and colorful socks are a must!
Put on some lively music and have each guest turn their living room into a runway to showcase their flair.
Get ready to see some outlandish stuff!
26. Holiday-themed charades
Charades are one of the more popular party games out there for a reason. It's conducive to plenty of laughs and friendly competition.
Therefore, customizing the game to cater to your holiday party is an excellent idea.
You can do so by restricting the songs, movies, and books that the players will act out the titles of to ones that are related to the holidays.
Divide your employees into groups. The members of each group will take turns silently acting out the book, song, or movie in question to their coworkers. If they guess correctly, the team gets a point. The team with the highest point total at the end will be declared the winner.
27. Virtual wellness retreat
This amazing party idea involves pampering your guests with a premium spa experience from the comfort of their own homes. This will definitely be a popular decision as your team is probably in dire need of relaxation after a year's worth of hard work.
Send out gift baskets with scented candles, body oils, facial masks, and more. You can also hire a professional to conduct a guided meditation session for your team members during the party.
By doing so, you'll make your employees more likely to be refreshed and recharged for the upcoming year.
28. Virtual hot chocolate party
When thinking of beverages, there aren't many that scream Christmas like a steaming cup of hot chocolate. Incorporating this holiday tradition into your party is an excellent way to give it a cozy vibe that your guests will love.
You can even turn it into a contest, with each member of your team trying their hand at making the ultimate cup of cocoa. Each employee will get creative and add tasty treats such as marshmallows and whipped cream to their creation.
The person with the most delicious-looking creation will be crowned the king/queen of cocoa in your company!
29. Open mic poetry slam session
The final party idea on our list will require your guests to get their creative juices flowing.
Around two weeks before the day of the party, let everyone know that there will be a poetry slam session held. Those who wish to participate should prepare their spoken word poems to perform them on the big day.
In the spirit of the holidays, encourage the participants to make their poems appropriately themed for the festivities.
Rest assured that you'll find that some of your employees are amazing writers!
How to engage remote employees beyond the holidays
With the remote work trend at an all-time high, it's important for you as a company leader to know how to support your remote workers. This means fostering their sense of engagement throughout the entire year, not just during the holidays
The key consideration here is to avoid making your employees feel like they're working in isolation. Remote workers are especially prone to this if organizations aren't intentional about their engagement activities.
You can make up for this deficiency by ensuring that your employees are in constant communication with each other, not just through emails but also through phone calls and video conferencing.
Additionally, you need to ensure that you're accessible to them at any time as if you're together in the office.
Furthermore, your remote employees should have a clear idea of what's expected from them, in terms of both their workload and their role.
When working remotely, it may seem like your employees are available to work 24/7. It's important to emphasize to them the importance of leaving their virtual office and separating their work and leisure time to avoid them feeling burnt out.
How do I host a virtual office Christmas party theme for work?
You can host a virtual Christmas in the same way that you would host a regular work meeting.
Set up the meeting time and link using remote collaboration tools, such as Zoom or Google Meet. There are even Slack games for remote teams!
Then, you should start sending out Christmas-themed invites via email. Before the day of the event rolls by, make sure that you've carefully planned the party agenda to be as engaging as possible.
How to host a virtual holiday party: frequently asked questions
How do I host a virtual holiday party that's fun?
Since the guests of a virtual holiday festivities aren't in the same room and aren't able to mingle as they usually would in an office party, you need to pack the party with plenty of engaging games and activities.
The goal of this is to counteract the stagnation of everyone just sitting in front of their screens. That way, your party will be one to remember.
What games should be included in a virtual office holiday party?
Despite the lack of physical presence, there are many fun-packed games and activities that you and your employees can participate in virtually.
You can have your own version of popular game shows such as Family Feud. Alternatively, you can have a virtual scavenger hunt or a holiday-themed trivia contest. All of these are great options to boost the engagement level during your party fun.
Do these events raise employee morale?
When you search for answers on how to engage remote employees, you'll find many virtual parties suggested almost everywhere.
Just because the party guests aren't all in the same room doesn't mean that they can't bond and build deeper connections with each other while enjoying a virtual get-together.
🌟 Looking to increase your employee engagement year-round? Don't miss out on this invaluable resource! 🌟
Download the report now and lead your organization to new heights!
Conclusion
When you make a virtual party for your team during the holidays, there's no shortage of holiday party ideas for you to choose from. We hope that you found the ideas outlined in the list above useful when planning your company get-together.