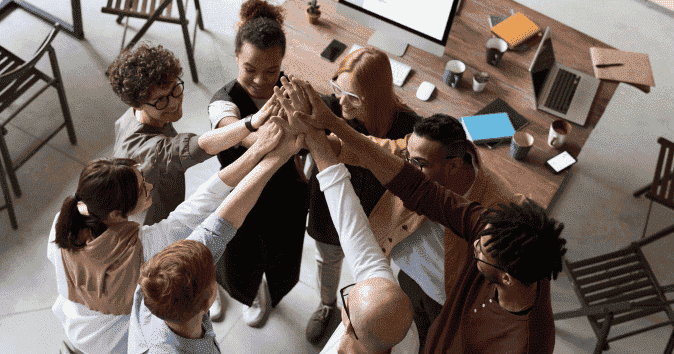 According to Quantum's Great Place to Work Surveys, employees often describe good company culture as fun, engaging, and collaborative. But that doesn't mean that over-the-top, frivolous office set-ups or frequent company parties are necessary.
A themed event can be the perfect opportunity to add a bit of fun to your culture-building strategies.
The key is picking team theme ideas that align with your corporate values while promoting creative thinking and collaboration.
Read on to find out how to pick a unique theme your employees will remember.
What is team theme day?
A team theme day is a day-long event that brings employees together through shared activities. Theme days can include dressing up, playing games, or other team-building activities.
In a way, it's the workplace's equivalent of the spirit week that you used to have back in school.
Benefits of team theme days
If done right, a team theme day can help with employee engagement, improving morale, and strengthening corporate culture.
Here are the top seven benefits to look forward to:
Enhancing networking, socializing, and team bonding
According to Gallup, when employees have best friends in the office, they're more likely to get tasks done faster. However, that level of camaraderie at work isn't common.
Even those who have five friends at work (that's the average, by the way) don't tend to see any of them as a best friend. Only 29% actually have a coworker that they think of as a best friend.
You don't have to wait for your employees to decide to meet outside of work to see the positive effects, though. Team theme days can provide a suitable setting for budding friendships to flourish and deepen right in the office.
Fostering teamwork and improving performance
One survey found that 51% of American employees waste one hour daily due to seemingly minor issues, such as feeling disconnected from their coworkers.
There's a lot that you can do to foster teamwork in your organization and save performance from plummeting. Gathering the staff for a scavenger hunt or other problem-solving activities is a great way to encourage team-building within the office.
Creating healthy competition and boosting motivation
Managing a competitive workplace can be tricky. Sure, it can push employees to outperform each other, but it can also backfire if some people resort to unethical practices to win.
Harvard Business Review (HBR) explains the disparity in how employees respond to competition by looking into how the managers frame the situation. It all boils down to this question: Does the atmosphere elicit excitement or anxiety?
Anxious responses are what you get when people believe that their jobs are on the line. Meanwhile, the kind of competition that rises on a team day should be low-stakes and exciting.
Plus, letting the staff explore each other's traits and boundaries in a low-pressure environment might take the edge off when they eventually come across a work-related competition.
Celebrating team spirit and having fun
If a theme day does no more than put a smile on people's faces, it's still successful.
People will tell you over and over again that burnt-out employees hurt the entire organization and that unwinding isn't a luxury. But there are even more reasons why work should be (at least a little bit) fun.
When you dissect the companies that rank on the "greatest places to work" type of lists, you'll notice that fun is an integral part of their environment.
Of course, you need more than a few social events to build a healthy work environment, but theme days can be the cherry on top. Think of them as a way to celebrate the team spirit that you've spent so much time building.
Encouraging collaboration and innovation
In a survey, 39% of employees said they don't believe people collaborate enough at work. The upside here is that workers are aware of the issue and need to see it fixed.
But don't just take these stats blindly; you can always use pulse survey tools to get more accurate feedback from your staff.
If you notice a similar pattern, try incorporating team-building activities into the next theme day to inspire collaboration and get people to think out of the box.
Putting the thrilling activities aside, there's also one more way that theme days can help.
Remember how we said that employees with best friends get more done in less time? Well, Gallup also says that they're more likely to innovate and share ideas!
Improving communication and productivity
You won't have to wait for the communication to improve between coworkers to start seeing the rewards. Experimental studies at the University of Warwick show that even a brief exposure to a fun activity can boost productivity by 12%.
Believe it or not, this brief exposure can be as simple as a 10-minute comedy clip or sitting down for drinks and snacks. Both of these ideas are feasible in many team theme day plans.
Enhancing company culture and employee morale
Many theme day ideas involve dressing up in elaborate costumes, but dressing down is still a valid option. Think casual Fridays, which happen to be great morale boosters.
Letting your staff dress down for only a specific day can be a good compromise between staff morale and performance.
Now, every time those happy and engaged employees post about their outfit pick for the theme day on social media, your organization could get a free branding boost. Try incorporating trendy global theme days into the mix, so your employee's posts and stories can get more traction.
It's a quick way to show potential recruits that you have the kind of company culture they want. 
Does that pay off? Good question. You'll likely see a decent return on investment if millennials make up a large part of your workforce. After all, Forbes says that 60% of 2015 graduates prefer working somewhere with a positive atmosphere, even if the pay isn't high.
Discover how Social Recognition® and the rest of the Workhuman Platform can transform your organization's culture into one with gratitude at the center. Request a demo today!
How to choose the right team theme?
Before you get overwhelmed by the long list of fun ideas, check out these four steps that'll help you narrow down your options:
Consider the event's goals and objectives
What do you expect the theme to achieve? From your answer, you should be able to draft a rough outline.
For instance, if your goal is to boost morale, you'll need something festive and over the top. On the other hand, activity-oriented ideas can work well for team building.
Identify team interests and preferences
Forced fun in the office is something no one wants. So, unless you want your planning to go to waste, make sure your event actually caters to what the employees need, from the food options to the overarching theme.
The pulse survey features can come in handy here, but managers can also get quick input using Conversations®.
Align the theme with the company's culture and values
Your company's values aren't worth much if you don't uphold them at every chance.
That's why you need to extract core messages that the employees might draw from the theme and double-check that they're in line with the culture you want to create and preserve.
For instance, the event could be an opportunity to highlight how much corporate cares about employee wellness or eco-friendly initiatives. Check out some practical ideas in the example list below!
Plan the event according to team availability and resources
Office parties can run around $75–$200 per employee. So, there's wiggle room, but you still need to set a clear budget beforehand.
Keep in mind that theme days don't have to be as expensive as holiday parties, either.
It's also wise to hold a meeting with HR to see how many hours they can allocate to planning the theme and covering the logistics.
20 Unique team theme ideas
Now that you know how to pick the right theme, all you need is a list of ideas to get the creative juices flowing.
Here are 20 ideas to consider:
1. Winning for a cause
Difficulty: High
Cost: $
Time investment: Whole workday
Team members needed: 8–10 (per round)
"Office Olympics" is already a popular theme, but it's possible to spice things up by doing it for a cause.
This time around, you can get in touch with a local charity and see if you can help them raise money with a walk or a 5K run.
2. Lazy gameday
Difficulty: Medium
Cost: $$
Time investment: 3–4 hours
Team members needed: 3+ (depends on the screen and seating situation)
If your staff love sports but aren't up for a full-on Office Olympics, consider going for a lazy gameday instead.
For this theme to work, you have to pick a date when major sports events are going on. The Super Bowl is usually a great option.
You'll decorate the office space with sports memorabilia, and the employees can come dressed up in their team's shirts. Then, when the workday is over, you'll all sit down and watch the game.
3. Meme day
Difficulty: Low
Cost: $
Time investment: 30–60 minutes
Team members needed: No limits
Memes are a digestible, fun way of fostering a sense of community.
Ask your employees to dress up as their favorite meme. Teams can even match their costumes to "reenact" the meme, take a picture, and hang it in the office.
4. Decades day
Difficulty: Medium
Cost: $
Time investment: ~1 hour
Team members needed: 2–6 (per round)
Instead of a regular 50s-themed party, get everyone to dress like they used to back in high school.
Things can get tricky if uniforms are the norm in your area. If that's the case, you can all match the fashion trends that match your school years.
5. Murder mystery
Difficulty: Medium
Cost: $$$
Time investment: ~2 hours
Team members needed: 8–10 (per round)
This theme works for offices just as much as it does for home parties. In both cases, the core concept is the same: teams working together to unravel the mystery and catch the killer.
If you don't have time to plan the character cards and cues, consider getting ready-made team-building kits. Some of them are suitable for remote employees, too.
6. Play to win
Difficulty: High
Cost: $$
Time investment: Ongoing throughout the day
Team members needed: 4–6 (per team)
To up the stakes, go for a pirate treasure theme and do multiple activities throughout the day. Naturally, winners get to keep the found items.
A traditional scavenger hunt can be the major activity, but to keep the energy going for the rest of the day, have the HR team gamify the tasks and set a point-based reward system.
7. Pawsome workday
Difficulty: Low
Cost: $
Time investment: ~1 hour
Team members needed: No limits
Dogs aren't just man's best friend. Studies show that being a pet owner can help people make new (human) friends.
After all, pet owners love to talk about their furry friends. So, a "bring your pet to work day" with costume contests and photoshoots can be a perfect ice-breaker for the office!
8. Quest for the best
Difficulty: Medium
Cost: $$
Time investment: 2–3 hours
Team members needed: 15–20
You can use competitive themes like "quest for the best" to give employees a chance to show off their talents and interests. For instance, you could have a small-scale show with an art exhibit, a karaoke setup, or a collectibles display.
The main perk here is that the theme can inspire other employees to pick up hobbies as well. Not only will this enrich the office space with culture and art, but research also shows that employees with hobbies have higher work performance.
To boost this effect, let peers with shared interests encourage each other and celebrate their newfound talents using software solutions like Community Celebrations®.
9. Black and gold day
Difficulty: Low
Cost: $$
Time investment: Ongoing throughout the day
Team members needed: 4–6 per (team)
You have two ways to go with a black and gold theme day: super fancy setting or lean towards the comical side with everyone doing their best to look like a bee without breaking the dress code.
For activities, hide a bunch of mini hives, toy bees, and honey-themed trinkets around the office. Then, split the office into teams and see which will find the most "gold" before the day's end.
If it turns out to be a hit, you can make this an annual event or switch it up every year with a new "X color" theme day.
10. Team rocket
Difficulty: High
Cost: $$
Time investment: Whole workday
Team members needed: 2–3 (per team)
Although James and Jessie from Team Rocket are the antagonists in the Pokemon franchise, you have to admit the name is catchy enough for a workplace theme.
Pokemon GO's active user base might not be as glorious as it was in 2016. However, the AR mobile game still makes for a pleasurable outdoor group activity.
In this theme idea, the staff will meet outdoors (pick game hot spots) to try to catch rare Pokemon, but it's also okay to hang out for a picnic.
11. Well-o-rama
Difficulty: Medium
Cost: $$
Time investment: 1–2 hours
Team members needed: 10–30
Throughout the day, the employees can take part in yoga sessions and share healthy snacks. On the corporate side of the equation, this day would be a good time to announce a new wellness program.
12. Be extra(ordinary)
Difficulty: Low
Cost: $
Time investment: 30–60 minutes
Team members needed: 15–20
Ask everyone to ditch the formal and business casual attire for the day and be extra.
It's not exactly a costume contest, but it's a nice chance to let people be extravagant with their fashion choices. Think pearls, crazy ties, and bold prints!
Work can proceed as usual, with a brief runway-type activity at the end. Just ensure that workplace professionalism is still being honored so that no one is made uncomfortable.
13. May the force be with you
Difficulty: Medium
Cost: $$$
Time investment: 1–3 hours
Team members needed: 5–6 (per team)
This one works well if you know you have many Star Wars fans in the office, which is a likely scenario when you consider that only 37% of Americans between 30 and 40 don't like the franchise. The rest are either avid fans or casual viewers.
It'll be fun to hold a Star Wars trivia contest in the breakroom and serve some Stormtrooper marshmallow cupcakes. Alternatively, you can get a bunch of those thumb-wrestling lightsaber kits if you're willing to splurge.
14. Race against time
Difficulty: High
Cost: $$$
Time investment 60–90 minutes (per round) + commuting back and forth
Team members needed: 2–8 (per team)
Escape rooms are one way to take your theme day outside the office. Working against the clock, everyone has to collaborate to beat the game and move on to the next level. That's just a fantastic way to hone communication skills!
However, if you have remote employees or can't figure out the logistics of a work outing, opt for a virtual version of the game.
Either way, it's important to note that, odds are, you'll have to pay per player. That can get expensive quickly if you manage a large team.
15. Sea'rious workday
Difficulty: Low
Cost: $
Time investment: ~2 hours
Team members needed: 2–4
It would be great to go all out with a corporate beach day—it's actually a mood booster.
Unfortunately, that might not always be a practical option. In this case, a sea-themed day in the office will have to do.
After work hours, gather your employees around for a virtual aquarium tour (there are awesome yet free options, like the Oceanogràphic). Then, everyone can sit down for a sea-themed board game, like "Survive: Escape from Atlantis."
16. Superhero day
Difficulty: Low
Cost: $
Time investment: Ongoing throughout the day
Team members needed: No limits
If you don't mind elaborate costumes at the event, let your employees choose their superhero for the theme day. In a way, you'll be reinforcing the idea that they really are the dream team!
To drive the point home, make sure to pair the fun with meaningful feedback. Use software solutions like Social Recognition® to streamline the process and encourage meaningful praise between peers.
17. Going green
Difficulty: Medium
Cost: $
Time investment: 1–2 hours
Team members needed: 3–16
If going green is a huge part of your company culture, it would be a good idea to engage your team in an eco-friendly theme. The bonus here is that it's budget-friendly and great for the environment!
The only tricky part is working on reducing the event's carbon footprint. However, there are some simple workarounds.
For instance, thrifted board games will work for the main activity. Alternatively, you can grab chalkboards to play Pictionary.
Don't forget to ditch the single-use plastics and ask everyone to bring plates from home if your breakroom doesn't have any.
18. Literature day
Difficulty: Medium
Cost: $
Time investment: ~2 hours
Team members needed: 5–15
In a survey of 2,000 US adults, 81% reported that they don't read as much as they would like to. One way to help your employees tackle this issue is holding a lit literature-themed corporate event.
You can announce it in advance and take votes over a book to discuss during the day, but it would also be nice to have a book swap table.
19. Top Gun
Difficulty: Medium
Cost: $
Time investment: ~1 hour
Team members needed: 10+
The main activity in a Top-Gun-themed event would be a paper airplane competition—like the Red Bull one, but on a smaller scale. That should be a fun nod to the aviation aspect of the franchise.
To keep the theme along the day, see if employees would like to come dressed as their favorite characters and play Top Gun trivia.
20. Pay it forward
Difficulty: High
Cost: $
Time investment: Ongoing through the workday
Team members needed: 3+
A "pay it forward" theme can be a tricky one to start, but once you get everyone onboard, the staff can do random acts of kindness all day. You can even organize a gift exchange or encourage random acts of kindness.
By the end of the workday, employees can share the highlights of their day on a "wall of kindness" poster.
If your team members are still feeling the kindness wave after work hours, they can volunteer together at any local charity.
FAQs
What are the five types of team-building activities?
It's hard to push all the team-building activities out there into five molds only. However, you can create general categories based on the objective behind the activity and include the following:
Ice-breaking
Improving communication
Problem-solving
Out-of-the-box thinking
Nurturing personal relationships
What are hybrid team-building activities?
Hybrid team activity models cater to both in-office and remote employees.
For instance, if you're hosting a scavenger hunt, you can divide the workforce into different groups. Each one will have some members working on virtual clues at home and others in the office tracking physical challenges.
Why should companies organize a spirit week?
Although it's commonly associated with schools, spirit week can help companies tackle more objectives in a condensed timeline. This can be more efficient than hosting multiple team theme days over the span of a few months, but every organization is a unique case!
Conclusion
The best team theme ideas lie where the workforce's interests and the company pain points collide.You want the overarching theme to be interesting enough to get employees to participate. Yet, the activities should address the team's main problem, whether it's miscommunication or burnout. That way, your theme day will be fun, memorable, and productive. 
Hopefully this guide helped you generate some creative ideas for the next themed office event!