4-minute read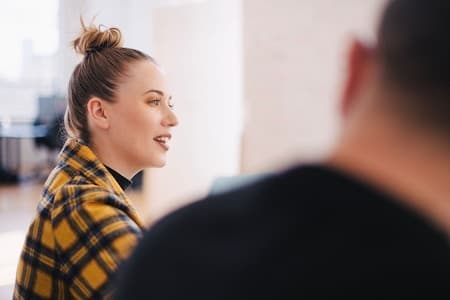 Traditional performance management – a process during which employees may receive an annual performance review and small pay raise – is falling out of favor. It not only sucks time and energy from employees and people leaders for negligible payoff, but more than half of workers say the process is not indicative of all the work they do and that it does not improve their performance (53% and 55%, respectively).
That frequent informal check-ins (rather than an annual slog) are a key contributor to trust, respect, and engagement at work is the third finding from "The Future of Work is Human: Findings from the Workhuman® Analytics & Research Institute," a recent survey of more than 3,500 full-time workers from the United States, Canada, Ireland, and the United Kingdom. This annual report offers people leaders and executives new insights into what kinds of performance development activities effectively engage employees.
For the fourth year in a row, this survey found that the number of companies conducting annual or semiannual reviews has fallen. In 2016, 82% of workers surveyed said their company used an annual review. That number dropped to 65% in 2017, 58% in 2018, and just 54% this year. So, what are these organizations doing instead?
Prioritize ongoing communication.
An informal check-in is exactly what it sounds like – a one-on-one during which manager and employee privately discuss development and ensure they are aligned on priorities and goals. According to the survey, encouraging people leaders to check in with each of their employees at least once a week can have a high impact on engagement: 47% of respondents who reported feeling highly engaged at work checked in with their managers at least weekly, while only 2% of highly disengaged employees and 13% of neutral employees said the same.
Employees clearly want more frequent and consistent feedback. Those who check in weekly as opposed to never are:
More than 2x as likely to trust their manager
Nearly 2x as likely to respect their manager
Nearly 2x as likely to believe they can grow in the organization
Why? Well, traditional reviews save up six to 12 months' worth of feedback and dump it on employees all at once. Important contributions may be forgotten and more recent events disproportionately emphasized instead. Feedback should create a moment that matters, and to be effective, be given when the behavior occurs – not days, weeks, or months later. Offered too late, feedback becomes limited in scope, less trustworthy, rarely followed up on, and focused on the past. All of this contributes to employees feeling overlooked and unappreciated, leading to slow but steady disengagement.
Gratitude: an easy way to grow
While the trends clearly indicate that many organizations are moving away from traditional performance management, there are things you can do to more deeply engage your humans – even if you're not quite ready to eliminate performance ratings. (Though that's certainly possible.)
The survey asked employees what one thing they wished their managers did more often, and the most popular answer (31%) was "show more appreciation." This response beat out strong contenders such as "focus on my career growth" (19%) and "give me more independence" (15%).
Based on this finding, here are five quick ways people leaders can infuse gratitude into the weekly check-in process:
Start with recognition. When you set a tone of positivity, you more easily enable trust, collaboration, and open communication. Mention what has been going well since the last check-in.
Let the employee guide the conversation. In continuous performance management, the employee is at the center of their development. Because check-ins happen regularly, there should be no need to cram in a ton of high-level updates.
Focus on growth when reviewing work and stay away from negativity and complaints. Instead of "Why didn't you get X done?" try asking, "What do you think would help you more effectively manage your time?"
Keep multitasking – such as checking texts or emails – to a minimum. When both parties practice active listening in most situations short of an emergency, the chance of miscommunication decreases and trust increases.
Ask for feedback – and say "thank you" when you receive it. As a manager, you want to know what your humans think of your approach to leadership. Check-ins should be a safe and trusting environment where ongoing, two-way feedback is natural and encouraged.
We're not done yet.
In upcoming blog posts, we'll continue to explore findings from "The Future of Work is Human" – and look at ways companies can leverage the untapped energy and potential of their humans by effectively engaging and motivating them to do the best work of their lives. Stay tuned.