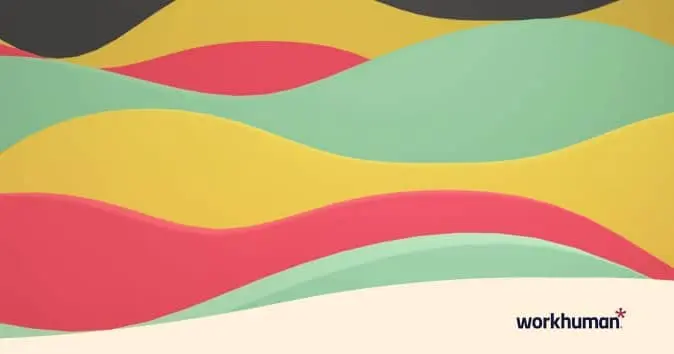 Celebrating Juneteenth at work is an impactful way to show employees that you are committed to a more diverse, equitable, and inclusive culture.
It's an annual reminder to acknowledge the experience and history of African Americans with conversations around intersectionality and the ongoing struggles.
Juneteenth can be a crucial tentpole for your organizations diversity, equity, and inclusion (DEI) efforts. A strong majority of Americans want to see advancements in DEI especially around pay and opportunity equity and discrimination in the workplace.
Juneteenth can be a catalyst for understanding the history behind these inequities and the modern day examples that persist today.
What is the history of Juneteenth?
We are not the place for a full account of Juneteenth history. Juneteenth.com is much better.
But here's the short of it. America's newest federal holiday, Juneteenth is a monumental day in American history.
It is observed symbolically on June 19th as a reference to June 19, 1865, when Union Major-General Gordon Granger, two and a half years after President Abraham Lincoln signed the Emancipation Proclamation, issued General Order No. 3 in Galveston, Texas enforcing the proclamation and emancipating some of the last African Americans held in chattel slavery.
Juneteenth goes by a few names- Emancipation Day, Freedom Day, Jubilee Day, and Black Independence Day. It's been celebrated by the people of Galveston since 1866 and by groups and communities across the U.S. for over a century.
How to celebrate Juneteenth at work
In the context of work, it is both a valuable nudge to continue learning and raising awareness of the issues Black Americans face to this day, and, at its core, it is a day of celebration.
It's critical for any organization that wants to celebrate Juneteenth to do so with respect and reverence to the meaning behind the day.
Learn the history of Juneteenth
If you're going to set aside time to celebrate something, you should know what it is you're celebrating. Juneteenth has been celebrated for over 100 years, but a Harvard Business Review workplace study found just 41% of Americans knew about Juneteenth prior to 2020.
In mid-2021, that number had climbed to 70%. It's a day with a rich history many are only just starting to understand.
It's important for HR departments and teams who might be asked to plan an activity or event to be aware of the cultural significance of Juneteenth so that they are able to properly and appropriately honor it.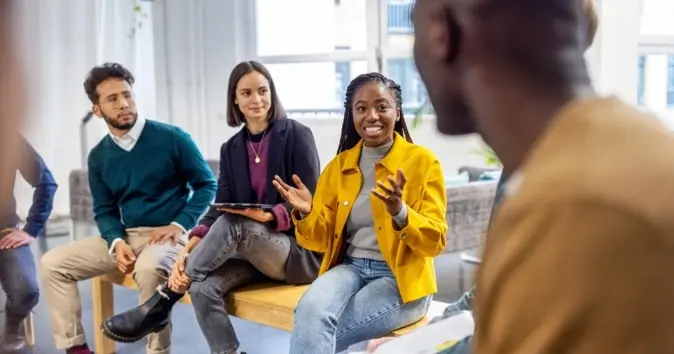 Be careful where you shine the spotlight
There is a lot to learn about the Black experience from employees in your organization, but no one should feel forced or pressured to share stories or experiences as they could be painful or uncomfortable.
And while white leaders and employees might be eager to share what they have learned, it's important for the focus to not be on them.
The safest bet for productive conversations are in conjunction with your DEI employee resource group or an outside speaker or expert. With guidance on where to shine the focus, you can ensure your good intentions align with considerate actions.
Avoid white-washing or tokenizing
As with other acknowledgements and celebrations, Juneteenth runs the risk of being corporatized, tokenized, or "washed." Simply hanging the Juneteenth flag in the company breakroom with no other meaningful action will only signal your lack of sincerity and understanding of the day.
We'll discuss meaningful ways to celebrate below, but the primary goal for any Juneteenth celebration should be honoring and respecting the legacy of the day.
Don't let Juneteenth be an outlier
While it may be one day on the calendar, you can and should infuse the lessons from Juneteenth in the policies and actions of the company year-round. It's the best way to honor it and achieve progress in your organization's DEI efforts.
Juneteenth celebrations are the most meaningful in communities focused on the long-term health and prosperity of the Black community.
At work, you can honor Juneteenth by ridding biases from hiring practices, prioritizing equity in promotions and opportunities, and holding regular inclusion trainings.
Get comfortable speaking up
Part of year-round awareness is shutting down racist or biased conversations in the office and in your personal life.
We'll talk more about formal trainings and educational resources later, but overheard discussions tinged with microaggressions or racial undertones can be called out in the moment in a way that educates and doesn't belittle.
Such a conversation is a circumstance for allies to exhibit psychological bravery by speaking up and not leaving these discussions to Black employees.
Understand intersectionality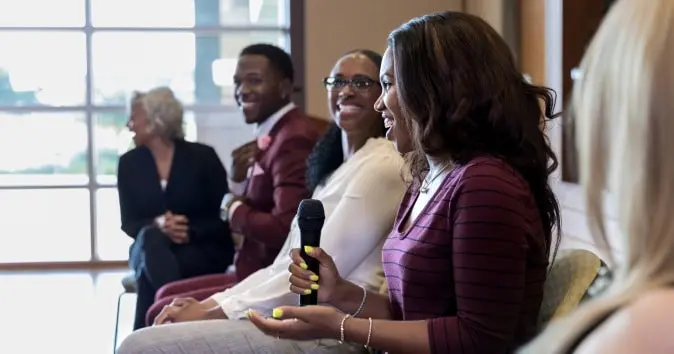 The experiences of Black men differ from those of Black women which differ from those of Black trans people which differ from those of mixed race people.
No one experiences discrimination or harassment the same way and understanding the nuances will help inform more effective workplace policies, avoid the use of inappropriate language, and make all employees more aware and knowledgeable.
11 Juneteenth celebration ideas and activities
1. Provide a paid day off
The decision to recognize Juneteenth officially as a federal holiday is, in part, to mark its significance in American history. And because nearly every other federal holiday is marked with a paid day off, honoring Juneteenth should too.
To ensure that the reason why employees are getting the day off isn't lost, it's best to pair this idea with another that includes an educational and enlightening experience.
You could also encourage employees to use their day off as a day of service, support a Black owned business, and continue learning about the past and present struggles of the African American community.
2. Facilitate a "lunch and learn" session
A lunch and learn offers a two-fold way to honor Juneteenth. For lunch, you could order from a Black-owned restaurant which is concrete demonstration of support.
It could also, depending on the restaurant's cuisine, be a way for employees to learn about traditional foods in the Black community.
The learning portion of the session could be composed of open conversations or the screening of a presentation or panel. As mentioned above, discussions should center Black voices and focus on expanding knowledge and enacting change.
Here a few sample discussion topics for a Juneteenth lunch and learn:
The history of Juneteenth
Ways to celebrate and honor Juneteenth
The ongoing fight for racial equality and equity
How to be a better ally to your Black co-workers and the Black community
3. Take a Juneteenth-inspired field trip
Your local community could be a great resource for learning about Black culture and Black history. Check to see if a local museum or educational group is planning to celebrate Juneteenth.
Seeing photos and historical sites in person can provide invaluable context and expand one's perspective.
If there aren't any events in your community or even if you have remote workers, consider a virtual event that can offer the same insightful experience.
4. Create a Juneteenth book club
Reading Black authors is a tremendous way to learn more about Black culture and the Black experience. Book clubs offer a casual but guided venue for discussion and the sharing of ideas.
Though "book club" is the common vernacular, groups might decide to watch a movie, TV show, or documentary or listen to a podcast.
The medium matters less than the subject, the quality of discussion, and the support of Black artists.
Here are some book, movie and podcast ideas to celebrate Juneteenth:
Books
Movies, Docs, and TV Shows
Selma
Just Mercy
Monster (Netflix)
13TH
It's a Wonderful Plight
Summer of Soul (…Or, When the Revolution Could Not Be Televised)
Podcasts
5. Support Black-owned businesses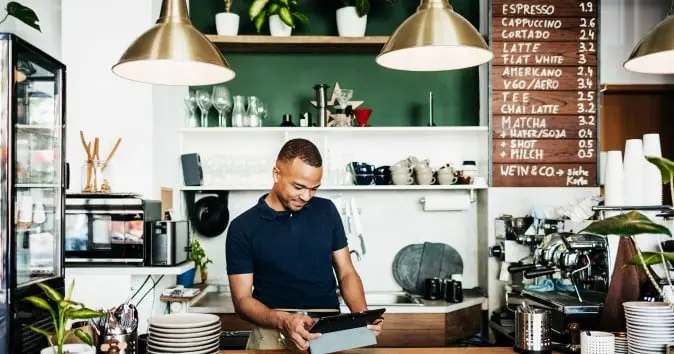 Vote with your dollar by supporting Black-owned businesses on Juneteenth and year-round. As previously mentioned, you can source food and catering from Black-owned restaurants.
You might also look to source books for the Juneteenth book club from a Black-owned bookstore. Putting financial capital in Black-owned businesses contributes to a more equitable world.
Even if your organization doesn't purchase anything directly, provide a list of local Black-owned businesses and restaurants to employees can help them invest their time and money into the community.
6. Volunteer to support relevant causes
A day of service to volunteer with an organization dedicated to making a positive difference in the Black community is an excellent way to celebrate Juneteenth.
With street fairs, festivals, and a number of other public Juneteenth activities happening in your area, it could be a great idea to see how your employees or organization can help.
7. Bring in a guest speaker
Bringing guest speakers in to discuss Juneteenth and related topics can be a profound way to celebrate Juneteenth. By offering their own experiences and learnings, a guest speaker can motivate and inspire employees to expand their own knowledge and perspective.
Along with a book club, this is also a virtual-friendly option for any remote employees.
8. Expand diversity and inclusion training
In addition to an annual celebration, Juneteenth can serve as a catalyst for more expansive trainings around diversity and inclusion. Whether it's to raise awareness of biases or institute more progressive policies, these sessions can strengthen your corporate culture.
Workhuman's Inclusion Advisor can provide in-the-moment coaching on word choice via the Social Recognition tool by catching words and phrases that may have racist, bigoted, or disrespectful etymologies.
9. Attend a Juneteenth festival
One of the best ways to celebrate Juneteenth is to take part in festivals, gatherings, and other celebrations already being held.
Groups and communities have celebrated Juneteenth for decades and such a special event can be a perfect opportunity for your organization and even the whole family to take part in the cultural experience.
As awareness of Juneteenth grows, the accessibility of Juneteenth activities will grow as well.
10. Establish or bolster your DEI Employee Resource Group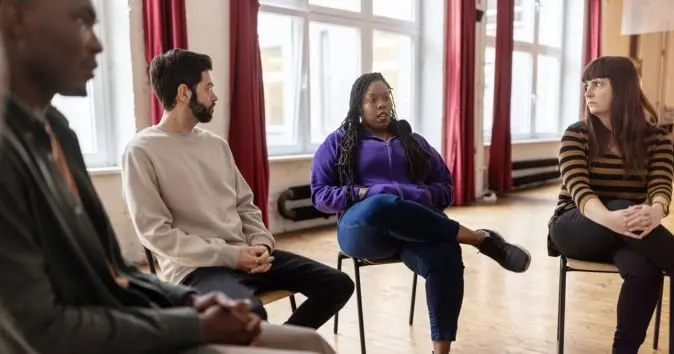 Another way to sustain the lessons of Juneteenth throughout the year is to support and amplify the work of DEI groups at your organization. These groups are voluntary and aim to lift up traditionally marginalized groups.
Recognizing their contributions and implementing their suggestions to make the workplace more diverse, equitable, and inclusive shows you are serious about enacting change.
Juneteenth is not an opportunity to force these groups into additional work, but rather to consult with them about the proper way to conduct discussions or ask about good resources for African American history.
11. Donate to Black-led nonprofits and charities
Voting with your dollar can extend to supporting the numerous nonprofits and organizations dedicated to enacting positive change in Black communities.
You can make direct contributions as an organization or match employee donations to civil rights and social justice groups of their choosing.
Some organizations to consider donating to are:
What are the benefits to celebrating Juneteenth?
Celebrating such a historical holiday such as Juneteenth can be an inspiring and uplifting experience for everyone in an organization. Below are some of the tangible benefits of taking the time to recognize and honor it.
Transforming the workplace environment
Juneteenth activities can and should be a perennial component of your organization's DEI strategy. When the experiences of the Black community are respected and shared, everyone benefits.
That's even true for an entire organization as time and again it's found that a more diverse and inclusive workplace is more successful than one who isn't.
Recognizing employees' commitment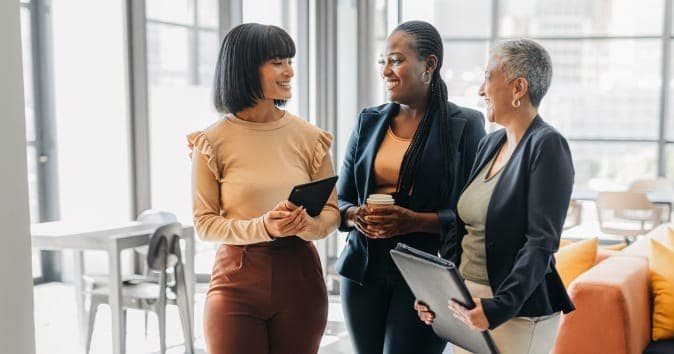 A regular part of Juneteenth celebrations should be recognizing the work and commitment of employees who helped put them on.
Any workplace celebration takes a lot of effort and coordination, and that is especially true for an event with so much history and culture.
Make sure that the people responsible for the Juneteenth celebrations are seen and valued for their work.
Nurturing appreciation for Juneteenth
June 19 is an immeasurably important date in American history. That's why it became a federal holiday and that's why it's important to understand the depths of its roots.
To celebrate Juneteenth is to acknowledge the unique pains, joys, and experiences of the Black community.
African American history is still working its way into mainstream consciousness and meaningful efforts to educate your employees accelerates that large-scale awareness.
Making an impact in the community
Organizations are pieces of the community they are located in and leaders should always be looking for ways to give back.
Whether ordering lunch from Black-owned restaurants or coordinating volunteer groups to help at a nonprofit, organizations can celebrate Juneteenth in a way that uplifts those around them.
FAQs
How do you celebrate Juneteenth in the workplace?
No matter what you are doing to celebrate Juneteenth, it's important for every company to first understand the history of the day.
During any event or celebration, it's important to center Black voices, keep the focus on the legacy of the day, and put the lessons of Juneteenth into practice throughout the year.
How do you promote Juneteenth in the workplace?
At work, there are a number of ways you can celebrate and honor Juneteenth. An event like a lunch and learn catered by a Black-owned restaurant featuring an inspiring guest speaker provide tangible support to your local community and educate your employees in a fun, casual setting.
Check out more Juneteenth ideas for the workplace above.
Why should organizations honor Juneteenth?
Juneteenth is simultaneously a symbolic date for historic freedom and a reminder of the ongoing struggle and oppression of Black America. That struggle and oppression are inextricable from the workplace.
It should be a goal of every organization to be more diverse, equitable, and inclusive and integral to that goal is understanding the historic inequities and inequalities that have brought us here and the positive changes that will keep propelling us forward.
In conclusion
Juneteenth is an important day in American history. Learning the reason for its celebration and using it as an opportunity expand your awareness of its history and ongoing legacy can inspire employees and help create a more inclusive company culture.
As a company, you can embrace intersectionality by celebrating Juneteenth in tandem with Pride month, International Women's Day, and other heritage months throughout the year.