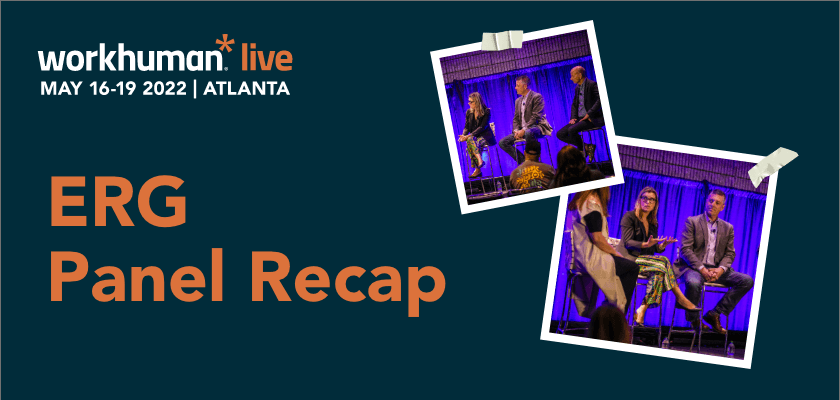 "Let's reflect on your journey as an ERG leader," said noted author and career columnist Joann Lublin as she opened the Workhuman® Live session, "Employee Resource Groups: The Next Generation." "What do you know now that you wish you had known at the outset? And what steps should other employers take to improve their ERG effectiveness?"
Her questions were directed to a distinguished panel that included Kumari Williams, global head of program and operations at Workday; Drew Lewis, VP of global diversity & talent at ADP; and Sherita Lee, director of global talent and leadership at Merck. Together, they explored the challenges companies face in their efforts to elevate ERG initiatives, from simple support to strategic drivers.
Kumari pointed out how important it is to bring your ERGs along on the journey, rather than have their work sit off to the side. "It's not enough to just outline the strategy," she noted. "You have to help them understand where they fall in your diversity strategy. If you have ERGs that are working independent of the work you're doing as a diversity and inclusion team, it can set up a dynamic where you're working a little bit against each other."
Drew remarked on the incredible passion and commitment members of the BRGs (ADP's "Business Research Groups") have to the company's mission. "Organizations really need to figure out how to tap into that passion and leverage it for the benefit of the entire business community," he noted.
Merck has had EBRGs (Employee Business Resource Groups) for 50 years, starting with an African American employee group, according to Sherita. As she sees it, participating in an EBRG is a unique opportunity to connect with senior leaders throughout the organization.
It's also a chance to develop vital leadership skills – "to navigate the headwinds that are related to diversity." She believes that leaders need to include participation in EBRGs as part of an employee's development plan. That way, they know that "it's okay for you to leave and go work with your EBRG – and not feel you have to do it in secret."
The role of recognition in reinforcing ERG strategies
Joann asked the panel to share how their organizations use both individual and team recognition to reinforce the strategies that their ERGs are trying to achieve.
Kumari believes that – in addition to points or rewards – those who participate in ERGs should be recognized as a key talent pool and should be rewarded with career opportunities. "They're getting visibility in the business," she pointed out. "If we can get them to the next point in their career, if we can develop them, if they're growing in the development of their career, that's significant."
Drew noted that ADP strives to make BRGs part of their overall business strategy: "If it's the women's group, they should be able to help us learn how to do better with women-owned businesses," he said. "I want to ensure that women, the LBGTQ community, the Black community, the Latin community, have a better place, from an economic expansion standpoint, within our company.
"We pay a stipend to the leaders of our BRGs – the chairs and vice-chairs," he added. "Memberships that are doing well get cash rewards for when they go above and beyond … This idea that 'membership has its privileges' is what I'm trying to build into and around the BRG ecosystem."
At Merck, EBRG leaders receive additional compensation for their time and are given access to the company's high potential talent portfolio, according to Sherita. "And there are other things we do through the Workhuman® platform," she noted. "All of our ERG leaders can recognize their team members. They can recognize individuals from anywhere. Really giving recognition to the people that deserve it … That's the way they inspire their teams."
She added that Merck also recognizes the activities employees do to elevate key initiatives – such as diversity, equity, and inclusion (DE&I) – by connecting them to a larger audience through programming.
Forging stronger community and connection
Joann then asked the panel how ERGs have helped their companies build a culture of inclusivity and connection – especially at a time when many employees are working remotely.
Shertia said the pandemic has actually increased participation in various activities. In her view, the fact that many workers are remote has bolstered the awareness of – and participation in – such activities. "It really has helped us remain connected as a community – even greater than we were before COVID." That's especially true for those who started during the last two years. "The EBRGs really were a vehicle for [them] to feel some community. In fact, making people aware of EBRGs is now part of the onboarding process."
Will this momentum continue as people continue to return to the office? "I think they will," notes Sherita. "We're working more in a hybrid workplace, so when we do events in the auditorium, we're making sure that folks can tap in online … I think for most activities, we still have the broader audience."
Partnering with leadership, HR, and the business
"How do your ERGs partner with upper management, with HR, and with other business functions in ways that enable the company to navigate challenges?" Joann asked the panel. "Particularly the challenges and uncertainties that we've seen over the last two years?"
At ADP, BRGs are seen as an important resource for the company, according to Drew. There, upper management relies on groups – such as their Pride Group – to provide insights and perspectives that might otherwise go unseen. He added that the communication path is a vibrant, two-way exchange between upper management and the groups themselves.
At Workday, the goal is to have EBCs be strategic and aligned to the business. Yet upper management recognizes that each group has a different level of experience, and so leadership adjusts its expectations accordingly. "We're making direct connections with our EBCs to the work because there are some that know who to go to, how to champion their ideas," notes Kumari. "There are other EBCs that want to make an impact, but just don't know how." She adds that upper management is "making those direct connections to take some of the stress off our EBC leaders. Because they're passionate, they want to help, but they don't always know where to plug in."
Bolstering recruitment, employee experience, and employer brand
Joann's next question centered on the impact ERGs are having on recruitment, the employee experience, and employer brand – particularly relevant issues, given the current rate at which people are leaving their jobs.
Drew believes that ERGs can play a vital role in the identification, recruitment, and onboarding of new talent. He sees them having a key role in working with underrepresented groups, such as women.
How ERGs can support and advance key business initiatives
As her final question, Joann asked the panel to discuss ways ERGs support and advance other key business strategies at their organizations.
Kumari cited the role EBCs have played in understanding and improving the work experience for people with disabilities. "EBC has been very vocal in ensuring that the experience is what it should be for our colleagues with disabilities," she noted. "When you put on the lens of someone that is requesting an accommodation or has the need – when you walk through it in that way – it brings things to light."
Drew shared that at ADP, BRGs have had an impact on product development. The Pride for LGBTQ+ Group pushed for incorporating pronouns into their platform.
At Merck, all EBRGs have the same three priorities, according to Sherita:
Partner on a business initiative – Each EBRG is aligned to an executive committee member. In this way, EBRG members learn about leadership's challenges, and the executive sponsor comes to a greater understanding of the group's needs.
Drive employee development for group members – EBRG members have the chance to take on special assignments throughout the organization, such as helping procurement find diverse suppliers.
Make an impact in the community – One group formed a diversity and clinical trial committee. Working with an agency, they developed a brochure tailored to Black employees (with Hispanic and Asian specific versions to follow) that explains what is involved in trial participation.
For both ERG members and the business, "It's a win-win all the way around," concluded Sherita.