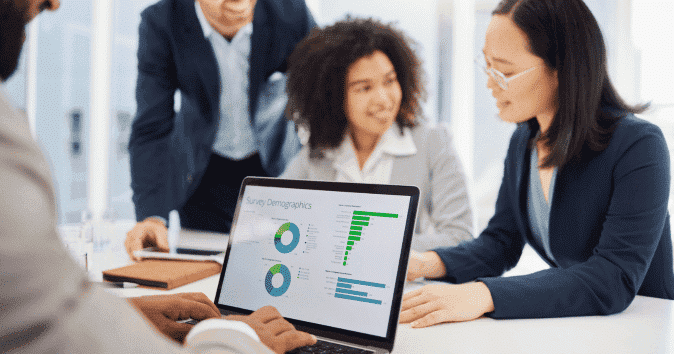 Studies show that over 76% of job seekers and employees consider diversity, equity, and inclusion (DEI) important when evaluating job opportunities. So, how do you monitor the success of your workplace diversity and inclusion initiatives?
A great place to start is by asking your employees to fill out a diversion and inclusion survey. 
Choosing the right diversity, equity, and inclusion survey questions can help you enhance your initiatives and increase innovation and productivity in the workplace. These surveys are one of the most critical aspects of employee experience and company success.
A D&I questionnaire allows employees to anonymously share their thoughts and opinions to help pinpoint diversity and inclusion disparities, letting you know what's working and where there's room for improvement.
What are DEI survey questions, and why are they important in the workplace?
Diversity and Inclusion (D&I) surveys are company-wide surveys that help you measure and understand your employees' thoughts, feelings, and opinions about diversity and inclusivity within the organization.
Diversity survey questions gather information across all demographics, from people of different ethnicities and races to genders, religions, and sexual orientations.
These surveys are important because they allow you to:
Identify areas of strength and improvement  
Identify workplace biases
Establish benchmarks to measure the significance of the company's chosen initiatives and policies 
Understand how different groups are treated and represented in the company 
Gather data to monitor the yearly or bi-yearly progress of your DEI strategies
According to the International Labor Division, diverse and inclusive workplaces have the largest revenue growth, a greater readiness to innovate, and over five times higher employee retention. D&I surveys help with this effort, driving employee engagement and purpose. 
By conducting D&I surveys, you demonstrate your commitment to company diversity, equity, and inclusion. You're showing your employees that their opinions matter and their voices are heard. 
This can help build trust and, as a result, foster a more positive and all-inclusive work environment.
As you start reading through the survey questions below, you'll notice that the questions aren't traditional questions ("Does the company hire individuals of all backgrounds?"), and are instead phrased as statements. Your company is asking these questions to gain answers and not agreement – phrasing the questions as statements allows for less limited responses. 
We suggest that your company adopts a "strongly agree" to "strongly disagree" scoring system for their survey. The questions below have been written to be applied to this same scoring system.
20 example questions to include in your DEI survey
Now that we have guidelines to follow on scoring and phrasing, here are some ideas to get you started:
Diversity survey questions examples
1. I believe the company's diversity and inclusion initiatives are successful.
This question lets you know how successful your diversity efforts are. It's an excellent conversation starter that'll set the tone for the rest of the survey. 
2. The company's promotion and appraisal policy supports diversity, inclusion, and belonging.
Promotions or mentorships should be offered to high-potential employees regardless of age, sex, race, or other factors. This question will help you identify if the company's evaluation process is free of privileges, biases, favoritism, prejudices, or discrimination.
3. The company hires individuals of all backgrounds and communities.
Diversity in a workplace is an important asset. It not only acknowledges individual strengths regardless of race or background but also makes many employees feel a sense of belonging. This question collects employees' outlook on the company's hiring process and gauges whether your employees feel like there are unconscious biases in human resources.
4. I feel comfortable discussing diversity and inclusion with my manager and co-workers.
In other words, how comfortable are your employees discussing their social or cultural beliefs with their colleagues? 
Diversity and inclusion shouldn't be treated like a taboo topic in the workplace. 
Employees should be able to discuss both aspects without fear of discrimination. Don't let "controversial" or uncomfortable topics like racism, Islamophobia, or transphobia go undiscussed. Instead, focus on what you can do to create an environment where employees feel at ease. 
5. I feel that my co-workers are open to different perspectives.
This question will shed light on how employees treat one another in your workplace. 
Open-mindedness is a character trait that every employee should adopt. Having an open mind makes it easier to relate to people with different cultures, backgrounds, and perspectives. 
People with open minds also tend to be respectful of others' boundaries, cultures, and opinions.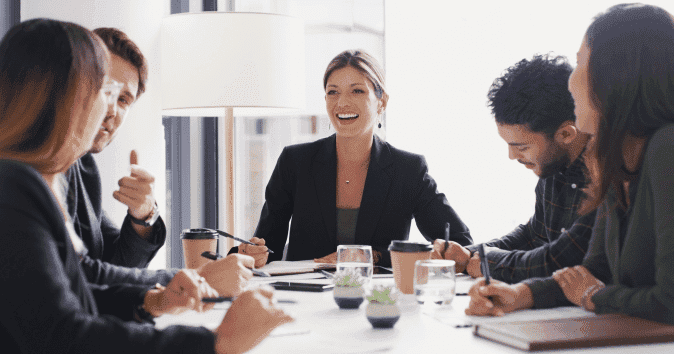 6. I feel that my company promotes and protects all diversity areas (race, nationality, gender diversity, age, sexual orientation, ethnicity, disability status, and religion) equally.
A diverse and inclusive workplace protects and respects the values of all groups, not just particular genders or races. Inclusion means creating an environment where all individuals, regardless of their background, characteristics, or differences, are valued, respected, and fully involved.
Equity survey questions examples
7. I feel valued for my work regardless of my nationality, sex, race, disability, or sexual identity.
Just because you have a diverse workforce doesn't mean your company treats everyone equally. Learning who does or doesn't feel valued for their contributions at work can help you develop a strategy to publicly or privately recognize employees without bias. 
There are various ways to display how important diversity is through employee recognition, from pay raises to company awards. At Workhuman®, for example, we highlight our employees' achievements through shout-outs and social media recognition.  
For more ideas on how to celebrate your employees, check out our webinar on how recognition can be used as a DE&I strategy in the workplace.
8. Leadership shows a commitment to workplace equity.
Diverse organizations double their efforts to promote diversity, equity, and inclusion in their companies. This question can help you determine whether your managers need additional equity training or support to ensure that everyone is treated the same without discrimination.
9. I have noticed favoritism within the company.
Favoritism can sometimes be an unconscious decision. Some managers choose the same people for sought-after opportunities without considering the talent of others. This can lead to decreased employee motivation and a loss of respect for company leadership. 
Gathering information about favoritism through these DEI survey questions shows you how employees in leadership positions distribute their opportunities and help you measure inclusion.
10. I witness unconscious biases within the workplace culture.
Managers, co-workers, or business community members may sometimes display unconscious or unintentional biases toward a group of people.These biases often include offhand remarks, power plays, or passive-aggressive tones, which can hurt employee sentiment. Through this question, you can monitor their behavior and tackle unconscious bias in your firm.
11. If I make a mistake at work, I feel that it's unfairly held against me.
Mistakes at work should provide opportunities for self-improvement. They should be handled with understanding and empathy to build a more collaborative, outspoken, and long-lasting team.
Leaders should assure the employee that they're focused on solving the underlying problem rather than unfairly holding the blame against them. If employees feel that they've been mistreated for making small mistakes, you'll need to talk to your managers about respect effective leadership.
12. The people I work with treat each other with respect.
Respect is one of the most prominent aspects of diversity and inclusivity. Employees and employers must respect each other to promote a culture of inclusion within the workspace in which employees are loyal, engaged, fulfilled, and motivated to do their best. If a large majority of the respondents answered "disagree" or "strongly disagree", you might be dealing with a toxic workplace. Establish consequences for disrespectful employees if they don't change their behavior and set expectations for improvement.
Belongingness survey questions examples
13. In terms of my career path, I see myself growing in this company.
If you value diversity and inclusivity in your company, you'll most likely receive a positive response to this question. It'll also shed light on employee job satisfaction and retention due to the implementation of diversity measures at work.
14. My company welcomes and celebrates unique characteristics.
Celebrating and appreciating unique characteristics makes people feel valued and seen. It also boosts staff engagement and increases employee productivity, retention, and happiness. Your company should adopt a culture where character strength can bring rewards for both people and businesses.
15. Inclusivity is one of our company's most important values.
Inclusivity is a critical factor in employee retention. Employees that don't feel valued or taken seriously by their organization eventually leave for another employer. If the survey displays a negative answer to this question, it's a sign that you need to work on your workplace inclusivity.
16. I have faced discrimination or microaggressions in the workplace.
According to a 2022 survey about workplace discrimination, 61% of responders experienced or at least witnessed workplace discrimination, whereas over 25% experienced or witnessed a microaggression. Microaggressions are defined as unintentionally derogatory comments toward individuals or groups.
Diversity and inclusion questions for employees
17. The company provides enough support for disabled employees.
Making your workplace disability-friendly is one of the biggest steps of D&I. By ensuring accessibility in the workplace, your staff can work in a barrier-free environment and access a broader range of needs and opportunities, regardless of their mental or physical state.
18. HR creatively sources candidates from underrepresented communities.
Organizations that don't value diversity look for the "right" or "proper" candidate during the hiring process. On the other hand, diverse companies go out of their way to hire people from different backgrounds and cultures.Hiring people from underrepresented communities increases your workforce's talents, skills, experiences, and thought processes. If the survey displays a low score, you might need to look into the hiring process of your HR.
19. Management practices transparency in all aspects, including pay, opportunities, and promotions.
This question determines how your managers communicate with their teams. Transparency promotes open and honest communication in the workplace. It allows employees to feel comfortable expressing their options or providing feedback on a task or an executive decision.
20. Improvements can be made to the company's diversity, equity, and inclusivity efforts.
This is a strong question to wrap up your survey. You'll get a clear and honest picture on whether your employees feel that improvements should be made to your DEI efforts.
You might want to consider using a natural language processing (NLP) tool like Workhuman's Inclusion Advisor to help you create and communicate unbiased policies. Inclusion Advisor is an AI-powered language assistant that improves how employees communicate when writing recognition messages to their peers. As you write, this tool gives you real-time suggestions to improve your message and mitigate unconscious bias.
FAQs about employee surveys
What is the aim of a DEI survey?
The primary purpose of a DEI survey is to use survey questions to help gain insights into the culture of your organization's diversity and inclusion.
It examines the perceptions, attitudes, and experiences of employees of all demographics to enact a positive change and inclusion in your workplace and measures it over time.
The survey results enable you to see what organizational principles the employees disagree with and how the employees view the organization's commitment to diversity.
What should be included in a diversity and inclusion survey?
When creating a D&I survey to measure and improve diversity and inclusion at work, it is crucial to ask the right questions that shed light on the company's environment to help you assess current policies and initiatives.
The questions about diversity and inclusion should measure various parameters such as workplace comfort, employees' ability to share opinions, and opportunities
Conclusion 
Diversity and inclusion surveys offer a safe place for employees, and the direct questions help you understand what employees think by enabling them to provide feedback about the company's DEI culture.
The survey data helps you measure diversity and inclusion, determine if there is an issue, and take the proper steps to address them. 
Employees invest their time, energy, and effort into improving your business – the least you can do is create an environment that makes them feel seen, heard, and safe.