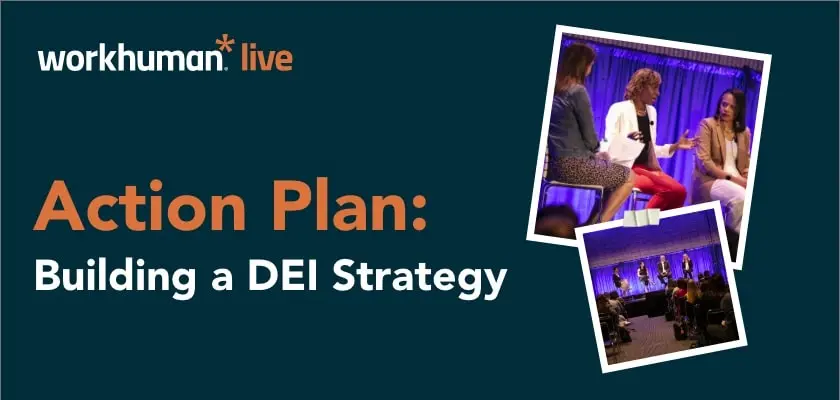 At Workhuman® Live 2022 the "Building a Workplace for All" content track delved into various aspects of diversity, equity, and inclusion (DEI) strategies and how to implement them in the workplace in ways that will go beyond intent to being significantly impactful.
DEI strategy that goes beyond intent to real impact
Following the murder of George Floyd in 2020, a plethora of organizations released statements indicating they were going to commit to putting DEI efforts in the forefront at their organizations. Presumably, some of them had the best intentions when making these statements. Alas, intent is not enough.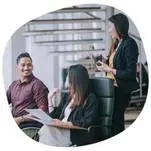 As time moved on, it became apparent that the rush to appear immediately anti-racist resulted in some organizational DEI initiatives that were rushed at best and disingenuous at worst. The organizations that have kept momentum have realized that to be sustainable, equitable practices need to be built into all foundational practices within the business.
To be impactful, the approach should be long term and substantive, not a quick fix and not surface-level DEI initiatives.
There must also be an understanding that each letter in the acronym DEI is important, not just diversity, which is often the easiest to achieve and thus focused on the most.
A McKinsey report found that, even among diverse companies, employees did not consider their employers to be inclusive. DEI measures must be implemented organization-wide and leaders must provide sufficient support, transparency, and resources to ensure sustainability.
What are the benefits of a diversity, equity, and inclusion strategy?
The benefits of a DEI strategy are manifold. In addition to business-related benefits such as increased revenue and productivity, other benefits include a greater sense of belonging among employees, increased employee engagement and satisfaction, increase in trust in leadership and psychological safety, higher retention, and more successful recruitment efforts.
In short, if we created a list of pros and cons for developing a DEI strategy, the list would be all pros. There is no downside to having a thorough, realistic, and sustainable strategy.
A framework for a people-first DEI strategy
Though developing and implementing a DEI strategy is undoubtedly a good business decision, business leaders must not lose sight of the people that will be impacted by the strategy and its outcomes.
To this end, the development of a people-first DEI strategy is advisable. You may be wondering how to go about developing a "people-first" DEI strategy.
According to a Workhuman report, a critical step is for "leadership teams to rethink their diversity and inclusion (D&I) practices, explore new strategies to build a more equitable workplace, and create the new future of work by mitigating both conscious and unconscious bias."
According to the report, three strategies to try are:
Gaining a view into unconscious bias
Learning about varied experiences within a single organization
Increasing representation
These strategies can be utilized to help the leadership team understand the state of diversity and inclusion within an organization by highlighting areas such as recognition, pay equity, empathy, bias, and underrepresented identities.
Gaining greater understanding of how these and other factors show up in the organization can inform how the DEI efforts should be developed to be people-first.
The business case for DEI initiatives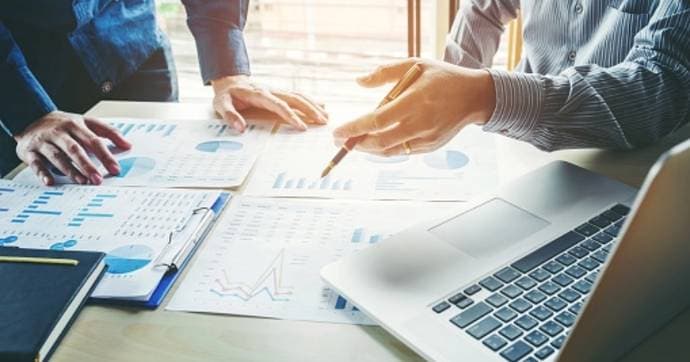 Investing in DEI is not simply good for people. It is good for business. When it comes to the business case for DEI, the benefits are numerous.
According to a McKinsey & Company report, "Companies in the top-quartile for ethnic/cultural diversity on executive teams were 33% more likely to have industry-leading profitability."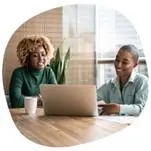 Of course, there are organizations that will commit to and invest in DEI strategies because they understand the importance and the impact it will have for the people who work there.
However, for some business owners and leaders, the impact on the bottom line is the impact they care most about. These types of leaders need to see data to inform their decisions.
Luckily, if you are dealing with a leader like this, there is plenty of data to back you up.
Business benefits of investing in DEI include increases in profitability, innovation, engagement, and employee retention. For example:
Organizations with diversity of gender are 25% more likely to be more profitable than their peers.
Companies with diverse employees have up to 20% higher rate of innovation and 19% higher innovation revenues.
43% of companies with diverse boards saw higher profits.
Diverse companies enjoy 2.3x higher cash flow per employee.
Diverse management has been shown to increase revenue by 19%.
Executive teams that are highly gender-diverse are found to be 21% more likely to outperform on profitability.
· 83% of millennials are found to be actively engaged in their work when companies foster an inclusive environment.
· Gender diverse teams make better business decisions 73% of the time.
Prior to investing in DEI strategies, the question of return on investment often arises. Interestingly, a Deloitte report found that millennials view the ROI of inclusion and belonging differently than those in previous generations.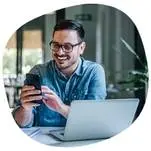 According to the report, "millennials frame diversity as a means to a business outcome, which is in stark contrast to older generations that view diversity through the lens of morality (the right thing to do), compliance and equality."
Whether the motivation for focusing on DEI (and belonging) is rooted in the business case, the people case, or a combination of the two, there are more than enough reasons to make it a priority in your organization.
DEI strategic plan
Now that you have decided to implement a DEI plan, you may be wondering what the plan should entail. Just like with any other strategic plan, a DEI plan must include the following components:
Mission: underlying purpose and motivation for developing the plan
Vision: the aspiration and culmination of a successful mission
Values: core beliefs and principles guiding the mission and vision
Analysis: research of your organization's current DEI status, business initiatives, etc.
Objectives & Goals: what the plan is designed to achieve and milestones for achievement
Measurements/Metrics: data used to track progress towards objectives
Action Plan/Strategy: the activities that will enable the strategic plan
5 Steps to Building Your DEI Strategy from the Ground Up
While sharing the stage during the Elevating Diversity & Inclusion panel discussion, Monica Jackson, VP- Global Diversity and Inclusion for Eaton, spoke to the importance of tying the DEI strategy to the business strategy.
She mentioned that the DEI strategy should tie into the HR/people strategy as well. In addition to ensuring this alignment exists, there are a few other steps to consider when building a DEI strategy.
Define the DEI purpose, mission, and values. Identify why the DEI strategy is being developed. This should be in alignment with your organization's strategic plan, mission, vision, and values.
Establish a governance body. This is the group of people responsible for providing oversight of the strategy and tracking progress. The DEI governance body should represent diverse perspectives and be empowered to institute organization-wide change. The governance body will define the DEI lexicon for the initiative and establish accountability measures.
Define leadership roles and expectations. For a DEI strategy to work, leadership has to model the behavior, values, and norms that foster an equitable and inclusive workplace. In addition to the governance body, every employee will have their own role in ensuring accountability for the implementation and success of the DEI strategy; however, the leadership team has the ultimate accountability.
Empower leaders as diversity champions. Ensure leaders have the tools they need to make change happen. These tools include education on creating a diverse, equitable, and inclusive environment, as well as additional resources. Cultivating a curriculum for learning and education that supports leadership commitment is ideal. Consulting external resources and experts will likely be required so there should be a designated budget for this work.
Identify metrics to evaluate outcomes and progress. To ensure accountability and transparency, you must identify metrics to track the outcomes of the DEI strategic plan. Metrics may include: targeted efforts to increase representation at multiple levels of the organization, training development, promotion opportunities for underrepresented groups, and equitable and inclusive workplace culture practices. An important step in evaluating progress and outcomes, particularly when it comes to quantifying inclusion, is listening to employees through the use of 1:1 conversations, coaching, and surveys.
Training and Development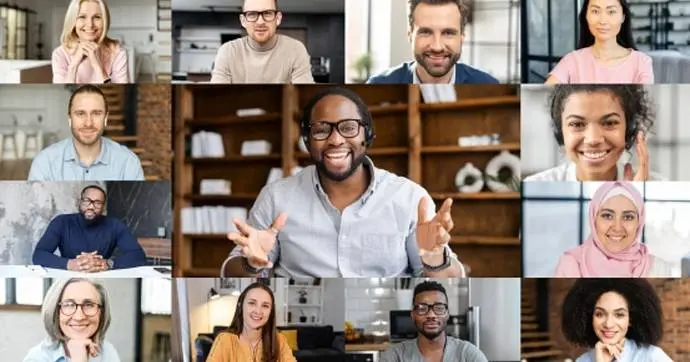 Empowering leaders (and others) as diversity champions involves arming them with the information and education required to move the DEI strategy forward, accomplish the stated goals, and reach the desired vision.
In addition to the use of training curricula and external consultants, micro-coaching is a method that can be successfully utilized. Micro-coaching sessions are short encounters that are not scheduled or scripted, but are timely and informal.
Micro-coaching is often thought of in reference to providing employee feedback or recognition; however, it can also be used to ensure accountability for driving an inclusive culture using the "power of yet."
Christopher Cardarelli, Executive Director of Global Diversity, Equity, and Inclusion at Merck, spoke to the "power of yet" concept during the Workhuman Live session, "Micro-Coaching and the Power of Yet".
The concept comes from an aspect of growth mindset and understanding that even though you may not be able to do something, or do not understand something yet, it does not mean that you cannot or never will.
In discussing DEI work and accountability, there is often a reluctance to have uncomfortable conversations because people are afraid of offending others and/or for being called racist, sexist, homophobic, etc. if they say the wrong thing. Instead of being fearful, embracing micro-coaching and the power of yet allows for reflection and opportunities to learn in the moment.
Best practices for implementing a successful DEI strategy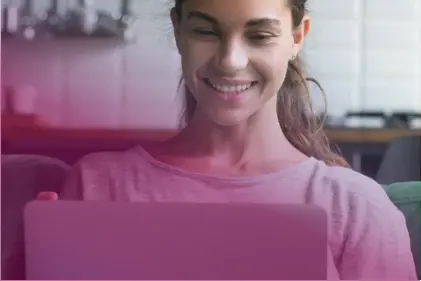 As with any business initiative, there is no one-size-fits-all DEI strategy. As such, there is no one-size-fits-all method for implementation.
That said, as shared by Celeste Warren, Vice-President of Global Diversity and Inclusion with Merck, Inc. during the Elevating DEI panel discussion, it is critical to integrate diversity, equity, and inclusion throughout all business processes and to focus on creating a culture of engagement, belonging and empowerment.
There are many ways to do this; however, you will want to incorporate the following to ensure successful implementation of your organization's DEI strategy.
Whether you refer to it as a DEI strategy, framework, or action plan, implementation will not be easy nor should it be. But it will be worth it.