When an employee is thanked or highlighted for their efforts and accomplishments, it's a shock of dopamine to the system. It makes them feel valued and grateful in an instant. Moments of employee recognition create magic at work.
It's not just the kind words from a manager or colleague or even the reward component that accompanies them, it's the impact this can have on the entire organization.
These moments can be shared with the full team, letting peers and entire departments know the great work being done and the exemplary efforts being exhibited. These moments energize and motivate employees and meaningfully convey appreciation.
Employee appreciation has a transformative power to uplift employees, inspiring them to do their best work.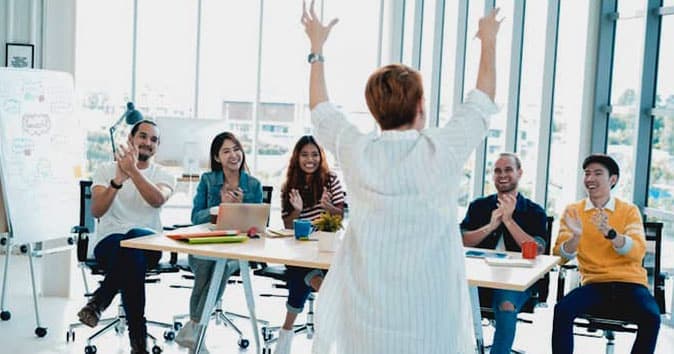 When you look at the statistics around employee recognition, companies that recognize employees see a direct impact on their overall productivity. However, according to a survey by Workhuman® and Gallup, only 26% of the employees feel that they get equal recognition as their peers for similar efforts.
With that in mind, let's take a look at some of the most commonly asked questions surrounding employee rewards and recognition.
It will help you understand how it can transform employee morale – and your bottom line.
Defining employee recognition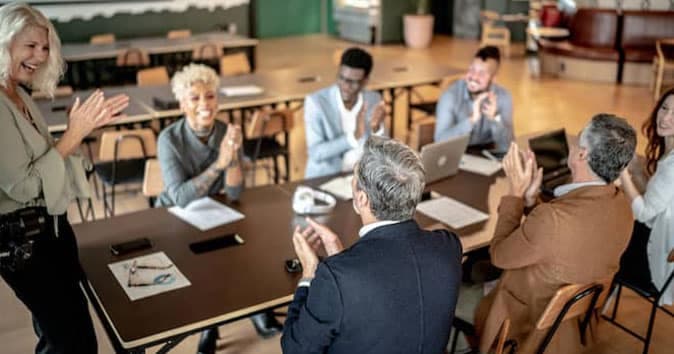 The most successful businesses know that the more gratitude in a company, the better it performs. And the best way to infuse gratitude into company culture? Meaningful recognition from peers – connecting people to a shared purpose through a consistent stream of gratitude and acknowledgment.
Employee recognition – also known as Social Recognition® – is the act of publicly acknowledging your people for who they are and what they do. With employee appreciation, workers recognize each other and make the workplace more inclusive and human.
Employee recognition is among the most important factors in making employees feel valued, driving workplace engagement, productivity, and employee retention.
Learn more about the ROI of Social Recognition here.
At its core, employee recognition is just another word for positive feedback – feedback focused on an employee's strengths and what they're doing right. It's also an expression of appreciation and gratitude.
When you recognize employees across all levels of an organization, it strengthens teams and makes work meaningful. It also makes companies more successful.
Why does employee recognition matter?
Boosting employee retention – If the employees feel that the amount of recognition they get is equivalent to their work, they feel fulfilled and tend to stay in their roles for longer.
Enhancing employee engagement – Employees are four times more likely to be engaged in their jobs if they get the recognition they feel is due based on their work.
Fostering work relationships and teamwork – Employee appreciation fosters better work relationships and teamwork and reduces burnout. It drives a collective sense of purpose and collaboration.
Creating a culture of recognition – Recognition should be a part of the day-to-day culture of the company, not just a quarterly activity. Monetary incentives and formal programs make it easier to reinforce this culture of gratitude.
Strengthening company values – Practices such as "equitable recognition" strengthen company values. All employees, irrespective of their race, gender, background, or other unique characteristics must get equal recognition based on the quality of their work.
Building employer branding – By setting a culture of employee recognition, a company builds a brand, and the word spreads. This brings in more high-quality employees to the company, increasing the organization's potential for success.
Improving employee motivation – By personalizing employee recognition, companies ensure they stay motivated. However, only 20% of employees report that their employer has asked them how they'd like to be recognized. This shows that there's major room for opportunity and growth in that area.
Types of employee recognition
By appreciating and recognizing employees, companies observe that they are five times more likely to connect with the work culture, four times more likely to be engaged, and 56% less likely to search for other jobs. 
Here are the ten common types of employee recognition methods:
Formal recognition
Formal or public recognition is when you praise your employees in a way that gives others visibility. This could be in-person events such as conferences or meetings or online through emails and social media posts.
According to a study, 84% of companies said that social or public recognition has positively impacted their employees' productivity.
Informal recognition
Informal or private recognition praises the employee privately through a conversation, email, or a handwritten note. Though it may not give wider recognition, thoughtful and personalized recognition can build a great one-on-one relationship between employees and managers.
Social or peer-to-peer recognition
This form of recognition adds to the company's culture as peers appreciate each other's hard work. This could be in public or private and is meaningful because it comes from someone the employee works with daily.
Managers can promote this culture of recognition through positive discussions in team meetings.
Monetary recognition
This recognition includes public or private praise accompanied by a monetary gift, such as cash or a voucher. A monetary benefit adds even more inspiration for the employee to perform better.
Top-down recognition
As the name suggests, top-down recognition comes from the supervisor to the subordinate. For example, a project lead acknowledges a manager, and the manager further acknowledges a team member in the hierarchy.
Direct-report recognition
A direct-report recognition is a form of private one-to-one acknowledgment of a team member from their manager. It demonstrates that the manager observes and appreciates the employee's work.
Day-to-day recognition
This recognition does not need a special event and could come for little achievements daily. Day-to-day recognition slowly creates a culture where not only the manager but also the employees recognize one another.
Above-and-beyond recognition
This recognition is given to employees who go way beyond their call of duty and show significant initiative and desire to do their jobs well.
For example, a sales executive who goes far beyond the scope of their role to collaborate with other teams to help a client in need shows a significant proactive initiative.
Career recognition
Also called milestone recognition, this acknowledges the employee for completing a milestone. For example, you could acknowledge the employee for completing 10 years in the company or for closing 100 sales, generating direct revenue.
This demonstrates that you appreciate the employee's contribution and helps keep them motivated to succeed.
Celebration events
It is always great to make employee recognition a celebration, especially when you are acknowledging a team. Team trophies, office or offsite parties, cupcakes or other treats, pay-it-forward initiatives, or a wall of fame are all great ways to show appreciation.
What defines an effective and successful employee recognition program?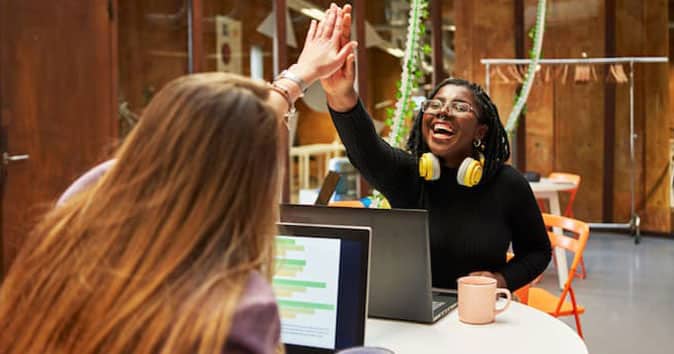 Historically, recognition has been tactile in nature, such as managers handing out gift cards from a drawer or years-of-service programs that give tenured employees items such as watches or pins.
On the other hand, comprehensive and strategic employee recognition programs leverage technology to amplify staff recognition and broadcast it throughout your company. 
That way, everyone can see what your organization values, participate in congratulating and reinforcing those values, and be inspired to emulate them.
Making work more human through employee recognition drives results by capturing, amplifying, and echoing public recognition moments across the organization. Social recognition is different from traditional recognition because it's:
Accessible to everyone in the organization
Tied back to your core values to connect culture to a shared purpose
A source of unparalleled, provocative workplace data and human insights
Culture-based programs, ones that allow for peer-to-peer recognition, are better for the bottom line. Peer-to-peer programs create a stronger sense of belonging, and compared to "e-thanks," programs funded at 1% or more of payroll are 86% more likely to be rated as good or excellent. 
With its strong impact on engagement, employee recognition drives business outcomes in a direct and compelling way. The key to achieving positive results in an employee recognition program is having the correct volume of reach, frequency, and value. 
A consistent stream of positive interactions fuels unparalleled, provocative workplace data and human insights. It draws on your entire organization as a community – unlocking human potential and innovating people to do the best work of their lives. The data proves it over and over again.
Typical traits of an effective employee recognition program include:
Clear vision and specific goals
Recognition programs are successful when they align with the mission, goals, and values of the organization. It is important to align the recognition with the goals the management considers important.
Timely and frequent recognition
Employees should get the reward close to the event or desired behavior. This builds a strong bond between the employee's action and the result for which they are getting the recognition.
Simple and user-friendly recognition methods
Adapt simple and uncomplicated recognition methods that do not require a great administrative effort yet meet the goals of the recognition exercise.
Specific and flexible recognition criteria
Make the recognition criteria specific and measurable. You could have KPIs and specific metrics to understand which employees are performing better. At the same time, make the recognition criteria flexible enough to accommodate new ideas and feedback.
Inclusivity in recognition programs
Recognition programs should be inclusive of every employee irrespective of gender, religion, race, or other personal characteristics. Companies must also provide equal opportunities to people with disabilities and those who have the relevant experience and education to fulfill the requirements of a job.
Measuring the impact of recognition programs
Regularly evaluate the success of recognition programs and events. It is best to take feedback from the employees about how effective and fair the recognitions are.
Ask them if they find the programs meaningful and do they want them differently. Ensure appropriate lines of communication and that the program is meeting its objectives.
Adapting and evolving recognition programs
Employee feedback and regular evaluations help you improve the recognition programs. A monthly or quarterly evaluation in consultation with the management and the employees should suffice.
Ensure that you deliver the recognition thoughtfully. A simple yet thoughtful recognition moment from a manager can sometimes be better than an expensive gift that was delivered poorly.
Check out this video to see how an employee recognition platform powered by Workhuman® can connect your organization.
Drives excellence – Employee recognition is the foundation for creating a culture of excellence – one that fosters an appreciation for employees and empowers individuals. It strengthens relationships and provides a clear purpose aligned with achievable goals.A culture of excellence allows business leaders to drive toward key goals like retention, culture, and employee happiness by connecting people and culture to a shared purpose.
Drives engagement – 84% of those surveyed in the SHRM/Workhuman Employee Recognition Survey said that social recognition measurably and positively impacted engagement.
Reinforces company values – Employee recognition puts the power of gratitude to work, aligning your people and culture to a shared purpose. Because employee recognition is designed with rewards that map back specifically to each value, it integrates those ideals into employees' everyday thoughts and actions.
Nurtures trust – Strong organizational trust is a key indicator of profitability. Research has shown that workers who trust senior leaders are nearly 2x as likely to be engaged and love their jobs.
Delivers vital data – Employee recognition provides the crowdsourced data that will deliver deep insights into company culture and quickly spot your cultural energizers and top performers.
Boosting employee happiness – Recognition is a great way to show that the company cares about an employee's wellbeing and happiness. Recognition makes them thrive personally as the company acknowledges their value as not just workers but also human beings.
Improving employee retention rates – Businesses strive for higher retention rates, and employee recognition is a big factor that can improve it. A higher retention rate is a sign of success for a business, its management, and the HR team.
Cultivating a culture of self-improvement – Appreciation with constructive feedback leads to a culture of self-improvement in the company. Frequent recognition builds a relationship of trust between the manager and the employee, which leads to a higher self-improvement initiative.
Enhancing employee morale – Motivated employees tend to take the initiative and produce much better results. Genuine recognition plays an important role in improving employee morale.
How does employee recognition impact the bottom line?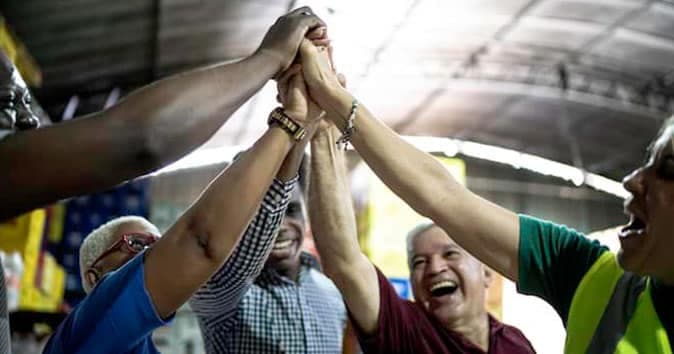 How much is employee turnover costing your business?
A Korn Ferry study estimates the cost of replacing an employee is 50-150% of the employee's salary. For specialist, senior, and executive positions, the cost per employee rises to 213% of the salary.
See how recognition can positively impact your workforce by downloading Workhuman's report.
When you factor in the intellectual loss and the time and productivity lost to vacancies and onboarding, you begin to see just how significant the "hidden costs" of employee turnover really are.
Research and employee surveys overwhelmingly show that recognized workers are more likely to stick with you. In the SHRM/Workhuman Employee Recognition Survey, 68% of organizations with employee recognition reported a direct positive impact on retention.
IBM's WorkTrends study showed that "intention to leave is twice as high among employees who do not receive recognition (51%) compared to those who do (25%)." That's because employees want to be acknowledged for who they are and what they do.
As the research shows, employee recognition measurably and positively impacts engagement. Engagement leads directly to improvements to the top and bottom lines, such as increased productivity, customer loyalty, sales, and profits.
What are some examples of the impact of employee recognition?
Here are real-life success stories some of the top companies in the world have achieved, thanks to an effective, strategic employee recognition program:
Watch how Cisco used peer-to-peer recognition to empower employees and drive engagement.
Cisco – The most engaged Cisco employees receive 10+ awards per year from 10+ unique nominators.
Eaton – Data from its employee recognition program shows employees who receive recognition are 2x less likely to leave the organization.
P&G – Consolidated all recognition into one SaaS program for 140,000 employees in 100+ countries.
LinkedIn – Achieved a 96% retention rate for employees who receive four or more awards. Among new hires, retention rates are nearly 10 percentage points greater for employees who receive four or more awards.
Denso – Two months after launch, their engagement survey showed a 5% increase in engagement, recognition, and leader/employee relationship scores.
Symantec – In just nine months, Symantec consolidated a "culture of cultures" into one culture of recognition for 20,500 employees in 50 countries.
AtlantiCare – Within the first year, AtlantiCare saw an 86% adoption rate and a 5-point increase in recognition scores on its annual engagement survey.
A well-designed, strategic recognition program can produce a similar impact on your employees and create a positive company culture.
FAQ
How to ask employees for feedback on recognition preferences?
The first step in getting recognition ideas or feedback is having a one-on-one conversation between the manager and the employee.
Each employee has a different appreciation language. While some prefer public recognition, others prefer private one-on-one recognition from the manager.
What are some good employee recognition survey questions?
This will depend on your team and the recognition program. But some of the common questions are:
How often do you get recognition from the company?
Do you think that the recognition was meaningful?
Do you know what behavior brought you the recognition?
Which behaviors, in general, should receive recognition?
Do you feel that you receive enough recognition for your work?
Do you think that the company values you and your work?
How do you create a budget for employee recognition?
Defining a budget for employee appreciation is important. You can consider the following things to make one:
Cost of employee rewards
Administrative cost
The number of award recipients
Cost of shipping/supplying rewards
Indirect costs, such as the food expenses at a recognition event
How often should you give employee recognition?
Employee recognition should be a special moment that is important for both the company and the worker. Reward employees for exceptional effort, quality work, and accomplishments throughout the year.
Effective employee recognition should be specific and timely to maximize its impact. It is important to constantly innovate, improve, and decide the proper frequency of praise within the employee recognition program.
The bottom line
Employee recognition is a critical aspect of any HR policy. A well-managed employee recognition program will have a direct impact on the individual and company's productivity, engagement, and success. The company must start with a clear directive to manage and consistently improve it.