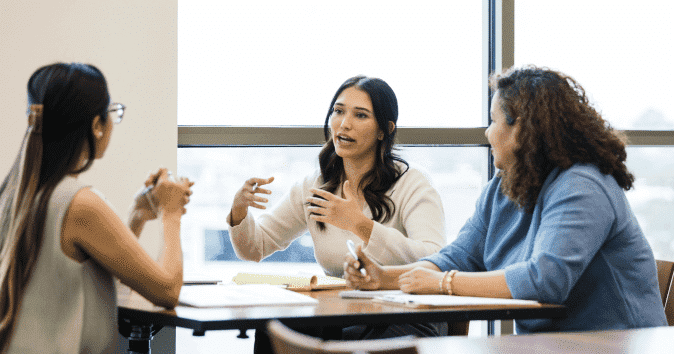 A performance management system is a comprehensive approach to managing employee productivity and development. 
It involves a set of stages and processes that aim to set clear expectations, measure performance, provide feedback, and reward achievements.
The performance management system's goal is to enhance employee engagement, motivation, and job satisfaction. In turn, this drives overall organizational success.
Understanding performance management systems: definition and key concepts
A performance management system, also referred to as PMS, is a systematic and strategic approach to managing employees' accomplishments and improving their productivity.
It's a continuous process that involves setting clear expectations and providing feedback. Moreover, it also consists of developing employees' skills and competencies to achieve the organization's goals.
Want to build employee engagement? Workhuman can help you create a true culture of recognition within the walls of your organization.
The performance management cycle: stages and processes
The PMS cycle consists of several stages including planning, monitoring, developing, and evaluating staff.
Performance management cycles are part of the PMS process, and it comprises planning, monitoring, reviewing, and rewarding.
Overall, implementing performance management plans increases healthy competition, improves employees' motivation, and helps the organization achieve better business outcomes.
Planning
During the planning phase, managers and staff set expectations and goals that align with the organization's objectives.
The goals should be "SMART": they're specific, measurable, achievable, relevant, and time-bound.
Once the goals are set, managers should provide staff with the materials and resources they need to achieve these goals
Monitoring
When in the monitoring stage, managers track how each worker is progressing. Managers also provide feedback and coach the staff to help them enhance their performance.
During this stage, managers should be able to tell if one of the staff needs any specific development or training.
Next comes the developing phase, where the staff receives the necessary training and development opportunities to enhance their skills and competencies. 
Reviewing
The final stage involves reviewing and evaluation, where managers assess the performance of employees against the goals they set initially.
Managers should use objective criteria to evaluate performance, such as key performance indicators (KPIs) or metrics.
During this stage, managers should provide constructive feedback and disclose the areas for improvement.
Rewarding
The rewarding stage involves recognizing the efforts your employees made and rewarding them for their performance.
Rewards can include financial incentives such as bonuses or pay increases. They can also be non-financial incentives such as promotions or additional responsibilities.
Essential features of a high-performing management system
A high-performing management plan is essential for any organization that wants to improve its overall performance. Here are some essential features of a high-performance management system:
Goal setting and tracking
To perform well, the plan should have clear goals and objectives that align with the organizational strategy.
These goals should be SMART and help employees grasp what managers will expect of them and the basis on which their evaluation will be.
Ongoing performance conversations
Regular communication is essential if you want your system to be high-performing. 
Managers should provide feedback to employees frequently and not exclusively during annual performance reviews.
Not only that, but ongoing conversations help the staff and leaders manage and make changes to the system as needed. It leaves room for updating the goals and objectives, improving feedback and communication, and implementing new training plans.
Immediate and continuous feedback
Besides being continuous, the feedback should be immediate. This helps your personnel put the puzzle pieces together to understand what their shortcomings are. As a consequence, they'll address the concerns more accurately and faster and wouldn't have to do any guessing.
Real-time employee recognition
Just as you would give constructive feedback immediately, so should you the praise and recognition. 
A high-performing system should recognize and reward employees for their performance.
Be it through bonuses, promotions, or even a public thank-you note or acknowledgment. When your staff feels like you recognize and appreciate their efforts, they'll be motivated to go above and beyond when it comes to excelling at work.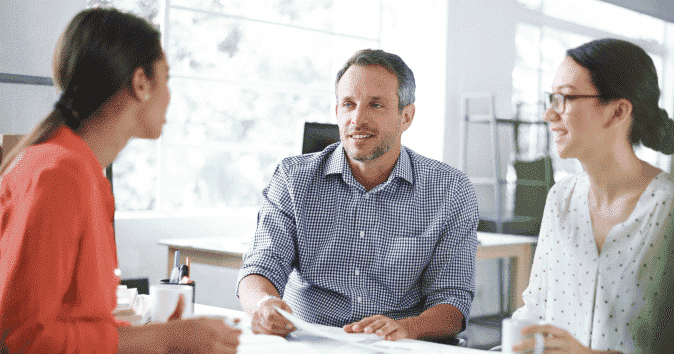 Talent metrics tracking
There should be some productivity metrics to measure employee performance. These include quantitative, qualitative, efficiency, and organizational performance metrics.
Quantitative metrics: Measure aspects like choosing the right data, coming up with specific conclusions, and using the right tools. Good performance from a quantitative point of view is a worker takes 80 hours to make 4 reports. 2 are excellent and the other 2 are subpar. 
Qualitative metrics: Focus more on measuring quality than quantity, which means that they involve more intangible concepts. That's why it's best to use weights, points, percentages, or weights when you're dealing with qualitative metrics. Good performance from a qualitative point of view is a worker takes 40 hours to make 2 reports, both of which are excellent.
Efficiency metrics combine both quality and quantity.  Efficient performance: A worker takes 80 hours to make 4 reports, all of which turned out great.
Performance improvement plans
Performance improvement plans, or PIPs, are documents that focus on the problems and concerns within an employee's workflow. It also dictates possible ways through which the employee can overcome these obstacles.
A well-conducted PIP helps an employee overcome their challenge, work on their weaknesses, and reinforce their strengths.
Not to mention, PIPs are an ideal way to bring an employee back on track if you notice that their performance is taking a dip when running a performance system.
Employee coaching and development
For the performance plan to work well, it should prioritize employee development and coaching.
Managers should work with staff to pinpoint strengths and weaknesses as well as to show them opportunities to improve their skills.
Examples include coaching, mentoring, on-the-job training, and formal training plans or sessions.
Benefits of implementing a performance management program
A performance management process with a good design can bring numerous benefits to an organization. Here are some key advantages of implementing a performance management plan:
Identifying training needs
Performance management plans provide opportunities for staff and identify their training needs.
By pinpointing the areas for improvement and providing coaching, employees can develop new skills and improve their performance to live up to new challenges and take on more complex tasks.
Addressing underperformance
When you implement a performance plan, it's easier to hold workers accountable for their performance and address underperformance.
By setting clear expectations and regularly monitoring progress, you can immediately identify employees that aren't meeting the standards. Once you do, you can provide them with proper training or put them on a PIP.
Instead of firing the workforce and going through the process of hiring all over, a PIP aims to help underperforming employees achieve their full potential. This, in turn, reduces the turnover rates at your organization, which reduces the cost of recruitment incurred by HR.
Improving employee morale
When you regularly communicate with employees, you encourage them to open up about their issues and concerns.
So, not only would you be providing important feedback for the staff to work on themselves, you'll be reinforcing employee voices.
This, in turn, boosts morale and makes people feel more comfortable as well as productive.
Retaining top talent
Performance management systems help you identify strong performers and develop employees. That way, you can easily identify and retain top talent at your organization.
While both types of workers are important in the work environment, identifying top talent will help you assign budgets better and determine who deserves the next promotion.
Empowering employees
Employees feel more comfortable and relaxed when they're in a clearly defined role where they understand their responsibilities better.
As a consequence, this helps them contribute to the success of the organization as well as increase both motivation and productivity.
Types of performance management systems: traditional vs. continuous feedback model
There are two types of performance management systems: Traditional and continuous models. In this section, we'll focus on explaining how each one works.
Traditional appraisal model
Definition: traditional performance systems are a formal, annual process that involves setting objectives, assessing performance, and providing feedback. 
How it works: traditional models involve setting objectives at the beginning of the year, conducting a mid-year review, and ending with an end-of-year performance appraisal.
Benefits: the traditional model puts a lot of focus on assessing past performance and identifying areas of improvement.
Drawbacks: this model tends to be too rigid, doesn't provide timely feedback, and makes communication one-sided. 
Continuous performance management model
Definition: continuous feedback performance management systems are more flexible and ongoing. They involve regular coaching and feedback.
How it works: in a continuous feedback model, the manager and workers set goals and objectives on an ongoing basis. Not only that, but the manager provides regular feedback and coaching and checks in often.
Benefits: continuous models are a two-way communication process as employees give their feedback to their managers just as the manager reviews them. Hence, these models are called 360-degree feedback models.
They promote a more positive relationship between the staff and managers, empower employees, build trust and connections, accelerate team performance, close the skills gap, indicate how work is done, encourage requisition feedback, and drive belonging and performance in a flattened organization.
Why it's the future of performance management: continuous feedback models have proven to increase employee engagement as well as be more effective when it comes to improving performance.
Which one is better?
Choosing the right plan depends on the organization's needs. The traditional system is a fit choice for companies with a hierarchical structure, where the staff has clear roles and responsibilities.
On the other hand, the continuous feedback model is more appropriate for organizations that value innovation and collaboration.
If you're looking for something flexible, effective, and quick, and you work in an immensely dynamic startup environment, the continuous model will suit your organization better.
Contrarily, if the organization has clear job descriptions and roles and you're more focused on assessing employees in retrograde, the traditional model will be a better choice.
Want to unleash the full potential of your team?
Take five easy steps to build a better recognition strategy and transform your workplace.
1️⃣ Make recognition accessible
2️⃣ Build recognition into company culture
3️⃣ Train managers
4️⃣ Model the behavior
5️⃣ Prioritize recognition

Ready to learn how to implement these steps into your organization?
Download our full white paper now and start building a better workplace culture today!
Common pitfalls to avoid in performance management systems
Although performance systems bring significant benefits to organizations, several pitfalls might negatively affect the effectiveness of these plans.
Here are some of the most common pitfalls to avoid when you're implementing a performance plan:
Lack of fairness and accuracy
There's a dark trio that stands in the way when implementing performance systems. These are a lack of fairness, accuracy, and focus on the negative.
For instance, some standards may not be applicable across the company. This means that managers won't be fair and objective in their evaluations. Not to mention, some may fall into the trap of discrimination and favoritism.
Add to that, if the goals and objectives aren't clear, workers will feel lost as to what management expects of them.
Therefore, there will be a lack of accuracy when it comes to planning, monitoring, and evaluating the goals.
Finally, if the leader doesn't make sure to deliver positive feedback just as intently as they do negative feedback, there could be a bias towards negativity.
If that happens, employees will feel demotivated, be less productive, and have lower morale.
Box-ticking approach by managers
When the process of performance management turns into checkboxes instead of actual evaluation, the entire process becomes obsolete.
There tends to be more focus on the process than the outcome, which is a common pitfall.
Reliance on paper and pen
In this day and age, having your data digitized is not only the best way to retain and save it but also to analyze it.
If managers or HR rely on pen and paper, they might miss giving employees a lot of feedback. Consequently, employees won't be pursuing their objectives as effectively as they could if they had complete and clear goals.
Finally, if you don't use a digital tool —even if it's keeping scores in an Excel sheet— it'll be harder to track the progress of each employee on the given areas of improvement.
As a result, you may not be able to give an employee the proper training that they need, especially not as immediately as they need it.
FAQs
What are the 3 types of effective performance management systems?
The 3 main types of organizational performance management systems are balanced scorecards, management by objectives, and budget-driven business plans.
What are the 5 elements of a performance management plan?
The 5 key elements to the success of a PMS are planning and goal setting, management and employee involvement, monitoring and feedback, development and improvement, and reward and compensation.
What is the first-line manager in performance management?
First-line managers are entry-level ones who are still involved in on-the-ground management duties. They're the managers that are responsible for making sure that the teams are performing their daily tasks without issues or underperforming.
What are performance management tools?
Performance management software applications track productivity, be it the individual's, the team's, or the entire organization's. They work on gathering data and organizing it so that leaders can analyze it and come up with insights into how to enhance the work environment, what training they need to give, and which employees are performing well and which aren't.
Conclusion
Overall, a well-designed performance management system can bring numerous benefits to an organization. 
By providing clarity, improving communication, increasing accountability, and developing employees, an organization can enhance its overall productivity and achieve its goals.