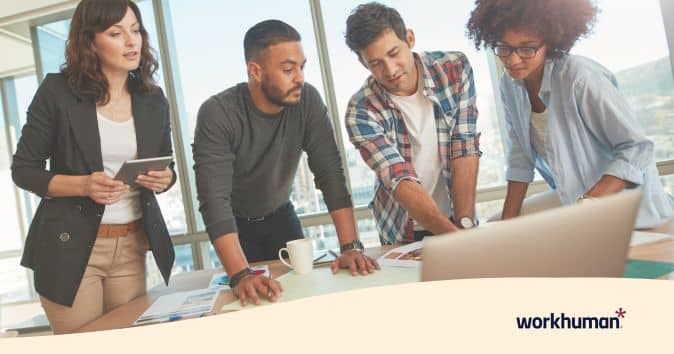 According to a managerial study, nine out of ten managers admitted that they weren't satisfied with how their companies conduct performance appraisals, believing that they lead to false information and expectations. 
Finding a thorough way to review performance and evaluate employees' contributions to the company will help employees and managers better understand job expectations and improve performance. 
And as a company grows, having an objective and accurate way to evaluate the performance of employees can help them improve how they do their jobs, change working habits, and allow managers to judge assignments better and assess compensation. 
In this article, you'll learn about the benefits and shortcomings of performance appraisal. You'll also learn about the different types and methods used to draw accurate results. So, let's dive in. 
What is performance appraisal?
Performance appraisal is a systematic process that measures an employee's performance against a preset group of job requirements. The process is also called employees' appraisal, performance review, and performance evaluation. 
An efficient performance appraisal approach is crucial for effective management and creating a positive workplace, as managers can find a reliable way to assess how employees stick to their job requirements.
A good strategy should be unbiased to help managers better evaluate job performance and allow employees to recognize their strengths and weaknesses for future growth and development. 
Benefits of performance appraisals
The primary purpose of the performance management process is to ensure that the company, represented by its managers, and the employees are on the same page. 
On the one hand, employees can recognize opportunities for improvement and see how their performance aligns with the company's goals and the job's requirements.
On the other hand, they can also identify their weaknesses and see how they can grow for better career opportunities, inside or outside the organization. 
On the other hand, managers can actually see how each employee contributes to the company's success, which work areas create more frustration, and which job descriptions need to be redefined. 
In general, performance appraisals provide various benefits. 
Drawbacks of performance appraisals
Despite the excellent benefits of regular evaluations, they can have several disadvantages if not done right. Mistakes made while conducting these performance evaluations will affect employees, managers, and the whole company in various ways. 
Some of the drawbacks of performance appraisals are related to the company's nature and number of employees. Others can be related to the appraisal method used, who does the evaluation, and how it's done. Here are some of the disadvantages of employee evaluation methods: 
Performance evaluations are subject to human assessment, so there might be some subjective errors.
New workplaces are more complicated, and some appraisal methods are no longer valid or useful.
Different managers can rate performance differently.
If appraisals are biased or not done right, they can create a negative experience.
As the number of employees increases, conducting performance appraisals can be time-consuming.
Managers can give incomplete or late feedback, leaving employees frustrated.
Some employees can become too stressed, knowing that these appraisals will affect their future with the company. Stress also affects managers who might be asked to let go of some of their team members.
Managers can feel guilty giving feedback that might lead to an employee's termination.
How performance appraisals work
Gallup and Workhuman® research shows that employee recognition can increase productivity, improve workplace safety, and decrease absenteeism. Through performance appraisals, managers can create a solid structure that motivates employees to work better to be recognized by the company. 
As a result, it's essential to learn how to measure employee performance and conduct unbiased and accurate reviews that help managers and employees assess and evaluate performance. Performance appraisals can be done according to the following steps: 
Create a formalized schedule for managers and employees throughout the evaluation process.
Decide on the group you want to evaluate.
Establish performance criteria to measure during the review process.
Have defined a performance plan.
Discuss compensation and reward expectations with your employees.
Conduct the review.
There are several approaches to employee evaluation, but specific tactics guarantee that the process will go as smoothly as possible. 
Create performance standards
The first step is to plan performance standards against which every employee will be evaluated. These standards help create an unbiased structure and should be measured according to a formal schedule. 
Employees and managers will have a guide that helps both parties understand the evaluation steps and interpret the outcomes accordingly. 
Communicate performance standards
Once a clear outline has been established, managers must communicate performance standards to employees. Employees must fully understand how their performance is evaluated, ensuring they're all treated equally. 
Unfortunately, according to a study by Glassdoor, about 49% of the US, UK, Germany, and France employees felt discriminated against in their workplace. Furthermore, findings from discrimination studies showed that employees performed worse when working with discriminating and biased managers. 
Preparing and discussing your review in advance saves time and helps your employees stay focused during the appraisal. You can also prepare notes for reference that your employees can use. This allows employees to clearly understand how rewards and compensations work according to the assessment. 
Measure performance
Managers should compare the employees' performance according to the preset standards. These can be goals, KPIs, or OKRs. 
Goals are targets that employees achieve. KPIs or key performance indicators can be qualitative or quantitative. These include profit, the average time taken to achieve a specific target, or the percentage of sales. 
OKRs or objectives and key results refer to achieving a particular goal, measured by several variables like a time frame or rate. 
The evaluation process involves using rating scales, questionnaires, yes/no questions, 360-degree feedback from people who work with these employees, self-evaluation, and checklists. 
Compare differences
The next step is to compare actual performance to standard parameters. This involves creating documents to help provide employee feedback, guaranteeing they understand their evaluation. 
Preparing and distributing documentation throughout the performance appraisal process will allow your employees to stay focused. As a matter of fact, some managers like to provide these documents in advance as this can help employees work on their performance and improve it. 
During the feedback session, managers and employees should have constructive dialogues. Employees should be able to ask questions and discuss how they feel about the evaluation process. 
Discuss follow up
During a performance evaluation process, some managers might deliver disappointing reviews. But, it's essential to end the meeting positively, discussing the employee's future. 
This involves preparing training programs, discussing tasks, better planning their time management skills, and better planning the organizational structure through a valid performance improvement plan. 
Want to build employee engagement? Workhuman can help you create a true culture of recognition within the walls of your organization.
Understanding the different types of performance appraisals, their methods, and examples of each
Every employee has a different attitude toward handling work, and choosing the best performance appraisal method depends on the nature of the industry and company size. There are objective and quantifiable methods and subjective and non-quantifiable methods used to measure workplace performance, and each comes with pros and cons. 
Absolute standards
These traditional methods are based on studying the employees' individual qualities. These qualities are compared against preset standards and aren't related to the rates of the rest of the employees. 
The essay appraisal
The appraiser, usually the manager, writes an essay about the employee being evaluated. Then, the evaluator describes the employee's performance, giving examples to support this description. 
Key idea
Also known as the free-form method, it's considered one of the easiest and most forward performance appraisal methods. It is often combined with others to create a clearer picture of the employee's contribution to the workplace. 
In this appraisal method, the manager writes an essay that discusses the strengths and weaknesses of their employees. The appraisal usually ends with areas for improvement. However, to be done successfully, the manager should know a great deal about the employee's behavior and performance. 
For example, a remote team manager will ask the following questions in this appraisal technique: 
Does the employee work well with the team?
Is the employee able to take the initiative?
Advantages
This is a flexible method.
It focuses on what employees do.
It covers all factors.
It provides feedback through examples.
Disadvantages
Some managers aren't good writers.
Some appraisers can have biased opinions.
The appraisal process can be time-consuming.
The critical incident appraisal
The appraiser collects data and facts to accurately evaluate the employees' performance.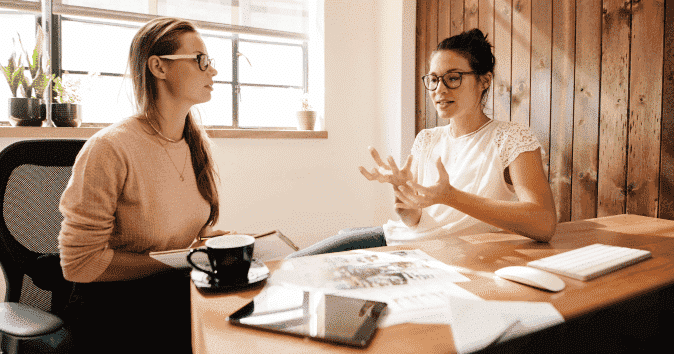 Key idea
This method involves constantly collecting data regarding employees' favorable and unfavorable actions. The manager and employee discuss this data at predetermined times. Reporting and discussing performance is restricted to these specific incidents. 
Managers maintain logs for each employee, constantly recording incidents. Nevertheless, most managers are more likely to focus on the negative ones. 
For example, a cost accounting manager's target is to reduce costs by 10%. The manager will record that one employee reported a faulty part in a machine before it breaks down, allowing the maintenance team to take care of the problem before production seizes. 
Advantages
Cost-efficient method.
Easy to perform.
Provides more reliable data within a specified timeframe.
Disadvantages
Collecting and interpreting data can be time-consuming.
Employees might be reluctant to share critical incidents.
Some managers will focus on negative incidents.
It's hard to use this method for salary and promotion decisions.
The checklist
The appraiser asks questions, and the employee replies with yes or no. 
Key idea
Also called the checklist scale, the primary purpose of this method is to increase objectivity in the questions. It can focus on behavior or traits and relate to work habits and the overall employee experience. 
Some managers use a mark when an employee meets specific criteria or traits or can choose to leave it blank. However, this technique doesn't allow for detailed responses. 
For example, an HR manager can use the following questions in their appraisal, with yes or no responses:
Does the employee show leadership within their department?
Does the employee have problem-solving abilities?
Advantages
Prevents memory lapses.
Results are less subjective.
Motivates employees leading to more productivity.
Disadvantages
A lot of traits, attributes, and behavioral patterns might be overlooked.
Doesn't allow for necessary explanations.
The graphic rating scale
This is the most commonly used appraisal method, and it works for several industries and teams because it can be easily adjusted. 
Key idea
This method uses a scale or range of performance, and employees are ranked based on their actual score. Scores are usually listed from 1 to 5, allowing managers to quantify behavioral patterns and trends. This is called a discrete scale. 
Other managers use a continuous scale, which rates performance from poor to excellent. The appraiser marks where the employee's performance agrees with this criteria. Organizations use these ratings as they assign tasks and discuss promotions. 
For example, an HR manager can ask an evaluator the following questions about a specific employee: 
Are they dependable?
Can they work well with a team?
Do they deliver tasks on-time?
Advantages
Quantifying behaviors makes the system easier to understand.
The approach is easy to develop.
Disadvantages
The subjectivity of different managers can affect results.
Some results can overshadow other findings.
The final score doesn't show employees' individual strengths.
Forced choice
The military developed this appraisal method, and the reviewer is the one who does all the work, choosing between positive and negative criteria to evaluate employees. 
Key idea
The reviewer or manager is given several statements that describe the employees' performance. Then, they can choose between two or more states to evaluate their behavior. 
The problem with this method is that sometimes managers are forced to pick between positive and negative statements with no gray areas. This makes the evaluator's job more challenging. 
For example, a project manager might be asked to answer yes or no to these questions. There will be no room to state exceptions or explain results. 
The employee always delivers tasks on time.
The employee can meet all deadlines.
Advantages
Forced choices eliminate personal bias.
Time and cost-efficient method.
Disadvantages
Statements might be wrongly framed.
Managers don't have an opportunity to explain or expand.
It eliminates gray areas in the review process.
Behaviorally anchored rating scales
BARS combines elements from graphic rating scale and critical incident methods. 
Key idea
This process combines qualitative and quantitative information analysis by comparing actual performance to specific behavioral examples. 
For example, a customer service manager will be asked to pick one of the following statements to describe an employee's attitude: 
The employee doesn't say hello or maintain eye contact while interacting with clients.
The employee says hello when customers enter the store but doesn't ask them what they want.
The employee asks what the customer wants but doesn't offer more assistance.
The employee assists once before moving on to another customer.
The employee wholeheartedly helps the customer, ensuring they have a good experience.
Advantages
Easy to use.
This method is considered fair because it focuses on behaviors.
The scale is different for each job, so it's personalized for different levels within the same organization.
Disadvantages
Time-consuming and expensive to set up.
The management team should be highly involved.
There might be some bias.
Relative standards
Unlike absolute standards, employees are evaluated and compared to others by relative means. 
Group order ranking
The manager is asked to group their employees into specific classes or rankings. 
Key idea
Employees are ranked within a group based on behavior and professional capabilities criteria. So, they're classified as the top-third, for example. 
Advantages
Managers can rank employees according to their actual performance levels.
All factors are similar within the same group, so the evaluation process is fair.
The comparative scale is easier to understand.
Disadvantages
The process can become complicated when the number of group members increases.
Rankings can't be compared to different groups.
The overall score can be hard to interpret.
Individual ranking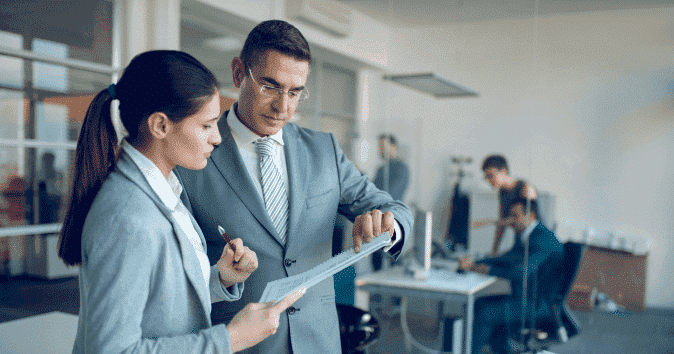 This is one of the oldest and simplest methods, as the employees are ranked from worst to best. 
Key idea
The evaluator chooses a specific trait, and all employees are ranked according to this trait. This method, also called the stack ranking, assumes that the differences between all employees are equal. 
For example, a marketing manager can rank employees based on their lead generation numbers. 
Advantages
It's a fast and transparent method.
Cost-efficient process.
Easy to understand.
Disadvantages
The process becomes more complicated as the number of employees increases.
This method is less objective.
Workers' strengths and weaknesses can't be determined.
Employees at the bottom of several lists will be demotivated.
Paired comparison
Employees are compared in pairs, and the best performer is given a score of 1. 
Key idea
The comparison is made using this formula: N (N-1)/2, where N refers to the number of employees. For example, a remote team manager might ask each employee which remote work platform they like best and why. Then the question will be asked to the whole team. 
Advantages
The manager can set priorities.
Some evaluators are reluctant to use this method as it can promote bias.
Cost-efficient method.
Disadvantages
This method isn't job-specific.
It doesn't work when there's a large number of employees.
Objectives
This appraisal approach evaluates employees' performance based on how well they achieve various preset objectives. These objectives are crucial to completing their jobs, so they can be job-specific. 
Key idea
Management by objectives or MBO is made up of four steps. These are setting goals, planning, self-control, and evaluating performance. 
For example, a social media marketing manager might set a goal of increasing social media likes by 40% and generating 100 new leads monthly. The same criteria can be applied to all employees to see how far they've achieved these goals. 
Advantages
Easy to implement and understand.
Employees are motivated.
This method isn't biased.
Disadvantages
Getting employees to agree on goals might be challenging.
Interpreting goals might differ between evaluators.
The process is time-consuming.
360-degree feedback appraisal
The 360-degree feedback method is a popular method that combines inputs from several organizational levels to make the evaluation process more accurate. 
Key ideas
The process focuses on comparing data from multiple sources. This can be done through self-appraisals, where employees rank themselves, and managerial appraisals, which represent a traditional performance evaluation method. 
Peer assessment is when employees are evaluated by their peers, and customer evaluation can be done when clients review employees. Direct reports can also appraise their managers. 
For example, during a leader skills feedback by a project manager, they can ask the following questions. 
The employee is highly effective at leading work groups.
The employee treats everyone respectfully.
The employee offers help to other team members.
Advantages
This method works as an excellent development tool.
It's more reliable.
Results are more accurate.
Disadvantages
The process is time-consuming and not cost-efficient.
This method is sensitive to national and organizational culture systems.
It's prone to bias due to conflicts.
It might be hard to maintain confidentiality.
How to choose the right appraisal method and when to use it
The main goal of using performance appraisals is to improve the overall employees' performance and productivity through various human resources decisions. These methods can help managers redefine goals, develop training programs, and motivate employees. 
Choosing the right appraisal process depends on several factors, including the organization's size, number of employees, resources available to managers, and evaluation criteria. 
Some appraisal methods are better formulated to evaluate employees in certain industries or at specific managerial levels. The company can also adopt various practices to assess the performance of different employees simultaneously. 
Appraisals should be done periodically, preferably annually or quarterly. Knowing the predetermined appraisal date can motivate employees to work better towards achieving targets and meeting goals before a specific date. 
Yet, managers and employees must consider performance appraisal management an ongoing process. It involves discussions and providing feedback throughout the year, as it can benefit evaluators before deciding on promotions, demotions, or layoffs. 
Want to save up to $16.1M in turnover costs annually? It starts by bringing the human element back to the workplace with strategic recognition. Download the Workhuman-Gallup report to learn more.
FAQs
What is a performance management model?
The PMS model is an ongoing process made of various methods and tactics to measure and track the performance of employees throughout the year.
HR managers use this process to communicate the company's objectives, emphasize employees' accountability for meeting these goals, and track the employees and the whole organization's results.
How to prepare for a performance appraisal as an employee?
As an employee, there are a few things you can do to guarantee that the process goes as smoothly as possible.
First, be prepared with some questions, discuss your accomplishments and challenges, discuss development and training ideas, agree on the action plan, and summarize the actions that need to be taken.
Conclusion
The company's managers use performance appraisal methods to assess each employee's contribution to achieving goals and targets. Several methods are available, and some are better tailored for specific industries. 
It's crucial to consider each method's pros and cons before picking one to evaluate your employees. As the company expands and the number of employees grows, some methods become impractical.