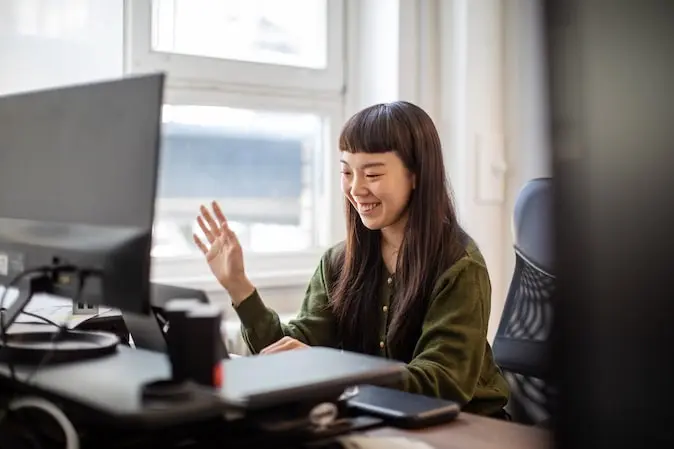 After many workplaces took the remote work route to make ends meet during the pandemic, it's no surprise that 74% of U.S. companies have or are planning to enforce a permanent hybrid work model. 
This makes the search for remote farewell ideas a challenge for managers to show appreciation to their employees from a distance.
If you're struggling to put together a virtual farewell party or pick suitable parting gifts for your remote workers, this guide should set you on the right path.
How to plan a virtual farewell party
The types of employee recognition methods are many, ranging from public to private and all the way to praising an entire group project.
You can mix many of these recognition forms into one by creating a well-planned virtual party as one last Thank You!
Step 1: Decide on a hosting platform
The first part of your plan should be about the where, and luckily, many online platforms are ready to double as your virtual party venue.
Zoom is your best bet if you want an easy-to-use platform that offers you cool backgrounds and other customization options. Plus, the majority of workers are already familiar with how it works, as Zoom was the most popular tool for online conferences and classes during the pandemic.
You might also be a fan of Hoppier, which is dedicated to hosting virtual parties. It even partners with vendors all over the States, allowing you to seamlessly add a catering factor to your party or distribute virtual cards.
Step 2: Plan the agenda in advance
Before sending out invitations, you must determine a few key points to ensure that the farewell party accomplishes its purpose without straying. 
For example, you need to answer the following questions for more successful planning:
1. Who will be attending the party?
Generally, aim for a short list of attendees because you don't want things to get out of hand during your virtual call.
If you invite too many people, the party may take an awkward turn, and some employees may not be able to participate in whatever activities you're doing.
2. When will the virtual party be?
Next, choose the day and time when you want this farewell party to take place. You also need to determine how long you want it to be.
It's best to pick a time when you're sure everyone will be free. As for the duration, you can go for 30 minutes to an hour depending on the program you have in mind.
To keep the event from dragging out and being awkward, it's always a good idea to plan every minute of the virtual farewell party. Consider it from all angles—a short welcome, fun games and activities, handing out the gifts, wrapping things up with a final Thank You, etc.
3. What tone do you want to set?
It's important to set the right tone for the celebration, focusing on being appreciative, joyful, light-hearted, and optional. Steer clear of negative vibes like being overly formal or stiff.
Your positive, celebratory tone should show in everything party-related, from the way you write the invitations to the games you'll be playing, to the overall theme of the party (if you decide to have one).
For example, when sending out invitation emails, keep your tone fresh and exciting. Encourage the other employees to celebrate their coworker's time in your company by highlighting their positive points and what they contributed to the workplace.
Or, you could set the mood for the fun that's coming by teasing the theme or game ideas, picking gifts for the departing colleague, etc.
To help you organize and set up meaningful interactions with your team, consider using the Workhuman® Cloud®. It includes a host of other tools that can be beneficial in getting in touch with your employees to put together the best virtual party ever, and these include:
type: entry-hyperlink id: 4xhfSiJf2x3ryUFZwBaQM1

type: entry-hyperlink id: 13awOkTwKDprTweAaOy151

type: entry-hyperlink id: 53ySpP7eagnKCaFFzTFcSC
Step 3: Create fun virtual backgrounds
Part of setting a celebratory tone for your farewell party is to create fun virtual backgrounds to stay away from turning the virtual event into a video conference.
You can easily do that by going on Canva and designing a cool virtual background yourself or using the help of your coworkers. That background could match the theme of the party, include party-related emojis, have a design that matches the departing employee's energy, etc.
To make things even more personal, you may ask the attendees to pitch ideas or submit their custom-made backgrounds. Then, you can all vote for your favorite to insert as your virtual background!
Step 4: Send out a gift
Nothing speaks volumes of how you appreciate a person's years of work in your company more than a heartfelt gift. That's why you'll go the extra mile if you hand out gifts for remote employees as part of your celebration.
The best idea is to go for something simple and meaningful. Depending on the nature of the gift (we'll go into that later), you can either send it online if it's digital or via mail. 
Remember, if you'll be shipping a gift to your employee, you'll need to plan its arrival beforehand so that it's delivered exactly when you want it to be. If you're pressed for time, you can always agree with your other employees to send out your gifts later.
Step 5: Add a personal touch
Besides playing entertaining games and giving out gifts, part of your virtual farewell party can be dedicated to a personal gesture that will have a lasting impact on the person leaving your company.
Usually, it's best to leave this section of your party to last for some dramatic flair!
You also want to prepare for this part beforehand by sending a reminder or a note with your invitation to the rest of your employees, asking them to:
Mention the quality they like best about their coworker
Tell a funny story or describe a positive interaction with the departing employee
Say a few meaningful words as a form of goodbye
Describe their coworker using a movie title or a song
9 Best virtual farewell party ideas and games
Now that your party is all planned out, it's time to come up with a few ideas and games so that your final hour as coworkers is unforgettable!
Here are 11 creative ways to celebrate your employee.
1. Karaoke night
You can crank up the fun in your virtual party by hosting a karaoke night through Zoom. While you may do that the old-fashioned way using a home karaoke machine or simply playing instrumental songs on YouTube, many online tools can be a better fit for this goal.
Apps like Lucky Voice enable you to merge your karaoke experience with your Zoom call. However, this means some extra work on your part because you'll be responsible for downloading the app, queueing the songs, and playing them.
2. Cooking class
Another fun activity you can all do together at the farewell party is cooking a certain dish or dessert. Beforehand, settle on an easy recipe that won't take long to prepare and requires ingredients that are present in each home.
Then, you can take the lead in explaining and doing each step, and the rest of the attendees can follow until you all end up baking delicious cupcakes or making tasty ramen!
3. Virtual museum tour
If you want to add a sophisticated vibe to your party, why not consider going on a virtual museum tour? Many world-famous museums like the British Museum, the National Gallery of Art in D.C., and the Van Gogh Museum allow you to visit their exhibits without moving from your desk.
Whether you're all into modern art or ancient artifacts, you can dedicate 30 minutes of your party to visiting one or several museums and having discussions about the art pieces.
4. Virtual book club
Do you and your colleagues share the love of reading, or is the employee who's leaving a huge bookworm? If your answer is yes, then nothing will feel more special than having a virtual book club where you all agree to read a book that you like.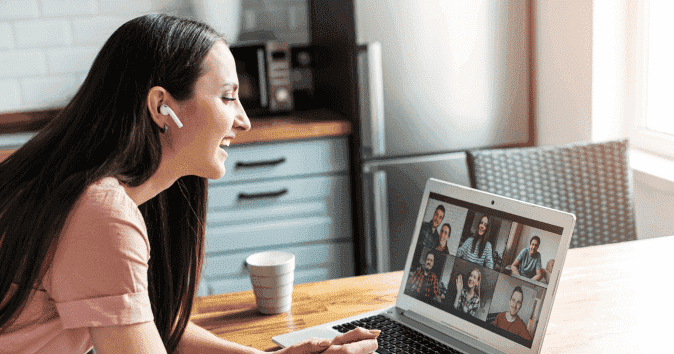 During the party, there's a multitude of book-related activities that you can do, for example:
Book trivia
Unpopular opinions about the book
Taking "Which character are you?" quizzes
5. Movie night
Alternatively, you can pick a fun, light movie to stream through Zoom's integrated Share Screen function.
Everyone could bring their own snacks, candy, and drinks and enjoy a laid-back night from the comfort of their couches. In this case, of course, you can expect your party to last for over two hours, but if you think your coworkers will have a great time; why not?
6. Virtual scavenger hunt
A good way for your existing team members and departing remote working to bond for one last time is to put together a scavenger hunt. 
Start by dividing the participants into groups of two or three, then hand them a list of items that they have to find in their households within a set timeframe. Once they do, they could either grab them or take a picture to show as evidence!
The team that collects all the needed objects first should get a prize of your choosing. In this scenario, a discount code or a voucher could be a suitable option.
7. Virtual game night
Another fantastic idea for a remote farewell party is to organize a virtual game night, which is a breeze to do with the wealth of online games and apps available these days.
Some options that would be perfect for a remote group game night include:
Zoom bingo
Psych
Words with Friends
Among Us
Or, you can ditch online multiplayer games and go for traditional party games like Truth or Dare, Pictionary, Two Truths and a Lie, and more. 
Just remember that the games you pick should be appropriate for your company's culture. A game like Truth or Dare may not be a good idea if the relationship between you and your coworkers isn't strong enough.
8. Virtual fitness competition
You can give your coworkers the opportunity to flex their fitness abilities by including a contest section within your party. Here, you may get as creative as you want to be, or you could introduce a mixture of basic and silly challenges, such as: 
Who does more pushups
Who lasts longer doing a plank
Who manages to balance on one leg for the longest time
Who is able to keep a hard yoga pose
Who is able to hold a squat for the longest time or who does more squats
9. Coworker feud
Last but not least, you might find it extremely entertaining to play Steve Harvey and host Coworker Feud. 
Prepare a few questions to ask your coworkers (after dividing them into teams), and get ready to receive the most insane answers!
7 Gift ideas for the going away party
Whether you've chosen to watch a comedy movie or play Pictionary, it'll be time to give your farewell gifts as the party is coming to a close. The following are seven gift ideas to show appreciation for your departing employee.
1. Video tribute
If you like to keep things simple yet meaningful, think along the lines of gestures that'll leave a lasting impact on the person leaving the company. Usually, such gifts will cost you nothing or just a small sum of money, but they could mean the world to whoever receives them.
One idea that fits into that category is a video tribute. A few days before the party, ask your other coworkers to record a short video of only 15 to 30 seconds or so to say a heartfelt goodbye to their colleague.
Then, once they all submit their videos, you'll only need the most basic editing skills to put those clips together and create a montage. Luckily, the internet is rich with video editing software that's easy to use for complete beginners, such as:
PowerDirector
LumaFusion
InShot – Video Editor
Adobe Premiere Rush
2. CareCards
Another lovely idea that lets all members of your team participate in choosing and personalizing a gift for the departing coworker is to go on CareCards.
For starters, this tool is free!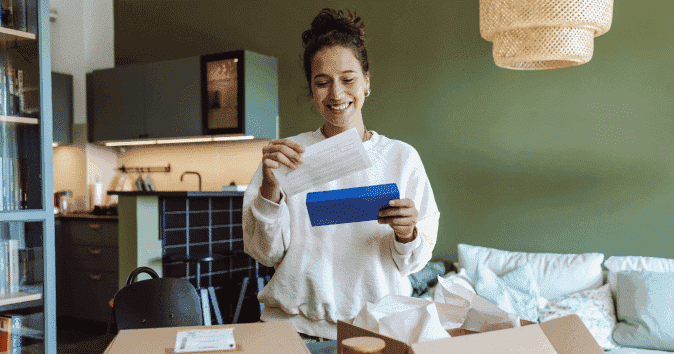 Second of all, it provides a seamless experience where people from different locations get to work on a special gift with minimal effort. 
Caroo's catalog is extensive, so you're bound to find something that reflects your appreciation for your remote team member. 
Plus, the service has partnerships with many merchants, including Starbucks, Amazon, Apple, AirBnB, Barnes & Noble, and more! This allows you to include gift cards with your eCard using only several taps!
3. Dundie award
Want to celebrate your coworker's departure the Office way? Nothing gives a hilarious twist to your going away gift than a Dundie award!
Then, once you order and receive it, take a few moments to think about your remote worker's best quality to add it to the trophy. You can always stick to fun titles like "Fastest Donut Eater" or "Best Party Planner."
Alternatively, you may go for a phrase that highlights your appreciation for this person on a more serious note, such as "Best Salesperson" or "Most Hardworking Employee."
4. Kindle eBook
If you don't want to concern yourself with ordering and shipping gifts, you could always send your remote worker a Kindle eBook. 
Choosing the right ebook can be even easier if this person has a Goodreads account. This way, you'll only need to take a look at their Want to Read list to get a few ideas about the books they'd like to get.
Then, all you have to do is go to the eBook's details page on Amazon and select "Buy for others." Enter all the details of your recipient, and they'll receive an email with a link to redeem the eBook!
5. Personalized notebook (or desktop accessories)
Many online and physical stores give you the chance to gift people with personalized notebooks where you can have their names or initials printed or engraved on the covers.
Or, if you want to go the extra mile, you can always personalize a collection of office supplies, including:
Fountain pen
Mouse pad
Stamp
Storage binder
Coffee mug
Business card holder
Clipboard
Bookmark
6. Bucket list
Here's a unique reward idea that'll speak to your coworker's love for adventure and new experiences while leaving the guesswork out of the equation when it comes to gift picking!
By going on Blueboard, you encourage your employee to put together a bucket list based on their preferences. Some activities they'll like include camping, learning a new language or an instrument, getting Scuba certified, and more.
The best part is: All your coworker has to do is show up to let the fun begin!
7. Custom remote office pack
One of the coolest gifts you can give a remote worker is a pack that combines some items of your choosing to boost their time as a person working from home!
Just visit the SwagUp website to pick your gifts and let the service handle the rest. Suitable gifts to include in your pack involve:
Travel insulated mug
Knit socks
Pen
USB cables
Take your employee recognition to the next level with our 5 simple steps! Click now to discover how easy it is to boost morale, increase productivity, and show your employees they're valued.
FAQs
Now that you have some one-of-a-kind ideas to say farewell to your remote employee, here are a few related questions and their answers to help you make the most of your virtual going away party.
What is the purpose of a farewell party?
Throwing a farewell party is a great way to say goodbye to a departing worker and wish them luck with their career. In addition, farewell parties go a long way in showing your employee that you recognize and appreciate their service in your company.
As Roosevelt once said, "People don't care how much you know until they know how much you care."
How do you make a farewell party interesting?
While the earlier list of steps and ideas are tried-and-true ways to help you organize an entertaining remote farewell party, here are a few extra tips to consider that'll make your party that much more interesting:
Make everything about the guest of honor, from the color of the Zoom background to the snacks everyone will be having!
Keep the overall tone light and upbeat, peppering the entire call with inside jokes, puns, or even harmless roasts (depending on your work culture).
Share favorite memories.
Which theme is best for a farewell party?
Ultimately, the best theme for a farewell party varies according to the person leaving the company. Some people like the sentimental route, while others prefer to keep things sweet but not overly emotional.
Some themes to consider for your farewell party include:
Color-based themes: rainbow, black and white, shades of blue, etc.
TV-show-inspired themes: The Office, Friends, Game of Thrones, etc.
Masquerade party
Decade party
Should you include a farewell speech in a virtual farewell party?
If you're the team leader or manager, it's always a wonderful idea to write a speech to the departing employee. Not only will that communicate your gratitude, it'll also resonate with the existing employees and boost feelings of positivity in your workplace.
It's been found that 93% of employees do their best at work if they feel like their boss or supervisor values their efforts.
In conclusion
To send a departing employee on their way on a positive note, it's important to browse remote farewell ideas for an unforgettable virtual party. 
Keep the vibes upbeat and celebratory, plan all parts of the party in advance, and sprinkle a personal touch over every detail to show appreciation. Remember to pick a nice gift, too.
Whether you end up reading and discussing an interesting book, going on a virtual museum tour, or cooking a hearty, calorie-rich meal together, your departing worker and existing employees are sure to have a blast!
Finally, don't forget to wrap up the party with a short and meaningful speech.