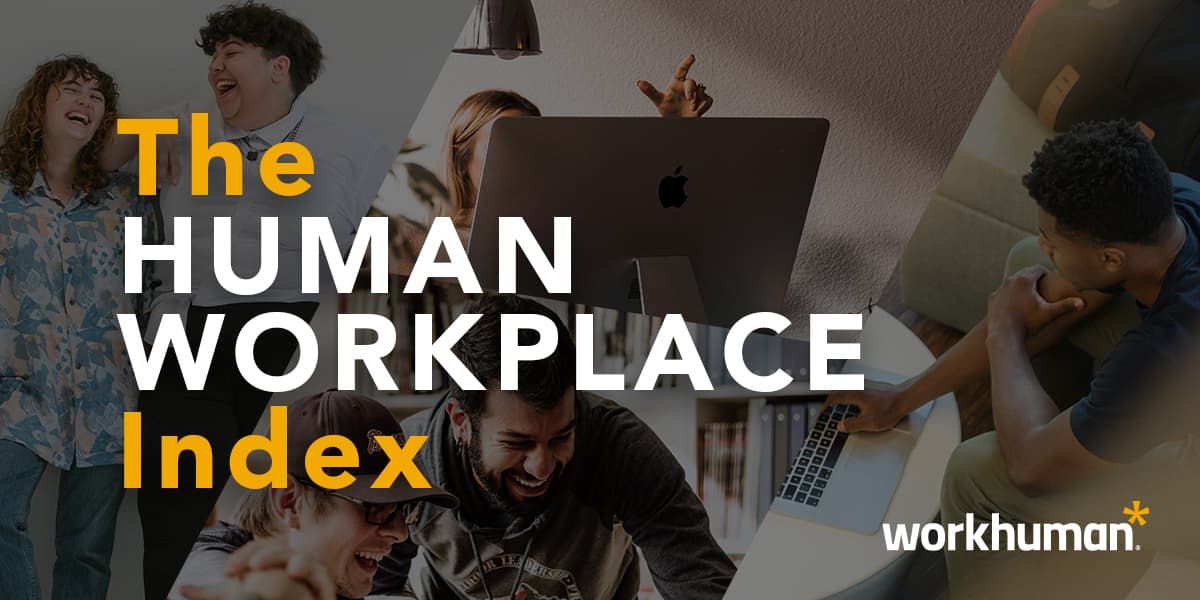 Throughout the summer, organizations have been planning their long-awaited return-to-work strategy. And while these plans may have felt hypothetical just a few short months ago, that's no longer the case. In fact, it's knocking at your door.
As plans turn to reality, people leaders need to be all the more aware of their employees' thoughts, concerns, and feelings. After all – without your employees there isn't anyone to return to work, right?
In an effort to assist organizations during this novel transition and beyond, Workhuman® has created the Human Workplace Index, a monthly survey focused on a specific topic circulating the business world. Each month we will survey and analyze the responses of 1,000 full-time U.S. employees to give you the most up to date insights into what employees are looking for from their companies.
Here are our key takeaways from the first iteration of the Human Workplace Index, focused on the return to work.
1. Culture is key.
The Great Resignation. The Turnover Tsunami. The Big Quit. Whatever you're calling it, it should be on your mind. Consider this: According to a LinkedIn survey, the average annual turnover rate is about 11%. Add in employees who would have moved jobs over the past 16 months but didn't because of the pandemic, plus all of the employees demanding more flexibility than their current employers will provide. All together that equals, well, a lot.
To gauge how employees are feeling in the midst of all of this, we asked our survey respondents why they are staying in their current roles. The results show 70% are staying for their company and/or co-workers – shedding light on the importance of workplace culture.
When asked what timeframe survey respondents might leave their current position, however, 61% chose within the next year. If organizations want to counteract this, there is a clear path: culture, culture, culture.
With this in mind, we should also consider the value gap that still exists, something that became particularly apparent when respondents were asked how valued they feel at their company. It was clear that men feel more valued than women, with 55% of men saying they feel very valued compared to 35.9% of women. Similarly, white employees feel very valued (48%) as compared to their People of Color (POC) colleagues, who chose somewhat valued as their top answer (47%).
Employees are staying in their roles because of the environment and relationships around them. If you don't want them to leave in the next year, give them a reason not to. Leaders must work to promote belonging, connection, and meaning – the very human aspects of work their employees are yearning for.
2. Employees are in the driver's seat.
With all the changes happening in the business world, one of the most influential may be the power employees have gained over organizations. As the job market continues to add new jobs at record rates, some employees are using it to their advantage.
One question that was particularly telling asked: Which of the following best describes your current situation? "I am..." followed by these options:
More likely to leave my job given its an employee's market
More likely to ask for a raise given its an employee's market
More likely to demand better benefits given its an employee's market
Less likely to leave my job given the benefits I receive
Less likely to leave my job given the spike in the COVID Delta variant
Less likely to leave my job as I enjoy the culture 
Looking at the results, men responded that they were more likely to leave their positions given it's an employees' market (27%), followed by more likely to ask for a raise because it's an employees' market (22%). 
Women, on the other hand, did not have the same response. In fact, 24% of women responded they were less likely to leave because they enjoy the company culture, followed by less likely to leave because of company benefits (19%).  
And when broken down even further, the results show an obvious discrepancy between white employees and POC. While white employees were more likely to leave their job in an employees' market (with 23% selecting this as their top choice), 22% of POC were more likely to ask for a raise for that same reason. This indicates some steps toward progress in a willingness to ask for more among all cohorts, but it also reveals that white employees are perhaps more inclined to take more risks (leaving the company entirely) to improve their working situation.
For companies trying to minimize turnover, these responses should not be taken lightly. At all times, but especially now, organizations must realize the value of their employees and treat them accordingly, both in terms of culture and compensation. Consider conducting a comparison of your salaries with competitors in your industry. If you aren't paying your employees fairly and competitively, it's no wonder they're looking for greener pastures.
3. Safety is still a concern, for some more than others.
After what felt like forever, U.S. workers thought they finally made it to the end of the tunnel that is COVID-19. Yet with the Delta variant surging, that may no longer be the case.
To shed light on the level of physical safety employees are feeling, we asked if the Delta variant has changed respondents' return-to-work plans. Overall, the responses were fairly evenly split between yes and no.
After digging further into the data, however, we found that POC are more hesitant about returning to the office than white employees, with almost 59% of POC respondents stating their plans had either changed or they do not plan to return to the office at all. Furthermore, white employees said they were much more satisfied with their companies' return-to-work plans as compared to their POC colleagues.
A recent analysis of CDC data shows vaccine inequity across the country, "where Black and Latino people consistently receive a smaller share of vaccine doses than they represent in overall population, COVID-19 cases, and deaths."
While companies may not be able to directly solve this issue, there is an important role they can play. Organizations and leaders need to ensure their whole population feels safe and protected, regardless of race or ethnicity. Forcing employees to return to work without putting in the proper measures to keep them both physically and psychologically safe is not only irresponsible, but it certainly won't sit well with employees either. 
4. Flexible work arrangements are a need to have.
As companies continue to develop their return-to-work plans, it's critical to build a policy that fits the needs of all employees.
When asked about preferences for return to work, a majority of respondents said they prefer a four-day work week (35%) and flexible work days (34%) (as compared to other options including starting earlier, later, or sticking with a 5 days/week, 9-5 schedule). 
When it comes to gender, more men (34%) prefer a four-day work week, whereas women prefer to have flexible work days (35%). There's also a discrepancy when it comes to age and ethnicity. Respondents aged 35+ favor a four-day work week while those 18-34 prefer flexible work days. Breaking down the findings by ethnicity, the data shows white employees prefer a four-day work week, but POC employees would rather have flexible working days. 
Whether it is due to them being working parents, getting distracted while working remotely, or simply feeling they are more productive with less time, it is clear that flexible work environments are employees' preference.
5. Would you rather?
Toward the end of the Human Workplace Index, we asked a number of "would you rather" questions, including would you rather go back to the office or:
Delete your Netflix account
Be stuck on hold with customer service for three hours
These questions have a playful tone to them, but the responses hold quite serious implications, especially for working parents. Twenty-eight percent of respondents who reported having children said they would rather delete their Netflix account than return to the physical office. And 37% said they would rather be on hold for three hours.
You may be thinking 28 or 37% isn't that many people. And in the grand scheme of things, maybe not, but it serves as an important reminder that every employee has their own individual wants and needs, and all of them should be taken into account.
We hope these findings from the Human Workplace Index help you and your organization understand how employees are feeling during this historic time and what you can do about it. Next month, we'll dive into the impact of gratitude at work, so stick around.
Looking for next steps?
Learn how Workhuman Cloud® can help your organization take care of its employees.
RELATED POSTS
Human Workplace Index – New Year, New Workplace Expectations
Human Workplace Index – Looking Back to Plan Ahead
Human Workplace Index – The Future of Employee Benefits
Human Workplace Index: Getting Real With DE&I