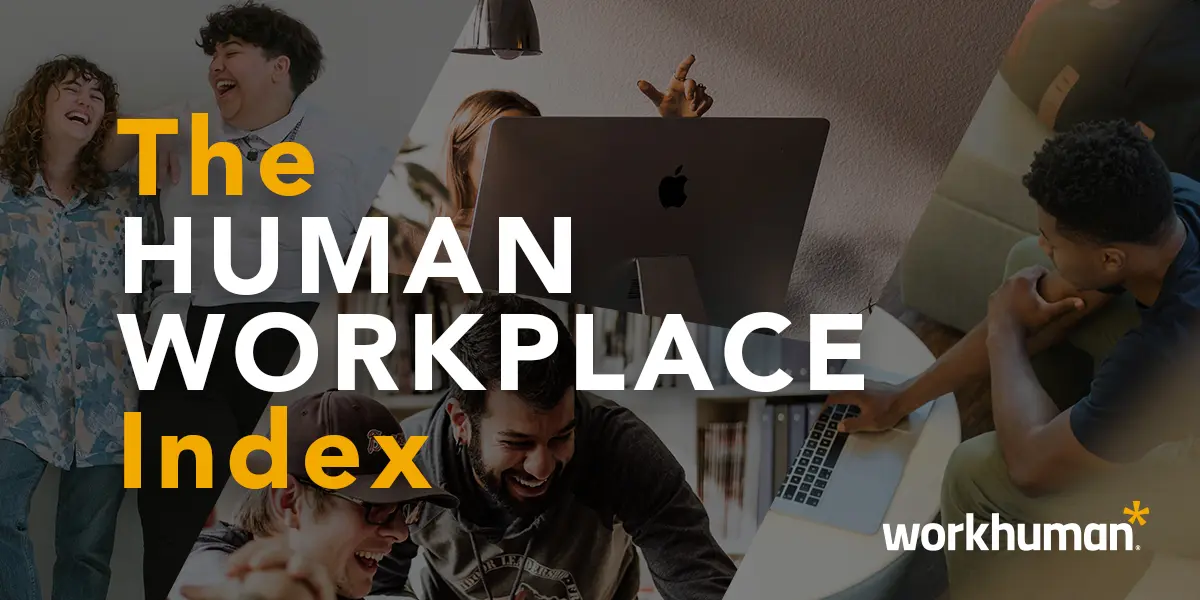 During the second half of 2021, Workhuman® has been publishing the Human Workplace Index – a monthly survey analysis of 1,000 full-time U.S. workers – to help employers better understand what employees want in this new world of work and increase employee retention.
Each month we've tackled topics such as the return-to-office, gratitude in the workplace, DE&I, and the future of employee benefits, all in an effort to amplify the voices of every company's greatest asset – their employees.
Our last analysis of 2021 looks at the trends and professional development that have accumulated during the year and what employees are expecting from their employers in the year to come. Here are some of the key insights uncovered from this month's survey.
1. Bonuses: to give or not to give?
There are countless reasons to look forward to the end of the year. For many workers, a big contributor to job satisfaction is the end-of-year bonus. This year in particular has put a strain on employees in every industry, and the ones who have stuck around are looking for their employers to acknowledge that commitment. How do they want to be acknowledged? Financial incentives.
According to this month's survey, 91% of employees would be encouraged to stay at their company longer if they received an annual bonus or similar financial incentive. In the same vein, 82% of those surveyed agree or strongly agree that they would feel encouraged if their employer offered them a 3% merit bonus at the end of this year. For companies struggling to both retain and recruit workers during the Great Resignation, competitive compensation as small as 3% could help change that.
If they don't receive a bonus, 24% of respondents say they will feel unappreciated by their employer. And if there's one thing we've learned from previous iterations of the Human Workplace Index, it's that employees who feel unappreciated are more likely than ever to start searching for a different career path.
As organizations plan for the coming year, they should consider restructuring their recognition and reward strategy. Rather than hoping employees stick around for an end-of-year financial bump, our research shows spreading that reward out over the course of the year keeps employees engaged and dedicated for longer.
2. Retraining and relearning are essentials.
Even before the pandemic, innovation and new ways of working had been disrupting "business as usual." In fact, 61% of those surveyed say the skills required for their job have changed since the pandemic. Those changes include greater tech/digital skills (79%), greater adaptability (69%), and greater non-cognitive skills such as communication, planning, and teamwork (55%).
Lucky for employers, 92% of employees report being willing to learn new skills required of them – but that doesn't mean the growing skills gap should not be a concern for companies. In order for organizations to be successful, their employees must be equipped with the skills they need to do their best work. Looking to next year, organizations should prioritize learning and development opportunities for current and future employees, rather than hoping they acquire the skills on their own.
3. Pressure continues to build.
Previous Human Workplace Index analyses showed that employees who have stayed in their current roles have experienced greater workloads since the pandemic, and especially since the Great Resignation. This month's results report the same: 75% of workers say they have been working harder/longer hours since the start of 2021, and 76% of all respondents anticipate this trend continuing into 2022. This makes it hard to maintain a healthy work-life balance.
If your organization is struggling with employee retention rates, find out why. It's quite possible valuable employees are burned out and frustrated for taking on more work and not being recognized for it.
According to our survey, 37% are taking on more work because their company is short staffed. And with 22% expecting this turnover trend to continue, the risk of burnout and disengagement will only intensify. Rather than allow the cycle to continue, remember to thank employees for their hard work, ask what additional resources they need to continue doing their best work, and then act on on boosting employee morale.
4. What about the Great Resignation?
When asked about turnover, 61% of respondents expect the employee turnover rate among co-workers to increase in 2022. This is especially concerning for organizations because 68% of those surveyed say their company has had recruiting challenges, whether it be because the salary isn't a competitive wage (25%), a lack of workplace flexibility (21%), few growth opportunities (20%), or numerous other reasons.
Based on the data above, it's no surprise organizations are eager to move past the Great Resignation. Employees, however, see this phenomenon quite differently. In fact, 72% of employees think the Great Resignation is a positive change in the workforce. Among the reasons why include:
It's put pressure on companies to change (42%)
It's created more workplace equality (30%)
It's given workers a voice (14%)
Business leaders are being forced to actually listen and act on the changes employees want to see. And that's a good thing. One of those changes employees are asking for is the need to better connect employees and leaders (38%). So, even if the job market settles in the new year, employers should absolutely continue listening to their people to create a more human workplace and promote work-life balance.
RELATED POSTS
Human Workplace Index – New Year, New Workplace Expectations
Human Workplace Index – The Future of Employee Benefits
Human Workplace Index: Getting Real With DE&I
Human Workplace Index: The Power of Thanks
Introducing the Human Workplace Index: The Return-to-Work Rundown