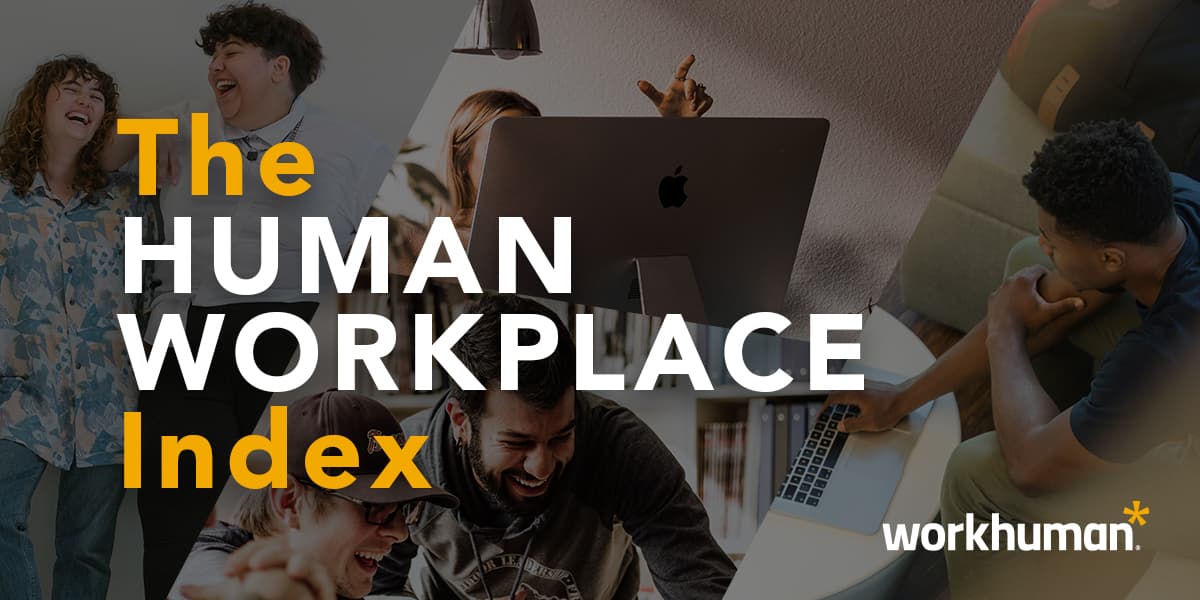 Employers need to understand how their employees are feeling now more than ever. To help in that effort, Workhuman® publishes the Human Workplace Index, a monthly survey of 1,000 full-time U.S. workers. This month's survey is all about the benefits companies offer and the benefits employees want. Believe it or not, those two things are not necessarily the same.
Open enrollment is here – and maybe just in time. This month's survey found 66% of respondents are waiting to review their company's new benefits offering before making a decision about staying at or leaving their job. Offering competitive benefits may just be the deciding factor for an employee with one foot out the door or an employee considering joining your company.
Here are some of the key takeaways from this month's survey.
1. The power of benefits
Based previous Human Workplace Index surveys, it's clear employees are looking for employers that not only value the work they do, but also value their physical and psychological well-being.
When asked how satisfied they are with their current benefits package, less than half (42%) of workers reported feeling "very satisfied." Yet, 71% of all respondents reported staying at their current job because of the benefits. Despite not being completely satisfied with their benefits, almost three quarters of respondents are willing to stay. Or are they?
Salary is typically seen as king. When asked which factor was most important to employees, the answer was "salary", followed by "health insurance." That doesn't mean organizations that offer higher salaries and substandard benefits aren't at risk of losing their employees, however. In fact, 63% of all respondents said they would leave their company if they were offered a job with better benefits, but less or equal pay.
For companies worried about the long-term effects of the Great Resignation, it's time to take a good look at employee benefits. Does the value of the benefits match the value employees deserve?
2. Cost versus the benefits
With at least four different generations currently in the workforce, benefits need to be flexible. The benefits that appeal to a 22-year-old single man will differ than those that appeal to a 45-year-old mother of three.
Despite the unique needs of different employee groups, more than two-thirds of those surveyed (68%) reported paying more than $200 on their benefits each month. And let's not forget that only 43% of the same people were very satisfied with their benefits. Plus, of the 76% of respondents that are parents or caregivers, 56% of them have trouble paying for their child or dependent's insurance.
Spending hundreds of dollars on benefits that aren't, well, beneficial, is likely to get frustrating for employees, and who can blame them? Organizations should frequently reassess benefits to ensure they work for everyone.
3. The importance of mental health and flexibility
The pandemic has put mental health front and center, both in our personal and professional lives. Considering the number of Americans reporting symptoms of anxiety or depression has jumped from 1 in 10 to 4 in 10 since the pandemic started, this is a concern that affects us all – either personally or by proxy. In fact, 73% of employees surveyed believe the importance of mental health benefits has changed since the pandemic started.
When asked which benefits their company dropped or changed during the pandemic, 58% of respondents reported a change in mental health benefits. Fifty-two percent also reported their company adjusted telehealth accessibility – one of the only ways to safely receive mental health support during the pandemic.
As if this mental health strain weren't enough, nearly two-thirds (63%) of respondents reported their company either changed or dropped family coverage during the pandemic. Not only have employees had to fend for themselves in terms of mental health, their families and dependents did too!
If employers care about their employees, or simply care about retaining them, this is an obvious place to start. When people feel confident in their mental well-being, they are not only more productive, but they are also happier too. And with such high rates of working mothers leaving the workforce, increasing family coverage will go a long way to show you care. Bureau of Labor Statistics data shows only 23% of private industry employees have access to paid family leave. With this in mind, along with the likely dropping of paid family and medical leave from the Build Back Better bill, employers have a unique opportunity to appeal to workers by offering paid leave as part of their benefits.
4. What happens next
Employees may have the upper hand in the job market right now, but there are actions employers can take to retain and recruit them. As mentioned, 66% of all respondents have been waiting to review their company's new health insurance offerings to make a decision about staying or leaving their job. As for the 35% of respondents planning to leave their job in the next 90 days? Open enrollment may be able to change that. Take a good look at your benefits offerings – if they aren't up to par, don't be surprised if employees start sending in their resignation letters.
One last thing to consider: Only 57% of all respondents feel "very valued" by their employer. The majority of women (44%) feel only "somewhat valued," and the same for People of Color (44%). And while feeling valued may not directly be about benefits, they certainly contribute to how employees feel. If you want employees to feel valued, show how much you do value them, their whole selves. Prioritizing family coverage, premium health insurance, and mental health offerings are simple and effective ways to not just tell, but show your employees their value.
RELATED POSTS
Human Workplace Index – New Year, New Workplace Expectations
Human Workplace Index – Looking Back to Plan Ahead
Human Workplace Index: Getting Real With DE&I
Human Workplace Index: The Power of Thanks
Introducing the Human Workplace Index: The Return-to-Work Rundown