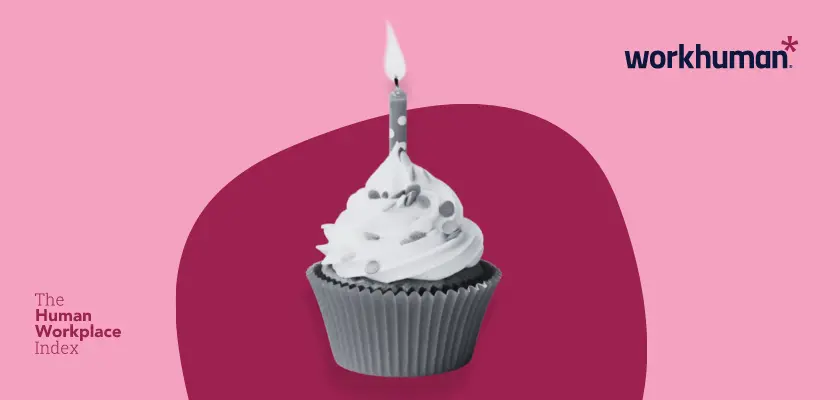 The last few years will be remembered as the time that changed the way we work forever. Those living through it have undoubtedly experienced stress and hardships, but they have also found themselves in a unique position to help to shape what the next era of work will look like.
And what do we want this next era to look like? We launched the Human Workplace Index (HWI) one year ago to figure that out.
To get the most accurate information on how the current business landscape is affecting the workforce, we went straight to the source: full-time U.S. employees.
Each month we asked 1,000 individuals questions regarding specific workplace topics like DE&I, employee benefits, engagement, and more. By having these in-the-moment surveys, we have kept a pulse on the state of the workforce, in hopes business leaders would act on the results.
It only makes sense, then, that the one-year mark of the Human Workplace Index looks back at some of these topics to see what – if anything – has changed, plus uncover workplace trends and other invaluable insights for leaders looking to build better workplaces.
1. Reflecting on a year
While each HWI focused on a different topic, each month we included the same core questions at the beginning of the survey to keep a general pulse on employee morale. And despite the immense shifts we've experienced over the last twelve months – the Great Resignation, multiple COVID surges, and economic uncertainty – sentiment among employees has remained generally stable throughout the year.
When comparing this month's results to last August, employee happiness is almost the same (84% vs. 83%); the percent of employees that responded they are "very likely" or "definitely" staying in their role also continues to remain stable (72% vs. 69%).
Throughout the entire year, happiness never dipped below 70% and those staying in their role never fell below 60%, suggesting that despite the elevated quit rates, most employees are feeling good enough when it comes to their position and company choice.
Since November's record 4.5 million quits, the number of people voluntarily leaving their jobs have stayed high through the first quarter of the year. But it looks like more employees might be ready to settle in.
Last August, amid the first waves of the Great Resignation, our survey found 61% of employees planning to leave their position within one year – which is a lot of turnover. When we asked the same question this month, however, the number fell drastically to only 37% planning to leave in the next year.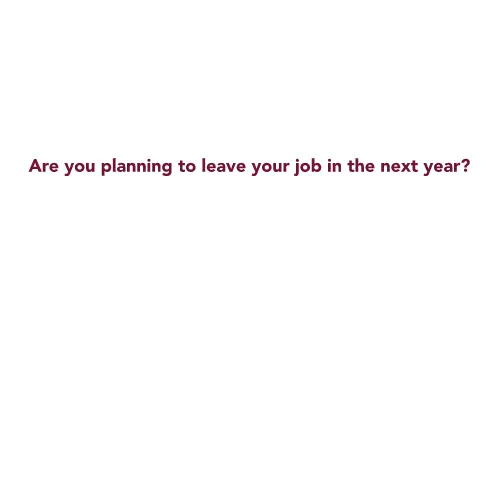 So, while the possibility that 37% of employees will quit in the next year should still concern employers, it looks like the Big Quit might be getting a bit smaller.
2. The status on DE&I
Many organizations are beginning to have more difficult conversations surrounding inequities and injustices related to race, gender, sexual orientation, and more. Events in recent years have led many organizations to make commitments around building a more equitable and inclusive workplace.
Have companies followed through on these commitments? Has progress really been made? And if the answer is no, is that a deal breaker for employees?
Last October and this month we asked respondents whether their company's DE&I plan impacts their feelings about their longevity at the organization, as well as whether they believe their company has made noticeable progress around DE&I efforts in the last year.
Below are the results for the question "Does your company's DE&I plan / status impact your feelings about your longevity at the organization?"
Based on these findings, it would appear the DE&I strategy of an organization is less of a factor for employees today than it was in October. There are likely many reasons for this, ranging from the size of the survey sample to heightened job insecurity.
It is worth noting that of the 45.5% of August respondents who say DE&I strategy does affect their tenure at an organization, most of them believe their company has made DE&I progress in the last year (77.5%). What should employers take away from this? Following through on commitments pays off. The data show DE&I strategy is a deal breaker for almost half of employees, yet most of those employees have also reported seeing noticeable progress in the last year.
It would seem DE&I strategy influencing how long someone stays at an organization works in both directions; of the 77.5%, the majority say they are "definitely" or "very likely" planning to stay at their job for the time being.
If companies are making progress towards equity, employees are less likely to leave the company. For leaders hoping to quell their retention rates, it's worth considering the power of following through on these promises.
3. Women in the workplace
Earlier this year we moved further into the DE&I space, focusing on women in the workplace. Both then and now, when asked if women are treated differently than men in the workplace, more than half of respondents said they do not think they are treated differently (53.8% in March vs. 66% in August).
These percentages suggest people generally believe women are equal in the workplace. But digging into the reasons why one-quarter of employees believe that women are treated differently unearths a different message.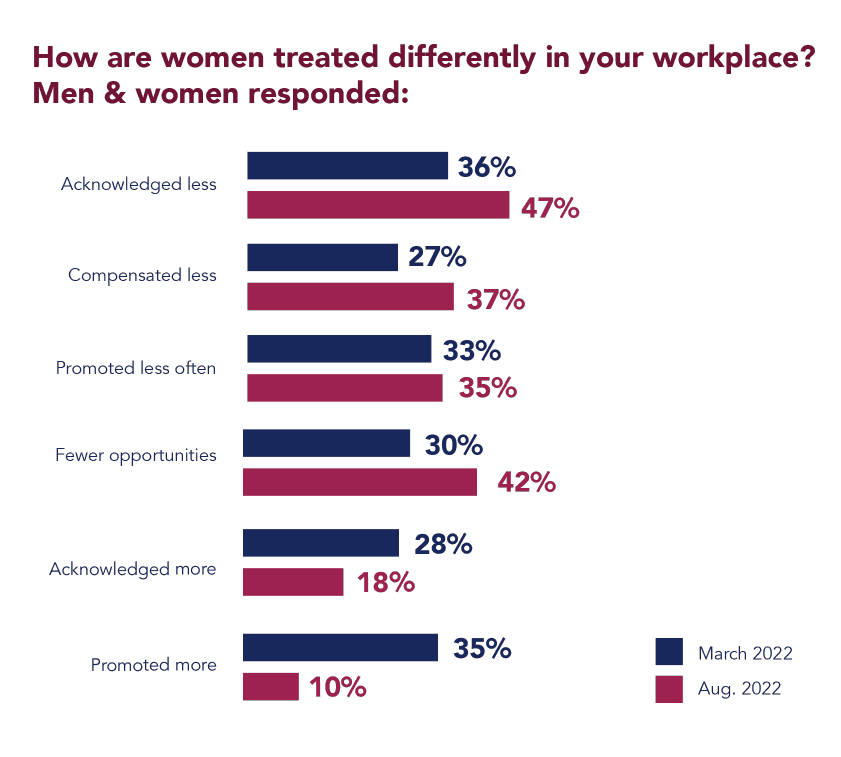 This month's respondents were much more likely to point out the discrimination women face, including being acknowledged, paid, or promoted less often than men. And while some March respondents chose those options, they were overshadowed by the 28.4% and 34.8% of people who believe women are acknowledged more and promoted more than men, respectively.
Filtering the data by gender also reveals changing sentiment among the very people these questions pertain to: women.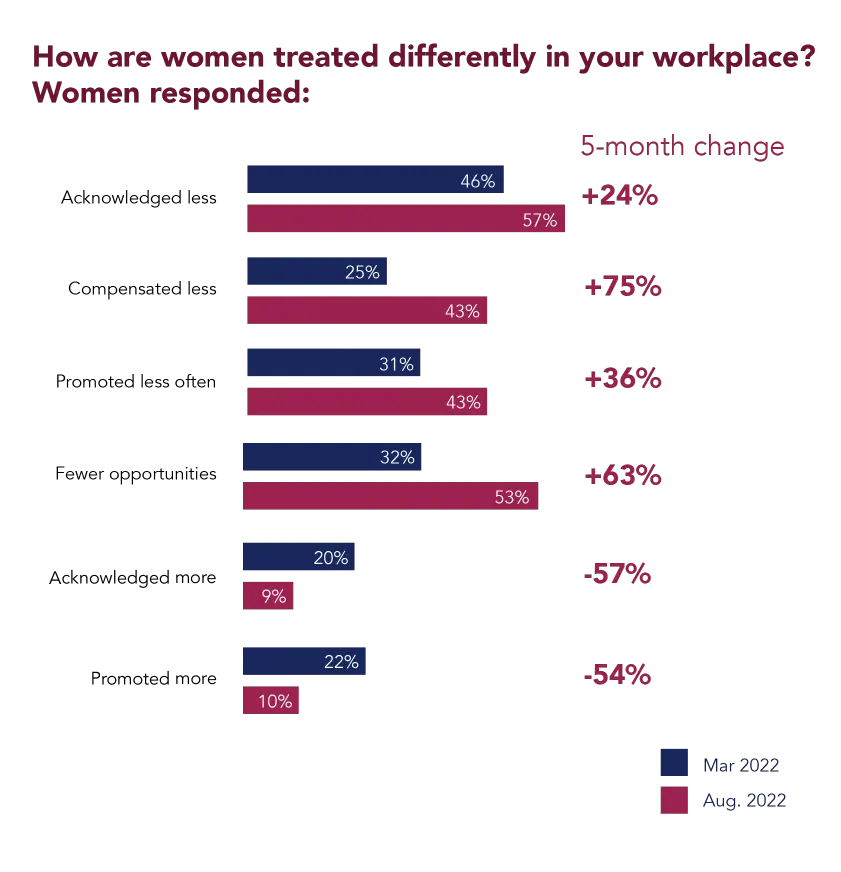 Compared to March's results, there was between a 25-75% increase in the percentage of women who chose being acknowledged, paid, and promoted less often as the reasons women are treated differently. August's data also found the number of women saying women are acknowledged or promoted more than men decreased by over 50% from March.
Considering women make up half of the workforce, these shifts and changes are important for employers to pay attention to. And as the lines between life, work, and politics continue to become entangled, it will become even more important for leaders to listen – and act – on the needs of the women in their organization.
4. Return to the office – still?
The return to the office conversation began before we launched the Human Workplace Index – and the conversation is still going for many remote/hybrid employees today.
According to April's survey, half of employers made the decision for workers to return on site, and based on this month's results, most haven't changed their mind (50.1% and 48.8%, respectively).
Some workers, on the other hand, have started to change their outlook. In January we asked how employees were feeling about the return to on-site work. And based on the responses to the same question this month, it looks like return-to-work has lost some of its shine.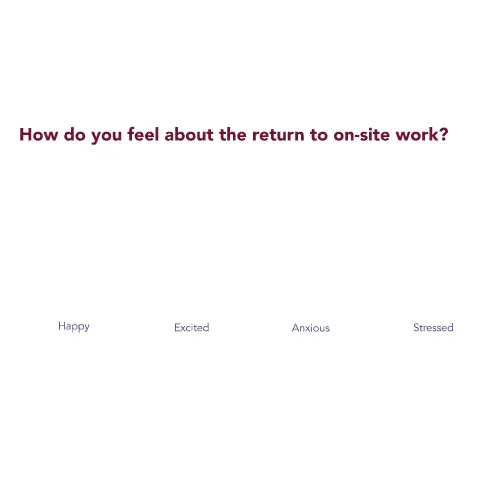 In January, there was a lot of excitement around returning to the office, and with all the exciting possibilities also came some anxiety. After a few months back at it, however, it makes sense that the excitement has faded, and with it went some of that anxiety.
Those who haven't yet returned to the office, on the other hand, still have concerns. When asked what additional expenses they would incur returning to the office both in April and this month, employees were most concerned about the travel expenses (commuting costs, gas prices, paying for parking, etc.) and the rising cost of living.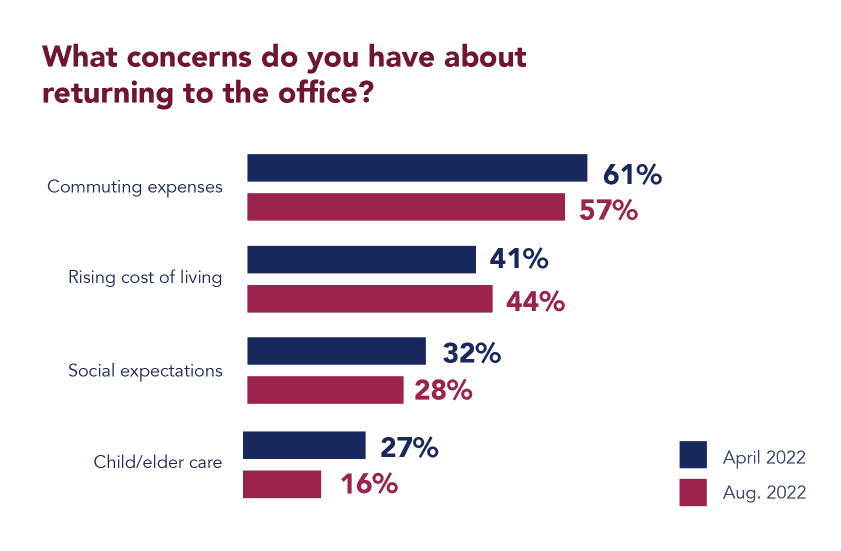 And while these concerns were valid in April, the current economic landscape is shining a light on the importance of financial security – regardless of return-to-office plans.
If organizations want their employees to do their best work – and especially if they want them to do their best work in a cubicle from 9-5 – they first must ensure they are providing employees with the appropriate compensation and benefits to feel secure.
The good news for employers that want to be on-site is that happiness is trending up for in-person workers, meaning there is some aspect of in-person work that is fueling employee satisfaction. If organizations can identify what those aspects are, as well as provide the necessary financial support to employees, both the workforce and the business's bottom line can excel.
5. Econ crash course
Last month's HWI looked at how employees are feeling about the growing economic uncertainty; the consensus was employees want to feel financially secure and emotionally supported by their leaders and company.
As of right know, not all workers are feeling that way, so it's not surprising 50% of employees said they were concerned a recession would cause additional setbacks for women in the workplace. But even with these looming fears, workers aren't giving in. When asked which of the following would they do to keep their job during an economic downturn they answered: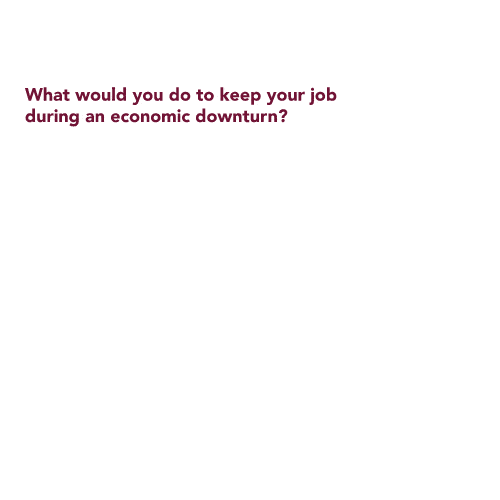 For those who experienced working through the 2008 recession, the fact that one-third of respondents wouldn't sacrifice anything to keep their jobs may seem slightly surprising, but it may also suggest a shift in employee sentiment.
Employees want to be supported by their employers, and an economic downtown isn't going to get them to give that up. And considering workers keep an organization running during difficult times, leaders should be doing everything they can to ensure they are providing necessary support.
And while a potential recession is never something employees would wish for, if it does happen, they are hopeful it leads to at least one thing: An overwhelming number (68.4%) of employees think that a recession will be the root cause of employers changing existing workplace benefits (remote/hybrid work, etc.).
6. A note on current events
The Human Workplace Index was designed to gauge the feelings of employees and uncover their most pressing concerns at that moment, with the goal of providing business leaders the information and guidance they need to start making changes in their own organization.
The Supreme Court's recent decision to overturn Roe v. Wade, the case that afforded women the constitutional right to an abortion, has brought us to a place we haven't been before. Politics having an impact on the workplace certainly isn't a new concept; the business world has changed immensely over the last century, and much of that had to do with the passing of more inclusive laws.
Now, organizations must grapple with the fact that about 60% of women under fifty years old – more than 30% of the entire workforce – live in areas of the country where they are unable to legally access safe reproductive care, and that number is likely to go up as laws continue through the legislature.
Which means we are starting to ask new kinds of questions. Questions like: Should organizations take a stance on these issues? If so, when is the right time to stand up and say something? Should it be an internal statement or shared on social media? What kind of commitments should organizations be making and how should employees hold them accountable?
Similar to how companies will work through these issues differently, employees too, will have varying feelings, needs, and opinions on the matter. And like any other workplace change, attitudes may shift as time goes on.
Knowing that, it's up to organizations to make sure all employees feel heard, supported, and safe. Companies can do this several ways, including:
Encouraging regular (weekly or bi-weekly) check-ins between managers and their direct reports to ensure they have the resources they need
Put listening sessions into place for employees who have questions or concerns
Send employee engagement surveys frequently to keep a pulse on employee sentiment
Enter an opportunity for leaders. Employees may not be exactly sure what they need right now, and that's okay. People-first leaders can seize on this moment – and show, rather than tell – the power equity, empathy, and physical and psychological safety can have on company culture. The results will speak for themselves.