Around 85% of employees believe that breaks are essential for their productivity. As an employer, you can optimize these breaks into motivational games.
The games offer a welcome change from the stresses of a sedentary job. Motivational games incorporate engagement, collaboration, teamwork, and critical thinking.
Whether in remote or in-office environments, employees have better chances of developing stronger bonds when playing motivational games.
Subsequently, workers will have a stronger sense of belonging, resulting in a 50% decrease in turnover risk and a 56% increase in performance.
27 best games to motivate your employees
There are multiple ways to activate the power of teams. Friendly competition can go a long way in boosting productivity. When it comes to measuring the effectiveness of motivational games, one study found that over 90% of employees become more productive with gamification tactics.
In-office games
#1 Dog, rice, chicken
Riddles and puzzles are ideal for boosting your employees' concentration levels and mental reasoning. Divide your employees into teams with four players each. They'll act as the farmer, dog, rice, and chicken.
Their job is to let the farmer move the dog, chicken, and rice from one place to another. Nevertheless, the dog can't stay alone with the chicken; neither the chicken nor the rice can be together. Otherwise, the latter will be eaten by the prior.
The farmer can only take one of each at a time. Whichever team moves all three first, wins the game.
#2 Blind drawing
Blind Drawing involves two team members facing away from each other. One member holds an image of an object, while the other has a pen and paper.
The other teammate's job is to describe the image without using words that are too revealing. For instance, if they're holding an image of a cat, you can't say it eats cat food.
The fun-filled game promotes communication skills in the workplace as the person instructing has to be clear to win. Fostering this dynamic can enhance corporate success.
#3 Two truths and a lie
The classic "Two Truths and a Lie" is perfect as an onboarding icebreaker. Each employee has to tell two truths and a lie about themselves. Others have to guess which is the lie.
You can keep things more competitive by incorporating a points and reward system. It'll elevate your employees' psychological activity and enhance their work productivity.
#4 Balloon questions
The balloon questions game calls for paper, balloons, and a pen. Players will write questions on the paper, place it in the balloon, and inflate it. Each team member will then get a chance to pop a balloon and answer a question from other employees.
The ice-breaking game allows teams to get to know each other better and promotes interaction. The games can help introverted employees try to break out of their shells.
#5 Goodie bag skits
The goodie bag skits is a large group activity that requires approximately 20 to 40 staff members to participate. The moderator will break the group into teams of four to eight employees. Each team will get a skit title from the facilitator.
The teams will then act out the skit to entertain their peers. The best skit achieves a prize like a gift card. The game stimulates your teams' creative juices and creates memorable moments. According to research, the improvisational game can refine your team's adaptability and resilience.
#6 Minute to win it
Some days in the office are slow with depleted productivity. Subsequently, you can take your employees out of the funk with a "Minute to Win it" session. You can play this game using several variations, such as a cup stack, backward ABC, or sticky wall.
In the latter, you'll place a piece of double-sided tape on a door. Team members will throw pom-poms and aim for the tape. The group with the most pom-poms in a minute wins. The game works in line with the Pomodoro technique that stipulates a short break is critical between work.
Physical activity games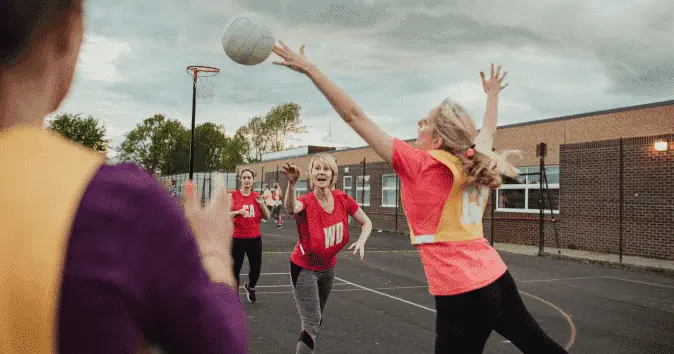 #7 Scavenger hunts
Scavenger hunt games make room for collaborative and interactive learning. It allows teams to delegate roles to solve the hunt. The ticking clock may allow employees to better understand the importance of time.
That said, the game offers a shift in focus from work and boosts team morale.
#8: Hide and seek
Sometimes, employees need to reminisce about childhood games like hide and seek. The game is a great problem-solving activity that actually improves your team's problem-solving skills and cardiovascular health and reduces stress.
#9: How long can you go on
The game involves placing a pencil between your upper lip and nostril and balancing it by tilting your head slightly back. Two team members can do this while the rest try to make them laugh. The simple game offers a break from a hectic workday. Additionally, the laughter can alleviate tension and soothe stress.
#10: Hot potato
No, we're not referring to corporate "hot potato" where work gets passed from one person to another. We're talking about the childhood game of tossing a beanbag until the music stops. The person with the beanbag steps back, and the game continues.
While the game improves hand-eye coordination and catching skills, it also promotes engagement. Game breaks allow workers to complete their tasks more efficiently.
Online games
#11 Pictionary
Although "Pictionary" is usually played physically, you can find the game online. It involves one member drawing an item that the rest of the group has to guess.
The employee with the most right guesses wins. It's an engaging, remote-friendly game that enhances your team's creativity and logical thinking.
#12 Pitch me
"Pitch Me" is a well-suited online game for the sales department. The facilitator gives each team a product to pitch. It can be a random object like a slimming mirror or a dog scratch pad. You can spice up the game with a must-have incentive, like an extra vacation day.
The competitive game will allow your team to expand and experiment with their creative perspective in work.
#13 Coworking calls
Two of the prime complaints of remote work are loneliness and isolation. You can turn that around with "Coworking Calls," where you group your team into pairs to complete a task. You can incentivize the game by offering a reward to teammates that complete their work best.
#14 Virtual quiz
A virtual quiz offers a gamification method in the workplace, where you test your employees' knowledge. It can use platforms like Kahoot! for time-pressure competition. The game will keep workers engaged and motivated.
#15 Time traveler
"Time Traveler" allows your employees to explore different timelines or past events they want to witness. They can describe moments from the Renaissance or Roaring 20s. It'll develop a closer relationship between team members as they learn new things about each other.
Mental challenges
#16 Spot the difference
"Spot the difference" games enhance memory retention, scanning skills, and concentration. Take your team to a secluded office corner, move them out, change the position of a few objects, and bring them back in.
Keep track of the items you moved, added, or removed. The player with the most differences spotted wins.
#17 Seven degrees of separation
In this game, gather scrap paper and write ideas or objects that aren't connected. Place them in a container and let two players pick two each. They have to create a relation between the concepts within seven frameworks or below.
The first player to do this wins. Based on a psychological origin, the game allows employees to get creative and offers a break from the 9 to 5 grind.
#18 Egg drop
The "Egg Drop" challenge can increase your workers' problem-solving and critical-thinking skills. It involves dividing your employees into teams.
Each one has to create a protective shield that prevents an egg from breaking in a two to four-story fall. If there's a tie, add one story to the drop.
#19 Murder mystery
Whether you want to build your team's problem-solving or decision-making skills, a classic murder mystery could be your best bet.
Fortunately, you can locate several crime templates online that you can recreate at a fun office event.
#20 Cardboard boat building
You can try out cardboard boat-building for a more hands-on mental challenge. Split teams will build cardboard boats. They'll then ride their boats and see which one sails the farthest without sinking. The game offers exceptional socializing and collaborating opportunities.
Team-building activities
#21 Talking in circles
"Talking in Circles" is ideal for building trust and communication in your team. If you want to encourage employees to work on problem solving, it is proven that team-building should be a priority.
Your employees will create a circle and hold a string tied from each end. Their job is to create a shape the moderator asks them to do.
For example, you can tell them to make a square, rectangle, or the number eight. The real test comes with how well the team will collaborate and move in an orderly flow. You can raise the difficulty level by blindfolding them and allowing them to repeat the same pattern.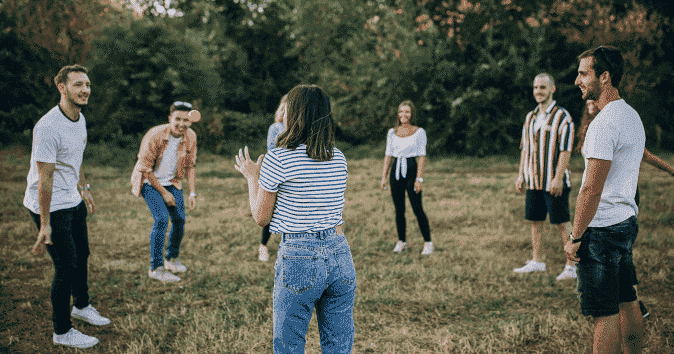 #22 The minefield
Another exceptional trust-building motivational game is "The Minefield." You'll need a large space, like a parking lot, tape, and miscellaneous items or cones. Create a maze with a start and end point. The path should be riddled with obstacles like office chairs or tools.
Blindfold one player and let the rest of your workers guide them through the maze. Alternatively, you can split the maze and add two players. That way, you'll add a competitive edge to the game.
#23 Don't drop the ball
This game emphasizes the importance of each team member's contribution. It involves splitting your employees into two teams. Each team will hold a large bed sheet spread. They'll be standing on opposing sides.
A moderator will throw a water balloon toward one team. That group will bounce the ball on the sheets toward the other team. The first team that bursts the balloon loses. The game's benefit lies in how each team member moves the sheets to aim the ball ideally.
#24 Barter puzzle
You can refine your worker's negotiation and cooperation skills with a game of "Barter Puzzle." First, divide the employees into two to three teams. Each one gets a jigsaw puzzle.
The trick is that the puzzles are mixed between opposing teams. In turn, your employees need to persuade other co-workers to trade pieces. Overall, the game will improve teamwork, communication, and problem-solving.
#25 Marshmallow spaghetti tower
In this game, opposing teams will build a tower made of masking tape, marshmallows, and spaghetti sticks. The tallest one that can stand for five seconds without external support is the winner.
The activity works on multiple team-building facets, such as collaboration and communication. It also triggers creative and logical thinking.
#26 Hear me out
Approximately 86% of seniors and employees list a lack of communication as the prime cause of workplace failure. Subsequently, if your team struggles with collaboration, chances are, they may have issues with perceiving or understanding one another.
This is where "Hear Me Out" comes in. The game involves one player reading out a document riddled with technical jargon in a monotonous tone. The remaining workers will take notes on what they think the player was talking about.
Afterward, you can lead a discussion of what the team thought of the document. Quizzing them is also a viable option. If the team does poorly, converse about it and how their results could be improved.
#27 Photoshoot
Create a list of random items you can find within the office. Split your workers into pairs. Each one has to take a picture of the listed items.
The first one to gather all the images wins. The game is simple and promotes delegation skills as the pairs decide who will take pictures of what.
The science behind using motivational games with your team
There's scientific evidence behind the efficacy of motivational games for employees. Fun employee engagement games can enhance a work environment.
Motivational activities also produce positive psychological and physical health. Over 25% of respondents in the study were able to stay longer on the job.
You can foster this positive well-being by embedding employee recognition in your management style. For this reason, we suggest using tools like Workhuman's Social Recognition ® solution to integrate these values in your workplace.
FAQs
What are the four basics of motivation?
They are possession, commitment, comprehension, and protection. Possessions refer to your employee's salary and recognizing top performance with benefits. Commitment involves building mutual trust and highlighting collaboration.
Comprehension emphasizes the role's goals and expectations. Meanwhile, protection focuses on transparency from employers when delegating roles and tasks.
How do you motivate people in games?
Your employees will be motivated if the rules of the game are clear. Players should be able to participate in several parts of the game. The difficulty level of the activity needs to progress as the worker develops.
Players should receive feedback and support. You also need to measure and recognize their successes.
Conclusion
Incorporating motivational games in your workplace reflects positively on your business outcomes. It boosts your employee's engagement, productivity, and performance.
On top of that, these activities also enhance their soft skills, such as critical thinking, problem-solving, and teamwork. You can add a diverse set of games that target various facets in your workplace recreation plan.
For instance, if you want to integrate team-building, activities like scavenger hunts and murder mysteries are well-suited. On the other hand, riddles and puzzles are better aligned for performance increase targets. 
No matter what your team needs, there's a game or activity that can help them begin to develop new skills and have fun in the process!