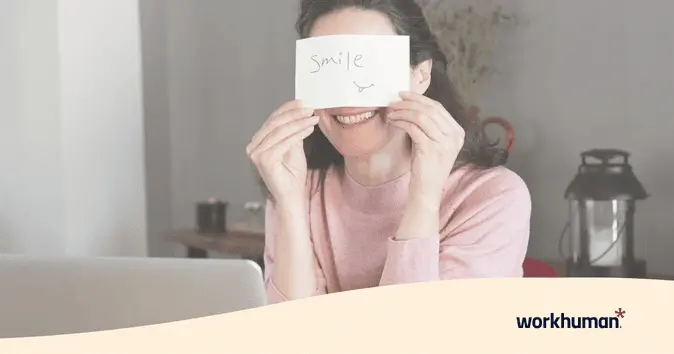 You don't need fancy perks, 5-star chefs, or extravagant bonuses to increase engagement within your team. Often times it's the little things that give you the most bang for your buck. Even something as little as bringing a bit more fun into the office can often do wonders for improving team morale and engagement.
This is where employee engagement games and activities prove vital.
Breaking up the monotony of the work day with an activity or two allows employees to have some fun, burn off stress, and get a little friendly competition going between the team (7-game series of foosball anyone?).
With this in mind, we've put together a comprehensive list of games and activities to do just that. Plus, we'll also show you why it's important to set aside time for employee engagement in the first place. Let's get into it!
Best employee engagement games and activities
Your organization is composed of individuals with different interests, passions, and personalities. This is a good place to start when planning engagement games and activities.
Better yet, survey employees and seek suggestions to make it more inclusive.
Additionally, make sure to have a schedule, so everyone can participate in the activity. You can include such activities as icebreakers during meetings, daily routines, or during big events or seasons.
In-person games for day-to-day engagements
There are a lot of games you can play in a physical setting. It also helps to put variety into your activities to make them more exciting.
Begin a workday with little games to energize your workplace. Another good idea is to squeeze in some midday activities to reduce stress build-up. Observe and discuss what works best for your team.
Here are various games to consider:
1. Name that Tune
This easy, inexpensive game doesn't require much - players simply need to guess a tune. Add more fun by singing it once correctly guessed. Who knows, you may just discover a singer in your midst. Moreover, keep track of your scores in a time frame and give out awards after.
2. Show and Tell
Pluck on interests and get to know more about your teammates with "Show and Tell." Announce a topic in advance.
Then, ask every colleague to bring an item. When the day comes, take turns showing and telling about your piece.
3. Two Truths and a Lie
There are always new things to learn about your colleagues. In this game, ask everyone to come up with two truths and one lie about themselves. A player who correctly guesses the lie earns a point.
This activity can reflect how well you know each other. It can also develop observation skills and bring out shared interests.
4. The Human Knot
Go for a little rush with the human knot. Break up into groups. Then, each member will hold a member in their right hand, and another in their left hand. This will knot players together.
Then, wait for the cue to start untangling. Clear communication, flexibility, and a strong grip can make you win the game.
5. Board Games
Put board games into the mix of activities in your workplace. This will help mental stimulation as strategy and quick-wit come into play. Popular choices include Chess, Scrabble, Monopoly, and Checkers.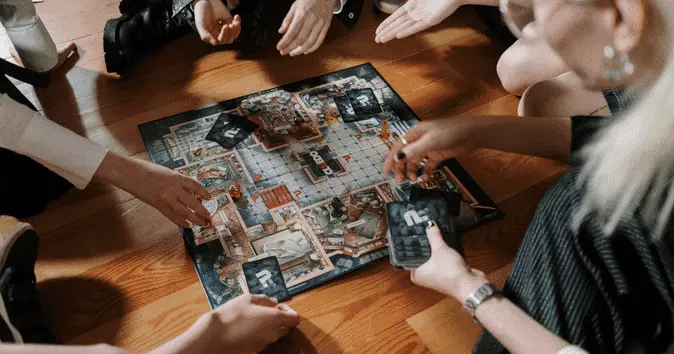 6. Pictionary
Draw out the artist in you or just get a good laugh from your sketching skills with this Pictionary game. Separate into groups, hand out pens, and set up a whiteboard.
Pick a name card from a deck and a team member will go to the drawing board to make a depiction. The group with the most correct guesses wins. This is a fun activity that promotes team building and provides a sense of camaraderie.
7. Fitness Program
Healthy employees are more likely to perform well and have reduced absenteeism. As such, you can promote health and wellness in a fun way through a fitness program.
Keep everyone aligned by setting a goal. It can be as easy as tracking steps daily or reaching BMI targets. You can also provide gym memberships and workout together.
8. The Egg Drop
Encourage teamwork, logical thinking, and a dash of creativity with the egg drop challenge. Teams are tasked to create an egg holder that will avoid breaking the egg once dropped from a certain height. Be ready with supplies like cardboard, sticks, tape, cotton balls, and others that you may find onsite.
9. Improvisation
Bank on your acting prowess and quick-thinking abilities for these improv games. Let go of the usual script and let your mind flow. This sharpens communication on both ends—listening and speaking that prove beneficial for conflict resolutions. This is a great game for employee engagement and to boost morale.
10. Creative activities
Allow creative juices to flow and incorporate art into your day-to-day activities. Staff members can do paintings, drawings, digital art, pottery, and so much more. Harnessing creativity potentials are as essential as critical thinking in birthing new ideas for company growth.
Big ideas to celebrate big events
Take fun engagement activities to a whole new level when celebrating big events. Get out of your usual setting, and prepare team-building activities outdoors.
Here are some big ideas for your celebrations:
11. The Amazing Race
Get your adrenaline pumping with an Amazing Race through town. Split into teams in the search for clues and jump through physical and mental challenges. This is a fun way to boost engagement and gives employees the opportunity to work together outside of a work setting.
Drive competitiveness with a prize. This will boost resourcefulness and team communication.
12. Treasure Hunt
Ease employee burnout with an exhilarating activity such as a Scavenger Hunt. Discover clues one after another to find a treasure. To add more meaning, pattern the hunt to your event's theme.
And for more information on easing employee burnout in the future of work, check out this white paper.
13. Bike Build
You can also organize employee engagements that can benefit the community. Take, for example, a bike build activity.
Complete team challenges and in exchange get parts to build your bike. Afterward, donate it to a charity.
14. Cooking or Cake Contest
A cooking show or a baking contest is a good turnaround from your usual day-to-day activity. Divide into groups and showcase your kitchen skills with the theme in mind. Judge the best dish or cake and you can share the food among yourselves after. If you have a remote team, this is one of our favorite virtual employee engagement activities where your team will cook from their own kitchen and you'll judge based on the visual appearance of the dish.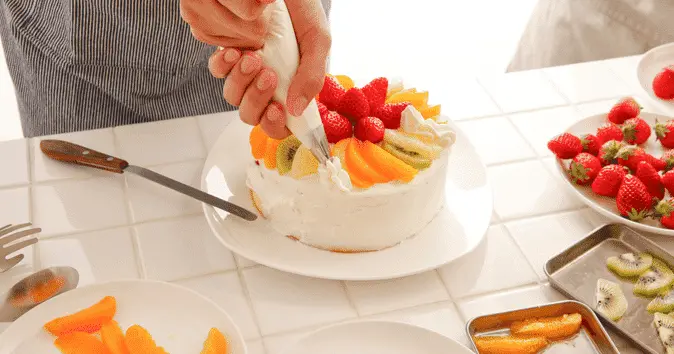 Seasonal activities
It's not only during celebrations that you can take employee engagement ideas to a different level. Recruit your team members for fun and games based on the time of year. A quarterly outing for each season is a fun and easy way to keep the team engaged all year round.
Here are some activities you can do seasonally:
15. Escape room
Great for when it's too cold for outdoor activities, escape rooms are one of the best activities to promote teamwork. Get your team together and see if you can figure out how to escape the room before time runs out! See how well your team works by solving puzzles and mysteries.
16. Movie game
Great for wintertime, bring out your inner acting skills with a movie game. A popular remote employee engagement game, have your team decide on a theme and record a mini clip. Go all out with costumes and props. Give out awards for those with exceptional performance.
17. Company field day
Perfect for spring or summer, loosen up your muscles and up the level of competition in a day filled with outdoor games. This is an excellent team-building exercise. Don your uniforms and participate in fun games like basketball, dodgeball, and kickball.
Other games you can include are three-legged-race, sack race, and tug-of-war. Ensure everyone's participation by also creating less physically demanding activities.
18. Community work
Most organizations carry a corporate social responsibility. Have this ingrained in employees through engagement in community work.
You can set up a workday or a weekend to help out in a local animal shelter or a charity. You can also do tree-planting activities.
19. Gift exchange
A once-a-year activity you can do is a gift exchange. Do this during the December holidays. Write down your names individually on a piece of paper and place them in a bucket. Draft one each, then prepare a gift for that person.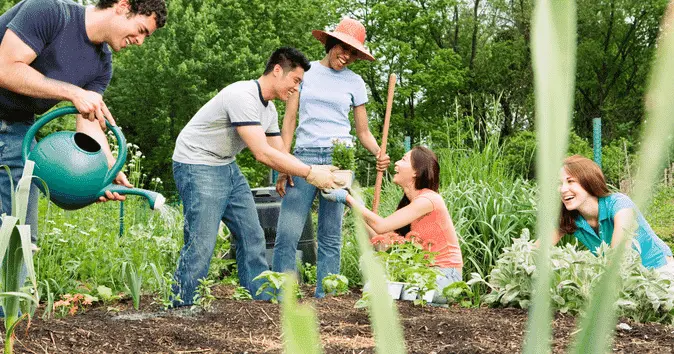 Virtual games
Work-from-home settings have become part of the norm. Although it comes with advantages, sitting for long hours can be tiresome.
Incorporating virtual games into a day's work can turn an otherwise dull setup into a fun and more fruitful one. Plus, it helps teams spark conversations and build stronger connections even from long distances.
In fact, there are digital platforms that are designed to launch game apps. Take, for example, Slack, Zoom, and Discord. However, virtual games don't apply only to remote settings. It can be a part of day-to-day engagements within your office or in hybrid setups.
Here are some virtual activity ideas you can choose from:
20. Tic Tac Toe
Most would be familiar with this game. Players alternately place an 'X' or an 'O' in boxes. The first one to form a straight or diagonal line of three in a row wins.
21. Hangman
Hangman is another game to play virtually. Guess the letters that form the word as indicated with the number of blanks. Each time you get a letter wrong, one part of the hangman is drawn.
The round ends when the drawing is complete or when the word is correctly guessed.
22. Polls and quizzes
Add fun and a little friendly competition with Family Feud, Trivia games, or Flash pop quizzes over Slack. Keep track of your scores to see who's winning within a day or over a week. Whatever suits you. These activities can be done during an employee's downtime.
23. Decode the emoji
This popular virtual game is highly engaging and can get employees hard-pressed for answers. It challenges players to decode symbols into words or phrases. Create a designated channel for this. You can play on a per-round basis spread throughout the day or play a series within a specified time block.
24. Online office games
Once in a while, you can opt for hosted online office games on Zoom. The host will lead employees and management to actively participate, which makes it an ideal team-building exercise. The event includes a series of trivia and mini-games packed in 90 minutes of fun.
25. International Monster Hunter
International Monster Hunter is one of the more unique staff engagement games you can try. This game requires you to unlock your inner detective to locate creatures around the world. This will prove effective in developing teamwork. Plus, there's a lot of fun you get from the activity.
Why it's important to schedule time for engagement activities or games
Setting a time for engagement activities or games display's the recognition of employees' value in the organization. It makes happier and healthier individuals. Plus, it strengthens communications and teamwork that lead to productivity and profitability.
Employee engagement is important in the following aspects:
1. Employee behavior
Engagement can affect employee behavior towards colleagues and the workplace itself. Engaged employees are more likely to stay and be driven to advance the company's mission.
On the other hand, disengaged employees may incur frequent absences, come to work late, or may cause safety incidents due to lack of focus.
Based on Gallup studies, 41% reduced absenteeism and 70% lower safety incidents were observed in organizations that have high levels of employee engagement.
2. Employee retention
Employees are 87% less likely to leave a company when they're engaged. A lower turnover rate translates to lower costs that come with talent acquisition and training of new hires.
3. Healthier workplace
Employing holistic activities makes a healthier workplace. Aside from the stress release, fun, and physical and mental stimulation, these are great activities to help form a tight-knit bond between teams.
As a result, it creates clearer communication lines and easier conflict resolution.
4. Customer retention
Engaged employees provide better customer service as they understand their role in a company's success. This helps solidify client relations.
5. Profitability
Employee engagement is an investment. But it does reap rewards. A 17% increased productivity can boost sales by roughly 20%, creating around 21% more profitability.
6. Recruitment of top talent
Employees are company ambassadors. Hence, keeping them happy and satisfied creates a good reputation for the organization. This attracts top talents who'll likely thrive with the existing company culture.
7. Organizational trends
Organizational trends can be addressed with the help of employee engagement. This can be manifested in the following examples:
Uplifting the people-first culture
Embracing diversity, equity, and inclusion
Use of AI and digital platforms
Promoting work-life harmony
Upholding workplace wellness
8. Future implications
Maintaining employee engagement has future implications driven by the above-mentioned trends. Employees feel more empowered and will likely yearn for more work-life balance.
While remote setups work, some companies are shifting back to onsite settings. This change can be negatively seen by some employees who would rather resign than switch back to the old ways. Employee engagement through gamification is critical in this regard.
How to make a return to the office fun?
Ease employees back to an office setup with the following engagement ideas:
Document your return to the office with a photo booth.
Set a Happy Hour for bonding and getting-to-know activities.
Prepare a welcome lunch or snacks.
Surprise employees with personalized desk gifts.
How do you gamify engagement?
Engagement gamification is an approach that uses game elements during implementation. This includes scoring, rewards, and recognition systems. Plus, unlocking levels and achievements can be acknowledged by giving out badges.
FAQs
What is the best way to engage employees?
The best way to engage employees is through effective two-way communication. They should be kept updated about the company's status through meetings, newsletters, or even one-on-one discussions. Additionally, they should also be given a platform to be heard.
What are some examples of employee welfare activities?
Provision of services, amenities, and facilities that are geared towards health, socio-economic, and efficiency improvements are employee welfare activities.
How do you engage staff in games?
Engage staff by including games in line with their interests. Also, encourage participation by giving them a role in the planning or execution. Lastly, make sure to schedule a time when everyone is available.
How can I start an office game that my team will love?
To start an office game, seek suggestions from your team. This will ensure that everyone's interests are covered. Team members can also help as hosts or facilitators for the game they suggested.
What are virtual engagement activities?
Activities or games that are done via digital platforms like Zoom, Slack, or Discord are called virtual engagements. These platforms allow remote or hybrid setups to connect.
Conclusion
Employee engagement games and activities aid in team-building efforts by improving communication lines and through shared interests. They also promote self-development and wellness, which results in a healthier workplace.
Through these efforts, productivity and profitability rates are boosted. Moreover, employee and customer retention increases, reducing the likelihood of company losses.
Overall, high employee engagement gives the organization a good reputation. In turn, this draws in talent and customers alike.