In today's workplace environment, retaining talent is top of mind for all organizations. Daily reports of skills shortages and worries of employee turnover have HR leaders and managers concerned about talent acquisition and retention.
In the face of increasing competition to acquire and retain top talent, internal mobility – also sometimes called talent mobility – has taken on a renewed importance for today's HR professionals.
What is internal mobility?
It wasn't always like this. In the post-WW2 era to the 1980s, as global economies were rebuilt and organizations grew, companies effectively offered their people a "job for life." Employees could join as trainees and progress to either manager or director — or beyond — at the same organization.
In fact, it was rare that someone would need to leave and join another organization for career advancement. Research from Wharton Business School's Peter Capelli and Matthew Bidwell showed that almost 90% of corporate vacancies then were filled through internal promotions and lateral assignments.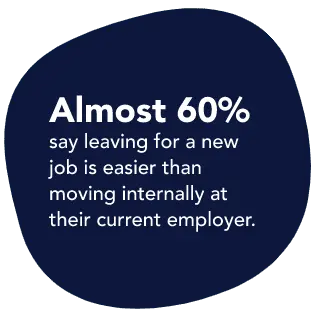 Today, things are a bit different. Less than 30% of companies see internal candidates as an effective hiring channel. Deloitte's 2019 Global Human Capital Trends survey revealed that almost 60% of employees say it is easier to find a new role at another company than it is to change roles at their current employer.
This was corroborated by my 2021 research with Actus which found almost two-thirds of HR respondents admitting that employees often leave their businesses to take on roles that could have been offered to them internally, had they known about them or been considered.
This is a missed opportunity for companies to seize the profound benefits of internal mobility.
Internal mobility refers to the ability of employees to move — either vertically or laterally — within an organization. In doing so, companies benefit from the legacy knowledge that existing talent brings to the table — while saving the considerable costs and risks of recruiting and onboarding an external candidate. In addition, a cohesive internal mobility strategy is a key factor in boosting employee retention and helps ensure workers remain engaged.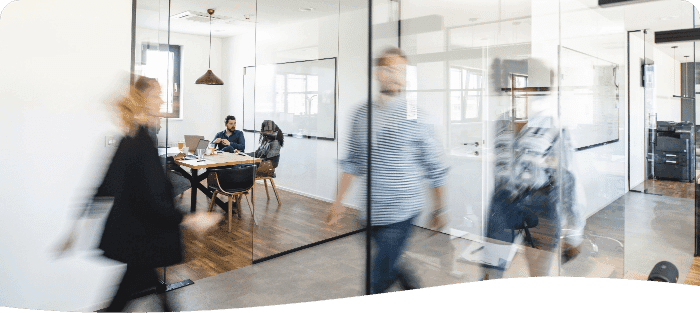 Why does talent mobility matter?
A colleague once told me that perhaps the biggest turning point in his career came when he was an editor at a media company in New York City. His desk happened to be right next to the advertising and public relations department, and each day – trudging his way through monotonous manuscripts – he could hear their lively conversations as they brainstormed the next big idea. "I want to be part of that action," he thought to himself.
Happily, the company answered his call and gave him a shot as a copywriter; he went on to have a long and successful career with the organization. Had he continued to wallow as the uninspired editor he was, he surely would have fled for a copywriting opportunity elsewhere.
Employees who are given the opportunity to move to new positions internally are 3.5x more likely to be engaged and more likely to stay. More than one-half (61%) of employees who are not given this opportunity in 2023 will start searching for new positions.
Are you enabling internal mobility opportunities? Do you have an internal mobility process that gives your top talent the chance and the incentive to learn, grow – and stay – with your company?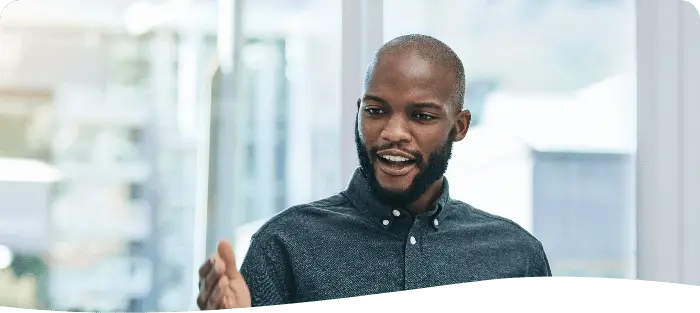 Internal mobility – perception and reality
On the subject of internal mobility, a recent CNBC "Make It" story highlights some discouraging findings from a Randstad RiseSmart Career Mobility Report. It notes that "employees aren't optimistic about getting promoted within their company, with 43.2% saying they don't have enough opportunities for internal mobility." According to the report, 48% of employees believe their managers would balk at the idea of them switching roles within the organization.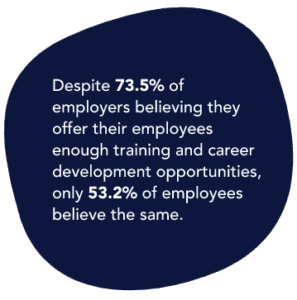 And if you think you already offer employees plenty of opportunities for internal mobility, you may want to take another look.
"This study highlights the clear disconnect in perception around development opportunities between employers and employees," notes the CNBC article. "Despite 73.5% of employers believing they offer their employees enough training and career development opportunities, only 53.2% of employees believe the same."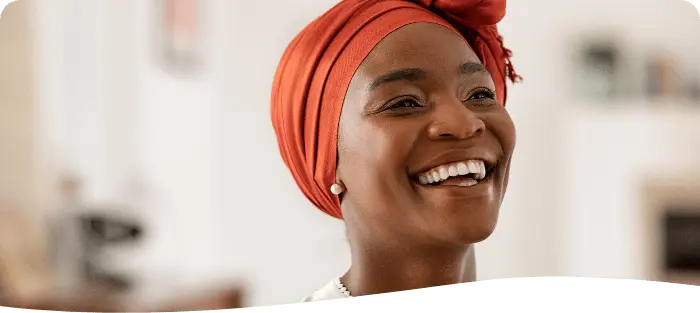 Internal mobility — seizing the opportunity
As noted above, many businesses are so fixated on external hiring that their people must leave to get the development they need. This is a missed opportunity, as research regularly shows the number one reason people join and stay with a business is because they want to learn, grow, and develop new skills and capabilities.
Unsurprisingly, skills-based hiring has moved rapidly up HR's agenda, as recent developments such as the COVID 19 pandemic have led to many people identifying the need to develop new skills and capabilities. If you want to retain your top talent and help them develop, internal mobility — bolstered by a comprehensive internal mobility strategy — needs to re-emerge as an HR priority. It's good for employee engagement and good for business.
With that in mind, here are four key benefits of internal mobility — and why it pays to have a strong internal mobility program in place at your organization.
Internal mobility:
1. Gives employees a reason to stay
Whether we like it or not, there is little doubt that the current job market is fluid. People are quitting roles in increasing numbers, looking for new challenges and opportunities. For some, the events of the last 30 months have prompted a change in priorities; for others, a change in direction.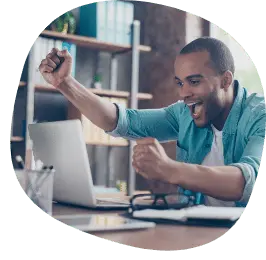 For both talent acquisition and to retain the talent you now have, you need to demonstrate that your organization can help them achieve whatever they want through internal mobility. And that starts by offering the opportunity to change roles and up-skill.
Oftentimes, the problem is lack of visibility into internal opportunities. Internal mobility best practices dictate that all vacancies are visible internally, clearly lay out the skills needed, and show the opportunities for future growth.
2. Trains current employees to fill future skills gap
In 2020, the World Economic Forum forecasted that 40% of current workers' core skills are expected to change in the next five years, and 50% of employees will need re-skilling by 2025. You already have people on board who want to learn. It doesn't make sense to let them leave and face today's tight and challenging recruitment markets to replace them.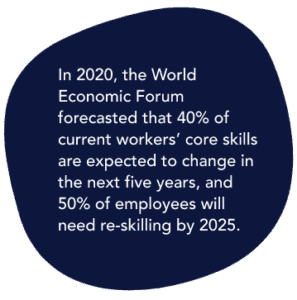 Making internal mobility a priority enables you to retain your people, and ensures they develop the skills and capabilities necessary to meet critical business needs in the coming years.
3. Taps into talent intelligence data
Employee data used to be siloed, hoarded by managers who didn't want to lose their best people to other parts of the business.
Now HR tech systems create and store data at an exponential rate, allowing managers to access existing employees' performance, skills, capabilities, and learning data — all in one place. You no longer need to rely only on inward-facing people analytics, as talent intelligence platforms can focus on many strands of data — both internal and external.
Using AI, true talent intelligence facilitates internal mobility. It enables workers to be moved effectively around the business, allowing them to develop in areas where their skills and capabilities align, and where they may have a true passion to learn more.
4. Supports a culture of recognition
If there's one thing we've learned over the last 30 months, it's that connection matters. And the key to creating connection and engagement is having a culture of workplace recognition. One of the strongest messages an internal mobility program sends is, "I believe in you."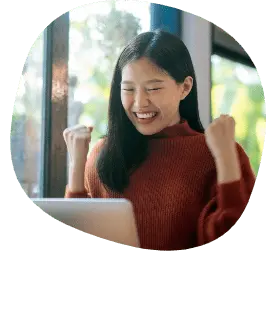 Believing in your people means investing in them and offering opportunities to take on new challenges. External hiring can often damage the bond employees have with their team or leader, especially if they take it as a sign that their abilities and hopes for future progression are not being recognized.
By embracing a culture of internal mobility, organizations show they have faith in their people, will support them in achieving their goals, and will take a proactive role in helping them realize their potential.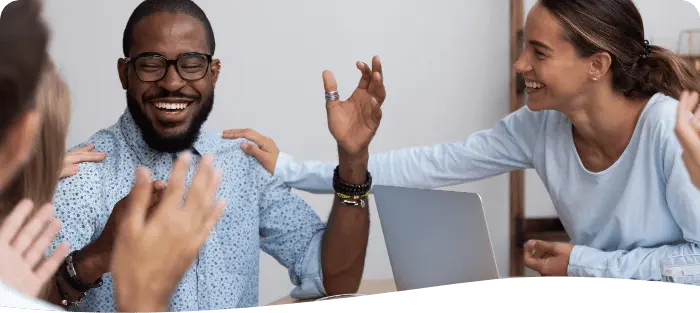 What are the benefits of internal mobility?
Time & cost savings
Internal mobility has real, bottom-line benefits, as well. Because it helps create a culture of recognition, it becomes a key factor in reducing employee turnover.
According to a stunning finding in a recent Workhuman-Gallup Report, "Unleashing the Human Element at Work: Transforming Workplaces Through Recognition," creating a culture of recognition can save a 10,000-employee company up to $16.1 million in employee turnover costs annually.
That's in addition to the cost-savings that accrue from boosted employee engagement and productivity.
Talent acquisition
While we've seen some easing of the Great Resignation in 2022, companies still face the very real risk of losing employees as they navigate policies surrounding the return to physical office space.
An article in The New York Times predicts that as companies require workers to return to offices, "It's either the end of the era of flexibility around where work takes place — or the beginning of outright rebellion."
Of course, this is against the backdrop of historically low unemployment rates and growing skill gaps. In this recruitment climate, talent acquisition will continue to be a key challenge for hiring managers and HR. And that's where internal mobility can help. By providing a workplace where employees believe they can grow, upskill, and continuously learn, you'll be creating an organization where workers will want to be a part of. And a place they will want to stay.
Innovation
Having a first-hand understanding of the workings of an organization is often the best way for innovation to happen. When an employee is intimately knowledgeable about which things work — or don't work — they can better envision and devise ways to improve and move your business forward. That's how innovation happens.
And who knows the day-to-day of your company better than your existing talent? That's why an internal mobility program — one that offers dynamic career mobility — should be an integral part of your talent strategy.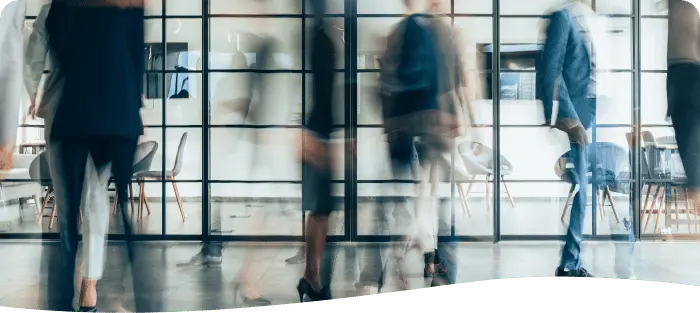 FAQs:
What are the types of internal mobility?
Internal mobility is when an employee moves from one role to another at their current company. Types of mobility include:
Vertical (promotion)
Lateral (role to role)
Transfer (location change)
Interdepartment (role shift)
What are the key features of a good internal mobility program?
For an internal mobility program to be successful it requires leaders to develop processes for each kind of internal mobility and encourage employees to take advantage of them. Key features of an internal mobility program include:
Technology that can monitor progress and analyze data
Processes between employees and employers to ensure the program is working as it should
Quantitative goals for the program such as the number of internal role changes or the change in turnover rates before and after implementation
How do you support internal mobility?
The best way for leaders to support internal mobility is to listen to their employees and their needs. If an employee feels like their growth is being stifled, work with them to create a plan for internal mobility, rather than wait for them to leave the company.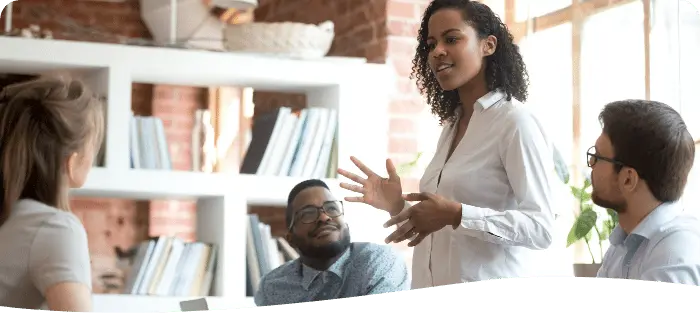 The time for internal mobility strategy is now
Employers have watched employee turnover levels spike, leaving holes in their organizational structure – and their wallets. At the same time, low unemployment rates and an empowered workforce have made recruitment ever more challenging and costly.
In an effort to stem this high-cost cycle, now is the time for organizations to start looking inward — rather than looking externally — to fill vacated roles. Talent acquisition teams should focus on establishing a vibrant internal mobility program – and provide current employees with the training and skills needed to move into more senior roles.
After all, retaining customers is easier (and cheaper) than replacing them. The same can be said for your valued current employees. That's why forward-thinking organizations need to make internal mobility a core component of their culture.