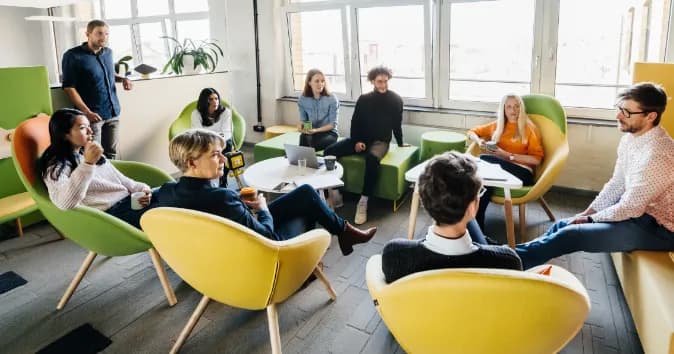 In an organization, the human resources (HR) department plays a critical role in shaping the entirety of the employee experience. Hiring, onboarding new employees, development plans, and even exit interviews all fall under the jurisdiction of the HR team.
According to McKinsey research, organizations who actively support employee growth and promote positive experiences are 1.3x more likely to yield better performance results.
As such, organizations have to utilize HR innovations to stay ahead of competition and deliver positive outcomes for employees. By developing new HR strategies, they can streamline their operations and create a dynamic workplace culture.
These processes can lead to improved employee engagement and satisfaction, increased retention, and enhanced organizational performance.
What is HR innovation?
HR innovation is the application of new concepts, methods, strategies, and technologies in a human resources department.
There are six ways in which innovation plays a vital role in an HR function:
Improved recruitment and talent acquisition
Increased diversity and inclusion
Improved HR technology
Better performance management
Improved employee engagement
Enhanced employee learning and development
A recent study by McKinsey looked into the best HR practices for businesses to prepare for the future. The experiment demonstrated that there are three key characteristics shared by innovative HR teams.
They focus on efficiency and agility, clearly understand their identity and values, and are committed to growth through learning and innovation.
Now, let's take a closer look at the benefits and challenges of HR innovation.
Benefits and challenges of HR innovation
Innovation is a critical aspect of today's business environment. With this, businesses continually seek to modernize their HR practices to meet the evolving needs of the workplace.
In this section, we'll explore the benefits and challenges of HR innovation and how organizations can navigate these to drive success.
Benefits
1. Improved employee satisfaction
HR innovation is a critical factor in boosting employee satisfaction. New technologies like Social Recognition® can help employees stay engaged in the workplace.
When employees receive recognition and rewards for their work, it boosts their motivation and satisfaction, which in turn improves productivity and reduces turnover.
In addition to recognition programs, implementing a flexible work environment can significantly enhance employees' morale. An Adapt survey conducted by Topia found that 96% of employees consider work flexibility a key factor when looking for a new employer.
That's because giving them the autonomy to control their work schedules or participate in remote work enables better work-life balance.
2. Increased competitiveness
When HR managers work toward identifying issues within the workforce and implementing solutions to correct them, organizations can better adapt to the market's changing needs and create a competitive edge for themselves.
Additionally, creating a culture where HR leaders continually encourage employees to come up with new solutions can lead to a more engaged workforce and increased organizational efficiency.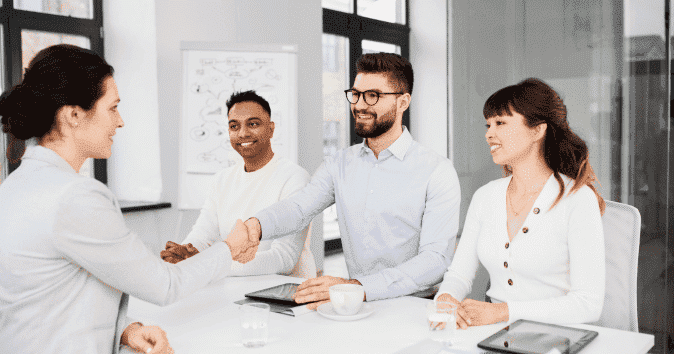 3. Better recruitment and retention
Innovative HR solutions, where workplace cultures align with the organization's mission and values, can help a workplace find and keep diverse, talented employees.
Hiring is one of the most impactful areas of diversity, equity, and inclusion progress. Finding new ways to broaden the reach of a job search and helping team members check biases in the interview process can help you build a team for the future of work.
A clear strategy in recruitment can lead to improved talent management, and in turn, can help HR retain top talent.
4. Enhanced brand reputation
A lot of companies may consider financial capital, assets, or the production line to be the most fundamental driving force to their success. However, nearly all functions in a business involve capabilities that only "human capital" can contribute – skills, experience, and knowledge.
Companies need to understand that investing in people can only increase their productivity and enhance their brand reputation, leading to increased profits and revenue.
Challenges
1. Resistance to change
Innovation within your business can be new and exciting. However, resistance to change may pose significant problems in implementing new policies, changing procedures, or introducing new technologies.
Ultimately, any resistance from the employees can impede growth and success.
2. Limited resources
Various HR innovations can use critical resources like time, personnel, and money. Organizations or HR professionals who lack the proper resources will have a hard time implementing innovations effectively.
3. Lack of buy-in
Any innovation the HR team needs to execute has to have approval from all the stakeholders in the organization—from senior management to new hires.
If there's a lack of buy-in within your organization, the HR efforts may not gain enough traction to be implemented properly.
The role of HR in driving innovation
HR roles used to be straightforward—recruiting staff, preparing payroll, and rolling out benefits. These days, effective HR management involves developing every aspect of the employee experience.
To drive a culture of success, HR is responsible for promoting, fostering, and collaborating with the end goal of an innovative culture. To promote innovation, business leaders should establish procedures and policies that encourage creativity and risk-taking.
In their role, HR ensures that employees are allowed opportunities for growth through training and development, providing an open space for communication, and creating recognition programs.
Further, talent management can employ recruitment tactics that provide competitive compensation and benefits packages and highlight career path advancements for exceptional employees.
Promoting innovation can be supported by HR's efforts to foster a culture for it. Employees can feel empowered and supported when they're given the floor to explore new ideas and discuss different perspectives without bias, thus encouraging diversity and inclusivity in the workplace.
Once a healthy culture for innovation is achieved, HR can then facilitate collaboration with other departments to further drive innovation. This includes but is not limited to, creating cross-projects with Research and Development, IT, and other departments.
Collaborating with different departments can help identify pain points within the organization, come up with concepts and innovations, and develop strategies to effectively implement them.
Innovative human resource management initiatives and how to implement them
Human resource management (HRM) initiatives make it possible for organizations to stay on top of their game, attract top talent, and greatly improve employee engagement and retention.
How to introduce innovation in HRM
First, the team should analyze existing HR practices and identify areas for innovation. Then, leaders may encourage idea generation through different engagement platforms such as brainstorming sessions, suggestion boxes, and workshops.
After ideas have been generated and strategies to implement them are devised, HR can run pilot programs or experimentations to test the concepts. Running them in a small company area can allow for fine-tuning before they're rolled out on a larger scale.
Once the experimentation stage starts, HR can then collect real-time feedback from employees and other stakeholders to measure the effectiveness of the innovation.
These HRM initiatives can range from adapting new technologies to improving work environments. These promote an inclusive workplace, supporting, and appealing to an employee's individual needs.
Examples of innovative HRM initiatives
Let's look into some specific examples of innovative HRM initiatives and how they can elevate a company's position in the market.
Employee engagement
HR can streamline processes, improve efficiency, and keep employees engaged by leveraging gamification and technology solutions. They can utilize different tools such as AI-power recruitment programs or HR analytics software that can track employee performance.
Additionally, HR can offer innovative work arrangements such as flexible schedules and telecommuting or remote work options.
DEI and belonging
HR can promote diversity, equity, and inclusion in the workplace by introducing different initiatives. These include training on unconscious bias, developing recruitment strategies that promote diversity, and establishing employee resource groups.
WorkhumanⓇ offers solutions like Social RecognitionⓇ designed to help companies build a positive and engaging workplace culture by tracking employee progress and giving them recognition.
This tool also allows for personalized insights and recommendations which can help leaders improve their recognition programs.
ConversationsⓇ is another helpful tool that creates platforms for management and employees to have continuous conversations about goals, development, and feedback. This tool elevates performance management in the workplace, which traditionally only happens a couple of times a year.
Ultimately, companies should prioritize people through recognition and clear communications about performance and goals. These could help create a positive workplace culture and boost job satisfaction.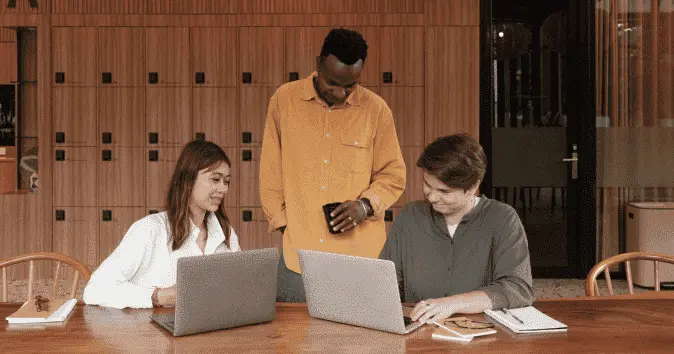 Examples of innovation in the workplace
Innovation in the workplace can take up many forms and leads to improvements in customer satisfaction, productivity, efficiency, and profitability. Let's review some examples of innovation in the workplace.
Technological advances for improved efficiency
Technological advancements play a critical role in modern businesses. As technology innovates at a rapid pace, HR has to adapt to changes as well.
For example, repetitive tasks, such as updating and storing employee data, or processing PTO requests can be automated. This lessens human errors, issues with compliance, and data loss.
Additionally, with the aid of software and hardware tools such as robotics, artificial intelligence, and machine learning algorithms, HR can focus on more complex tasks that add value to the company.
Technology has also enabled companies to analyze customer behavior. Organizations can make data-driven decisions through the use of big data analytics and business intelligence tools.
New products or services for enhanced value proposition
Before an organization can introduce new products or services in the market, it first needs to have a clear understanding of the following: market trends, the economic landscape, and the target market's needs and preferences.
Identifying these requires intensive market research, gaining customer feedback, and strategic analysis.
If an opportunity for a new product or service comes to light, an organization must first develop and do test runs to ensure that it meets its intended purpose and value to the consumers.
Creating a product that sets one company apart from its competitors can help attract new customers and gain loyalty from existing ones.
Creative problem-solving and idea generation
To stay on top of today's competitive market, companies need to generate effective solutions to business problems. This involves exploring different approaches by brainstorming and ideation.
By identifying new opportunities, organizations can encourage their employees to think outside the box and come up with revolutionary ways of doing things.
Moreover, creating a culture of creative problem-solving can lead to the improvement of existing products and the development of new ones. By continuously innovating, an organization can set itself apart and provide a better customer experience.
Experimentation and risk-taking
Trying out new strategies and methods, even with the chance of failure, is a part of any organization's growth. Taking chances and being open to new possibilities is what ultimately leads to success.
Experimentation and risk-taking are important concepts so that businesses can discover solutions to potential problems, develop innovative products and services, and grow and succeed in their industry.
FAQs
How has the role of HR changed in the modern-day workplace?
Today, the HR department is an agile entity that utilizes various technologies and strategies to streamline operations and enhance communication between management and employees.
Business leaders are beginning to understand and acknowledge the importance of human resources and recognizing staff for their contributions and achievements. 
What is the role of HR in the innovation process?
HR is responsible for creating a learning and development environment, eliminating biases, promoting diversity and inclusivity, and encouraging employees to take risks.
Additionally, they are responsible for identifying areas of improvement in the workplace, creating innovative strategies, and executing these solutions.
Conclusion
HR innovation can be a powerful methodology for creating a dynamic workplace. By leveraging strategies and technologies, HR professionals can optimize their processes and create a more engaged workplace.
Some of these tools include automation, data analytics, and different engagement platforms. However, innovation also comes with its challenges like the need for adequate resources and lack of employee buy-in.
In the end, organizations that embrace a progressive approach to HR innovation will undoubtedly enjoy the rewards of a highly productive and engaged workforce.