Company culture, or organizational culture, can feel conceptual, amorphous, and hard to pin down. But it's a tangible component of every organization that influences the entirety of the employee experience.
For any organization hoping for a more engaged, motivated, and collaborative workforce, understanding how to nurture a healthy company culture is a necessity.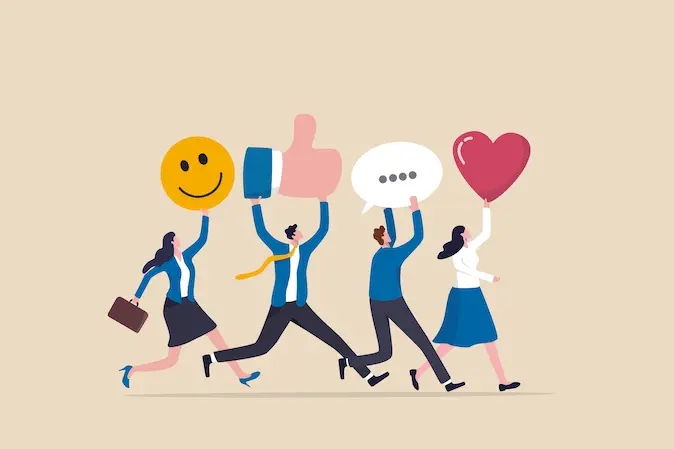 As we'll discuss, it's not merely a matter of deciding to have a good company culture on a whim. It requires planning across departments, surveying teams and employees, and trialing different policies with an openness to feedback and iteration.
A company culture needs time to grow and thrive, but the best time to plant the seeds is right now.
What is company culture?
For simplicity's sake, let's boil a company's culture down to these three components: company values being lived, employees feeling connected, and an environment that promotes diversity, inclusivity, equity, and belonging.
We'll get into the finer facets later, but from a high level, those general ingredients make up a successful recipe for a healthy company culture.
Why is having a strong company culture important?
As previously mentioned, the impact of company culture will be felt everyday by everyone in the organization. The employee experience, from recruiting and hiring to performance management and retention, will hinge on the strength of company culture.
A global survey by Glassdoor quantified the effects of company culture throughout an organization. They found that 77% of respondents consider company culture before accepting a job and that 56% consider it more important than salary in regard to job satisfaction.
If you want to attract, retain, and help the best employees grow, if you want them to feel a sense of trust and psychological safety while at work, then it's vital to understand what can influence and improve company culture. Let's dive in.
Discover how Social Recognition® and the rest of the Workhuman Platform can transform your organization's culture into one with gratitude at the center.
How do you build company culture?
If you're starting from scratch or rebuilding your company culture entirely, there are a handful of steps that should be taken to ensure that everyone is on the same page and employees feel heard.
A company culture should be built through a collective effort, not just what senior leaders think it should be.
Establish company core values
If you haven't already, create a list of company core values. These combine to create the lens through which you look at your business and the standard to which you hold all employees.
Company values inform the company's mission and set the tone for the type of environment employees walk into every day.
Is it trusting, transparent, and psychologically safe? What are the principles that govern how employees and the organization should conduct business? Get philosophical.
A company's values can show up in hiring processes, promotions, Slack messages, sales calls and customer service interactions. They influence company culture and outcomes across the business.
And as mentioned before, for prospective top talent, seeing their same values reflected in a company's core values can make the difference between even applying to your company.
Set company culture goals
Now it's time to get specific. With the overarching organizational values in place, how can you put those into practice to yield measurable results?
If the company values a diverse and inclusive workforce, what is the makeup of the company by percentage? Is your company representative of various groups of people in your community? If not, what needs to happen to achieve that?
Let's take it a step further. What's the makeup of your leadership and management? A diverse management team can hint at diversity, yes, but also equitable paths to opportunity and an inclusive organizational culture succeeding in employee retention. That's a whole lot of variables that can swing a company's success.
Company culture goals give your team a target to aim for and help them develop policies and processes to achieve it.
Involve your entire team
If you want a healthy company culture, it needs to reflect the people living it every day: your employees. You should involve them in the process of building company culture from the jump.
A study from Qualtrics found that more than half of employees want to see their cultural values and personal values reflected in the organization's values. The best way to ensure they are is to bring them into the drafting process.
Employee surveys are a quick way to get feedback from across the company. Their past experience could provide inspiration. You might also turn to the leaders of employee resource groups (ERGs) for nuanced policy recommendations that will shape the company's culture.
Beyond just the initial drafting of values and policies, consistently involving your team in the maintenance of the company's culture leads to a healthy culture of feedback and transparency, two characteristics of a good company culture we'll discuss shortly.
Follow company culture best practices
The above steps will help develop a strong company culture. Now, you just need to continue strengthening it. Like a muscle, it can atrophy when dormant.
Team-bonding activities can help build connections across teams and departments. Encourage informal team-building by empowering employees to own processes and project management. Make time for storytelling and the celebration of life and work events.
Together, these practices bring teams closer and allow individual employees to bring their whole selves to work with confidence. And, in a nutshell, that's the goal of building a strong organizational culture.
What are the characteristics of a good company culture?
A company culture can manifest in dozens of ways depending on the organization. But a healthy culture tends to include the following characteristics:
1) Transparency
Transparency is foundational to trust, which is a necessity in today's world of business. Transparency sets expectations and honestly assesses results. It should result in highlighting successes and setting a clear course of action for improvements.
Like many of these characteristics, the best chance for transparency to take hold at your organization is by leaders setting an example of what they want it to look like.
An ideal corporate culture is one that keeps employees up-to-date on the state of the business. That doesn't mean sharing everything, but no employee likes to be kept in the dark.
A transparent workplace environment not only allows employees to see where they can make an impact, but it leads to two other characteristics of a great company culture: open communication and accountability.
2) Open communication
A strong company culture requires open, honest, and frequent communication. Frustration festers when team members feel siloed or without support. Communication in all its forms – in-person, Zoom, Slack, email– connects people and creates a cohesive company culture.
One of the most important venues for open communication is through manager-employee check-ins. Ideally, these meetings are happening weekly or bi-weekly and are a blend of professional and light personal catch-ups. What's working, what isn't, and what's going on over the weekend?
Such an environment is ideal for employee feedback, problem-solving, and working through innovative ideas. It's also a good time to recognize employees for their hard work and accomplishments.
These types of check-ins happening concurrently throughout the organization will drastically improve the company culture.
The success of your company culture and even overall business success hinges on how well employees can communicate internally and externally.
Ensuring employees have the tools to communicate helps build a strong culture as does setting aside time for employees to easily connect in an informal setting.
3) Psychological safety and wellbeing
In a way, a simple litmus test for a strong organizational culture is if it is psychologically safe. Do employees feel comfortable being themselves at work?
Do they have the confidence and encouragement to speak up or make mistakes without fear of repercussion?
If your company wants a positive culture that attracts and retains top talent, the answer to those questions should be a resounding "yes."
A psychologically safe company culture encourages new ideas and educated risk-taking. It's also a strong indicator of the overall wellbeing of the organization and employee happiness. These two outcomes are not nice-to-haves; they're essential to an engaged and motivated workforce.
Wellbeing presents in many forms –physical, mental, emotional, financial, and social– and each plays a key role in helping employees thrive. Together, they foster a positive culture and transform the employee experience for the better.
4) Diversity, equity, inclusion, and belonging
Your company culture should represent, embrace, and promote a mix of cultures, races, ethnicities, genders, sexual orientations, ages, and mindsets.
A diverse, equitable, and inclusive culture fosters a sense of belonging, builds stronger teams, and encourages new ideas.
An organizational culture actively working to untangle itself from systemic discrimination, racism, sexism, and bigotry is a company culture the creates a sense of belonging for everyone.
Doing so requires a reassessment of hiring and recruiting practices, access to growth opportunities, and compensation. It's extensive, necessary, and meaningful work.
But these efforts can get off to a quick start with something every employer has access to: employee recognition.
Our Evolution of Work report found that to the employee, a culture of recognition – actively thanking and rewarding employees for their efforts and accomplishments – significantly set itself apart from a company culture without recognition.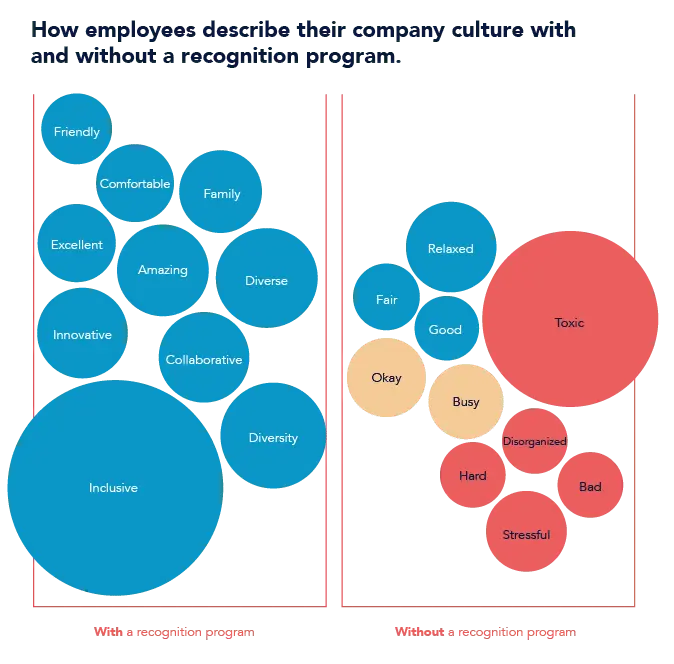 5) Accountability
Leading by example helps scale good behavior in every context, from getting your kids to eat their vegetables to modeling how to take ownership of responsibility or missteps while at work.
Accountability is not about assigning blame. It's about accepting your role in a team, department, and company and holding yourself to the outcomes of that role, good or bad.
It's an opportunity to learn. Mistakes happen at every level of the organization and an organization's culture benefits when employees feel comfortable talking about them and solving for what to do next.
Naomi Dishington shares her most noteworthy example of consistent accountability with the "Mistake of the Month Club," a feature of team meetings where the leadership team talks through something that didn't go according to plan and what they plan to do about it.
6) Values-based decision-making
This one is a little more specific than the rest, but this is where words meet action. Living your values requires your business to operate in accordance with them at all times, not just when it's easy.
At the end of the day, you should be able to tie all the decisions you make as a company back to your core values. Your organization's success at building a great culture will only be realized when you walk the walk.
How do you improve company culture?
Every company culture is iterative. Some values may stand the test of time, but societal and cultural priorities shift, the business environment changes, and you need to be ready to change with what employees expect of you.
Here are some tried and true methods for improving organizational culture.
Integrate your values into everyday activities
For your company culture to flourish, it needs to come to life in dozens of ways throughout the day. If pressed, employers and employees should be able to see how the mission statement and corporate values connect to the processes and responsibilities in their jobs.
The leadership team and existing team members can play an outsized role in helping new hires see this connection and model the behavior they want to see scaled.
Foster more feedback
Most organizations and employees can stand to improve communication in some way. This is especially true when it comes to delivering and soliciting regular feedback.
In an organization that prioritizes growth, managers collect feedback and employees are encouraged to share it.
Respectful and empathetic feedback creates a corporate culture of development where team members turn to one another for help and guidance.
It creates community, which has a huge impact on employee engagement, employee retention, and the employee perception of the organization's culture.
Recognize and reward your employees
Employee engagement is at its best when employees feel like the work they're doing matters and is appreciated. The easiest and most effective way to create that feeling is to tell them.
Be specific, frequent, and genuine in your recognition, and you will help create a more connected work environment fueled by gratitude.
You can compound the impact of recognition by combining it with rewards. Financial rewards like micro bonuses allow that recognition to echo throughout time.
Non-monetary rewards like personal time off (PTO) can be just as effective at helping alleviate burnout and show your employees that you care about the mental wellbeing.
That's a culture people want to stick around for.
Embrace flexibility and hybrid work
Another non-monetary reward is work environment flexibility. This includes where people are working but also how. For some, that might mean flexible working hours to deal with familial or personal responsibilities.
In our Evolution of Work survey, we found that when employees work in their preferred working arrangement, it provides a boon to development, connection, a sense of accomplishment, and retention.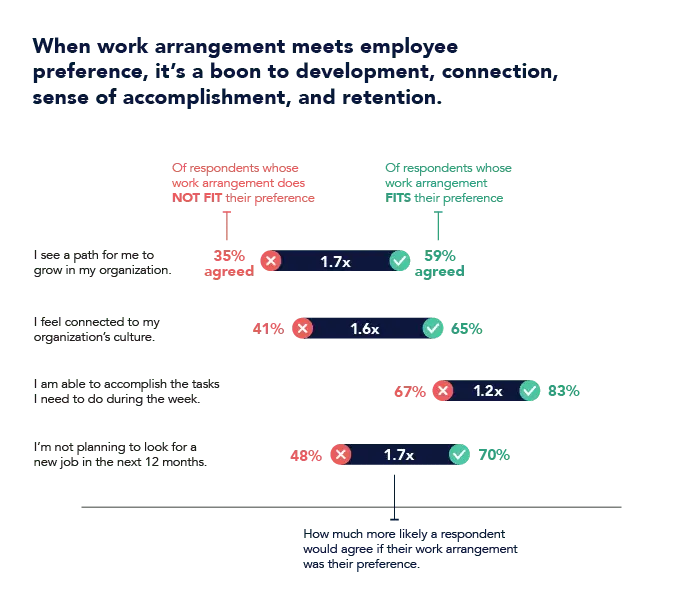 Want to save up to $16.1M in turnover costs annually? It starts by bringing the human element back to the workplace with strategic recognition. Download the Workhuman-Gallup report to learn more.
FAQs
What makes a good company culture?
Regardless of what type of company culture you have, there are a few essential elements it should include.
A good company culture values transparency, accountability, diversity, equity, inclusion, a sense of belonging, psychological safety, and wellbeing.
Is company culture important to employees?
Yes, company culture is very important to employees. It influences how they view the organization, how engaged they are, and the likelihood that they will stay with the company long-term.
A poor company culture can even deter prospective employees from applying to your organization.
What are the types of company culture?
We've put together a more extensive list of the types of organizational culture and their pros and cons before. For right now, we'll give you a brief explanation of some of the most common.
Clan culture: A clan culture focuses on teamwork and community within the organization. These are largely horizontal organizational structures. This type of work environment prioritizes high employee engagement as a means to reach a high level of collaboration to help a company hit its goals.
Hierarchy culture: A hierarchical workplace culture is used in larger companies where layers of management require a clear chain of command. Each employee has an explicit understanding of their role and how it impacts the company.
Adhocracy culture: An Adhocracy culture gives employees the space and freedom to experiment, take risks, and come up with new ideas. It's an organizational culture best suited for start-up companies that need to constantly innovate new products or services to stay competitive.
Market culture: A market culture places the company's bottom line above all else. Extremely results-oriented companies that adopt this culture encourage their employees to not only compete against other companies but also among themselves.
This type of culture can become highly competitive and unhealthy for some employees. If you are trying to improve outcomes of connection, stress, burnout, and turnover, this may not be the right culture for your organization.
Conclusion
Company culture may carry the reputation of a facet of work that's hard to wrap your head around, but its components are clear and measurable.
An organizational culture requires maintenance and should be assessed and improved as the company endures change. It's an exercise that will eventually have a major impact on the experience of your employees and the success of your business.