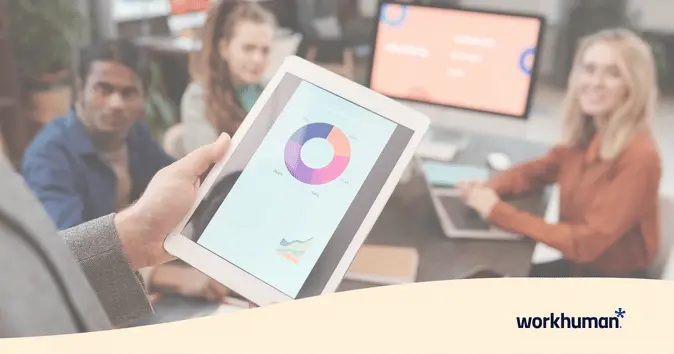 Once an afterthought, workplace wellness and employee wellbeing have shot to the top of organizational priority lists.
In the wake of COVID-19, The Great Resignation, Quiet Quitting, and the various other factors contributing to high employee stress levels and disengagement for employees, companies are finding that wellness programs have far-reaching benefits.
In a new research report from Workhuman and Gallup, employee wellness had a hand in reduced levels of burnout, better social wellbeing, higher levels of belonging, and an increased feeling of thriving.
Below are some of the most important workplace wellness statistics from this report and other research to help you in 2023.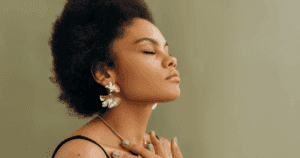 Employee wellbeing is the overall measure of an employee's mental and physical health stemming from factors in and out of the office.
We don't have time to list out all of those factors, but you can help narrow them down by talking to your employees and understanding what unique stressors they are feeling.
This will help you craft a tailor-made workplace wellness program for your organization.
Workplace wellness programs are essentially employee wellness programs at scale.
They consist of health and wellness initiatives promoting physical and mental health and end up creating more psychologically safe and healthier work environments.
Such environments help empower employees to bring their full selves to work while knocking down stress levels.
Central to the workplace wellness program is recognition. In our Gallup report, recognition was the consistent thread tying together workplace relationships, belonging, and retention.
Gratitude is the heart of any employee wellness program, as many of the following employee wellness statistics will highlight.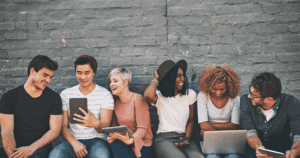 Employee wellness program facts
Employee wellness programs have been a corporate practice for over a century. In their most recognizable form, you can trace employee wellness programs back to 1979 when Johnson & Johnson introduced their Live for Life program.
This initiative aimed to give employees tools and resources to help with wellness areas like stress management and nutrition.
With time, the emphasis on wellness has grown. A U.S. Department of Labor and U.S. Department of Health and Human Services report found that 80% of US businesses with more than 50 employees offered corporate wellness programs.
While it's progress, the COVID-19 pandemic kickstarted a mass scrutinization of the breadth of those wellness programs. In the US, where nearly half of the population had a chronic health condition before COVID, long term health sprung to the public consciousness.
Now it is expected that wellness programs extend, where possible, remote working to help people (especially those immunocompromised) avoid contracting a still relatively unknown virus.
Discussions have also started about how companies can further the reach of wellness programs by investing in community health.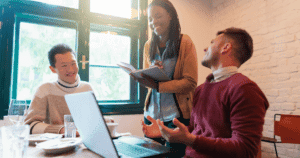 Benefits of workplace wellness programs
The benefits of wellness programs are present throughout the whole of the employee experience. It starts at recruitment. Nearly 9 in 10 employees consider the benefits package when evaluating an employer.
More than half of Gen Zers and millennials consider wellness programs important or extremely important when looking for a job.
Wellness programs have the power to retain talent, too. Sixty-seven percent of employees who work for organizations with wellness programs like their jobs more, and they are just as likely to recommend the company to others.
On a daily basis, health and wellness programs are designed to alleviate stress and burnout, as well as improve the physical health and social wellbeing felt by employees.
For the employer, wellness programs can yield a happy, healthy workforce that sees decreased absenteeism, improved retention, and a thriving company culture.
See also: Workplace Wellbeing: Create a Happier and Healthier Work Environment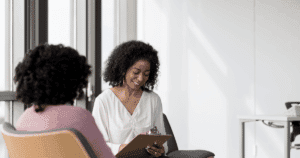 Corporate wellness research
Wellness programs have been studied and analyzed for years.
The aforementioned Department of Labor and Department of Health and Human Services report was produced by the RAND Corporation to understand the composition of corporate health and wellness programs, national patterns of uptake, and the impact of wellness programs on health care costs among other findings.
The RAND corporation has also explored the incentives that are often used to increase participation in wellness programs.
Spoiler alert, incentives help, but the long term impact of the wellness program comes down to the quality of that wellness program.
Even the best wellness program out there doesn't guarantee participation. Employers need to be proactive about participation.
A 2021 report from Gartner found that lowering the barriers of entry for employees is key to its success.
Employees should be able to clearly understand the benefits. Employers should actively work to reduce stigma or apathy around wellness programs as well as the time and energy needed to participate.
Read "Amplifying Wellbeing at Work and Beyond Through the Power of Recognition" for more workplace wellness statistics and in-depth reporting on links between wellbeing and critical business outcomes.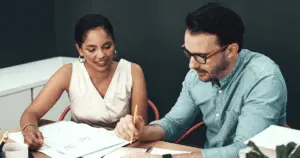 20 employee wellbeing statistics every leader needs to know
Organizational leaders should be well-aware of the various impacts employee wellness has on the overall organization. It influences productivity, quality of work, connection, collaboration, a company's financial success, and the entirety of the employee experience.
It's prudent for any leader to be proactive about developing a workplace wellness strategy.
Wellness programs can include everything from flex work, parental support, fitness accommodations, and other health and wellness initiatives that can ultimately bring down healthcare costs and establish positive health behaviors.
Leaders set the tone for recognition when they exemplify it themselves. Modeling recognition gives employees permission to do the same — which supports the end goal: a culture of recognition where all employees serve as important sources of recognition.
When employees feel supported from the very top and receive recognition at least a few times a month from managers, leaders, and/or peers are up to 4x as likely to strongly agree that they belong at their organization.
Workplace wellness statistics related to burnout
The following employee wellness statistics frame the impact of burnout and highlight how employee wellness programs alleviate that negative impact and even promote positive outcomes like higher quality work.
The cost of voluntary turnover due to burnout is 15% - 20% of payroll budgets each year. That means employee wellbeing amounts to hundreds of millions of dollars annually.
If those numbers weren't eye-popping enough, there is $20 million of opportunity loss for every 10,000 workers due to low wellbeing and its drain on performance. That translates to up to a $322 billion cost globally in turnover and lost productivity when low wellbeing shows up as employee burnout.
With a recognition-led wellness program, employees are up to 90% less likely to report being burned out at work "always" or "very often" and as much as 2x as likely to evaluate their lives and futures positively.
Employees who are burned out much or all of the time don't bring their best to work. In fact, they are 63% more likely to not show up at all and more than 2x as likely to look elsewhere for a job.
Employees who receive the right recognition at work are often (50% or more) less likely to report being burned out always or very often.
When employees report that recognition is not given equitably in their workplace, they're up to 2.5x as likely to say they are always or very often burned out at work.
Beyond the macro trends and larger budget impacts, the feeling of burnout permeates into the micro on a daily basis.
The everyday effect of workplace wellness programs provides countless opportunities to redirect the sentiment and overall culture of the people in your workplace.
Here are just some of the ways wellness wins over burnout.
Employees are up to 2x as likely to report having experienced a lot of gratitude the previous day and about 40% less likely to report having experienced a lot of stress, worry, and sadness.
Employees who strongly agree that they receive the right amount of recognition are 20% to 40% less likely to say they had experienced a lot of these negative emotions. In some countries, recognition has an even greater impact on daily emotion.
In many cases, employees who strongly agree that the recognition they receive is authentic are as much as 30% to 40% less likely to report having experienced negative emotions the day before.
Employees who lack a strong sense of belonging are up to 12x as likely to be disengaged and 5x as likely to be looking for another job.
Workplace wellness statistics related to belonging
Workplace wellness programs can also help create a stronger feeling of belonging in the company. Such a feeling has a tremendous effect on the overall sense of psychological safety experienced by employees.
Here's how wellness programs infused with recognition boost the feeling of belonging in the workplace according to the research.
With recognition-led wellness programs, employees are as much as 10x as likely to strongly agree that they belong at their organization.
Employees who say they experienced a lot of gratitude the previous day are up to 4x as likely to strongly agree that their organization cares about their wellbeing. They're also up to 2xas likely to be thriving in their overall life evaluation.
When employees strongly agree that their organization recognizes groups and teams, they are three to 8x as likely to strongly agree they belong at their organization.
Employees who receive mostly public recognition are as much as 3x as likely to be confident that they belong at work.
Workplace wellness statistics related to connection
Organizations that support employees and care for their mental and physical health are less likely to see those employees leave.
That collective tenure creates more opportunities for employees to develop deeper relationships at work to the benefit of collaboration, morale, and retention.
Let's see specifically how workplace wellness programs can improve interpersonal dynamics.
Overall, effective wellness programs leave employees 7x as likely to strongly agree that they have meaningful connections or a best friend at work.
Employees who give recognition at least a few times a month are up to 4x as likely to strongly agree that they have a best friend at work. And in most countries studied, employees who report giving recognition at work at least a few times a month are just as likely or even more likely to report having a best friend compared to those who report getting recognition at the same frequency.
Employees who report that they have a digital recognition program are as much as 4x as likely to strongly agree that they have a best friend at work.
Employees who receive recognition even just a few times a month (or more) from their peers are as much as 4x as likely to feel confident that they have meaningful relationships at work.
Depending on the country, only 11% to 24% of employees strongly agree that their organization has a system in place to recognize people's life events. Companies that do have employees who are as much as 7x as likely to strongly agree that they have meaningful connections with their coworkers.
Here's the flip of it. Employees who lack social connections don't just struggle at work; they are far more likely to evaluate their overall lives negatively and have a negative outlook on the future. They are suffering. In fact, they are as much as 13x more likely to be suffering than their colleagues with higher social wellbeing.
FAQ
How many companies offer workplace wellness programs?
Most companies offer a workplace wellness program of some kind. A 2019 Employer Health Benefit Survey from the Kaiser Family Foundation found that 84% of companies with 200+ workers offered one.
How do you measure workplace wellness?
One of the simplest but most crucial metrics for a workplace wellness program is participation. It's a mark of how well you have communicated the wellness program and how easy you have made it to participate in the first place.
With ample evidence of a wellness program's ability to lower stress and improve engagement, the higher the participation, the more likely you will see other areas like collaboration improve as well.
What percentage of employees participate in wellness programs?
According to a RAND study sponsored by the US Department of Labor, employee participation ranges from 20% - 40% depending on the size and scope of the wellness programs.
If participation is lower at your organization, look at the wellness program itself and evaluate its efficacy. Trying to increase participation with just financial incentives won't do it.
Sixty-one percent of large employers reported financial incentives to be "not effective at all" or "somewhat effective."
Do employee wellness programs increase productivity?
An employee wellness program centered on recognition removes some of the biggest barriers to productivity.
It reduces stress and burnout, it creates a sense of belonging in the organization, and it shows employees their wellbeing is a priority.
Combined, that creates stronger bonds and collaboration and higher quality work. Done with intention, productivity can boon in an effective employee wellness program.
Conclusion
People power a company's success. Thus, it becomes paramount for the company to make sure people can be at their absolute best.
That means reducing stress and burnout where possible. That means promoting physical and mental health. That means creating a first-class workplace wellness program.