4-minute read
The Workhuman® Book Club was created to inspire you with thought leadership from our speakers all year long, help you connect with other people who love to read, and provide exclusive opportunities to interact with authors. To participate in book discussions, follow Workhuman on Facebook and Twitter.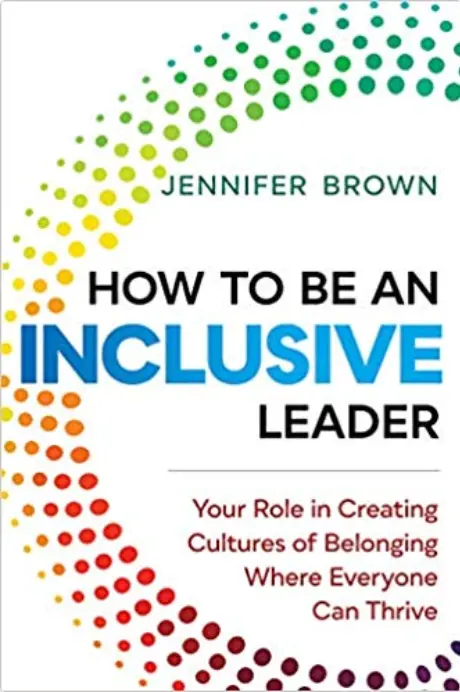 Human potential is unleashed when each person feels like they belong. Studies and research make it clear that inclusive workplaces have higher levels of engagement, performance, and profits. And while many companies talk about diversity and inclusion as a priority, most fail to build cultures where employees of all demographics can thrive and bring their whole selves to work each day.
In her book, "How to Be an Inclusive Leader: Your Role in Creating Cultures of Belonging Where Everyone Can Thrive," Jennifer Brown offers a step-by-step journey for leaders and employees who want to create inclusive workplaces. Inclusiveness starts with a spark to do better, driving a desire to evoke change. That spark sits inside each of us and gives us the power to look inside ourselves to uncover blind spots, prejudices, and biases.
Jennifer defines an inclusive leader as one who is dedicated to the thriving of others, particularly those who have struggled to be valued and heard. In her book, she outlines a multistage model – the Inclusive Leader Continuum – to help leaders and employees understand their current state, anticipate the next steps, and create an inclusive culture.
Let's walk through each stage.
Unaware: When leaders are at this stage, they do not notice or understand that certain groups have a much more challenging time thriving at work. Diversity is considered compliance-related and leaders are disengaged in the conversation. Individuals at this stage might believe in their innate goodness and that their progressive values are apparent. What leaders don't realize is that inequalities are so baked into systems and processes that it takes real effort to disrupt the status quo.
Some of the tools she suggests in this stage include:
Becoming aware of the internal language that keeps many at this stage. For example, "I don't feel comfortable discussing this" or "This is the way we've always done it here."
Become aware of biases, such as confirmation bias.
Aware: Leaders become aware that the playing field is not level. The focus during this stage is understanding other people's perspectives and stories and working through their own stories and biases. Leaders start to understand how much they do not know and how much they have left to learn. The knowledge gained during this stage can challenge deeply held beliefs about fairness, hard work, and how advantages and disadvantages have informed each person.
Active: Leaders proactively work toward equity, supporting those with underrepresented or marginalized identities, backgrounds, and experiences. Leaders in this stage push outside their comfort zone, build new muscles, and find their voices as inclusive leaders. They start to shed unproductive behaviors, mindsets, and resistance points.
Jennifer outlines some key actions to move through this stage, such as:
Mentorship and sponsorship
Leaders digging into their "why"
Putting into focus underrepresented storytellers
Advocate: Leaders in this stage are becoming a voice capable of transforming attitudes and systems and sparking meaningful change. This stage is represented by brave public actions that challenge deep-rooted beliefs and practices. Advocates are not only active in supporting others, but they also interrogate norms and ask inconvenient questions to level the playing field. Leaders at this level consider diversity in every facet of the organization. They are aware of the potentially outsized impact of a single action delivered in their distinct voice.
As I wrote this blog, I wanted to include a personal story about my inclusivity journey. I thought about it for a week, and it felt uncomfortable that I could not come up with a story right away. Then it suddenly hit me: I am still working my way through the continuum. Even as the progressive, working-mom feminist, I'm not as inclusive as I thought. Reading Jennifer's book filled me with a sense of vulnerability and humility and showed me that I need to continue to grow and learn to become an inclusive leader
There's no magic potion. The only way to get there is for each of us to evolve our consciousness, stay humble, be open to learning and growth, and be vulnerable to those around us. Good intentions are not enough. Change is about action. Silence is a passive acceptance of the status quo, which perpetuates inequities. Jennifer challenges each person to move from silence into action and lean into their discomfort.
Are you ready to start the journey along the Inclusive Leader Continuum
Mark your calendars: Jennifer Brown will join us for a Workhuman Book Club Twitter chat on Wednesday, Nov. 20, at 3:30 p.m. ET, during which you can ask her questions about inclusive leadership by tweeting @jenniferbrown with #WorkhumanBookClub
(Jennifer Brown will moderate a panel discussion entitled "Engaging White Men in Inclusion and Diversity" at Workhuman® Live in San Antonio, May 11-14, 2020.)