The old ways that are rooted deeply in our organizational habits, patterns, and ethos have amazing staying power, even when science, research, and visible realities tell us they don't serve our intent or purpose. Nowhere do I see this play out more plainly than in the realm of performance management and rewards. It's time we take a hard look at what we know to be true about equity and human motivation and apply that insight to get real with rewards.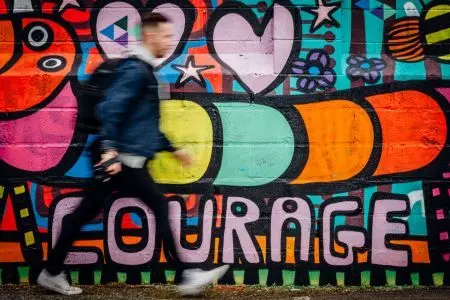 We've still got a lot of work to do
Thought leaders like Josh Bersin and others declared 2015 and 2016 to be the years the world would modernize performance management. Yet today our research shows that more than 70 percent of global organizations have made no significant changes to their approach to performance management.
As an author and consultant in this arena, I've been witness to an amazing amount of content, research, energy, conversation, and debate about performance management and modern rewards strategies during the past five years. A lack of information or insight clearly isn't the problem. And while we've worked with a range of national and global teams who have bravely and successfully Rebooted Performance Management™, I have also been witness to the inertia that continues to plague the majority of organizations.
At PeopleFirm, we've sought to understand the "why" behind this lack of forward movement. What we've learned is not a big surprise: the biggest barrier to modernizing performance is solving the challenge of equitable rewards without perpetuating the ineffective, yet deeply engrained mechanisms of ratings and similar evaluative methods.  
If you're one of the 70 percent stuck in the old world of traditional performance management and rewards, fear not, because there is a path forward. I'm going to arm you with a few ideas and proven approaches that may help you break the log jam.
Focus on these three common goals – collectively!
Let's start with a core idea that is fundamental to understanding performance management (PM). While every organization's approach to performance management should meet the needs of the enterprise based on its unique strategy, people, culture, leadership, and personality, every effective PM solution will support what we call the three common goals: 1) drive organization performance; 2) develop people; and 3) reward equitably. Why is this foundational framework important? Because if your hope is to create a modern PM approach while leaving out or working around the third pillar of reward equitably, it won't work. Trust me, I've watched organizations try – it doesn't work. 
Getting real takes courage
In fact, the hardest work is in having the courage to re-think and get real with rewards. This means abandoning outdated ideas that science has proven to not drive human motivation. I'm talking about letting go of these beliefs:
extrinsic motivators alone will create sustained performance
humans are able to discern incremental differences in performance across a diverse team of people and roles
a single person (e.g., a manager) holds the answers to an individual's performance
small-percentage differences in merit = pay for performance
we can separate an individual's performance from the influence of the system they work in
annual bonuses have a sustaining impact
people like the way things are and don't see the fallacy in the traditional rewards strategies
Proven paths forward
If your team is ready to get real with rewards, here are a few big ideas for you to consider:
Pay for capability, reward for contribution

Link pay to the market value of an employee's capability, experiences, and competencies and stick with it. Ditch the merit approach with the incremental raises that are complicated by performance evaluations, capability pay, and cost of living adjustments. Keep it clean. When employees log new experiences, build new skills, and extend their capabilities, pay them more based on market value. If they don't log any, they don't get paid more. Of course, you need to keep your pay scale at market value, and you need clarity and market relevance of your jobs/roles. Having a clear idea of what capabilities, skills, and experiences you value for each organizational role and what those elements are worth in the marketplace will allow you to make more equitable base compensation decisions with greater confidence.
Define what contribution means in your organization and share your definition of contribution frequently and transparently. Once it's defined, create mechanisms to reward contributions as they happen. These rewards are likely to include smaller, more frequent discretionary bonuses, peer-based recognition, and non-monetary perks.

Lean into team rewards

If you're looking to drive collaboration, connection, and innovation, then swap out those individual mechanisms for team-based models. Simultaneously, create team processes and muscle to set goals and commitments within and across the team. 

Empower your people and create a culture of recognition

Guess who witnesses all the great work and contributions within your organization? Your people! Empower them to celebrate the goodness they see around them through peer-based recognition and reward strategies.

Recognize the power of non-financial rewards

Research continues to show us that people are much more motivated by intrinsic rather than extrinsic rewards, meaning that they work harder and better when they are doing things they find personally rewarding. In the corporate world, this translates into things like enjoying the work itself, feeling like a valued part of the team, or being motivated by the company mission. Our clients have found that some of the simplest ideas can drive the biggest impact. Two of my favorites: time and opportunity. Time to innovate, to recharge, or to connect with others in the organization who share common passions. Opportunity to test out a new role, take on a challenging project, contribute to a new concept or product, attend a learning event, or shadow the company guru.

Build your total rewards portfolio – then tune it as you go

As you explore and blend the ideas above, you'll create a powerful and customized rewards portfolio that fits your organization. Your rewards will now be market- relevant, connected to people's contributions and impact, and more focused on the team and the enterprise as a whole rather than the individual. As you test these approaches, you'll find that some things work great, while others will need tuning. It's a normal part of the evolution and growth, so don't be afraid to continue to refine your rewards portfolio, incorporating your learnings, and staying current with the changing times, workforce, and market you're operating in.
Is it your time?
I'm hopeful that more organizations will soon bust through the inertia and move forward with more modern and human-centered approaches to performance management and total rewards. The opportunity is yours. Happy Rebooting!