Environmental sustainability in the corporate world is at the forefront of many people's minds as the global climate crisis continues. Improved sustainability in the workplace can have a huge impact in battling these ever-growing issues for our planet.
In fact, many employees are beginning to tune in to their employer's (or potential employers') sustainable business practices when deciding where to work.
In a recent survey, 83% of millennials reported that they'd be more loyal to a company that prioritized greener living and addressed environmental issues head-on. As the public becomes increasingly aware of the importance of preserving our planet's natural resources, the number of individuals concerned with sustainability in the workplace is likely to increase exponentially.
What is workplace sustainability?
A sustainable workplace is characterized by a commitment to greener business practices, an energy-efficient office, and an actionable pledge toward waste reduction. An environmentally conscious organization is one committed to reaching its business goals and maintaining its operations without negatively impacting the world around them.
One way to determine your company's impact is through environmental, social, and corporate governance (ESG). ESG is a framework designed to help measure organizational sustainability through environmental, social, and governance factors.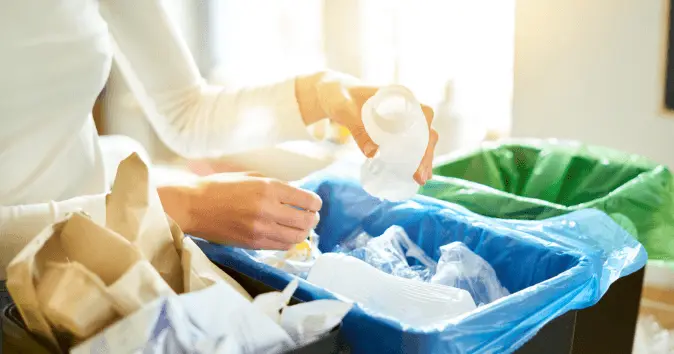 This can include measuring your organization's carbon emissions, reevaluating your DEI policies, and evaluating the partners you choose to do business with.
All these factors can greatly impact an overall sense of workplace wellness for your employees and help you identify areas of growth to maintain a greener workplace in the future.
Benefits of sustainability initiatives in the office
Implementing greener practices in your workplaces will have ripples of positive impact for years to come, but here are some of the more measurable changes you'll likely accomplish.
Reducing your organization's carbon footprint
Increasing environmental sustainability in your office can help you greatly reduce the amount of carbon emissions your company is responsible for. Not only will this have direct, positive effects on your employees, but it can also have a global impact over time, depending on the size of your organization.
Remember that every step, no matter how small, is still an important move in the right direction.
Saving money on energy and resource costs
One of the most notable upsides to creating a more sustainable workplace is the money you'll save on water, electricity, and other resources. You can even use these savings to make further energy-efficient upgrades, creating a positive cycle of change.
Supporting a happier, healthier workforce
Reducing chemical usage in your workplace, inspiring employees to be a part of a larger environmental movement, and exchanging wellness ideas can all positively impact the employee experience. By committing to these sustainability efforts, you'll help your employees feel healthier, happier, and more secure in your workplace.
Reducing chemical usage in your workplace, inspiring employees to be a part of a larger environmental movement, and exchanging wellness ideas can all positively impact the employee experience. By committing to these sustainability efforts, you'll help your employees feel healthier, happier, and more secure in your workplace.
Attracting and retaining quality employees
Because so many of today's employees are concerned with corporate sustainability and its impact on global climate change, your company's environmental efforts may become a "make or break" element of success.
It's likely that this concern over global climate change will only increase in the foreseeable future. Hence, improving sustainability practices right now is an important method of future-proofing your organization.
Twenty ways to improve sustainability in the workplace
1. Advocate for remote work
Allowing employees flexible work-from-home options has a myriad of benefits. For many companies, this working model allowed them to downsize or even eliminate their office space, saving on rent, energy, supplies, snacks, and other extraneous expenses.
2. Implement comprehensive recycling programs
One of the simplest ways to introduce new sustainable practices in your workplace is to begin a recycling program. Since many people already recycle in their own homes, they're aware of the basic operational concepts and the importance of this practice.
3. Begin a composting program
One of the easiest and most effective ways to reduce food waste in your organization is to encourage employees to compost their food scraps. You can also educate your staff on how to implement composting systems within their own homes, exponentially increasing the impact of this mission.
4. Strive to become a paperless office
While it may be impossible to completely eliminate the use of paper in your workplace, you can begin by reducing paper waste. Encourage employees to conserve paper (and expensive ink!) by only printing things when absolutely necessary. You can also ensure that the printers are filled with deforestation-free paper as you strive to create a greener office.
5. Encourage sustainable dining
Another way to foster workplace sustainability is to implement more environmentally friendly dining practices.
Eliminating plastic cutlery, switching to biodegradable paperware, reducing reliance on single-serve coffee pods, and many other small changes can really add up to help reduce your organization's carbon footprint, especially if your company has on-site dining services.
6. Switch to green and renewable energy 
Changing the source of energy for your workplace can be an extremely simple switch, often involving nothing more than a quick call to your utility company. Renewable energy doesn't produce dangerous greenhouse gasses the way burning fossil fuels does, so it's a much safer option for long-term usage.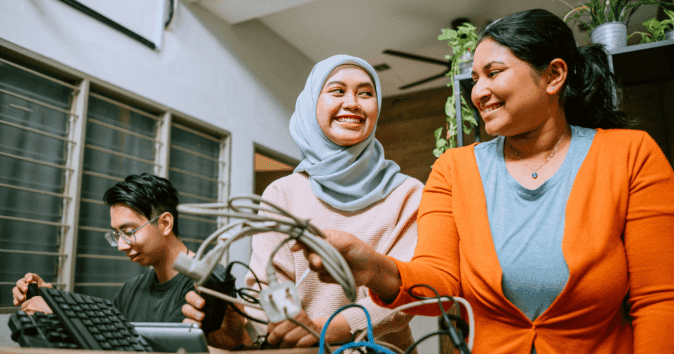 7. Choose green cleaning products
Many cleaning products are filled with harsh chemicals and dangerous propellants and come in containers that add to plastic waste, among a myriad of other issues. Switching to more environmentally-friendly products, or even homemade products utilizing vinegar, lemon, or essential oils, can help make your workplace a little greener.
Reducing reliance on paper towels by opting for reusable rags can also be extremely beneficial.
8. Spread awareness of your green efforts to increase engagement
Identifying sustainability ideas that are realistic and achievable for your company is the first step toward a greener future. The second step is making sure that all employees are well aware of these efforts and initiatives so they can do their best to contribute.
Consider sending out quarterly newsletters or even hosting special "pump up" meetings to get employees excited about your new sustainable business practices.
9. Implement zero waste and energy-saving bathroom solutions
Bathrooms and kitchens are the areas of greatest opportunity when it comes to greener living, as these tend to be the spaces where the most energy and resources are consumed. Replacing paper towel dispensers with heated hand dryers, using low-flow taps, and other small changes can really add up.
10. Install water-saving fixtures
Another way to create a more sustainable workplace is to reduce how much water your organization wastes. You can easily reduce your company's environmental impact and water supply bill by installing special equipment to help conserve this vital natural resource.
11. Recycle or donate your company's electronic waste
Do you have boxes of cords, chargers, and old devices lying around? A great way to reduce waste is to recycle or donate those products before replacing them with newer models. Not only will this ensure they stay out of landfills, but you may even be helping smaller businesses or schools in need of these donations succeed. 
12. Encourage eco-friendly business travel
It's no secret that planes, hotels, and other essential elements of travel can have a massively negative environmental impact. Excessive carbon emissions from planes weaken the planet's protective ozone layer, contributing to global warming, and hotels are notorious for water waste due to the amount of laundry required to keep them running. 
Encourage employees to reduce extraneous trips when possible and to otherwise stay in sustainable hotels and continue their conservation efforts on the road.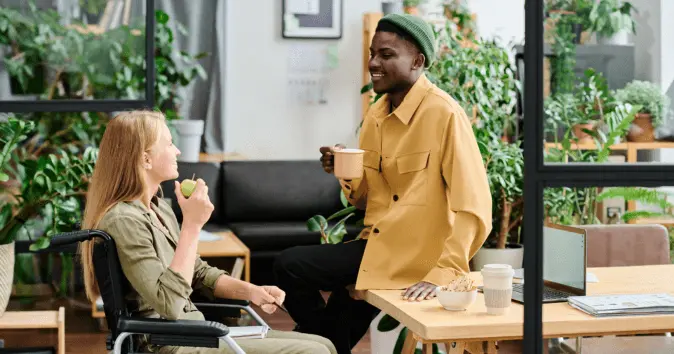 13. Become a certified environmentally-conscious organization
Once you've established new policies and procedures for greener operations within your company, consider certifying your business as an environmentally conscious organization. This shows that you take corporate social responsibility seriously, and it can help attract new employees and clients who value sustainable business practices.
14. Find a greener web hosting service for your site
Did you know that 3.8% of the world's carbon emissions come from the internet? Web hosting services are an often overlooked element that may be negatively contributing to your company's excessive energy consumption. Using a greener hosting platform can be an important, low-effort part of your sustainability efforts.
15. Measure your carbon footprint 
While confronting your organization's carbon footprint may be sobering, knowing where you stand is the first step to creating actionable change. This environmental dashboard tool can help you estimate your company's carbon emissions and then work to decrease your organization's negative environmental impact.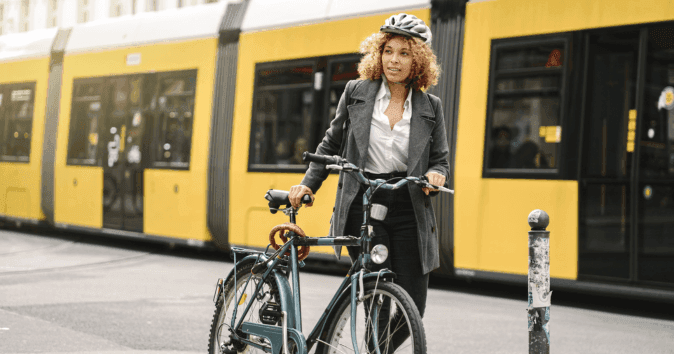 16. Encourage greener commute options
Suggesting that employees utilize public transportation options, if available, can be a great way to help them be more eco-friendly. Beyond that, having some time to themselves on their commute, without the added pressure of driving and battling traffic, may help them show up to work a bit more centered and energized.
17. Install motion sensors for office lighting
Besides helping you save on your electric bills, automatic lights are also extremely energy efficient. This eco-friendly technology will help you save money on your utility bills and eliminate the responsibility of the last person in the office having to remember to turn off all the lights.
18. Replace unnecessary business trips with video calls
Another way to support workplace sustainability is by shifting from extraneous business travel to video calls. Not only will these virtual conferences save your organization notable amounts of money, but they're also more convenient and much more environmentally friendly.
19. Encourage biking or walking to work
While many of us have been conditioned to rely on cars as our primary source of transportation, building a more sustainable future begins with challenging these ingrained habits.
Not only will biking or walking to work help reduce each employee's individual carbon footprint, but it's also a great form of exercise that can help promote health and wellness. Of course, this is only a realistic solution for employees who live close by.
20. Purchase secondhand office equipment
Not only will buying gently-used office equipment help you maintain a more sustainable workplace, but it will also help your company save considerable amounts of money. Practices like these create less waste and keep perfectly usable items out of landfills.
Learning from sustainable companies 
Patagonia, IBM, Seventh Generation, Adobe, Numi Organic Tea, and Biogen are often lauded as being some of the most sustainable companies in operation today. These companies rely on renewable energy, are committed to reducing waste, and even package their products in compostable materials.
They're also committed to research, growth, and implementing new methods of environmental conservation within their workplaces.
As they partner with other sustainable companies, these leaders even ensure they reduce waste at every step in the supply chain. By successfully reducing their carbon footprints, these brands prove that massive success and greener business practices can go hand in hand.
FAQs
How important is sustainability to employees?
Because of the well-known and far-reaching effects of global climate change, many employees are aware of the environmental impact that wasteful business practices have on the planet.
Today's workforce is increasingly concerned with corporate sustainability and greener living, which makes updating your practices of paramount importance to both your current and prospective employees.
How do you maintain sustainability in an office?
To ensure your workplace is as sustainable as possible, it's important to stay aware of new, emerging trends and technologies in greener living. Keeping a pulse on these developments will help your company maximize energy efficiency and reduce your environmental impact. 
Also, ensuring that all employees are aware of the company's efforts and how they can participate will help increase engagement, create more positive outcomes, and contribute to overall workplace wellness.
How do you motivate employees to be more sustainable?
The simplest way to motivate your employees to participate in your sustainability initiatives is to effectively communicate the importance of their efforts. They're much more likely to feel engaged and personally connected to this greener mission if they understand the larger impact of every small change they make. 
Consider various ways of measuring the positive environmental impacts so you can share these successes with the larger team.
In summary
While fostering sustainability in the workplace will be an iterative process defined by trial and error, the ROI for your efforts will be immeasurable. Not only will this movement result in significant cost savings for your company, but it will also improve the lives of your employees and help reduce your organization's carbon footprint.
Continuous improvement in the mission of greener living will help your company, your community, and the world at large. Don't underestimate the impact and power of small, incremental changes toward more sustainable business practices.