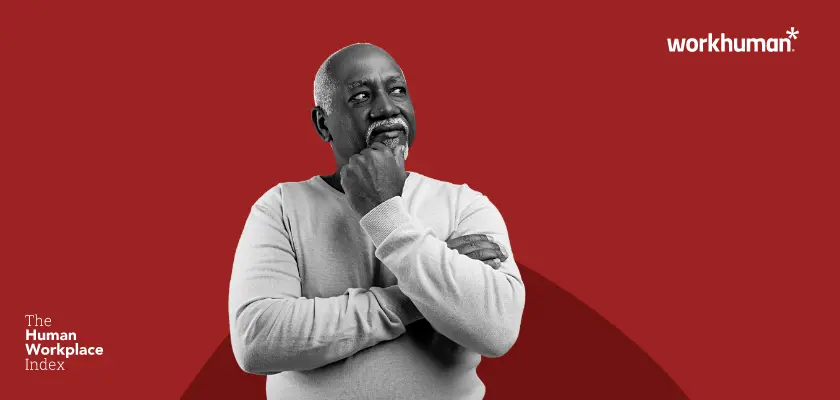 Have you ever felt invisible at work? Maybe no one recognized your contribution on a project you were proud of, or you missed out on a team lunch while working from home. Maybe your concerns about a new policy went unaddressed, or your teammates talked over you in meetings – or maybe you can't pinpoint the exact reason, but you know you're just not being seen the way you should be.
There are a multitude of reasons we may feel invisible at work, and those feelings may impact some people more than others, especially as we navigate a world where workers can be fully remote, in-person, or a hybrid mixture of the two.
No matter the cause, when people don't feel seen in the workplace, leaders should address it so every employee feels valued. After all, as this month's Human Workplace Index (HWI) found, over half (53.2%) of employees feel either somewhat valued at work, or not valued at all. Feeling seen and visible is a crucial part of employee productivity and engagement. What we know to be true is that engaged employees lead to better business outcomes.
Workers are disconnected and feeling invisible
We've heard all the buzzwords for disengagement by now: quiet quitting, presenteeism, rage-applying, and so on. But these kitschy terms describe serious problems, as people are feeling increasingly disconnected at work.
Our research found that nearly 30% of workers have felt invisible at work, and 27% have felt flat-out ignored. And while 38.4% say these feelings haven't affected their jobs, 18.2% have put in more work as a result, which could lead to serious burnout if their efforts continue to go unrecognized. It can also lead to turnover problems, as 20.4% of employees are less likely to leave their organization if they feel seen.
Beyond feelings of invisibility, there are also certain "invisible skills" going unnoticed in the workplace. When asked which invisible skill they felt is the most looked down upon, workers put empathy and compassion at the top of the list (27.4%), followed by a sense of curiosity, (19.8%) and listening skills/emotional intelligence (15.4%).
The choices are telling, as these soft skills are necessary for the cultivation of a positive work environment. Without empathy, employees and leaders cannot understand each other's experiences. Without curiosity, there is no problem-solving. And a lack of listening skills and emotional intelligence will only be a hindrance to making meaningful change.
Solve for invisibility by driving engagement and performance in the workplace
Considering only 3.4% of workers who felt invisible ended up seeking outside help like therapy or life coaching, it's clear that change must come from within the organization.
One place to start? Communication. While most HWI respondents shared that they speak to their manager on a daily basis, what's truly telling are their feelings when they don't speak to their manager. People reported feeling relaxed (39.7%), relieved (22.8%), and more focused (26.6%) when they didn't speak to their managers for a few days. This shouldn't be the case, and the responsibility falls on managers to build a foundation for communication that rests on trust and encouragement, rather than fear.
One way to do this is by having frequent 1:1 check-ins, rather than saving feedback for quarterly reviews. At the same time, don't micromanage – employees shouldn't dread seeing their manager's name pop up on their screens. Yes, managers should be concerned with performance, but don't forget to be supportive, too. Speaking of ways to be supportive, when asked what their organizations could do to help them feel seen in the workplace, one-half of all employees stated that their companies should recognize them for their hard work and achievements.
While we all have a responsibility to bring our best selves to work, employees won't feel encouraged to do so if they don't have a support system in the workplace. It's up to leaders to ensure people are engaged, connected, and seen in the workplace, and that starts with recognizing them for their contributions to the organization.
Addressing bias in recognition
With Employee Appreciation Day on the horizon in March, gratitude and recognition should be top of mind for leadership -- especially as previous Workhuman & Gallup data has found effective employee recognition programs can save organizations up to $16.1 million in turnover each year. However, as this month's HWI data suggests, not all gratitude is distributed equitably and leaders must ensure appreciation initiatives are deemed fair. According to this month's HWI, a majority of employees surveyed believe that bias and stereotypes play a role in them receiving gratitude or recognition:
When asked to rank which groups at their jobs received the most recognition, workers ranked:
Leadership (managers, executives, etc.)
People who have been at the company longer
People who are successful within the community / have a large network
People who work from the office
People who work from home or in a hybrid situation
Employees of a certain gender, race, religion, and/or sexual orientation
In the survey, seniority was a key factor not only in who received the most recognition, but who people said was the most meaningful source of it. 42.5% of respondents said it would be most meaningful to receive recognition from a manager, followed by 32.3% who said it would be most meaningful coming from an executive leader. Conversely, only 14.6% said it would be most meaningful coming from a peer coworker.
Why the lower emphasis on lateral feedback? For one, recognition from more senior coworkers may be seen as a sign they're "moving up the ladder." Having validation from more seasoned employees may also contribute to feelings of belonging. But this means it's up to leaders to ensure belonging comes from everywhere and everyone – not just the top down.
Peer-to-peer recognition is a powerful way to inspire feelings of connectedness and belonging in the workplace and encourages employees to seek out ways in which their peers impact their day-to-day work lives.
Gratitude and personal impact go hand-in-hand: the survey found that 56% of respondents would be encouraged to show someone gratitude if they really made an impact on them. But when people don't have the same opportunities to make an impact in the first place, it contributes to the biases examined. When people feel bound by hierarchy, place, or identity, they'll be less empowered to reach across those bounds and show their appreciation.
Additionally, while it was far from the most popular response, leaders should take note that over a quarter of respondents felt they needed more time to show gratitude. Employees should never feel so overwhelmed that taking a moment to acknowledge a coworker's success is detrimental to their task at hand – encouraging employees to recognize each other and leading by example will go a long way.
Conclusion
Being human and speaking to the needs of individual employees is key to strengthening trust in these difficult times, and 2023 is the moment for managers to rise to the occasion. By allowing middle managers to cross-collaborate freely and celebrate the achievements of other teams, leaders can build a tighter community and foster that necessary trust in order to positively impact employees' workplace experience.
To that end, it should be an organizational effort to make sure that no one feels left behind or invisible. With leaders and managers setting the tone, a simple act of gratitude can kickstart a cultural transformation.