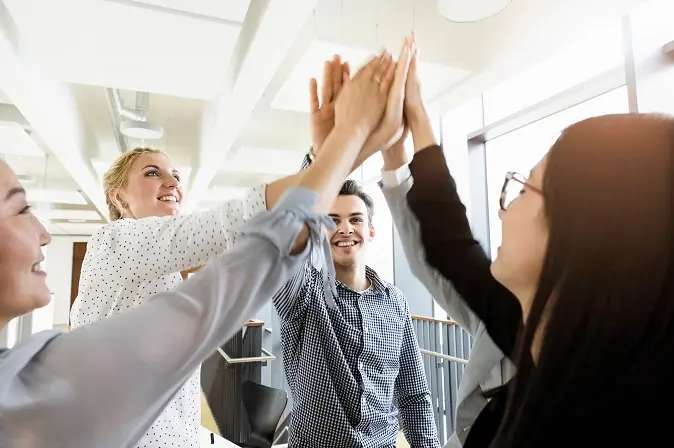 Corporate wellbeing is crucial to the success of any business. 
According to Forbes, nearly 90% of jobseekers look into the health and wellness packages that employers offer before choosing to work for them. In the same survey, over 60% of employers report that a good employee wellbeing strategy greatly contributes to employee productivity and desirable business results. 
A well-executed employee wellbeing strategy takes on a prevention-over-cure approach, meaning that it addresses risk factors in the work environment before they happen. 
This article discusses everything you need to know about employee wellbeing in the workplace, including how to effectively implement it in your organization. 
Understanding employee wellbeing strategy in the workplace
Before we start discussing employee wellbeing initiatives, let's go back to the basics of employee wellbeing. 
An employee wellbeing strategy is a company strategy or program that specifically focuses on the physical health, mental status, and financial wellbeing of its employees. 
It's a long-term approach that helps people thrive at work, leading to increased employee engagement and organizational performance. It also reduces absenteeism and stress levels, and increases overall job satisfaction.
👋 Attention leaders! Do you want to improve employee wellbeing and drive business success? Discover how strategic recognition can help in the Workhuman and Gallup report: "Amplifying Wellbeing at Work and Beyond Through the Power of Recognition."
🔍 Learn how recognition can improve engagement, reduce burnout, and increase company loyalty, resulting in clear ROI. 💰 
🌎 The report examines a large-scale study of over 12,000 employees across 12 countries and uncovers the connection between recognition and wellbeing in each region.
🚀 Take action to improve employee wellbeing today! 
Why create an employee wellbeing strategy?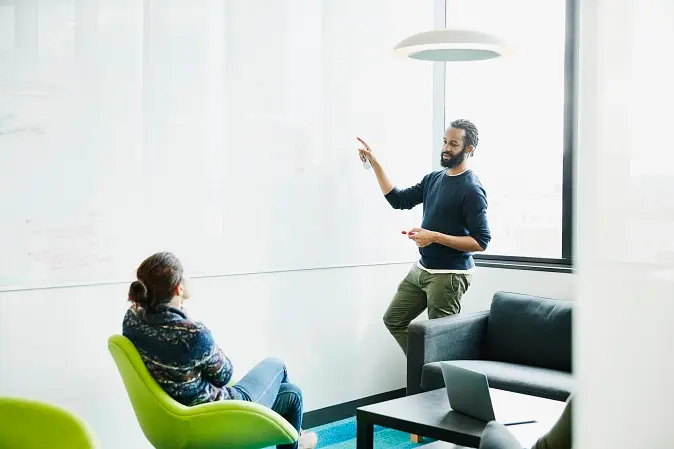 The fact of the matter is this: happier employees equal engaged employees, and engaged employees increase productivity, positively impact organizational revenue, and prioritize a culture of workplace wellbeing. 
A company's wellness goals are unique to its people and its needs, so developing a strategy that fits the culture of your organization is of utmost priority. It's important to ensure that all team members can be included. 
Frequent and clear communication ensures that company employees continue to feel valued and appreciated and know exactly what's expected of them. 
By clearly defining qualitative and quantitative expectations and adopting transparent communication, employees feel less stressed and anxious about their performance and productivity. 
What are the 6 pillars of employee wellbeing?
Employee wellbeing is anything related to the economic, emotional, mental, and physical health of employees working in an organization. 
It's related to all aspects of work and areas of wellbeing, including how employees feel about their work-life balance and the physical safety of the work environment. 
If you're still struggling to understand the concept of a wellbeing plan and how to create one, here's six pillars to keep in mind: 
Physical wellbeing
Mental wellbeing
Financial security
Job security
Work/life balance
Support and protection
Benefits of having an employee health and wellbeing strategy
Developing and implementing a well-thought-out wellbeing strategy is one of the best investments a company can make. 
Some of the biggest benefits of developing an employee wellbeing agenda include: 
Improved customer and client feedback
Reduced customer complaints
Reduced absenteeism and presenteeism
Consistent team performance
Increased employee retention
Increased workplace creativity and innovation
Increased engagement across the workplace
Reduction in health claims made on private medical cover
Reduction in workplace accidents
Reduction in sick leave
What should an effective wellbeing strategy for employees cover?
An ideal employee wellbeing strategy requires the following points:
Physical wellbeing
It's important that you take proactive steps to tackle your employees' physical and mental wellbeing head-on.
To support the physical state of your employees, encourage your employees to participate in the wellness activity they prefer.
Consider adding interesting incentives to support them and offer flexible scheduling opportunities so they can participate in wellness activities when and where they prefer. 
Mental wellbeing
Physical and mental wellbeing go hand-in-hand, meaning that one can't go without the other. To promote mental wellbeing at work, you can establish an employee assistance program (EAP) and provide direct access to mental health professionals. Don't wait until open enrollment to discuss the benefits of your company's community resources. Instead, promote them frequently and enthusiastically.
Additionally, make sure to encourage your employees to take their vacation time. According to a survey conducted by Pew Research Center, only 48% of US workers use their vacations.
Half of the responders don't use their designated offs because they either have too much work to do or feel bad for their colleagues carrying their load when they take time off. Employers should ensure employees feel comfortable and secure using their well-deserved vacation days without a caveat on the employees' end.
Financial wellbeing
Most of the time, a paycheck alone isn't enough for employees to feel financially secure. In fact, a recent CNBC survey shows that nearly 70% of employees are unhappy with how much they're getting paid at work.
Employers must understand how they can fairly introduce financial security to their employees.
There are multiple ways to do this, but the easiest and most straightforward method is to conduct a state-wide market analysis on fair pay. Employees can supplement their pay with competitive bonuses, incentives, payouts, and monetary rewards.
Outside competitive pay, employers can also support your employees' financial wellbeing by offering sessions on debt consolidation, investments, and spending habits.
Job security
A good employer knows that loyalty goes both ways: if you want your employees to stay loyal to your company, you need to let them feel secure with their job. Employees will start looking for a new job when they feel underappreciated, undervalued, and replaceable.
Businesses need to create regular advancement opportunities for good workers to secure their own marketability and build their skill set. Businesses should also set clear career paths, so workers feel that they're valuable assets to the company and not just tools that can be replaced with time.
Social wellbeing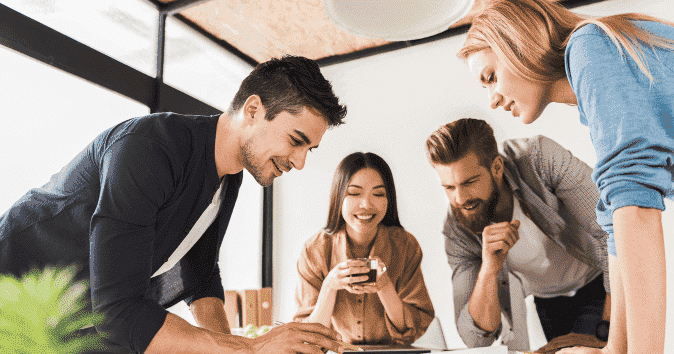 The social wellbeing of employees continues to plummet as more and more companies transition to remote work. Because of this, businesses should think about creating an atmosphere of continued collaboration to increase social engagement at work.
When possible, arrange real-time get-togethers, off-site lunches, and hybrid opportunities that'll help employees connect and socialize beyond work.
Just make sure to respect your employees' need for space, as many people find social interaction draining and stressful. Offer socializing opportunities, but don't make them mandatory.
Digital wellbeing
Technology is advancing at an increasingly rapid pace. Businesses should take these developments to their advantage and train employees to use new tech adequately.
This is especially important in work-from-home scenarios, as not having access to advanced technology can increase workload and stress.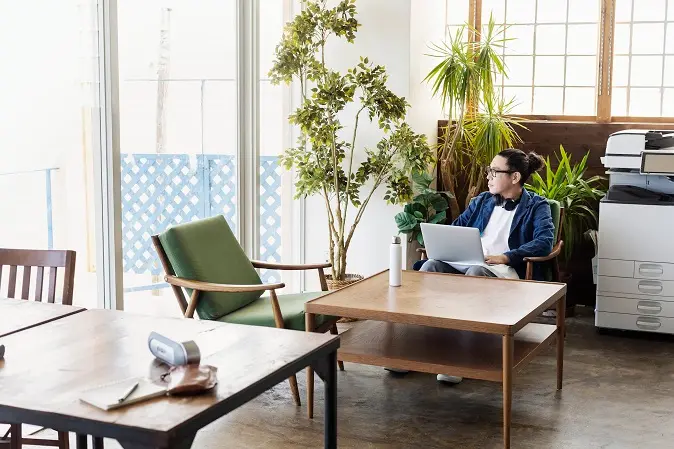 Workplace wellbeing initiatives to include in your strategy
When developing a wellbeing strategy, include these initiatives to make your employees happy and healthy at work:
Determine the specific needs of your business for a wellbeing strategy
Every company is different, so one company's wellbeing initiative may not work in another. You'll need to develop a personalized wellbeing strategy that fits the needs of your business through a survey or focus group.
Establish a team and brand dedicated to employee wellbeing
If possible, hire or establish a team dedicated solely to improving employee wellbeing. A dedicated team plans and delivers the necessary skills and professional expertise to establish an effective wellbeing strategy.
Incorporate health promotion activities into your employee wellbeing strategy
Proactively promote health programs and activities to support the mental and physical wellbeing of your employees. Ask your employees what will help support their mental and physical wellbeing and incorporate the responses into your workplace culture. 
Implement education and awareness initiatives for your employees
If your employees are disengaged at work, foster a workplace culture of learning and awareness. Provide self-care books and pamphlets to employees, conduct group meetings that talk about health, and offer methods to manage stress and anxiety at work.
Improve the working environment to support employee wellbeing
Make the workplace a safe and secure environment to work in. Give your employees a voice, show appreciation every day, and turn your values into more than just words.
Make sure that your company is providing your employees with a safe working environment with safe equipment, policies, and procedures in place.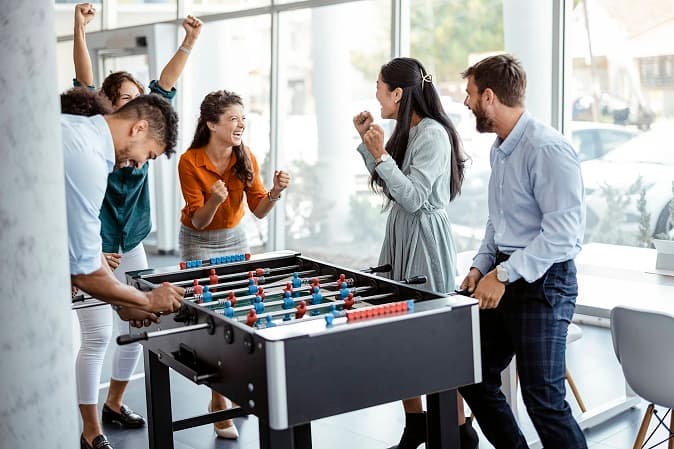 How to plan & execute an employee health & wellbeing strategy
Ready to learn how to develop and execute a proper employee wellbeing strategy? Follow these steps.
Strategy
Step 1: Collect Data and Set Goals
To kick off your wellbeing strategy, you'll first have to collect data and set goals and objectives.
Identify the objectives
Identifying objectives will help you measure the performance of the company's employee wellbeing strategy over time. Establish a clear direction, purpose, and vision, and let them be your guide.
Gather data on physical, psychological, and social wellbeing
Take the time to identify and understand the specific wellbeing issues in your company and how they're impacting your business.
You can gather data from an array of sources, including sickness records, exit interviews, employee surveys, health assessments, and more.
Use data to set specific goals
Use the data you've gathered and set specific goals for each problem area. Separate each objective into short-term, medium-term, and long-term categories to make them easier to tackle and manage.
Step 2: Define Your Goals
Use the data you've gathered to define and develop your employee wellbeing strategy. Think of initiatives that align with your goals and use KPIs to measure their progress.
Setting goals helps you move the needle forward in the right direction, ultimately leading to success.
Break Goals into Manageable Steps
Big goals can quickly become overwhelming, which is why it's a smart idea to break these goals down into smaller, actionable tasks. Ask yourself, "What needs to happen for my company to reach this goal?"
List down the answers and break them down until you have individual tasks you can cross off the list. The more specific the tasks are, the easier they'll be to carry out.
If your goal is to reduce absenteeism, for example, you need to ensure the goals are broken down in this manner:
Figure out what causes absenteeism
Rectify factors that may cause stress
Create a clear attendance policy
Think of rewards for employees who display good attendance
Offer flexible work options
Foster a teamwork culture
Track Progress Over Time
Monitor your progress throughout the year and evaluate what works and what doesn't. Use the information you've gathered and tweak your strategy as needed.
Regardless of your strategy, improvements should be evident in the following areas:
Workforce productivity
Staff retention
Staff turnover
Absenteeism
Employee engagement
Step 3: Make Your Case
To get the green light from your company's senior leaders and senior management, you'll need to convincingly present your goals and well-defined KPIs, as well as the costs and resources needed for implementing your plan and the method of tying them to the business strategy.
With proper planning, you should have a solid argument for implementing your strategy.
In-house vs. Outsourcing Considerations
Closely evaluate your business needs when deciding between hiring in-house or outsourcing.
Outsourcing allows you to bring in experts without long-term commitments, but it's often more expensive than hiring in-house.
Communicating with your in-house team is usually easier and more effective than the alternative, as you'll have them available whenever you need them.
You'll have access to experience and knowledge if you outsource, but with it comes security issues and potentially costly services.
Cost-Benefit Analysis
If you're unsure whether a proposed project will be worth the effort and resources into making it a success, it's wise to conduct a cost-benefit analysis.
You can do this by tallying up all costs of a project and subtracting the resulting amount from the total projected benefits. If the costs outweigh the benefits, you may want to rethink the strategy.
Execution
Before implementing your health and wellbeing strategy, ask yourself these crucial wellbeing questions:
How do you plan to communicate your health and wellbeing program?
What resources and time will you need to implement it?
Does it align with your diversity and inclusion strategy?
Will you offer training virtually or in person?
What kind of training will be required for different levels of the business?
What is your budget for the program?
How does the strategy align with your overall organizational goals?
Who are the stakeholders involved in the program?
How can technology be utilized in the program?
How do you ensure a holistic approach to the program?
Employee surveys can be extremely impactful when done right. Read this Guide to Employee Engagement Surveys to learn how to craft them.
Implementing for different audiences: Key considerations
Knowing how to approach different types of employees is as important as the strategy itself. Here are some key considerations for implementing an effective wellbeing strategy:
The critical role of communication
If you can't communicate your strategy, you'll struggle to implement your plan.
Here are some questions to ask yourself when communicating your strategy:
What's your cost structure?
What activities or tools are you planning to promote?
What value does your proposition hold?
How will your proposition help the company in the long run?
What team do you need to allocate your resources to?
What channels will you use to put the plan into action?
Engaging employees with the right tools
Utilize employee engagement tools to step up your engagement game.
With the right tools, you'll be able to:
Give and receive continuous feedback
Uncover employee engagement and experience opportunities
Recognize employee achievements
Set and track important goals
Gather workplace insights and data
Understanding employee needs and desires
It's proven time and time again that happy and motivated staff result in higher employee retention and engagement. Providing for the needs and desires of employees boosts company productivity, morale, and success.
Designing wellbeing tools for different audiences
Use audience-focused tools to pinpoint the individual needs of your employees.
Ask yourself these questions:
Is the strategy accessible for all types of employees, disabled or otherwise?
Can the strategy cover a wide range of staff wellbeing issues?
Does the strategy cover both mental and physical wellbeing?
The answers to these questions will help determine the inclusivity of your employee wellbeing strategy.
Covering all aspects of wellbeing
Your wellbeing programs should cover the physical, psychological, and social wellbeing of your employees. Place each aspect in neat categories to make execution easier.
For example:
Physical wellbeing: health and nutrition advice and accessible wellness programs
Psychological wellbeing: mental health checks, flexible work policies
Social wellbeing: charity days, team events, team vacations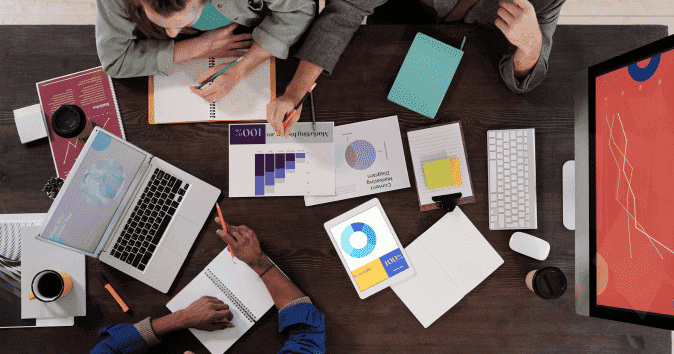 Creating tools based on employee experience
Use employee feedback to your advantage. Regularly send out surveys to gather helpful information about the tools you're using.
Leveraging technology for wellbeing
Use employee wellbeing tools to manage employee burnout, digital wellbeing, work performance, and one-to-one communication. Determine what your organization needs to focus on the most and use technology to improve the employee experience.
Engaging and developing your whole organization
Developing a company culture of inclusivity and wellbeing requires everyone's participation, so make sure that you regularly promote your wellbeing strategy to your entire organization.
Overcoming barriers to engagement
As with any business strategy, you're bound to run into a few issues when implementing your wellbeing strategy. Identify those barriers and think of ways to overcome them.
How to engage employees in wellbeing strategy
With the above key considerations out of the way, here's how to engage your employees in your wellbeing strategy:
Build a brand for your wellbeing program
Allocate proper resources and advertising to promote your wellbeing strategy throughout the organization. The strategy should be exciting, fun, and eye-catching to generate enough interest in your company.
Create an effective schedule for wellbeing activities
Create a schedule to implement wellbeing activities across your company. Evaluate your staffing levels and availability and go from there.
Reflect national trends in your wellbeing initiatives
As much as possible, link national trends to your wellbeing strategy. For example, you can offer special mental health courses on World Mental Health Day. You can also open conversations about mental health on Time to Talk Day.
Seek feedback from employees on their wellbeing experience
Continuously seek feedback from employees about their wellbeing experience to ensure your strategy is working as expected. Ask for feedback through surveys, anonymous forums, or employee focus groups.
How to measure the success of an employee wellbeing strategy
To measure and evaluate the success of your wellbeing strategy, touch on the following points:
Identify improvements you are looking for
List the improvements you're trying to achieve through the implementation of your wellbeing strategy, from workforce productivity and staff retention to employee engagement and satisfaction.
Methods of measuring wellbeing
Measure employee wellbeing through engagement surveys, team numbers, and employee absence rates. If you don't find improvement in these fields after a few months, you may need to redevelop your strategy.
Investing in wellbeing to improve employee health and happiness
Improvements don't happen overnight, so it's vital that you continuously invest in the wellbeing of your employees.
Implementing a wellbeing strategy might be a costly endeavor in the beginning, but it'll be a worthwhile investment in the long run as it creates a culture of engagement, openness, and acceptance in the workplace.
Conclusion
Developing an effective employee wellbeing strategy is an excellent way to spend the budget you've set aside for employee benefits.
By implementing such a strategy, you're not only reducing absenteeism and presenteeism but also increasing employee productivity and retention.