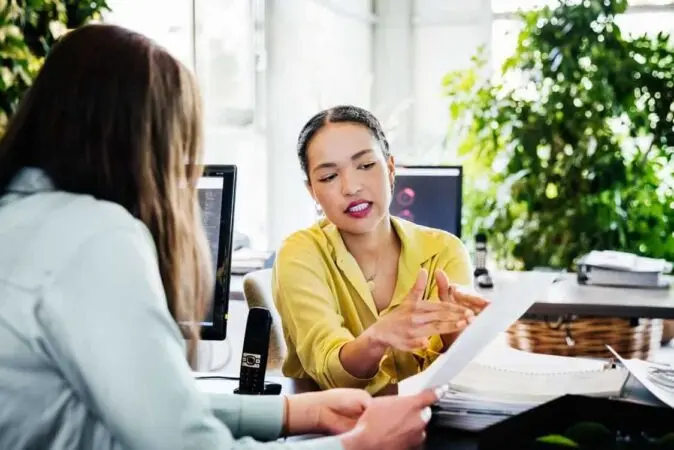 Giving constructive feedback can be touchy for both the giver and the recipient. As the provider, it can feel awkward to make suggestions regarding another person's behavior.
And if feedback isn't delivered in a way that's tactful and productive, the recipient can feel belittled and humiliated, like the relationship has been damaged or their confidence has been shattered.
To create a more positive work environment, it's important that everyone on the team has the emotional intelligence to deliver effective feedback to one another.
In fact, Harvard Business Review reports that 92% of people agreed that negative feedback when delivered appropriately, is .
This means that developing good communication skills and a strong feedback channel is imperative for all employees to grow and develop.
What is constructive feedback?
When there is trust and respect between two people in the workplace, it's more likely that the feedback process will be productive and that actionable change will follow.
However, when mutual respect is not present, there's a lot more room for conflict and hurt feelings.
To avoid this, relationship-building and open communication should be prioritized throughout the year, not just during feedback cycles.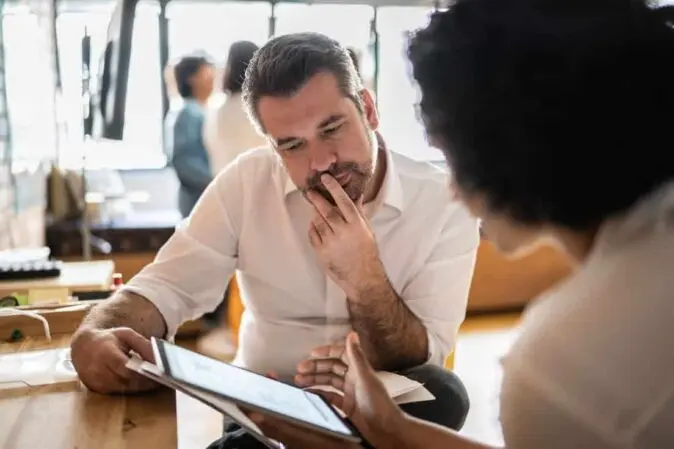 Types of constructive feedback
Most constructive employee feedback can be broken down into three categories:
Work performance – This type of feedback involves issues such as punctuality, hitting annual goals, and completing projects well and on-time.
Professionalism and attitude – Feedback in this category generally involves communication issues, comments on negative or defensive body language, or not behaving appropriately within the office.
Technical skills – Employee feedback surrounding this topic can include issues with computer programs, digital knowledge, leadership skills, or even industry knowledge.
Read "Amplifying Wellbeing at Work and Beyond Through the Power of Recognition" for more workplace wellness statistics and in-depth reporting on links between wellbeing and critical business outcomes.
Download the Free Report 👉 Read Here
Tips for giving constructive feedback
1. Invite conversation and a two-way dialogue
No one responds well when they feel that they're being talked "at" or spoken down to.
In order to make the feedback conversation more productive, give your colleague, manager, or employee the chance to respond and react to what you're bringing up.
You may be surprised to find that there are perspectives, issues, or variables at play that you were not previously aware of.
2. Solicit constructive feedback for yourself
One of the most powerful ways to demonstrate your receptivity to constructive feedback is to explicitly ask for it.
Not only does this show an immense level of trust, but it also illustrates an openness to growth and change.
This tactic can be especially powerful for strengthening the communication between a manager and an employee.
3. Offer your help and support
Many employees are afraid to ask for the help they need out of fear that their competencies or qualifications will be questioned.
Showing that you're here to help, not to reprimand, and coming up with actionable solutions together can often be more than enough to remedy the issue at hand.
It's also a positive reminder that everyone on your team is working toward a common goal together.
4. Assume positive intent
The person you're speaking to may not be aware of what they're doing, how it's being perceived, or that it's not ideal behavior in the workplace.
By approaching the constructive feedback conversation under the assumption that this person is trying their best, you're much more likely to communicate in a way that is kind, productive, and compassionate.
5. Provide actionable solutions and measurable goals
When providing honest feedback, it is also equally important to map out a path to change. By helping your teammate plan out a course of action to improve the issues at hand, you're creating a much better opportunity for them to turn things around.
6. Encourage lifelong learning and growth
Providing growth mindset feedback can be a very supportive communication tool.
By speaking in a way that is future-focused, you are much more likely to inspire change and a more positive outcome.
Sprinkling in positive feedback alongside your constructive feedback is another great way to keep the conversation motivating and productive.
7. Speak with the intention to solve a problem, not to reprimand or belittle
The act of providing constructive criticism should be viewed by both the giver and receiver as a sign of trust, especially when it's manager feedback.
This shows that the manager believes in their employee's ability to develop their skills. Speaking to employees in a punitive or belittling way will only destroy this trust and make the entire exchange negative.
8. Set aside anger or negative feelings
Depending on the severity of the issue you're discussing, it may be difficult to approach the topic in a calm, cool, and collected manner.
However, by having a positive attitude and focusing on productive solutions when you're giving feedback, you're much more likely to achieve your desired outcome and actually inspire change.
This can be especially helpful when dealing with peer-to-peer issues, as the other person you're speaking to will likely be grateful that you approached them directly rather than getting managers or HR involved.
9. Be specific
While offering vague feedback may feel like a way to "soften the blow," it can often lead to confusion and dismissal from the recipient.
In fact, 17% of employees surveyed stated that the feedback they're given isn't specific enough.
Giving an example or citing an instance within your conversation will help the recipient understand and digest what you're saying and may help create a more clear path to change.
9. Use "I" statements
When delivering constructive feedback, it is much more productive to use statements such as "I think," "I feel," or "I've noticed" rather than "you are/are not."
It sounds much less accusatory to speak in "I" statements as opposed to "you" statements. This can also help ease the feedback recipient's urge to be defensive during the conversation.
10. Focus on the behavior, not the person
It's important to remember, especially for managers, that feedback conversations or performance reviews are not the time to provide your personal opinion on someone's character or personality.
Your conversations should only address work-related weaknesses. Providing negative critical feedback unrelated to job performance can increase interpersonal tensions and contribute to a hostile work environment.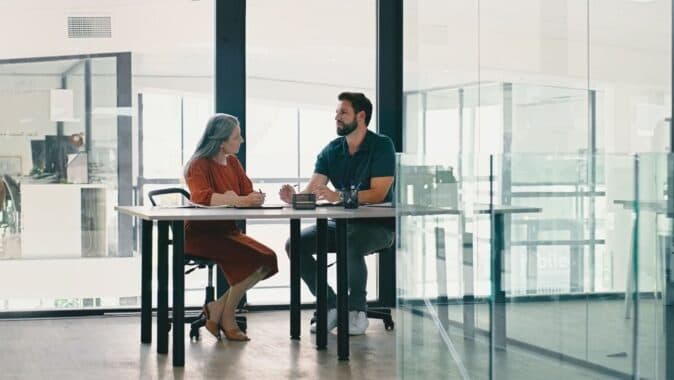 11. Control your scope
To give productive feedback, focus on one or two issues at a time, rather than bombarding your employee, peer, or manager with a laundry list of ways to improve.
Not only can presenting too many issues at once be extremely overwhelming, it can also greatly affect the recipient's self-esteem and degree of psychological safety.
12. Share personal anecdotes
By sharing about a time you may have received similar feedback, you can help the person you're speaking to understand that this problem is relatable, common, and fixable.
Making this type of personal connection also communicates that you're trying to help this person grow and succeed, not judging or condemning them. This is especially critical when you're giving a direct report or employee feedback.
13. Give thanks for things that were done right
Weaving positive feedback in with your constructive feedback can be a powerful way to communicate your need for change while being encouraging and reassuring.
If someone feels that their efforts are being noticed and valued, they are more likely to feel motivated to address the suggested areas of improvement.
An appreciative tone can go a long way to boost morale. If you need positive feedback examples, our guide can be a great resource.
14. Model positive behavior
One of the most powerful leadership skills is setting a positive example through your own behavior, especially for managers. The way managers behave in a group setting sets the tone for the entire team.
This can encourage more appropriate interactions and a more positive company culture.
21 constructive feedback examples
Constructive feedback examples for employees from manager
Employee's performance is falling behind
"It seems like some tasks have been falling to the wayside lately, and you haven't really been acting like yourself. Let's set up a time to talk about what's going on and how I can better support you."
Employee's quality of work is declining
"I've noticed that lately that some of the assignments you've been turning in don't seem to be up to your usual standards. Are you struggling with your workload or something else I can help you with?"
Employee is absent for an important meeting
"We missed you in today's meeting! Did something come up that you want to talk about?"
Employee's performance goals are not being met
"I know things have been really busy here recently, but it seems like there has been some missed opportunity to work on the goals we set together. Let's set some time to revisit them and make sure they're being prioritized."
Employee has issues with deadlines and time management strategies
"There have been some issues lately with projects being finished on time. Can we sit down together and reprioritize your assignments?"
Employee leans on their manager too much
"I'm glad you know I'm always here to support you. However, I want you to know that I trust your judgment and have faith in your ability to handle some of these issues on your own."
Employee is silent during team meetings
"I know that it can be intimidating sometimes, but I really think the rest of the team would like to hear more of your thoughts and ideas during team meetings. I know you have a lot to contribute, so is there anything I can do to make you feel more comfortable sharing out loud?"
Employee needs to hone a specific skill
"I want you to know that you've been doing a great job with this project and that the team and I really appreciate your contributions. However, there's room for improvement in your skills with Excel. Let's put a plan together to help you succeed with this."
Employee needs further training and development
"I want to make sure that I'm setting you up for success and that you have all the tools you need to thrive in your role. To help with this, there's a professional development conference I'd love to send you to this year."
---
Constructive feedback examples for peers
Co-worker is consistently negative
"It seems like you've been a bit frustrated lately. Are there any roadblocks we can address together?"
Co-worker has been speaking over others
"You've been sharing great ideas in meetings lately, but in your excitement, I've noticed you accidentally speaking over me and some other team members. Can you please make sure you're listening to your teammates as well?"
Co-worker demonstrates poor communication skills
"I've been sensing a bit of a disconnect between us, with information not being passed along as clearly as it used to be. Is there something we can do together to improve this?"
Co-worker doesn't want to share their work
"You've come up with some great ideas lately, but you seem really hesitant to share them with the rest of the team. Can we discuss why that is so you can feel more comfortable sharing during future projects?"
Co-worker has been combative
"I feel that our last few conversations have been a bit tense. Are there any issues you'd like to speak about directly so we can get back on a better track together?"
Co-worker is displaying signs of burnout
"I've noticed lately that you seem a lot more stressed than usual. Can I take some small tasks off your plate? Is there anything else I can do to help or support you?"
---
Constructive feedback examples for managers from employee
Manager isn't communicating directly
"I've noticed some communication issues between you and  I lately. Can we sit down together and recalibrate? I want to make sure we're on the same page."
Manager makes disparaging comments
"While I appreciate that you're trying to be honest, some of your comments have been coming across as harsh and cold. I'd feel a lot more respected if our conversations had a more positive and productive tone."
Manager is domineering and inflexible in group settings
"While I appreciate your passion for this project, I'd really like to feel that my ideas are being heard and taken into account. Can we discuss this further one-on-one?"
Manager has been delegating work unequally
"I know there's a lot going on this quarter, but I'd like to speak with you about my workload. It seems that there's a bit more on my plate currently than other members of the team. Is there a reason for this?"
Manager is ignoring previous feedback
I really appreciated you taking the time to listen to me during our previous conversation about my workload. Unfortunately, things still feel the same on my end. Can we talk about this a bit further?"
Manager reprimands employee in front of the group
"While I'm always happy to enact your feedback and improve my performance, I'd really appreciate it if we could have those conversations privately. While I'm sure it's not your intention, it feels embarrassing to be critiqued in front of the rest of the team."
Positive aspects of providing constructive feedback
Establishes trust
When delivering meaningful feedback, you're inadvertently telling the person you're speaking to that you believe in their ability to create positive change and that you want to see them learn and grow.
Offering constructive feedback can foster a sense of trust, especially between managers and their employees, as opportunities for improvement are continuously being provided.
Encourages improved performance
In a recent survey, 25% of employees stated that they don't feel they're given feedback often enough to improve their performance.While it may seem counterintuitive, offering constructive feedback can actually increase engagement, especially when it's paired with positive employee feedback.
By realizing they've been getting "off track" in one way or another, most individuals will feel motivated to take a personal inventory of their work performance and strive for improvement.
Provides the opportunity to course correct
Giving constructive employee feedback and actionable advice grants employees a chance to fix their behavior before they face disciplinary consequences.
It can also give them the opportunity to improve performance before their annual review, creating space for more positive employee feedback on their "official" record.
Make this moment matter! Learn how to encourage employees to thank, recognize, and congratulate each other.
FAQs
When should I give constructive feedback?
You should deliver constructive feedback whenever applicable. By making this a continuous conversation, instead of something that happens once a year during an annual performance review, the process will become a lot more natural for the giver and the recipient. Giving feedback regularly can also help facilitate a more open dialogue, increase employee engagement, and foster a culture of continuous reflection and improvement.
What are the benefits of constructive feedback?
Offering feedback is a powerful tool for creating change within your organization. It helps build trust between employees and their managers, rapport between peers, and provides employees with more opportunities for success. It can even increase employee engagement. Providing constructive feedback also shows others that you have faith in their ability to grow, which can help improve their feelings of confidence.
What is the difference between constructive feedback and constructive criticism?
Although they may seem synonymous, constructive feedback and constructive criticism are actually very different in their intent. Feedback is given from a place of concern and a desire for improvement, while criticism is given generally out of anger, with the intent to belittle and assert power. Constructive feedback is given with the intent to help someone reach their full potential, while criticism has the less productive intent to tear them down.
Wrap-Up
Giving effective feedback is a bit of an art form, whether you're speaking to a peer, an employee, or your manager. It takes a balanced temperament, poise, and precise language to communicate effectively.
Working to continuously improve your leadership and communication skills within the workplace can ensure you're providing constructive feedback in a way that inspires change, improves employee morale and doesn't come across as a personal attack.
After all, the most effective team players are those who've learned to communicate difficult things effectively to create more positive outcomes within their organizations.