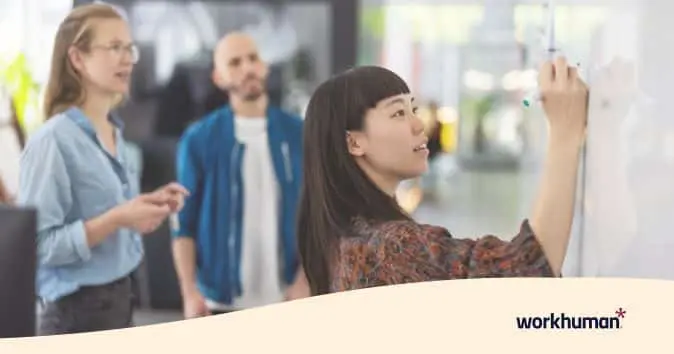 At one point, you've likely sat in a meeting and thought, "This could've been an email." You're not alone. In the U.S., over 24 billion hours are lost annually on unproductive meetings.
Enter, agile meetings. These meetings don't waste hours on repetitive objectives. Instead, they foster effective team collaboration and ensure meetings remain on-task.
Overall, the agile framework's success is evident. Approximately 70% of agile companies believe that the methodology helped them achieve a faster time to market.
In this article, we'll describe the four types of agile meetings and how to make them effective. Before we dive in, let's learn more about what agile is and the benefits of following the agile framework.
What is an agile scrum meeting?
Agile meetings work under the scrum framework. The structure allows team members to self-align towards a shared goal. Your team then reports their output in intervals or sprints. That's where agile meetings come in.
Agile meetings organize tasks into increments to break down large projects. The meetings incorporate check-ins, discussions, and shareholder-level feedback. They are fast-paced and to-the-point discussions that efficiently utilize everyone's time. Team members discuss progress updates, client feedback, task plans, or other critical project data.
Agile meetings offer multiple benefits, from time efficiency to team alignment. The meeting works exceptionally well for remote workers since it voices their ideas, concerns, and allows them to ask questions incrementally throughout the project.
During each meeting, employees are made aware of their tasks and expectations. This allows managers and team members to catch any discrepancies before they develop into challenges.
Additionally, each sprint or interval has feedback and reflection allowing workers to develop their skills faster. Overall, your team's productivity and performance levels could increase.
Agile meetings consist of specified roles that differ in size depending on your organization's headcount and task difficulty.
The role of the product owners in agile meeting
Product Owners give everyone the stakeholder's or client's vision. They're responsible for communicating the task's roadmap and backlog to developers and other team members. A backlog is a list of improvements the product needs. 
Besides that, their role also involves release management. In turn, they plan and schedule product releases, assign roles and tasks within the project, and ensure product testing and other quality assurance measures.
The role of the development team in agile meetings
The Development Team reports to the Product Owners for tasks and directions. The team creates the final end-user product according to the latter's instructions. Every group is divided depending on each sector's role, such as writers, UX specialists, product designers, and programmers.
Each role's skill is critical for the scrum process. The Development Team should have soft skills that would empower them to complete their tasks promptly and communicate any discrepancies. For the team to run as a well-oiled machine, every role's input counts.
The role of the scrum master in agile meetings
The Scrum Master works similarly to a manager or supervisor. They ensure everyone in the Development Team completes their assigned tasks, as per the Product Owner's requirements. They also oversee standup meetings, update the team on any changing instructions, and guarantee that everyone is on-task.
Scrum Masters manage reviews and feedback. If there are any potential distractions or roadblocks, they oversee their removal. Besides supervising, the Scrum Master coaches the Development Team to deliver quality results, and communicate and assist Product Owners.
Collaborating with business owners and other stakeholders
In most cases, Product Owners are the ones collaborating with business owners and other stakeholders to identify tasks. Then, during daily meetings, they discuss the project's overview, requirements, and sprint goals.
Stakeholder collaboration and management are crucial in the agile methodology. You need to know how to engage them, whether they're external or internal partners. Consequently, the first step involves identifying the stakeholders.
Then, analyze them and know if they're high-interest, low-influence, or vice versa to communicate with them accordingly.
Next, you need to establish effective communication channels to engage with stakeholders, such as user experience mock-ups or customer interviews.
Learn how the Workhuman Platform can transform employee engagement in your organization. 👉Request a demo today!
4 different types of agile meetings
Let's learn about four different types of meetings that fall under the agile umbrella. Each meeting is held for different reasons and has their own specific purpose. Reasons for meeting include check-ins, status updates, or feedback sessions.
Daily stand-up meetings
The daily standup is the most common. The attendees include the Development Team and Scrum Master, and the team uses this time to discuss their progress on a project and identify any hurdles. They share what they accomplished yesterday, what they plan to finish today, how it aligns with the sprint, and the issues they're facing. These discussions help ensure that everything is going according to plan.
Sprint planning meetings
Think of the sprint planning as a whole-staff meeting for the project. The entire scrum team needs to be present so everyone is aware of the stakeholders, instructions, updates, and goals.
These meetings often occur before scrum sprints. They're one of the longest meetings from the agile umbrella, lasting up to four hours. Sprint planning meeting durations usually depend on the sprint's period. If it's a one-week sprint, Product Owners will likely designate two hours for it.
During the meeting, the Product Owner presents the product sprint backlog. The latter can include feature improvements, bug fixes, and other updates. Once the team is presented with these items, they draft objectives or sprint goals. Once the goals are locked, the sprint begins.
Sprint review meetings
A sprint review meeting occurs so the team can tackle output from their previous sprint. Along with the development team, product owner, and scrum master, stakeholders are also present. The team will showcase their work to receive feedback throughout the sprint. This helps agile teams track progress and share notes.
Displaying the product shouldn't revolve around the adjustment's workarounds alone but the value they'll provide customers as well. You can practice presenting the product without an audience for better delivery.
The stakeholders and Product Owners should provide ample evaluation to sort out any kinks in the drafted product during the sprint review meeting. They'll discuss work that needs improvements as the team progresses towards sprint goals. The duration of these can last between one to two hours, depending on the product's backlog and goals.
Sprint retrospective meetings
The sprint retrospective meeting occurs after the sprint review. It includes the agile team and is completed by the end of the sprint. In most scenarios, the Scrum Master leads this meeting to reflect on the product.
During a sprint retrospective meeting, Scrum Masters can ask the following questions: How could we optimize this task? How can we avoid these obstacles in the future? What did we do right? These will help teams stay on top of things and improve their performance for the next sprint.
Agile process
With agile teams working 25% more productively, you'll want to note down how the development process works.
The agile development process prioritizes team collaborations and breaking down plans into increments. It stipulates the importance of customer experience and effective planning.
Agile project management techniques
When implementing agile project management, you can implement techniques such as Scrum and Kanban. The prior is more visually focused and divided into components such as visual and delivery points. Scrum methodology breaks down complicated projects and values collaboration, self-organization, and productivity. Consider adopting and utilizing project management tools and tracking benchmarks and processes.
Managing agile development with software development tools 
When managing your agile development with a software tool, ensure that it satisfies your project count. You'll also want to confirm that all your employees can access it at the same time.
Additionally, consider the tool's user-friendliness. Find out if you need to integrate other tools within the development system you'll use.
Backlog management
Product owners are responsible for backlog management. They adjust or add items in the backlog to prioritize the valued features according to stakeholder demand.
Importance of backlog management in agile meetings
Improves team efficiency and engagement.
Manages workflow and tracks task completions.
Identifies obstacles in the workflow.
Creating and managing product backlogs
Creating the product backlog begins with adding ideas and ordering them based on priority from the stakeholder's clarification. Continuously grooming, adding, or maintaining the backlog all comes under backlog management.
Prioritizing backlog items
Based on the shareholder's clarification, Product Owners should place high-priority items at the top. Low-value ones shouldn't be added to avoid over-accumulating the list.
Tracking and managing backlog items
Tracking and Managing the backlog items requires regular or daily refinement. You should update it continuously so your team's workflow remains consistent and up to date.
Team collaboration
Team collaboration is an essential component in any organization and crucial when working on agile teams. According to a Deloitte survey, employee collaboration results in 73% of the team having improved performance and 56% job satisfaction. Whether you're in a daily meeting or partaking in backlog refinement, team collaboration plays a prime role.
Importance of cross-functional teams
Cross-functional teams offer one of the best problem-solving solutions. They gather perspectives from an array of departments to create a more well-informed decision.
Aside from conflict resolution, you also get high performance. To do this you can implement a product like Workhuman's® Social Recognition®  tool that helps to enhance peer-to-peer connections by providing continuous, positive recognition.
Benefits of collaboration in agile meetings
Several benefits arise from collaborations in agile meetings. For one, they help recognize errors before they develop thanks to different heads participating in the sprint.
Executives can accurately measure productivity and their team's full potential by identifying strengths and weaknesses. Subsequently, they can curate effective high-performance management techniques.
Techniques for effective team collaboration in agile meetings
Fortunately, there's no shortage of techniques in terms of team collaboration. From virtual icebreakers to fostering a transparent and psychologically-safe workplace, agile meetings can benefit from multiple methods. Play around with what works best for your team.
Above that comes recognition. You need to recognize collaborative efforts and celebrate them in your scrum ceremonies.
Feedback and continuous improvement
Feedback and continuous improvement combine for the essence of a well-working agile framework. Up to 75% of employees value their feedback.
Feedback in agile meetings helps to maintain team focus and engagement on tasks, boost employee recognition, deliver high-value products, and prevent issues from mushrooming.
A few strategies for gathering and incorporating feedback include implementing a customer journey roadmap to reflect positive and negative interactions, gathering data using questionnaires and customer experience tools, identifying points of weakness to improve upon, tracking employee performance rates post-feedback, and continuous improvement techniques in agile meetings. 
Periodic scrum meetings offer check-in periods to gather feedback on which methods are working well and which aren't. They scope out improvements and react promptly. They expand knowledge-sharing among the team and increase the chances of learning from errors.
Testing is also a critical technique to check team findings. Value stream mapping or backlogs are also essential for time-efficient workflow.
A few examples of stakeholder feedback in agile meetings are perfecting and improving the product, prioritizing backlog items, and creating goals.
Sprint planning and management
Every sprint requires thorough planning and management techniques devised by the Product Owner and Scrum Master. 
Sprint planning techniques and best practices
Discuss the sprint from a top-down perspective.
Create a product backlog to display priority list items.
Ensure team availability.
Identify the amount of work your team can complete in a single sprint.
Relay updates and feedback.
Managing sprints with agile project management tools
You can use agile project management tools like Nifty, Smartsheet, and Teamwork to manage each sprint. They offer collaborative opportunities, tracking features, and planning functionalities.
Monitoring and managing progress during sprints
You can inspect progress through the product backlog. Additionally, daily scrum meetings also provide status updates. Alternatively, more visually-appealing options include using a burndown chart or Kanban board.
Sprint retrospectives and continuous improvement
Sprint retrospectives are usually the last step in agile meetings since the Scrum Master boils down the feedback for continuous improvement. You can identify points of strength and weakness during the whole sprint process, including the review meeting.
Tips for effective agile meetings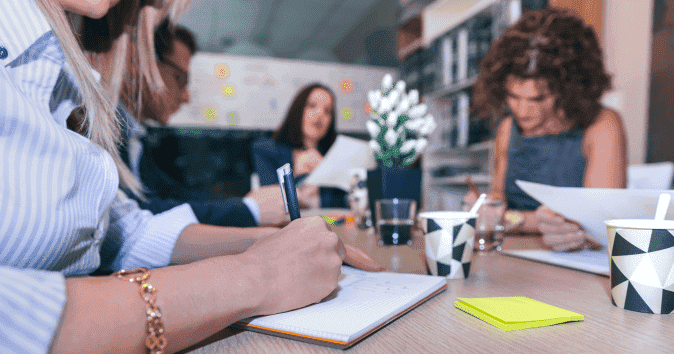 Agile methodologies are gradually taking over workflows. 91% of businesses believe that adopting agile methods provides a strategic advantage, enabling your team to work together to improve. Here are practical tips to ensure you make the most of your agile meetings.
Set clear goals and agendas
Identify the required outcomes.
Make sure participants are aware of the agenda ahead of time.
Keep meetings short and focused
Standup meetings shouldn't go beyond 15 minutes.
Try not to become distracted by irrelevant topics – discussions should pertain to the sprint goal.
Encourage participation from all team members
Each team member should feel comfortable to voice their progress.
When working on a hybrid team, be mindful of incorporating extra collaborative efforts for virtual meetings.
Use visual aids and other tools to enhance collaboration
Measure successes and focus on recognition of efforts.
Display backlog, Kanban board, or burndown chart.
Establish consistent communication channels with clear expectations of usage frequency.
Common challenges and how to overcome them
Despite the efficacy of agile meetings, several organizations face issues with implementing them. Here are some of the common barriers and how to overcome them.
Overcoming communication barriers in agile meetings
Use agile communication tools.
Make sure to only invite members that need to attend – this will ensure a short meeting.
Value transparency during every meeting when discussing visions and goals.
Addressing conflicts and resolving issues in agile meetings
Identify the issue from an unbiased perspective.
Spot the conflict's causes.
Take the initiative and brainstorm solutions with the team.
Managing time and staying on schedule during agile meetings
Designate a fixed time for each member's input.
Keep discussions relevant to item backlog.
Ensuring accountability and follow-through after agile meetings
Send feedback.
Set expectations.
Reward positive behavior to boost morale.
Scope out issues before they escalate.
Do you want to improve employee wellbeing and drive business success?
Learn how recognition can improve engagement, reduce burnout, and increase company loyalty, resulting in clear ROI. 💰 
The report examines a large-scale study of over 12,000 employees across 12 countries and uncovers the connection between recognition and wellbeing in each region.
🚀 Take action to improve employee wellbeing today! 
Download the Workhuman and Gallup report to learn the steps leaders should take to amplify wellbeing through recognition.
FAQs
Who runs agile meetings?
The Product Owner leads the meetings in a broader scope by communicating the vision and sprint goal. The Scrum Master assists with the vision's implementation and leads the team's progress.
How long are agile meetings?
Standup agile meetings last 15 minutes, while others, like retrospective ones, go for about 90 minutes.
Conclusion
Agile meetings help businesses with a time-efficient solution to long-winded and unproductive meetings by breaking down tasks and identifying them for team members. This is an efficient, effective method for conveying information like objectives, expectations, and feedback for improvements. Besides that, agile meetings provide a structure for employees to effectively collaborate and share feedback.