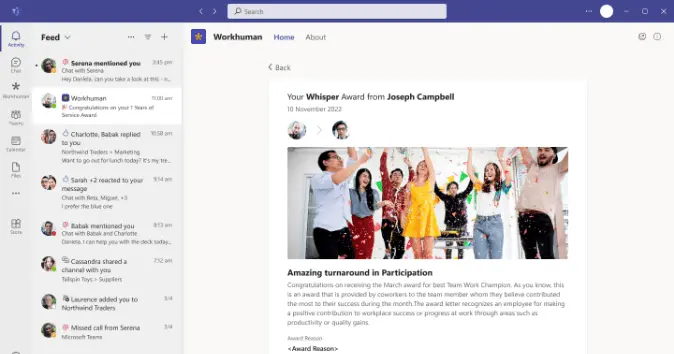 Picture yourself sitting on a Microsoft Teams call where your team is presenting on a big project. The kudos are rolling in via the chat, people are coming off mute (imagine that!) – there's a steady drumbeat of energy and enthusiasm that's only growing louder. You're beaming.
You want to congratulate the team on a job well done and recognize every team member for their unique contributions to the project. But your to-do list is a mile long, and you know your schedule won't allow for the time and hassle of bringing up another browser window, navigating to your recognition platform, authenticating your login, and thinking of and writing your award message.
With the new Workhuman app for MS Teams, you don't have to.
This latest integration for Teams enables recognition in the flow of work, right in the heart of Teams. Instead of switching from Teams to your recognition platform, you can simply navigate to the recognition icon within Teams, craft your recognition message, and hit "send." The added bonus is that your team members receive the recognition award in the moment, making your genuine note of appreciation all the more impactful. It's just that easy.
Building on Workhuman's initial Teams integration, the new app – available for download in the MS Teams app store – embeds your organization's recognition program directly into the Teams environment where your employees are already working, meeting, and collaborating every day.
It's a game-changer for elevating productivity, igniting company culture and community, and creating a ripple effect of positivity and gratitude in the workplace. In short, it's recognition for the modern work world – empowering recognition where work thrives.
Let's take a deep dive into the new features and functionality of the MS Teams integration and explore what it can do for your organization:
Unparalleled productivity
If the post-pandemic workplace has taught us anything, it's that collaborating and communicating have fundamentally changed. The so-called "hybrid workplace" has ushered in a whole new way of working – and, with it, a need for sophisticated technology to improve the employee experience and ultimately drive productivity and efficiency.
However, the digital applications landscape is crowded – and toggling between different apps may be hindering productivity instead of helping it. One Harvard Business Review study found workers toggled between apps roughly 1,200 times each day, which adds up to just under four hours each week reorienting themselves after toggling – roughly 9% of their time at work.
With the seamless Workhuman and Teams integration, you can say goodbye to toggling between apps; it ensures your workflow remains undisturbed while you recognize and celebrate all of the work happening around you – no disruptions, no detours. It's productivity at its finest.
Amplified culture
Establishing and maintaining workplace culture is arguably one of the biggest trends – and challenges – of the hybrid workplace. After all, an organization is only as strong as its work culture.
One of the best ways to strengthen company culture is to recognize people for who they are and what they do. If that sounds simple, that's because it is.
With the Teams integration, you can meet and exceed company culture goals by celebrating the whole human – from anywhere, at any time, on any device with Teams installed. Professional contributions, service milestones, and life events are all highlighted equally on the Teams homepage, making employees feel seen and heard as human beings, as well as connected to the organization overall.
And this makes a deep impact. Gallup and Workhuman's research shows that when employees are recognized for life events and work milestones, they are 3x as likely to strongly agree they feel connected to company culture – and more than 30% more likely to say they plan to be at their organization in five years.
The Workhuman app for Teams isn't just about improving productivity and elevating culture – it's also your direct line to a thriving workplace ecosystem. The power of integration lies in its ability to foster a sense of community, uniting teams separated by digital barriers in the hybrid workplace.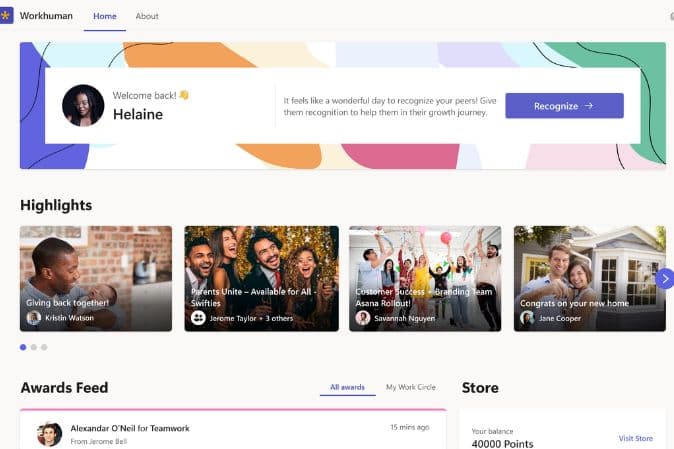 When your employees log into Teams each morning, they're welcomed with a daily dose of inspiration and motivation in the form of an "always on" recognition awards feed and a highlight reel of years-of-service awards and celebrations – all without having to log into a company intranet.
What's more, they can see their own awards points balance as a reminder of the recognition they've received from their peers, and can easily access the Workhuman Store to browse and redeem for merchandise, gift cards, charities, or experiences.
It's an immersive experience that changes the way your people live your organization's day-to-day culture.
Elevated recognition
With recognition directly embedded in the Teams environment – and infused into the daily flow of work – it's important for your recognition program managers and administrators to have the appropriate level of oversight of the recognition being given.
The Workhuman app for Teams has you covered.
Granular controls give Teams administrators the ability to centrally permission and deploy the app in the Teams environment. Your program managers and administrators can rest assured that employees are assigning the appropriate value to recognition awards with the Workhuman Award Advisor functionality, which guides employees on proper award values in just a few clicks.
It's a swift, hassle-free way to up your recognition game, ensuring that your people are receiving the right level of recognition for their unique contributions, perspectives, and achievements.
Secure deployment
We get it – there's concern with data privacy and security with any integration. You want the peace of mind to embrace efficiency with confidence.
The Workhuman app for Teams boasts a simple, secure deployment of the integration – it can be installed and deployed to employees in seven steps. Straightforward instructions and Workhuman guidance minimize IT's effort while clearly defined permissions and controlled privileges ensure information security and data privacy.
Once the integration is deployed, your employees are automatically logged into the platform through Azure Active Directory and SSO – allowing them to bypass a cumbersome login process.
Final thoughts
Through the Microsoft Teams integration, Workhuman is threading recognition throughout the entire Microsoft ecosystem swiftly and easily. It isn't just more opportunity to give recognition awards – it's raising awareness of the social nature of recognition and how people are exchanging thanks, congratulating one another for key achievements, and working and collaborating in the hybrid workplace.
All of which boils down to capitalizing on the new digital workplace. The release of the Workhuman app for Teams represents the next step in Workhuman's evolution in Microsoft – and we're bringing the power of our entire platform through the digital employee experience offered by Microsoft 365.
In fact, Workhuman became one of the first 50 partners globally to join the Microsoft 365 Copilot ecosystem, the next-generation AI that provides real-time, intelligent assistance in the Microsoft apps where employees are already working, including Teams. Copilot leverages AI and machine learning to suggest wording for a recognition message, much like the "Goodbye Writer's Block" feature Workhuman deployed earlier this year, and it keeps recognition embedded in the daily flow of work.
In short, we're expanding the art of what's possible.