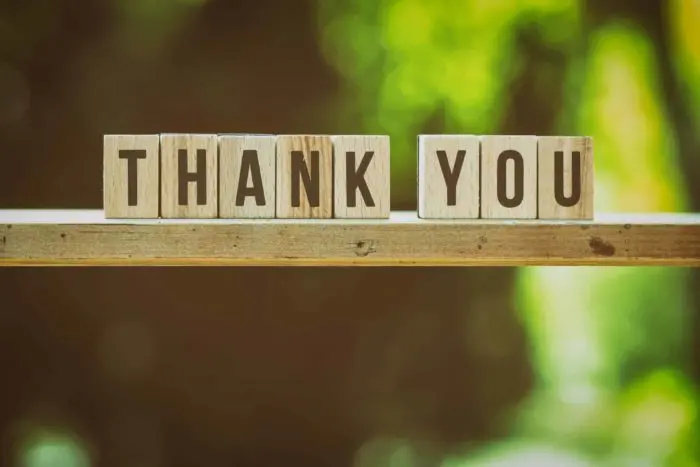 World Gratitude Day Fast Facts:
According to our Human Workplace Index, Only 31.2% of companies celebrate World Gratitude Day, and over half (53.1%) outright do not. 14.8% of employees shared they weren't sure.
When asked how they'd like to be celebrated on World Gratitude Day, half (48.9%) of all workers preferred a monetary reward, 41.2% preferred extra paid time off, 35.6% preferred a personalized reward, 24.80% preferred a company-wide activity and 20.30% preferred the introduction of new benefits.
---
World Gratitude Day is observed each year on September 21st. This tradition began in 1965 and was created by the spiritual and meditation leader Sri Chinmoy. The purpose of this holiday is to foster feelings of appreciation, positivity, worthiness, and connection, which can create a ripple effect of benefits for everyone involved. 
World Gratitude Day can be celebrated with colleagues, family members, partners, or even pets. However, making an effort to celebrate this holiday at work can be especially impactful for employees' mental and physical health, as well as team morale and ultimately, the success of your organization.
Read on to understand the importance of making gratitude a central part of your company culture on World Gratitude Day and beyond.
Why is giving and receiving gratitude so impactful?
Expressing gratitude isn't a trivial or frivolous act. In fact, cultivating a work environment with gratitude at the center can create both meaningful cultural changes and measurable, quantitative shifts in retention and performance. No one wants to feel as if their humanity or their labor goes unnoticed or unappreciated, especially when such a huge portion of their life is spent at work. 
Giving and receiving gratitude can have a myriad of positive effects, including: 
More self-confidence
Increased empathy
Less envy and jealousy
Better resiliency
A deeper sense of fulfillment
Less anxiety
Improved sleep quality
Lower blood pressure
11 ways to celebrate World Gratitude Day at work
Here are some simple, creative ways to help your team members feel warm and appreciated:
Send handwritten thank-you notes
While they may seem old-fashioned, hand-written letters are intensely personal. Taking the time to thank each employee individually for their unique contributions can help them feel seen and valued, as well as strengthen the manager-employee connection.
Host a party for your team
Whether it's a pizza party, a catered lunch, a happy hour, or a company outing, a party is a great way to thank your team for everything they do. This can also help your employees see each other in a different setting and appreciate one another as human beings, not just as coworkers, which can foster more effective communication in the future.
Reward your employees for their contributions
Even a small token of appreciation can go a long way to make an employee feel valued. Consider gift cards for their favorite services or establishments, fun desk accessories, or even self-care items such as foot massagers or slippers to help make their days a little more comfortable.
Host a company-wide meditation
Meditation and mindfulness can be very powerful tools for stress management and encouraging more clear, positive thinking. These practices can be especially beneficial at work, as they can help employees increase focus and avoid burnout.
Upgrade your office space
Office spaces can have a negative reputation for being drab and boring. Consider enhancing your workspace with plants, improved light fixtures, standing desks, or even a top-of-the-line coffee machine that can help make every day a little more special.
Host a gratitude exchange
Giving employees the time and space to express how thankful they are for each other's efforts can have a lasting impact on team morale. Consider getting creative with this endeavor, maybe by having employees secretly choose one another's names out of a hat and then write messages of gratitude for one another.
Pamper your workers
Chair massages, yoga classes, or an in-office sound bath can be calming ways to help your employees break away from the mundane and re-center. These small indulgences can help them feel special and valued, as well as reduce their stress levels and improve their concentration.
Create a newsletter of "wins"
While some employees may find it easier than others to celebrate their successes, sending out a digital newsletter celebrating these victories can help make recognition more commonplace. Fostering a culture of celebration and gratitude can help decrease burnout and improve retention rates.
Gift employees gratitude journals
Taking a few minutes every day to reflect on things you're grateful for can be a powerful way to center yourself and maintain a deeper sense of contentment and positivity. Gifting employees designated gratitude journals can provide a sweet reminder to devote time to this practice daily.
Encourage random acts of kindness
A great way to foster a culture of gratitude year-round is to encourage employees to go out of their way to be kind to one another. Not only will this improve your company culture, it will also encourage better teamwork and improved communication.
Turn a team meeting into a gratitude circle
Whether in person or digitally, having employees share something they're grateful for can encourage positivity and vulnerability, as well as foster more holistic views of one another as people. This provides a valuable opportunity for your employees to get a glimpse into each other's lives and learn more about who and what they value.
How does gratitude improve work performance?
World Gratitude Day is the perfect time to begin cultivating a culture of appreciation. This shift can create a domino effect of positive changes in your workplace, including:
Improved interpersonal relationships
To give and receive gratitude is an act of vulnerability on both sides. The speaker has to share what they're feeling and thinking, and the receiver has to accept what is being said. This inevitably creates a moment of intimacy between two people. Over time, these small moments can palpably alter workplace relationships for the better.
Smoother workflows
With better communication and stronger workplace relationships, it's inevitable that workflows will also improve. When employees are more eager to help one another, more forgiving of small mistakes, and generally see each other as humans first and colleagues second, things will begin to hum in a new way.
Better job satisfaction
No one wants to feel that their efforts are thankless or go unnoticed. In fact, a lack of recognition can lead to higher rates of burnout, weakened productivity and performance, and faster rates of turnover. When employees (and managers) are thanked for the effort they put in, what they bring to the team, and simply who they are as people, it's much more likely that they will feel satisfied in their roles.
Increased productivity and performance
A recent study found that 69% of employees perform better in their roles if they receive timely recognition and thanks. Gratitude is a great motivator for employees, regardless of their role or level within the organization. Feeling seen and valued for their efforts encourages employees to continue working hard, innovating, and making unique contributions to team projects and culture.
Improved retention rates
McKinsey research shows that 54% of employees leave their jobs due to a lack of appreciation for their efforts. Employees who feel that their work is valued are much more likely to remain in their roles. Not only is increased employee retention better for company culture and morale, it will also help you save exponentially on turnover costs.
Powerful quotes about gratitude
Considering adding these gratitude quotes to your company newsletter, office signage, or team emails for World Gratitude Day:
"Gratitude can transform common days into thanksgivings, turn routine jobs into joy, and change ordinary opportunities into blessings."
-William Arthur Ward
"Practicing gratitude is how we acknowledge that there's enough and that we're enough."
-Brenè Brown 
"The deepest craving of human nature is the need to be appreciated."
-William James
"Thankfulness is the beginning of gratitude. Gratitude is the completion of thankfulness. Thankfulness may consist merely of words. Gratitude is shown in acts."
-Henri Frederic Amiel
"Silent gratitude isn't very much to anyone."
-Gertrude Stein
"Make it a habit to tell people, 'thank you.' To express your appreciation sincerely and without the expectation of anything in return. Truly appreciate those around you, and you'll soon find many others around you. Truly appreciate life, and you'll find that you have more of it."
-Ralph Marston
Wrap-up
While World Gratitude Day is a powerful reminder to be grateful for all that we have, it's important to continue the practice of giving thanks year-round. 
Leaning into optimism can improve employees' mental and physical health by reducing anxiety and improving sleep quality, just to name a few benefits. In the workplace, this can translate to more cohesive communication, better productivity, and higher rates of employee satisfaction.
It's a human need to feel valued, seen, and appreciated. You have the power to ensure that your employees know how grateful you are for each and every one of their unique talents and strengths.