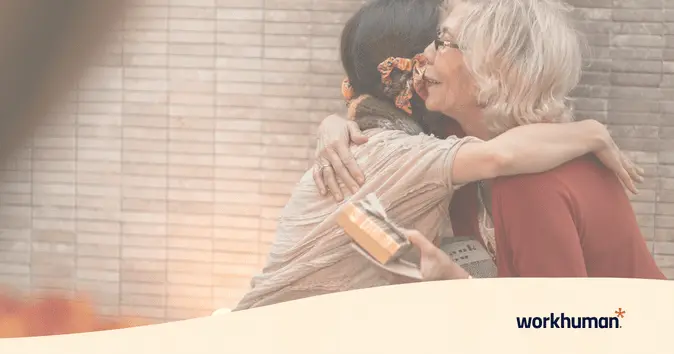 Thanksgiving Day marks the beginning of the holiday season, and as a member of the management team at your organization, you're probably thinking about the "Happy Thanksgiving" messages you can share with your employees on this wonderful occasion.
"Happy Thanksgiving" messages are a powerful way to inspire and lift up your employees during the holiday season. They express your gratitude and infuse a positive attitude into your workers' outlook.
Perhaps most important, a "Happy Thanksgiving" message is a timely and poignant way to recognize and salute the incredible work your employees have been putting forth throughout the year.
Why wishing employees "Happy Thanksgiving" matters more during the holiday season
Thanksgiving marks the beginning of the holiday season, and as your company — and your workers — approach the end of the year, "Happy Thanksgiving" messages resonate in a profoundly meaningful way.
Wishing your employees a wonderful Thanksgiving expresses the gratitude you feel for all the support and contributions they have delivered over the past 12 months.
There are a number of ways to send Thanksgiving messages to employees.
One simple and easy way is for the CEO — or another senior leader — to email a Thanksgiving message of warm wishes and positive energy to everyone who works at your company.
Likewise, division heads or managers can send a more personal note to members of their talented group. Even better, any and every employee can wish their peers a wonderful Thanksgiving, and a well deserved holiday season.
Of course, if your organization has an employee recognition program already in place, it becomes particularly easy to send Thanksgiving messages of gratitude to employees through your recognition platform.
Some recognition platforms — like the Workhuman Cloud® — also include Community Celebrations®. Such solutions bring people together from across your organization to display and celebrate shared interests, events, and milestones to help create a culture of celebration.
Here are just a few of the countless reasons to celebrate your people.
Perhaps a group of employees are running together in a Thanksgiving Day 5K road race. Others are welcoming family from far away to share in Thanksgiving festivities. Or maybe your office gives employees a well deserved break and puts on a traditional Thanksgiving meal in the workplace.
Likewise, a solution such as Workhuman's Life Events® helps celebrate personal milestones that coincide with the holiday season. These are joyous occasions in the personal lives of the work community, and can include birthdays, engagements, marriages, births, anniversaries, graduations, a new home, a new pet – even retirement.
Recognizing your employees' life milestones helps create a culture of celebration built on a foundation of belonging, social support, and social exchange. A culture of celebration is even more important in today's fast-paced, ever-changing world.
Both community celebrations and life events help deepen social connections, give your employees a sense of belonging, and empower your workers to bring their whole selves to work. In this way, they are the perfect vehicle to wish your employees a very happy Thanksgiving, filled with the warm company of family and friends.
Download this report and find out how recognition can mitigate the $322 billion cost of global turnover and lost productivity.
32 examples of "Happy Thanksgiving" messages for employees
Let's look at examples of some great Happy Thanksgiving messages to employees. While they can serve as a valuable guide and framework, you should infuse your message with personal insights, bright moments, and heartfelt good wishes as you express "Happy Thanksgiving" wishes.
Messages of gratitude from leaders this Thanksgiving season
To all our employees — I hope you all enjoy a joyous Thanksgiving and an amazing holiday season ahead. Your consistent efforts make us a stand out organization with an exceptional product.
This year, I celebrate the passion, innovation, and joy you have brought to the company this year. Happy Thanksgiving to you and your family.
I want to pause and reflect on how grateful I am for you and your hard work that has made this company brand what it is. Every happy customer is a testament to your efforts.
We value your presence and are proud to have each and everyone one of you as part of [Company Name]. I want to wish each and every one of you a wonderful Thanksgiving and happy holidays!
This year, along with family and friends, I am grateful for all of you who persevered through turbulent times and showed great resilience. I'm proud to count myself among professionals who have approached these challenges with passion and compassion. I wish you an abundant Thanksgiving and restful break. You deserve it.
I'm so grateful for all of you at [Company Name]. Each and everyone one of you is the key to what makes our company great.
As we celebrate Thanksgiving in the U.S., I want to extend a heartfelt thank you to all of you at [Company Name]. Every person here has made this a truly global community and a terrific place to work. Happy Thanksgiving and have a great holiday season, wherever you are located!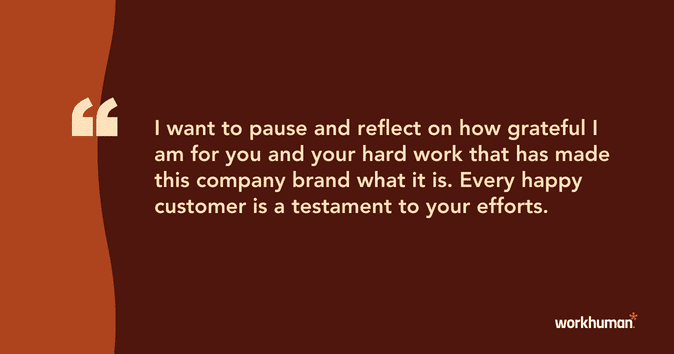 Thanksgiving messages from managers to employees
As I watch the autumn leaves fall, I want to take a moment to express gratitude for the hard work you have all done this year. It has truly made a difference. I wish you and your family good health and a very Happy Thanksgiving!
At this wonderful time of the year, I have much to be immensely thankful for. I can reflect on our good fortune as a company as we emerge from the challenges of the past few years and embrace a new way of working. We have much to celebrate this holiday season!
Thank you for all you bring to this team and for building such a positive rapport with your peers. Have a fantastic Thanksgiving and happy holidays!
It's always a personal pleasure to hear such wonderful things about my employee. I've watched your hard work and accomplishments in awe, and I'm not the only one! Happy Thanksgiving!
It's never hard to come to work when you have so many wonderful people to work with! So before we go and dive into our turkey and mashed potatoes, I want to thank you for bringing such dedication, passion, and comradery to our workplace.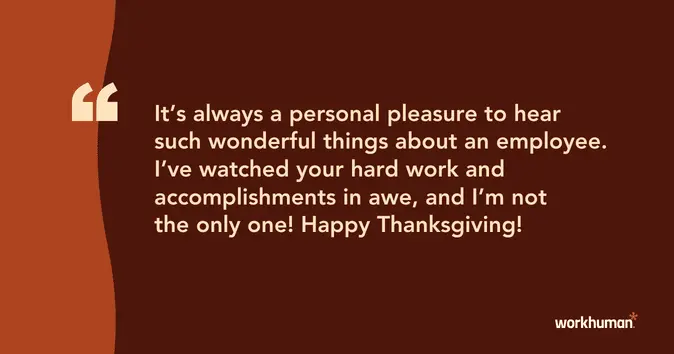 Wishing peers a great Thanksgiving
I can't help but feel grateful to have you as a co-worker at this time of year. You are a great teammate and an amazing human, one that everyone wishes to work alongside. I want to wish you a wonderful, Happy Thanksgiving.
Working together has been an amazing opportunity. I've come to rely on you to tell me how it is and don't know what I'd do without your sage advice. Thank you for being you and have a joyous holiday season.
I want to make sure that everyone gets their due credit, and that starts with you. Your thoughtful questions always help me work through problems. You're an incredible employee and friend. Happy holidays!
Thank you for being my rock during the company's ups and downs these last few weeks. [Project] has been tough but you've kept me steady. Now we can celebrate stress-free! I hope you enjoy a joyous Thanksgiving with your family!
Happy Thanksgiving, [Name]! I wanted to formally thank you for the incredible job you've done at [Company]. We haven't worked together often, but whenever we do, I know it will be a well-organized and thoughtful process. Happy holidays!
Thanksgiving message for managers
As Thanksgiving Day approaches, I want to express my gratitude for your leadership, counsel, and advice throughout the year.
I want to wish you a heartfelt Happy Thanksgiving, [Name]! You inspire me, and everyone on your team, to reach our full potential. Thank you for leading by example!
The past few years have been challenging — to say the least. But your leadership has been inspiring and motivating, and is a big reason why we have enjoyed great success and emerged as the thriving company we are today. I wish you a wonderful Thanksgiving filled with good food and even better memories.
[Name], I'm extremely grateful we get to work together. I've learned a lot from the feedback you've given me and grown as a result. Thank you for being such an incredible manager. I hope you enjoy some well deserved time off on Thanksgiving, and throughout the holiday season!
Thank you for all you do, [Name]. I appreciate your high standard and willingness to coach me through tasks big and small. I am grateful for all of the help you have provided me in getting to where I am today. Happy Thanksgiving!
Happy thanksgiving to the team
This would be a very long message if I try to thank you all for everything this team has done for the company. That won't stop me from telling you how much I've appreciated working with all of you this year. I wish you all a very happy Thanksgiving!
It gives me immense pride to be a part of this team. And while times have been stressful, your diligence has set a benchmark for my own work ethic as well as the rest of the workforce. I hope you all have a wonderful and relaxing Thanksgiving!
Spending time with and getting to know you all through this project has been a highlight of my year. I wish you all a wonderful Thanksgiving and a happy holiday season!
I am fortunate to have such a talented and dedicated team! I wish you all an enjoyable Thanksgiving day and a wonderful holiday season.
As managers, we are incomplete without hard-working employees like you. This holiday season, I'm giving thanks for your support and the hard work that you put in every single day.
Teamwork makes the dream work! And without you, our dream of [Project or Task] would still be on the drawing board. All the effort you've put in these last few weeks have made waves in our organization. Have a fantastic Thanksgiving team!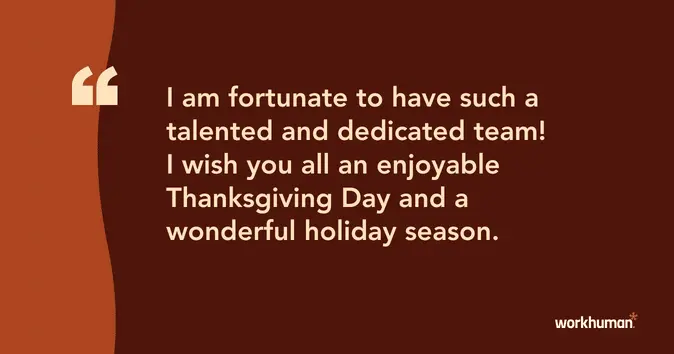 Thanksgiving appreciation to direct reports
A good employee inspires his or her boss. Thanks for being my inspiration and one of the unsung heroes of our success. Happy Thanksgiving!
Your hard work is admirable, and it guarantees a continuing successful relationship between us and more good things to come from our team. I hope you have a joyous holiday season.
I must be one hell of a lucky manager to get someone like you working for me. It makes me so happy to see the progress you make in all your endeavors. Let's close out the year as strong as we started it!
I'm so grateful to be working with such a great employee. You confront challenges with a refreshing positivity. It gives me the energy boost to work with you. I hope you have a great holiday with your family.