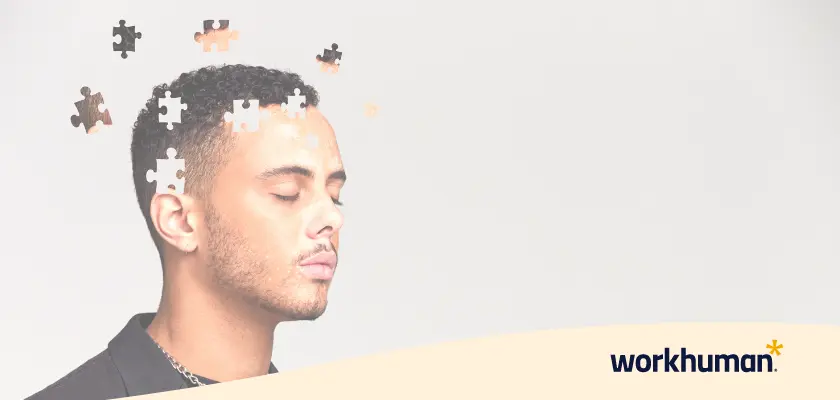 Mental health issues are not new, but the COVID-19 pandemic increased the emphasis on this dilemma, especially in the workplace. In 2019, before the pandemic, one in five adults in the United States experienced mental illness, most often depression or an anxiety disorder. Today those numbers are significantly higher, showing that as many as 80% of Americans struggle with anxiety, depression, grief, or isolation.
COVID-19 compelled many employers to assume a more active role in promoting the mental health of their employees. Through frequent communication and check-ins, managers are making time for their employees to voice concerns about their well-being. Additionally, organizations are taking advantage of promoting internal and external resource groups for employees to openly engage with others going through a similar situation.
But COVID-19 did more than increase awareness around mental health issues; it made it impossible to ignore the racial inequities in how people experience mental health concerns. There are striking racial and ethnic disparities when it comes to mental health in the U.S.: Asian people are 51% less likely to use mental health services than their white counterparts, Latino people are 25% less likely, and Black people are 21% less likely. It only makes sense that DE&I strategies should support and proactively include mental health.
"Mental health and diversity and inclusion (D&I) are closely connected," says a Forbes article. "Employees from diverse backgrounds can face lack of representation, micro-aggressions, unconscious bias, and other stressors that impact their mental health and psychological safety at work."
Mental health may not be the current focus for all companies, but it should be. Organizations need to focus on their DE&I initiatives by investing in the accessibility of mental health support for all employees, especially for traditionally marginalized employees.
Here are three steps to get started in becoming a diverse and inclusive workplace when it comes to mental health.
1. Health systems, insurance networks, and policy decisions that deliver culturally competent mental health care
Take a closer look at what kind of benefits are offered to your employees. If possible, provide mental health benefits that can be tailored to individual needs by expanding provider networks and increasing out-of-network coverage. Not only are more mental health-care providers needed, but more professionals from diverse backgrounds who can better empathize and support employees with related experiences.
2. Track engagement to keep the pulse of employee morale
With a survey tool, you can continuously monitor your company's culture, providing HR and business leaders with new insights and early warning signals on team members' mood, morale, and engagement as you create a culture focused on employee well-being. With the results of the survey, tracked at different points in time, you will be able to measure things like:
What is employee energy like inside the company?
How is engagement?
What is the current mood and morale?
Did a recent change affect our culture? How will it affect culture in the future? What can we do to make sure it doesn't affect culture negatively?
Looking for a survey tool?
Try Moodtracker®, the free employee pulse survey tool that makes it easy to get the heart of organizational issues.
3. Keep the conversation on going
This one may seem obvious, but more communication is better than none. Harvard Business Review reported almost 60% of employees have never spoken to anyone at work about their mental health status. Managers are most likely to be the first contact for employees who want to address some sort of discomfort in a time of crisis. You should be prepared to follow-up with appropriate questions and an open mind, while respecting the employee's boundaries.
Employees with mental health conditions are just as valuable as their peers. As we continue to maneuver through the impact of COVID-19 we must remain committed to provide support to diverse communities during their journey to seek support.
Looking for more information?
Check out the latest research conducted by Gallup to see just how impactful employee recognition can be for your organization.