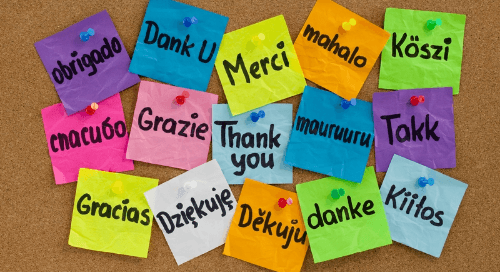 It is sad but true, when 46% of employees aren't feeling properly appreciated, most of us just don't have much experience in the art of receiving formal thanks or formally recognizing peers.
Even the most confident and accomplished among us are not always quite sure how to offer thanks or accept public appreciation. A lot of us just outright freeze like a rabbit in a spotlight when we're singled out for praise.
This is ironic, really, because it's been proven time and again that recognition is one of the single biggest drivers of engagement—and by extension, business success. Which means, as awkward as we might feel or act when we're unused to praise, almost every single one of us really LOVES to be appreciated.
Guidelines for recognition are usually directed at helping managers be more effective. Very little effort is given to show non-manager types the recognition ropes. Sadly, we're probably the folks who need it most! In this spirit, I offer a few lessons-learned about effectively giving and receiving recognition to co-workers. Here are a few quick rules of thumb to help you and your employees as you navigate the brave and exciting new world of strategic recognition:
HOW TO SAY THANK YOU TO A PEER
Be aware: Recognition moments happen around you all the time. Don't wait for the bat-signal or a major milestone before you think about saying thanks. Notice people doing great things. Then be proactive. Don't wait for their boss to notice. Recognize them yourself and bring it to everyone's attention. But always keep in mind personal preference. Don't publicly embarrass those who prefer to receive recognition more privately. Remember: mortification ≠ motivation.
Be inspired: Don't thank someone for coming to work, making coffee, or doing the minimum to get by. Don't recognize just for the sake of it or as quid pro quo. Recognition isn't about quota, it is about inspiration. Be authentic and excited about the recognition you give.
Be thoughtful: Saying "thank you" sends a message to someone that you want to see more of the behavior you're praising. It also sends signals to other people in the company about who to imitate. Think about the people around you who are best exhibiting your organization's values, and thank them for it.
Be fair: This is a no-brainer. Don't play favorites with recognition. Spread the love.
Be timely: Give recognition within a few days or even hours of the behavior that inspired it. At the very least, designate a time on a Friday to think back over the week and consider those who deserve your thanks.
HOW TO RECEIVE A THANK YOU FROM A PEER
Say "thank you" back: Someone took the time to call you out for something you did well. Reflect a little of that appreciation back their way by shooting them a quick note or dropping by to say thanks for the recognition.
Believe it: Don't shrug off praise. Don't say you don't think you deserve it. Just suck it up and accept that someone thinks you're great. They're probably right.
Give credit where it is due: If you do feel like your recognition was part of a larger collaborative effort that deserves notice, ensure that you acknowledge your fellow team members for their contributions.
Do more of it: You're being recognized and that tells you you're on track. Continue to model that behavior and exhibit those company values. You're doing something right.
Pay it forward: Recognize how good being appreciated feels, and resolve to make someone else feel just as good by noticing their good work and recognizing them.
Have you got any tips for how to best give and receive praise and recognition?