It's hard to argue with the benefits of employee recognition: Research shows it boosts engagement and strengthens bonds between people, helping to build and maintain an organizational culture centered around DEI and wellbeing.
But what, exactly, is strategic employee recognition?
Broadly speaking, strategic employee recognition involves more than a reactive and occasional "thank you." Recognition becomes strategic in nature when companies don't just "do" recognition – they live it, every day.
For more than a year, Gallup and Workhuman have partnered to explore the deep impact of strategic employee recognition – on both employees and on the business – as well as ways for leaders to move beyond recognition as a one-off practice to recognition as a way of life within the organization.
Let's take a closer look at some of the research findings:
What is strategic employee recognition?
All recognition matters, from simple, day-to-day "thank you's" to company-wide awards. But not all recognition is created equal.
Gallup and Workhuman research shows there are five factors that are critical to driving the impact of recognition: We call this the five pillars of strategic recognition: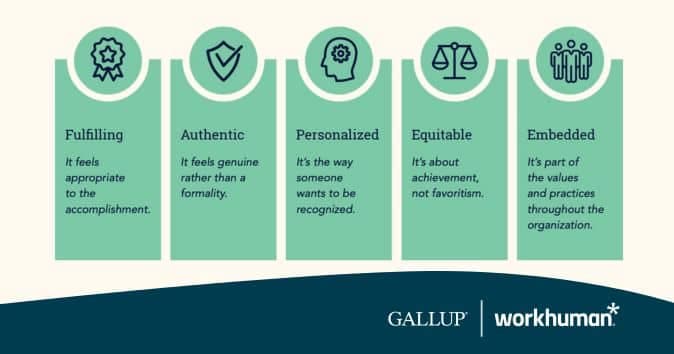 Let's explore each in further detail:
Fulfilling
There is no "magic number" for how frequently recognition should be given, as employees' individual needs vary.
Instead, organizations should provide employees with a consistent and reliable experience of being appreciated to fulfill their basic human need to feel valued and validated.
Most employees want to be recognized at least a few times a month, but this should be regarded as the bare minimum. Gallup data show there's no such thing as "too much" recognition – as long as it's genuine and appropriately given.
In fact, 40% of employees Gallup surveyed view the right amount of recognition as a few times a week or more.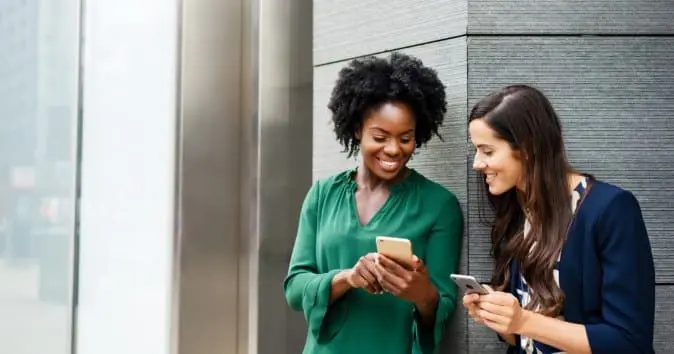 However, only 23% of employees strongly agree they get the right amount of recognition for the work they do, indicating that many organizations are missing out on the benefits seen when employees feel that their recognition needs are being met.
These benefits include employees being:
4x as likely to be engaged
56% less likely to be looking or watching for job opportunities
44% more likely to be "thriving" in their life overall
Providing more frequent recognition can help organizations ensure they're meeting employees' needs, but the success of a recognition strategy shouldn't be judged solely by whether a frequency quota is being met.
Creating a fulfilling recognition experience has far more impact than frequency alone.
Authentic
Although giving the right amount of recognition is critical, empty words or gestures will not land with employees. What makes recognition impactful is what it means to individuals – about themselves, their job, their teams or workplace – and the organization.
If recognition isn't perceived as authentic, it can undermine the employee experience.
According to Gallup data, only a third of employees strongly agree the recognition they receive is authentic, pointing to a considerable opportunity for employers to make recognition meaningful.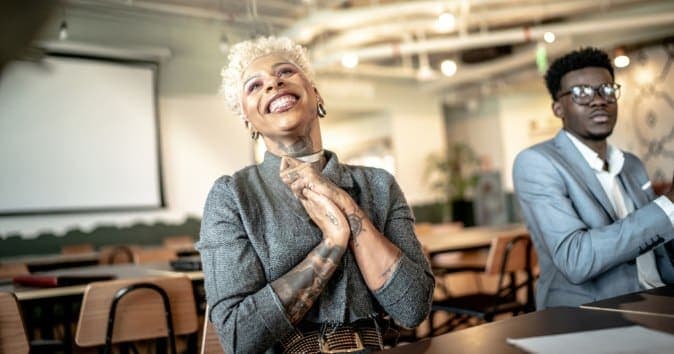 Recognition becomes more meaningful when it's clear why it's being given. Telling employees how their work made an impact takes the words "good job" to a new level.
Tying monetary rewards to a specific achievement or goal sends a different message than everyone getting a bigger paycheck at the end of the quarter. Spontaneous, in-the-moment feedback also reads as sincere.
Managers and leaders should consider how the recognition provided in their organization is perceived. Is it given impersonally as a matter of routine or obligation – or is it personalized and genuine? Optics matter but so does sentiment – and employees can tell the difference.
Personalized
While getting recognition "right" can seem like a moving target, there's a straightforward way to ensure a bullseye: just ask.
Something so simple may seem obvious, but only 10% of employees surveyed by Gallup strongly agree they have been asked by someone at their current workplace how they like to be recognized.
Setting can matter. While some employees like being in the spotlight, others prefer not to be. Twenty-nine percent of employees say they prefer to receive recognition in private, while only 7% prefer it to be public.
The balance, 64%, prefer a mix of public and private recognition.
Equitable
Although recognition should be targeted and personal, how much others receive recognition matters.
When employees see recognition that is out of balance – particularly when they feel they are being shorted – it triggers an alarm to their basic need for fairness and damages their overall employee experience.
Overall, only 26% of employees Gallup surveyed strongly agree they receive similar amounts of recognition as other team members at their company with similar performance levels.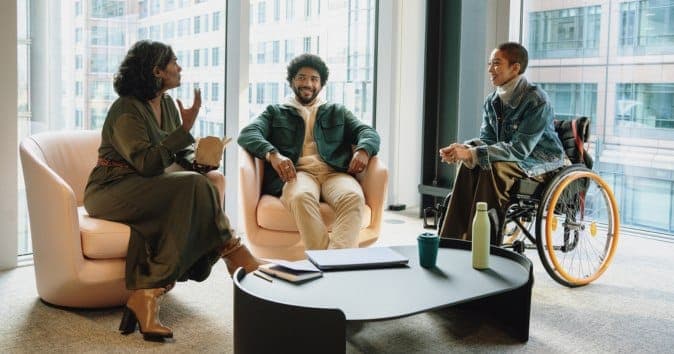 Deeper analysis shows clear patterns of who is – and is not – receiving recognition, with significant implications about the state of diversity and inclusion in workplaces.
Only 19% of Black employees and 21% of Hispanic employees Gallup surveyed strongly agree they receive a similar amount of recognition as other team members, compared to 28% of White employees.
The data point to a hard truth: Recognition can reflect inclusivity at an organization – or reveal underlying attitudes and biases with serious downstream repercussions.If recognition is about giving credit where credit is due, then the general lack of perceived equity in recognition signals a serious failure.
Embedded in organizational culture
Recognition can be a practice, or it can be the way of life at an organization. The distinction between the two makes a noticeable difference in the daily experience of employees.
Simply having a recognition program isn't enough. A culture of recognition is one in which gratitude, praise, and appreciation are freely given, regularly received, and reach all corners of the organization.
In other words, it's an environment where everyone feels empowered to take part in showing appreciation and commending achievements.
Thirty-six percent of employees Gallup surveyed report having a recognition program at their organization – nearly twice the number who strongly agree recognition is fully embedded in their organization's culture.
By embedding recognition into their culture, organizations can start to reap the benefits of strategic employee recognition, including improved business performance through increased productivity, safer workplaces, and decreased absenteeism.
Let's take a closer look:
The benefits of strategic employee recognition
As has been explored extensively in Gallup and Workhuman research, strategic employee recognition isn't just a nice-to-have: It also comes with significant cost savings.
By making recognition an important part of company culture, a 10,000-person organization with an already engaged workforce can save up to $16.1 million annually due to reduced employee turnover.
But, if recognition has such an impact on reduced turnover, are there other cost savings it can yield throughout the organization? The answer is an emphatic "yes!"
In a recent Gallup and Workhuman study, Gallup reviewed correlations between employee recognition and employee outcomes across hundreds of organizations and thousands of teams in different industries.
Globally, one in four employees in Gallup's database strongly agree that they have received recognition or praise for doing good work in the last week.
Gallup found that if the median business in their database doubled the number of employees who strongly agree to this item, that business could see:
Using these results, Gallup calculated how much an average U.S. business of 10,000 employees could expect to save based on Bureau of Labor Statistics (BLS) data – and the results are striking.
By doubling the one in four employees who strongly agree, in Gallup's database, to receiving recognition or praise for doing good work in the last week, an average business could expect to save: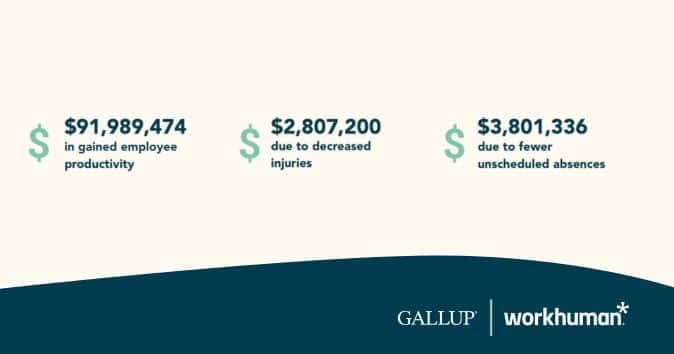 Let's dive deeper into the impact of recognition on each of these business outcomes:
Why strategic recognition boosts productivity
Extrinsic factors at work, such as getting paid, are the motivators we often think about. But extrinsic factors alone can only go so far.
Intrinsic factors, on the other hand, do much of the motivating on a typical business day. Intrinsic motivation is like a magnet that draws people toward activities that are fascinating, enjoyable, and fun for their own sake.
Work feels intrinsically engaging when people:
Like the work they do.
Like the people they are around.
See the meaning and purpose in their efforts.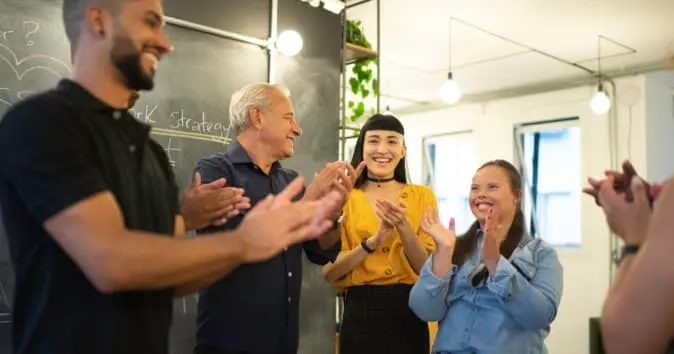 Strategic recognition supports all three of those criteria: It celebrates individual work, it bonds teams together, and it connects personal achievement to organizational success.
When employees feel engaged in this way, they work harder, are more productive, and are less prone to burnout. It's just that simple.
Why strategic recognition influences safety
Many factors influence why safety incidents occur, but attention to detail is among the most important. A recognition-rich culture communicates the idea that people are paying attention to how work gets done.
Another important factor is caring – and recognition increases social bonding. When employees are singled out for praise, or when personal milestones or important life events are celebrated, it increases their value to the team.
Lastly, recognition affirms the importance of quality. It says excellence is better than cutting corners, a job well done is better than hiding mistakes. Recognition likely increases conscientiousness on a work site, which in turn improves safety outcomes.
Why strategic recognition influences absenteeism
It may sound surprising that something as simple as praise for excellent work would make people show up more often. The fact of the matter is that most people are motivated by caring relationships.
When people receive recognition, they take pride in what they do and put in extra effort to feel part of the team.
What's more, the likelihood of positive social interactions plays a major role in where employees choose to be on any given day.
A consistent environment of appreciation makes the workplace a place where people want to be rather than where they have to be.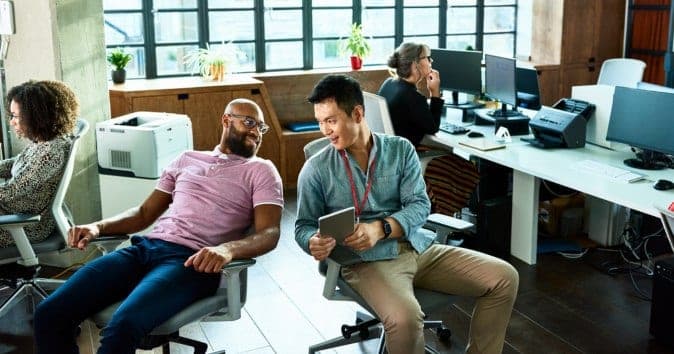 And then there is the matter of mental health. Gallup data shows that employees who report fair or poor mental health miss four times more work than those who report good, very good, or excellent mental health.
This is where, once again, recognition plays an important role: It bolsters wellbeing because it draws attention to what employees do well, making them feel good about themselves, their one-of-a-kind strengths, and what they uniquely bring to the table.
FAQs
How can organizations improve recognition at work?
Organizations can maximize their recognition efforts by targeting the five pillars of strategic recognition:
fulfilling employees' needs for recognition
giving high-quality, authentic recognition
making recognition personalized to the individual
ensuring equity
embedding recognition into company culture
What is an employee recognition program?
An employee recognition program builds culture by creating moments for workers to feel valued and appreciated for their work. A strategic employee recognition program takes recognition from a practice to a way of life across the organization.
Final Thoughts
Strategic employee recognition improves business outcomes by improving the employee experience. But recognition only works when done right. Organizations that leverage the full force of recognition don't just "do" recognition – they live it, every day.
So, the question is: Why not get started today?