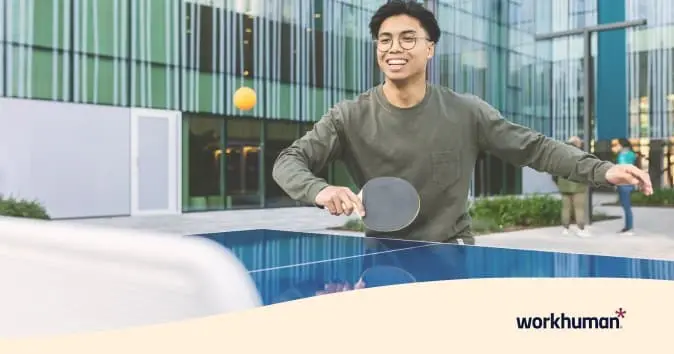 Outdoor team building activities are more than just fun and games – they're powerful tools for fostering collaboration, boosting morale, and unlocking the potential of every team member.
By challenging your team to work together under the open sky, you can facilitate communication, improve problem-solving skills, and foster a strong sense of camaraderie.
Furthermore, the positive effects of being outdoors are scientifically proven to enhance productivity and reduce stress. 
In fact, recent studies have shown that:
More than 85% of employees in leadership positions report that lack of collaboration is the top reason for failures in the workplace. 
An average of 17% of employees are more satisfied when they engage in teamwork, which leads to a 20% increase in productivity.
Improving collaboration and teamwork among employees is possible via multiple strategies, including well-planned outdoor team building activities.
So, are you ready to step outside the office and embrace the great outdoors? Dive into this blog post and discover some of the best outdoor team building activities that promise an invigorating blend of fun and learning.
Why is team building important?
Teamwork is a crucial piece of individual, organizational, and, of course, team success. It requires trust, collaboration, connection, and communication.
Team building activities can conjure cringy icebreakers and forced interactions, but when they're planned with a purpose, they can be an effective way to introduce people and get them to open up.
No one team building activity will magically create teamwork for the entire organization, but it will warm up the skillset needed for it to flourish. 
And why are outdoor team building activities important, for all of the reasons that any team building activity is important plus the added benefits of being outside.
The outdoors provides a whole host of positives. Namely, it's a boon to mental wellbeing and in the context of work, it's a fun change of pace from the standard operations.
| | | | | |
| --- | --- | --- | --- | --- |
| Activity | Entertainment Level | Effect | Difficulty | Estimated Duration |
| Scavenger hunt | High | High | Medium | 2 - 4 hours |
| Escape game | High | High | Medium | 1 - 2 hours |
| Animal therapy | Medium | Medium | Easy | 30 minutes - 1 hour |
| Egg drop | Medium | Medium | Easy | 15 - 30 minutes |
| Random acts of kindness | Low | Medium | Medium | Depends on the chosen act |
| Cornhole tournament  | High | Medium | Medium | 1 - 2 hours |
| Charity run/walk | Low | Medium | Medium/Hard | 30 minutes - 1 hour |
| The amazing race | High | Medium | Hard | 2 - 4 hours |
| Wild goose chase | High | Medium | Medium | 1 - 2 hours |
| Cardboard boat building | High | High | Medium | 1 - 2 hours |
| Tree planting | Low | Medium | Medium | 1 - 3 hours |
| Make/Give care packages | Low | Medium | Easy | Depends on the number of packages |
| Picture challenge | High | High | Easy | 2 - 3 hours |
| The human knot | Medium | High | Easy | 30 minutes - 1 hour |
| Group tic-tac-toe | Low | Medium | Easy | 15 - 30 minutes  |
| Found art | Medium | Medium | Easy | 1 - 2 hours |
| Beach or neighborhood cleanup | Low | Medium | Medium | 1 - 3 hours |
| Team mall | Low | Medium | Hard | 30 minutes - 1 hour |
| Riverside camping | High | High | Hard | 8 hours - overnight  |
| Minefield | High | High | Medium | 10 - 30 minutes |
| Beach day | High | Medium | Easy | 4 - 6 hours |
| Dish party | Medium | Medium | Easy | 4 - 6 hours |
| DIY catapult launcher | High | Medium | Medium | 1 - 2 hours |
| Bike buildathon | Low | Medium | Hard | 3 - 4 hours |
| On-spot orchestra  | High | High | Medium | 1 - 2 hours |
| Call out challenges | High | High | Medium | 1 - 2 hours |
| Flashlight tag | High | Medium | Easy | 20 - 30 minutes  |
| Freeze tag | High | Medium | Easy | 20 - 30 minutes  |
| Water gun battle | Medium | Medium | Easy | 30 minutes - 1 hour |
| Capture the flag | Medium | High | Medium/Hard | 1 - 2 hours |
| The emotional play | Medium | High | Medium | 45 minutes - 1 hour |
| Relay race | Medium | Medium | Medium | 30 - 45 minutes  |
| Rope course | Medium | Medium | Medium | 30 minutes - 1 hour |
| Blind retriever | Medium | Medium | Medium | 15 - 20 minutes  |
| DIY obstacle course | Medium | High | Hard | 20 minutes - 1 hour |
| Go hiking | Medium | High | Hard | 2 - 5 hours |
| Beverage tour | Medium | Medium | Easy | 3 - 4 hours |
| One-minute challenges | High | Medium | Medium | 30 minutes - 2 hours  |
| Survival day | Medium | Medium | Hard | 2 - 3 hours |
| Tug of war | Medium | Medium | Medium | 10 - 15 minutes  |
| Big Jenga | High | Medium | Medium | 15 - 30 minutes  |
| Team chess | Medium | Medium | Easy | 20 - 30 minutes  |
| Virtual meditation or yoga | Low | Medium | Easy | 15 - 30 minutes  |
| Team pipeline | Medium | Medium | Medium | 20 - 40 minutes  |
| Fort building | Medium | Medium | Easy | 30 minutes - 2 hours |
1. Scavenger hunt
Offering tons of fun in a casual environment, a scavenger hunt is one of the most impactful outdoor group activities that you can plan to boost communication as teammates analyze clues and look for the prize.
It also encourages problem-solving and builds solidarity between members, improving company culture.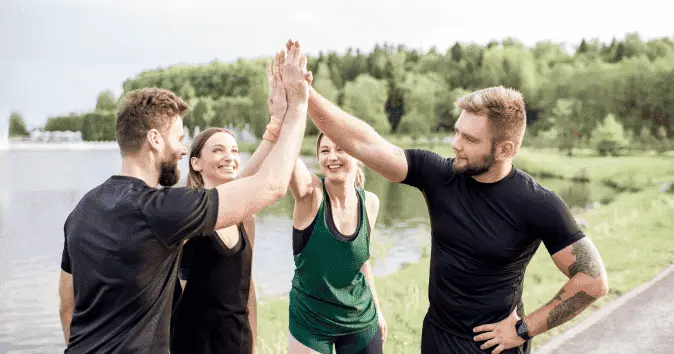 You can plan an outdoor scavenger hunt around the neighborhood/town, or use an app-led scavenger hunt in your area.
At least 5 team members are recommended for this outdoor adventure and the budget depends on how extravagant you want to go.
2. Animal therapy
Spending time with animals in a park is a great outdoor activity to raise team spirit as it provides a significant mood boost.
You can plan this at practically no cost by collaborating with a local animal shelter. This team activity is more suitable for small groups.
3. Escape game
It may not take place out in the open, but an escape room is an effective outdoor team building game nevertheless.
Besides enhancing interpersonal and analytical skills, this fun activity helps enhances time management skills as team members must work together to achieve goals before the clock runs out.
Divide your team into small groups of 3 - 6 people to get the most out of this experience.
4. Egg drop
Team building activities help strengthen collaborative skills, and an outdoor game of egg drop is a great example.
Split into groups, give each team an egg, building materials like popsicle sticks and cotton balls, and a time limit to build a shield for the egg that would help it survive falls.
After time's up, test all the shields by dropping all the eggs at the same time from the same height. If a tie-breaker is due, increase the drop height until only one egg survives.
5. Random acts of kindness
Creating a sense of community leads to more effective teamwork, and what better way to get your team to feel like a unit than by giving back?
Divide into groups and see who completes the most acts of kindness within a set time limit. These acts can be as simple as giving unexpected compliments!
7. Cornhole tournament 
This outdoor team building event involves a lot of cheering, laughs, and collaboration, which promotes employee social wellbeing and improves workflow.
All you need to make it happen is a cornhole set. Keep track of points and give the winning team a shout-out via Social Recognition® 
8. Charity run/walk
Another way to build a sense of community is to get the entire team to join a run/walk for charity.
Employees will engage, interact, and bond with each other while contributing to a good cause. They'll also feel better mentally.
9. The amazing race
One of the best outdoor group activities, this type of race involves completing challenges, overcoming roadblocks, solving puzzles, and having loads of laughter.
It's a destination-based game where participants team together to finish tasks that take them to the next location. The winning team is the first team to cross the finish line, a victory worth broadcasting via Team Awards® 
10. Wild goose chase
A great team building activity that's a cross between a scavenger hunt and time-limit games is none other than wild goose chase.
It involves completing challenges by taking photos and videos around the neighborhood/city.
Employees work together as a team to perform the tasks, improving their communication, analytical, adaptability, and problem-solving skills in the process.
11. Cardboard boat building 
One of the most creative outdoor team building ideas is cardboard boat building. Split into groups, give every unit cardboard and tape (pretty budget-friendly), set a time limit, and start construction!
Once done, each group will demonstrate and test their model. To wrap up the activity, have all teams race across the water.
Boat building is a great way to assess how a team member performs within a unit and puts their creative thinking, time management, presentation, brainstorming, and decision-making to work.
You can then provide individual performance-based feedback via Conversations®
12. Tree planting
Your next outdoor team building activity can simply be going out and planting some trees.
It may not be a fun game, but it allows your team to work together to give back to the environment while interacting, engaging, and making rewarding memories.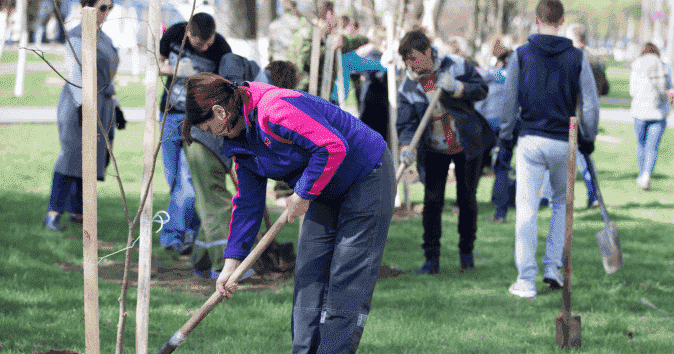 13. Make/give care packages 
When team members work together to help others, you can expect them to become better employers.
Putting together care packages and handing them out to the needy is a fantastic way to do some charity work that supports interaction between employees and boosts company culture.
14. Picture challenge 
Next on this list of outdoor team building activities for adults is the picture challenge, which is a photo-based outdoor scavenger hunt.
Here, members work in groups to take pictures of specific items or conditions using a list of clues within a time limit.
The participants need to rely on their creativity, imagination, problem-solving, coordination, idea exchange, and communication skills.
Teams can share their progress via Social Recognition® and the winner is the team that snaps the most photos.
15. The human knot
One of the most effective outdoor events is the traditional team building activity; the human knot. This exercise helps build and improve trust among team members, which improves overall team performance.
The human knot can be done in an indoor or outdoor setting, by small or large groups. Ask the participants to stand in a circle and have each team member hold the hand of two different members on the opposite side.
The challenge is to unravel the knot without anyone breaking their grip.
16. Group tic-tac-toe
Short and to the point, team tic-tac-toe is a fun outdoor group activity that costs nothing more than a few cones and hoops or bean bags.
Using their wits and speed and relying on their teammates, participants walk away with improved collaboration, communication, decision-making, and confidence.
17. Found art
Among the fun team building ideas you can do outdoors with your team is found art.
Split into work groups, then every team must gather objects and materials from the outdoor space. From there, team members will collaborate to create art projects and demonstrate them at the end of the activity.
Skills like innovation, communication, and presentation are necessary for completing this challenge.
18. Beach or neighborhood cleanup
One of the most rewarding team building activities to try is a beach or neighborhood cleanup.
While giving back to the community, you're supporting organizational skills, time-management abilities, and a sense of responsibility within your team.
Not to mention, you're giving your team a major boost in morale as 57% of employees agreed..
19. Team mall
When it comes to highlighting individual strengths and improving team bonding, cohesion, and trust, team mall is an effective activity (even for a virtual team).
The idea is for you to hand out paper, paint, markers, and other supplies, then give members of the team the opportunity to create a storefront where the "products" are their positive attributes.
Once done, have each member put their "products" on display and turn the room into a team mall. After that, go from store to store and get the "owner" to explain their "products" and why they chose to present them.
20. Riverside camping
This type of outdoor activity is a great approach to team building. Camping helps support communication, develop a sense of community, and reduce stress levels, leading to better teamwork.
You can spend a day in the forest or stay overnight. Pick a riverside site and get the gang to participate in a team water sport such as kayaking or even rafting.
21. Minefield
Minefield is a fun outdoor team building event that can be done in a park or the company parking lot. You can even do it indoors on rainy days.
This budget-friendly game doubles as a trust-building exercise that also enhances communication skills.
Split the team into smaller groups, and then each group will choose one member to blindfold. From there, the rest of the blindfolded person's team will have to guide them to cross the minefield while avoiding the traps.
22. Beach day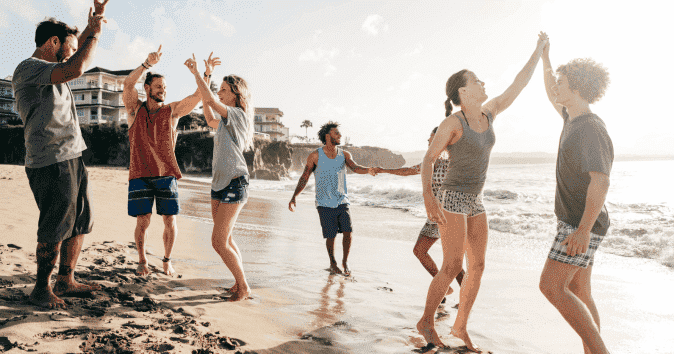 One of the most popular outdoor team building activities for large groups is beach day.
Well-planned time off can improve your work productivity, even if it's just for a day. Relaxation coupled with fun games and activities at the beach equals a huge boost in morale and employee well-being.
23. Dish party
What better way to bond with your team than over good food?
Ask your team members to bring their favorite food or a dish they like to make at home. You can even turn a part of the day into an outdoor cooking class!
24. DIY catapult launcher
A very entertaining corporate team building activity is catapult launcher building.
After splitting into smaller teams, each group will use materials (such as plastic bottles, rubber bands, popsicle sticks, and so) to design and construct a catapult launcher within a set time frame.
Then, test each group's model by determining which launcher can throw a certain object the farthest.
Besides being an exciting game, this activity supports interpersonal, communication, creativity, and idea-exchange skills.
25. Bike buildathon
A terrific example of outdoor group activities for team building is a bike buildathon. This is an outdoor activity that combines the benefits of building exercises and charity events.
Designing and constructing a bicycle requires creative thinking, brainstorming, time management, decision-making, and presentation skills.
Meanwhile, giving back to the community provides a sense of belonging and improves mental health.
26. On-spot orchestra
Among great team building problem-solving activities is one called the on-spot orchestra.
Here, you should make your team come up with impromptu instruments to play a song. Players can use any random objects in the outdoor space such as buckets, trash can lids, elastic bands, and so on. 
27. Call out challenges
Prompting friendly competition is a strategy that most team building companies use.
You too can easily apply such an approach via call-out challenges that encourage teamwork, creativity, patience, and trust. This activity is also great for boosting inclusion.
Form groups of 5-10 people and equip them with paper and pens. Each team should propose a challenge that they can complete, do the challenge, and then call out other teams to also perform it.
Completing the challenge earns you points. The group with the most points at the end of the activity wins.
28. Flashlight tag
If you're up for an entertaining team fitness challenge to improve everyone's mood and support their mental status, go ahead and try flashlight tag.
Instead of being "it" when your arm/shoulder is tapped, you're "it" if you get caught in the flashlight's beam.
29. Freeze tag
Speaking of tag and old-school fun, freeze tag is one of the cheap yet effective ideas for workplace team building.
In this variation of the game, when you're "it", you're frozen and you can't move until another player who's not "it" taps your arm/shoulder.
This activity is a simple way to share some laughter and unwind, which is necessary for employee well-being.
30. Capture the flag
Playing Capture the Flag encourages the use of collaboration, planning, communication, and decision-making skills.
Such skills are necessary to improve teamwork and create a smoother workflow.
31. The emotional play
In this activity, you write different emotions on cards and put them in a box or hat. After that, divide the team into pairs.
For every turn, have a pair stand in front of the group and each member will pick a card so two emotions are chosen.
Then, the pair should act out a scenario to relay the indicated emotions within a time limit. Once the clock runs out, the rest of the group should guess what emotion the pair is "feeling".
This exercise is suitable for outdoor and indoor settings. It's a great way to learn how to effectively express emotions and manage them, which leads to boosting performance and teamwork.
32. Relay race
This sports-themed activity focuses on teamwork and collaboration while delivering a high level of entertainment.
In a relay race, members of each group need to pass an item to the teammate waiting at the handoff point. The run can be a straight course or an obstacle/challenge course (or both!).
33. Rope course
This is one of the more challenging outdoor team building exercises where participants pass through a high or low element to get from points A to B. For example, an unstable bridge, inclined log, giant ladder, and Z-shaped balance beam.
Rope courses strengthen problem-solving, collaboration, and teamwork skills while pushing an individual's limits to boost self-confidence.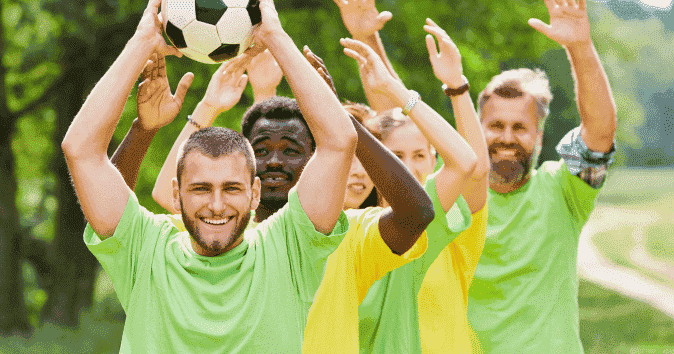 34. Blind retriever
This is one of the best outdoor activities for team building where one team goes against a different team to see who obtains an item first (with or without a time limit).
One member of each team is blindfolded and has to listen for guidance from the rest of their teammates, promoting trust, communication, and leadership skills. Take turns being blindfolded with a new place for the object each round.
35. Custom obstacle course
Among the entertaining yet challenging activities for team building outdoors are obstacle courses.
This adrenaline-pumping and laughter-inducing event can include things like climbing ropes, solving oversized puzzles, racing through tires, jumping through hula hoops, and doing the Limbo.
They push teammates to work together to overcome blocks using communication, time management, and problem-solving skills.
36. Go hiking
Team building is a great asset to any company, and hiking is one of the best activities you can plan outdoors to improve it. 
Exploring nature and conquering trails together helps build bonds, promote collaboration, sharpen minds, reduce stress, and support well-being.
37. Beverage tour
The next outdoor team building activity is all about bonding and making memories while unwinding and having fun. 
Pick a beverage that suits the entire group (such as coffee, tea, milkshake, soda, or hot chocolate).
Then set out on a tour exploring multiple places around the city that make the drink where you can sample the beverages and take in the culture.
38. One-minute challenges
This game is extremely fun to play outdoors because it needs plenty of space (and can get messy!).
It consists of challenges that teams must complete within 1 minute, which is an effective way to encourage time management skills within the team.
Examples of one-minute challenges include:
Using chopsticks to move ping pong balls from one bowl to another
Stacking cups to build a tower
Using the air from a balloon to knock plastic cups over
39. Survival day
This roleplay team building event puts your team's resourcefulness, communication, leadership, and problem-solving skills to work.
Pretend you've been shipwrecked on an island, split into groups, and give the teams unconventional items that they must depend on alone to "survive" the day.
40. Tug of war
A classic outdoor group game is none other than tug of war. Besides sparking friendly competition, this activity boosts trust, confidence, and bonding.
Sports teach you how to be a team player, so incorporate tug of war into a sports day with other events like potato sack races, 3-legged races, and crab soccer.
41. Big Jenga
There's nothing like a quick game of Jenga to recharge the team's fun battery while encouraging collaboration skills. Up the excitement factor by using a set of big format Jenga where blocks are huge!
42. Open-air chess
Strategic thinking and analysis are the pillars of playing chess. In an outdoor setting, however, the usually quiet activity turns into a fun and laughter-loaded event.
43. Meditation or yoga
Teams that relax together, work better together.
It's not that meditation or yoga reduces the workload. But it can offer your employees strategies to overcome stress and anxiety, leading to better mental health, well-being, and productivity.
You can hold meditation sessions outdoors, indoors, or even virtually.
44. Pipeline game
Inadequate communication and collaboration can cause projects to fail when passed from one teammate to the next.
In a pipeline game, individuals work as a unit to ensure that the marble arrives at the finish point without interrupting its smooth flow.
This marble represents work goals and everyone must contribute effectively to see them happen.
45. Fort building
Creative and fun, this outdoor activity supports imagination, communication, problem-solving, and decision-making skills.
Supply teams with materials such as cardboard boxes, duct tape, sheets, tents, and play tunnels.  Then, give them a time limit to each build a fort.
Let them know that special features (draw bridges, secret rooms, and so on) will earn them extra points. In the end, each group will provide a tour of their construction, and whoever scores the highest wins.
FAQs
What are the 3 types of team building activities?
The 3 main types of outdoor team activities are:
Outdoor: at a public location
Virtual: for remote teams, over video chat, recorded video, or via mail
Location-specific: volunteering, concerts, group meals, etc.
What are fun outdoor team building activities?
The list above offers plenty of fun-packed options, including a scavenger hunt, paintball, relay race, bubble soccer, fort building, egg drop, picture challenge, and minefield.
Final thoughts
Whether you're looking for fun, bonding, competition, charity, or sports events, there are a number of outdoor team building activities for small, large, and even virtual groups.
Make sure you have goals in mind for what you hope the team will take away from the activities to ensure that it is time well spent.