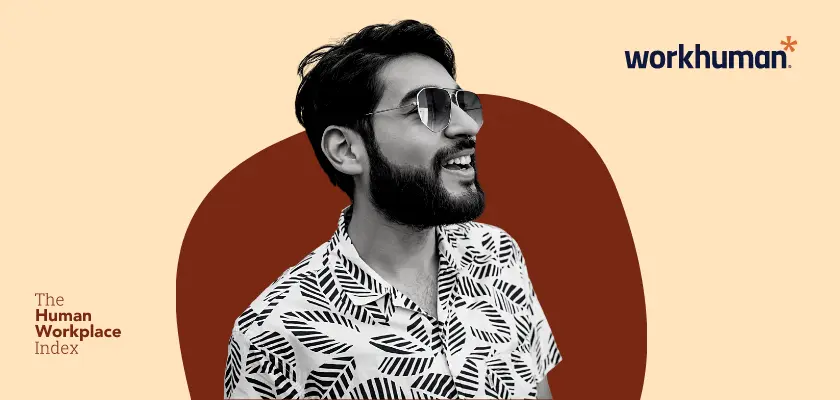 As spring fades into summer, the days get longer, the sun shines brighter, and people often just seem more … content. Kids on school vacation, beach trips, and BBQs are just some of the many things to look forward to as we enter June. But does this happiness translate to the workplace too? What are employees looking for from their employers to have a productive, safe, and happy summer? This month's Human Workplace Index looks at just that. Keep reading for more insights from the survey.
Happiness at work is heating up
Happy employees equal productive employees, so it's promising to see more than two-thirds of respondents (78%) are happy with their current company. This takes into account the 34% of workers that said their happiness at work has increased in the last month, as well as the 44% that said their happiness has stayed the same. On top of that, 84% feel somewhat to very valued at their company.
Based on these results, leaders may believe there isn't much for them to do to increase employee happiness, but that isn't the whole story. According to this month's survey, 18% of workers are seriously considering quitting their current jobs. What's more, 72% of those employees are looking to leave their organizations as soon as possible, within the next 90 days. So even though most employees are content, almost one-quarter of workers are not, which has the potential to cost companies millions of dollars in avoidable turnover costs.
Ready to fly
As travel continues to open back up after two long years, more than half of respondents say they are planning to take a vacation this summer (68%). And while this number may be similar to what it was pre-pandemic, new ways of working mean new ways of vacationing, too.
Of those employees planning to travel, 24% of them are planning to work remotely, rather than taking the whole time off of work. And while genuine, uninterrupted PTO is vital for preventing disengagement and burnout, being able to from work anywhere gives employees the flexibility they need. As a result of hybrid/remote work, more than half (52%) of employees plan to actually extend their summer vacations.
But, personal vacations aren't the only travel plans workers have this summer. In fact, 56% of workers report feeling comfortable traveling for business in the coming months. So while only one-quarter of employees are currently planning to travel for business this summer, knowing employees feel safe and willing to begin this process again is important for business leaders to keep in mind as conferences and work travel picks up again.
Shifting employee mindsets
The pandemic quickly showed us that employees don't need to sit in a cubicle from 9-5 to get good work done. In the same way, it has also shifted the way employees feel about other traditional aspects of work. For example, half of employees (50%) feel differently about dress code in the physical office post-pandemic. Some employers are already on board with that shift, too. This month's survey found one-third (33%) of companies are offering a more relaxed dress code for returning to the office.
Unsurprisingly, the flexibility that employees have gained over the past three years is not something they want to give up – especially not in the summer months. When asked about most desired summer perks, the top answer was – you guessed it – flexibility in schedules (60%). Seeing as nearly half of companies (49%) are offering employees a more flexible schedule during the summer, business leaders are hearing, and actually listening, to what employees need to do their best work.
In addition to flexibility, other summer perks most valued by employees include time off, company outings, and casual dress.
The summer months offer organizations a perfect opportunity to re-energize their employees. Not only will they feel well-rested after a well-deserved vacation or extra day off, they will also come back feeling more appreciated by the company for providing them what they need to accomplish their best work.