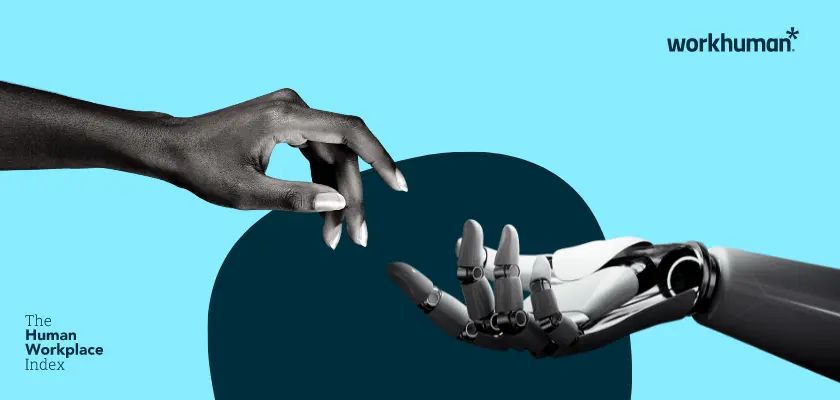 Generative artificial intelligence (AI) has dominated the headlines since the launch of ChatGPT in late 2022. The moment seemed to catapult the world into a brand-new age overnight, one where a robot could write code, draft articles, and answer any question in plain terms. For many, it felt like a work of science fiction come to life.
That said, such rapid advancement can make even the most enthusiastic adopters wary. As leaders mull whether or not to introduce generative AI at their companies, the larger technology industry is working to establish best practices for these promising new tools. Technology heavyweights such as Meta and Google are partnering with the U.S. government to identify vulnerabilities in their products, while other organizations like VMWare are creating internal AI task forces.
At first glance, AI and automation may seem counterintuitive to the concept of a human workplace, especially when it comes to workplace communications and recognition. But this month's Human Workplace Index (HWI) shows that despite some understandable trepidation, generative AI has the potential to help workers thrive.
By growing their understanding of these technologies and how their workers may already be using them, leaders can embrace the age of AI in a way that drives productivity while allowing workers to focus on the best thing they bring to the company: their authentic selves.
Over half of workers believe AI won't put their job at risk. The reason? Their humanity
According to this month's survey, 41% percent of employees anticipate that learning to use AI tools will become a part of their workplace training, and 34.4% believe that learning these tools will be encouraged in general. That said, nearly 40% of workers have still never used these tools at work before. It's possible that we've barely scratched the surface of understanding how AI is going to change the workplace.
The prevailing narrative is that knowledge workers are afraid ChatGPT and similar programs will replace them – and it's a valid fear, given how companies have already announced plans to replace swaths of their employees. But are these woes being blown out of proportion? When asked whether they feel generative AI puts their jobs at risk, well over half of the respondents to our survey (58.4%) stated a firm "No" and 21.2% said they weren't sure.
The apprehension is strongest among younger employees, including Gen Z digital natives, who have grown up with intimate knowledge of the risks and rewards of new tech. While only 20.4% of workers on average feel that AI puts their job at risk, the figure increases to nearly 30% for Gen Z employees.
Of course, their reasons vary. For the 20.4% of workers who feel AI puts their jobs at risk, 55.9% believe that generative AI will replace their job, 41.7% believe it will make their industry or role more competitive and 30.4% believe generative AI is decreasing the value of their work. Meanwhile, 34.1% of all respondents believe that AI is no threat to their jobs because only a human can do them.
Knowing this, leaders implementing generative AI technology must do so in a way that instills confidence in those workers who feel it puts their jobs at risk.
To start, they should ensure employees have the tools and training they need to understand how this technology works and how it can benefit them. Knowledge and competency will help not only to assuage employees' AI fears, but will help them make the most of the technology in their day-to-day work.
Recognition is an essential element of any big change at work, but especially one that involves such advanced technology. When employees feel recognized for their humanity – which can include opinions and concerns around AI at work – and not just their productive output, they'll likely feel less worried about whether AI has the potential to replace them and more valued as a whole individual.
How AI can help keep communication human and authentic
Generative AI has the potential to revolutionize workplace communications. It can replicate professional emails, Slacks, and other everyday communications with startling clarity, so long as the user employs a prompt with enough context. Per our survey, only about half of workers believe they could tell the difference between an AI-generated message from a coworker and one they wrote themselves.
A slippery situation? Potentially. Eighteen percent of respondents believe that generative AI will in fact make digital communication harder— but most respondents weren't so apprehensive. Nearly 45% of respondents (43.5%) believe that generative AI will not impact their connections with their coworkers, while 38.5% of workers are confident that the technology will make digital communications easier.
That said, leaders must take a nuanced approach, as some groups in the workplace may be more amenable to these technologies than others. For example, the survey found that men were 15% more likely than women to believe that generative AI will make digital communication easier at work.
There are a number of reasons for this gap, but it likely ties back to how women have long faced unfair standards around their tone and demeanor in the workplace. As a result, they often feel that they have to "soften" their digital communications at work, and AI-generated responses may be more direct. Being mindful of how different groups will adopt this technology is important to maintaining trust with employees and can encourage more inclusive interactions.
Workers may already encounter AI/large language models (LLMs) that help with communication in the workplace on a smaller scale. For example, Workhuman's Inclusion Advisor enables workers to automatically check for biased language and tone in their recognition messages, fostering more positive communication among workers.
Generative AI can also be helpful in the creation of performance reviews, or, with the right information, help managers and peers draft concise, constructive feedback. Of the 432 managers surveyed this month, nearly 40% stated they would use generative AI in their performance reviews or feedback. That said, the idea is not to replace the performance review process with impersonal AI memos, but to help managers gather their thoughts and write accurate reviews that will actually help employees grow. Managers should also check in with their reports regularly, so performance reviews aren't the only feedback employees are receiving. 
The survey also found that workers are leery of using AI to generate high-stakes communications, like asking for a raise or reporting misconduct. They felt most comfortable "giving feedback to the company" (32.2%) followed by "requesting a leave of absence/extended time off" (25.8%). However, over a third stated they would not use generative AI for high-stakes comms at all.
Using generative AI for workplace communications may seem impersonal to some, but it also has its benefits. As these technologies become more commonplace, leaders should seek to establish usage guidelines that help them keep humanity at the forefront.
Leaders might be in a "wait and see" phase when it comes to implementing AI in the workplace, but the potential is undeniable
From a thousand-foot view, workers largely aren't all-in or totally out when it comes to adopting generative AI in the workplace. When asked how the implementation of generative AI would impact their decision to stay at a company, 43.9% of employees said "it depends on how my company uses it," which suggests they're likely waiting on decisions from leadership.
However, through this fog of cautiousness shines a flame of optimism: 19% of workers said the implementation of AI in the workplace would actually make them more likely to stay at that job. Moreover, among the 58.4% who believe AI is no threat to their jobs, 32.2% believe "generative AI will make my job easier, not replace it."
When asked which tasks they'd like to see automated, workers said: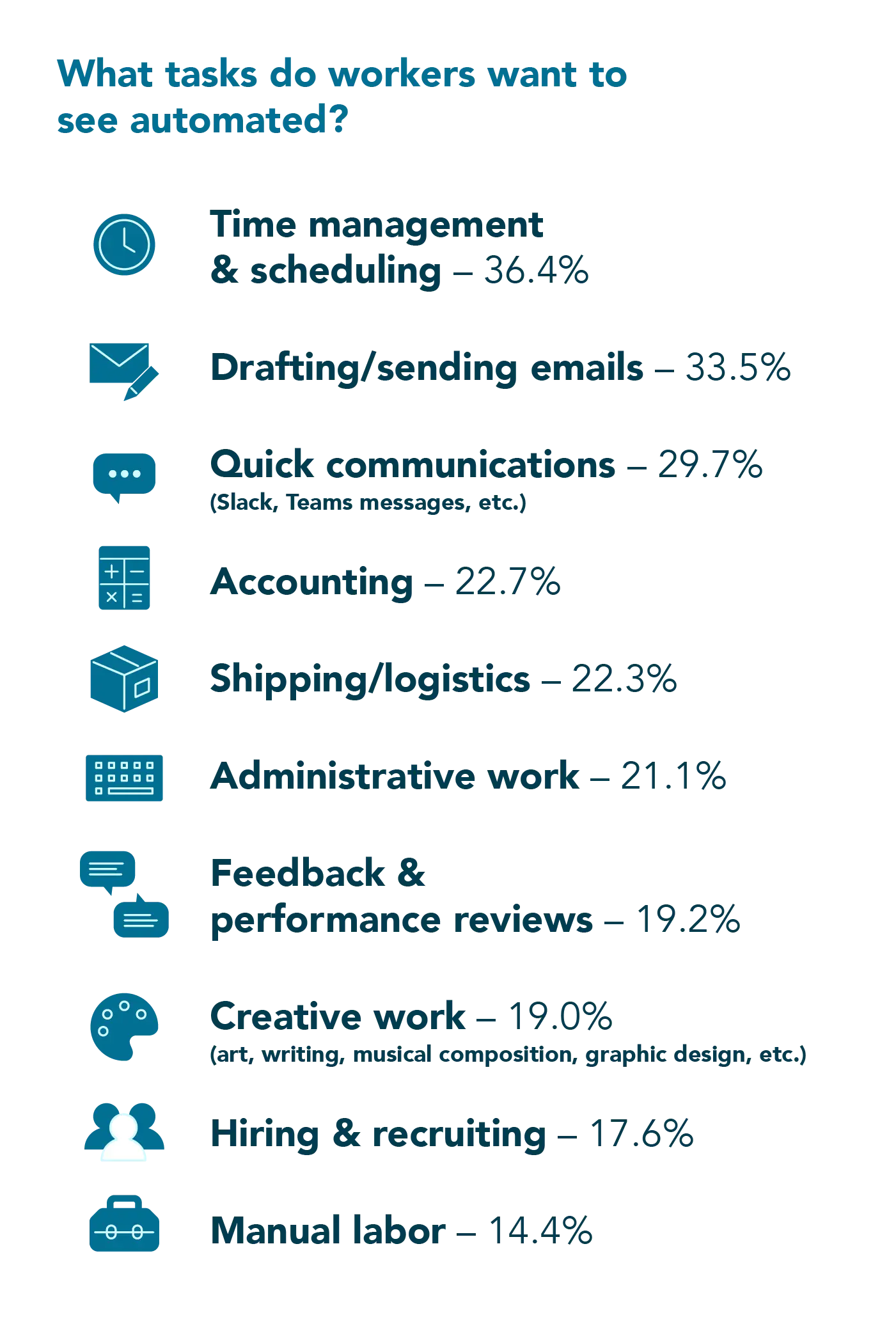 Understandably, the more popular responses are menial, time-consuming tasks, while workers are less interested in having human-centric and creatively fulfilling work automated. Given these findings, it's clear that AI has the potential to reduce the time workers are spending on the tasks they don't like, so they can focus on the ones they do.
It's up to companies to harness the potential of generative AI by implementing it in a way that aligns with their employees' needs while taking into account their concerns. This is why sourcing constant feedback is so important to maintaining a human-centric workplace. Regular employee feedback is necessary to create an environment where employees feel heard, valued and connected, while allowing for innovations that could transform productivity.